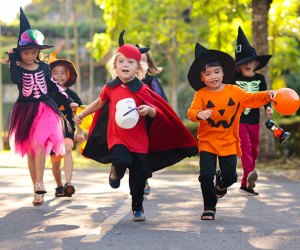 Best Neighborhoods to Trick-or-Treat for Atlanta Kids
We in Atlanta know how to do scary—zombies and monsters creep around The Walking Dead and Stranger Things sets daily, and terrifying haunted houses like Netherworld make even the bravest wish for their mommies. So of course surrounding neighborhoods go all out when it comes to the Atlanta trick or treat spirit! These Atlanta neighborhoods hand out major candy loot, drench their yards in full Halloween decor, and compete in the best decorated Halloween house. Grab your candy buckets (or deep pillowcases for the marathon trick-or-treaters) because we're highlighting some of our favorite neighborhoods to trick or treat in Atlanta.
We surveyed local residents to find out where to trick or treat in Atlanta, or just fill up on that spooky Halloween spirit (and because some people may not be able to trick or treat in their specific neighborhood, for whatever reason, this collection is a great way to celebrate the holiday regardless of your housing situation). Keep in mind that with Covid-19, door-to-door trick-or-treating and/or Halloween events may be limited or cancelled in individual Atlanta neighborhoods.
Best Neighborhoods to Trick-or-Treat in Atlanta
Little Five Points and Candler Park
Little Five Points is known for its funky style, and their cool attitude even extends to the way they celebrate Halloween. The Little Five Points Halloween Festival and Parade has been a neighborhood draw from Atlantans across the metro area for years; this year, due to Covid, the annual parade has been replaced with MonsterFest. On Saturday, October 16, kids can search the entire neighborhood for monsters designed by local artists, take a selfie, and accomplish a monstrously fun scavenger hunt. The surrounding shops get into the Halloween spirit, many handing out candy to costumed trick-or-treaters.
OUR LATEST VIDEOS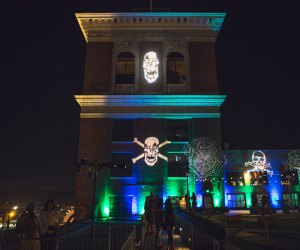 Old Fourth Ward has great Halloween attractions, like The Roof at Ponce City Market's annual celebration. Photo courtesy Jamestown
Old Fourth Ward
An intown neighborhood that is bursting with Atlanta Halloween events and trick-or-treating fun is Old Fourth Ward (O4W). The Atlanta BeltLine, which runs through this neighborhood, is filled with superheroes, witches, and every costume in between walking to their Halloween destination. Looking for another trick-or-treat experience? Visit The Roof at Ponce City Market for an all-day, trick-or-treat event that includes cotton candy, games, and more family-friendly activities.
Oakhurst
When it comes to legendary tales of Halloween houses and neighbors outdoing each other with the Halloween spirit, Oakhurst in Decatur takes the cake...or rather the candy bowl. Oakhurst is a wonderful Atlanta neighborhood to trick or treat, take selfies with spooky inflatables, and safely amble through a pedestrian-friendly region.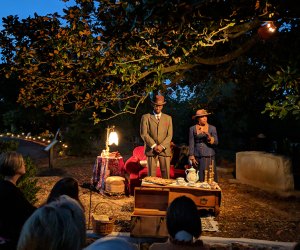 Up your trick-or-treating game by heading to Oakland Cemetery, in Grant Park, for a ghost tour. Photo courtesy Historic Oakland Foundation
Grant Park
Grant Park is one of Atlanta's oldest neighborhoods and therefore possesses that ghostly Halloween vibe of the past. This area is great for trick-or-treaters to visit houses, especially since the streets are slightly more narrow and make it easier to traverse. Zoo Atlanta's Boo at the Zoo is another chance for Atlanta trick or treat fun—where kids can not only dress like animals but hang out with them as well! And don't forget historic Oakland Cemetery's Capturing the Spirits tours, running every weekend in October, for a chance to trick or treat with Casper's great uncle.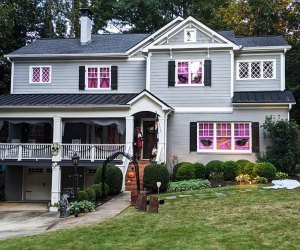 Glennwood Estates features "killer" Halloween houses for trick-or-treating. Photo courtesy Becky Greenspan Slemons
Glennwood Estates
Another Decatur neighborhood that brings in Atlanta trick or treat enthusiasts is Glennwood Estates. Located in the northeast section of Decatur, Glennwood Estates is a walkable neighborhood, perfect for families and larger groups to spread out.
Briers North
Briers North has cancelled their 2021 Halloween festivities due to Covid precautions.
This Dunwoody subdivision, off Tilly Mill Road, has gained fame for its epic Halloween decorations and delicious candy hauls. We've actually heard that some people choose to buy homes in Briers North, among other factors, because of their neighborly trick or treat spirit! Due to Covid and abundant caution, this neighborhood made the difficult decision to cancel trick or treating for 2021, but check back next year for these Halloween heroes.