Free Halloween Events in Atlanta with Kids for 2022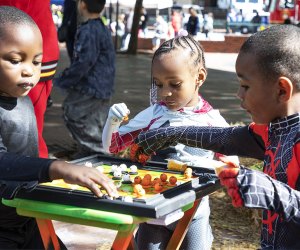 The only thing we love more than Halloween events are FREE Halloween events in Atlanta! After all the money we parents spend on costumes, candy, and Halloween parties, we could use some free activites for our kids like a good pumpkin fest, a Halloween-themed block party, or a park filled with inflatables. We've rounded up the best Atlanta Halloween events that are free to attend.
A lot of these free Halloween events are hosted by towns like Roswell, Duluth, and Sandy Springs. Parents can pick parties close to home or venture to a nearby suburb. In fact, there are so many festivities the last two weekends of October, families may choose to freebie hop. Now the only thing getting a lot of use will be those costumes, not your wallet!
For more fun Atlanta Halloween things to do with kids, check out our Halloween Guide!