Stone Mountain Park: The Center of Outdoor Adventures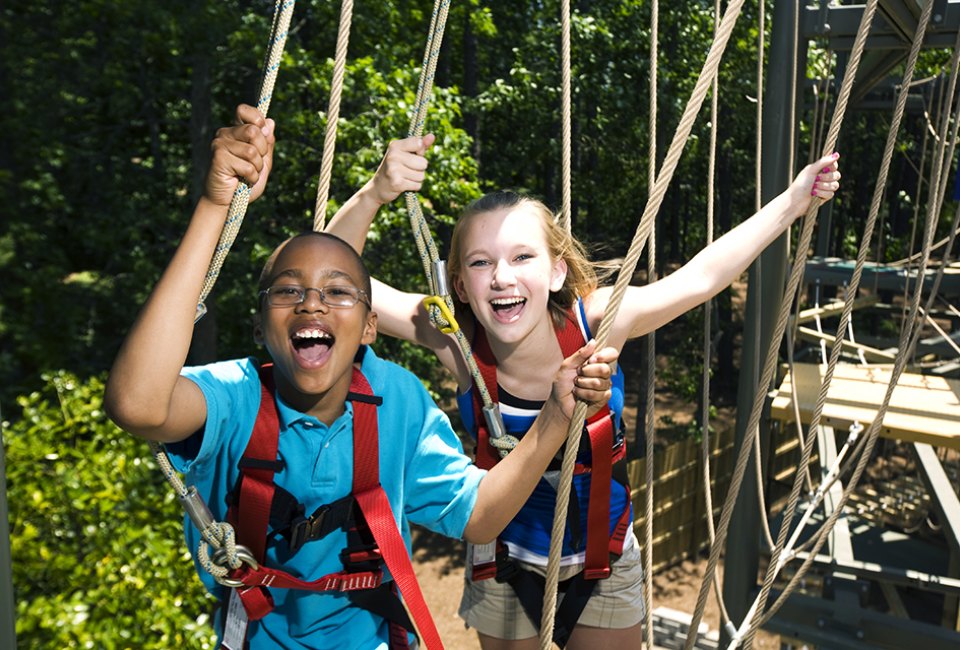 1/20/23
- By
Melanie Preis
Stone Mountain Park offers a unique combination of amusement park, outdoor destination, and historical landmark. Located in DeKalb County, about 30 minutes from downtown Atlanta, Stone Mountain Park welcomes Georgia visitors and residents alike with wonderful attractions, including Summit Skyride, a Swiss cable car, that quickly transports riders 825 feet in the air to the top of Stone Mountain itself. (Hikers can also get up the mountain the old-fashioned way by foot, too.) Whether families want to spend an extended period of time by camping in the park; a day of outdoor fun and attractions; or a few hours at a seasonal event, like Lunar New Year, Stone Mountain Park satisfies everyone's needs.
History buffs, outdoorsy folk, and families looking for a day of fun activities like mini golf, dinosaurs, and laser shows, all enjoy the amenities of Stone Mountain Park; those who truly love it don't even have to leave to sleep —the park houses an on-site campground, inn, and resort. Take a look at our trip through Stone Mountain Park and get ready to bring your own kids!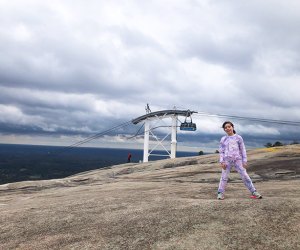 Get to the top of Stone Mountain (either by Summit Skyride or foot) and view the entire Atlanta region from above. Photo by author
When planning a trip to Stone Mountain Park, the main attraction is...Stone Mountain! This mountain is the largest single piece of exposed granite in the world, which features the Confederate Memorial Carving (measuring three acres across). The method of getting to the top of this rock outcrop is your choice: nature-loving families can walk the one-mile trail up or fly on the aforementioned Summit Skyride to the peak. Either way, families can view the goregous Atlanta skyline, Appalachian Mountains, and more than 60 miles beyond. Atop the mountain, there are bathrooms, a snack bar, and lots of picturesque photo opps.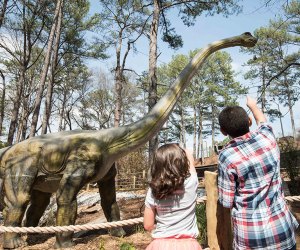 Step back in time to the age of the dinosaurs at Stone Mountain.
Dinosaur Explore is awesome for kids (and adults) who love dinosaurs! Go back in time through the Stone Mountain portal and see 20 lifesize dinosaurs that move and roar with the help of special effects. In addition to the stegosaurus (my personal fave), triceratops, T-rex, and more, the attraction offers interactive paleontology tents for kids to learn more about these creatures, as well as a dinosaur feeding wall. If that's not enough dinosaur action, younger kids will love Dinotorium—a dinosaur-themed, indoor play area featuring four levels of slides, trampolines, climbing structures, and games.
RELATED: Healthy Restaurants in Atlanta That Kids Will Love
Need a few minutes to sit and catch a show? Stone Mountain Park offers a 4D movie experience to its ticketed guests. Depending on the time of year you visit, the park plays interactive movies that not only entertain but make kids feel like they're part of the show. During the winter holidays, Stone Mountain shows a shortened version of The Polar Express.
Enjoy a nice game of mini golf by playing 18 holes of the Great Locomotive Chase Adventure Golf. This putt-putt attraction has a railroad theme, with train-inspired design elements, wrapping around the base of Stone Mountain. Take a five-mile ride (about 30 minutes) aboard the Scenic Railroad, a train with open-air cars that travels among the surrounding landscape.
As spring brings in warm weather, additional attractions open. Some of these warmer-weather spots include Geyser Tower (an outdoor climbing structure that, appropriately named, shoots water sporadically); SkyHike (a family ropes-adventure course with suspended bridges and obstacles, which costs an additional fee); Camp Highland Outpost (part of the SkyHike complex, featuring a low-ropes course for younger climbers); and more.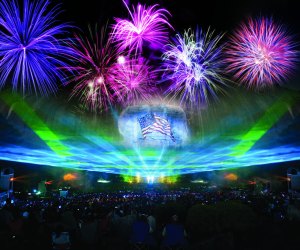 Fireworks light up the night at Stone Mountain Park, like the Fourth of July celebration.
Lasers and Lights
The Lasershow Spectacular in Mountainvision has become an Atlanta tradition for nightly fun and regional-specific events (the mountain lit up with University of Georgia colors after the school's 2023 national football championship win). Stone Mountain turns into a natural canvas for amazing digital graphics, cool special effects, lasers, as well as music, major fireworks, and the signature flame cannons that launch a trio of flames 100 feet into the air. Children with sensory sensitivities may have a hard time with the lights and sounds of this epic show.
If you decide to come to a Stone Mountain event, the light show is tweaked slightly to match the theme. For example, Stone Mountain's inaugural Lunar New Year event ends each evening with a festive drone show, featuring 200 color-changing drones choreographed to music, as well as the event's special light projecting images on the mountain. Fourth of July's patriotic light show was voted a "Must-See Fireworks Show" by USA Today!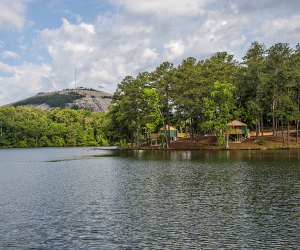 Stone Mountain Campground hosts campers with RVs and also has safari tents, pop-up tents, and yurt rentals.
Stone Mountain Park: The Great Outdoors
Fish at Stone Mountain Lake during daylight hours, hike or walk over 15 miles of trails (including a five-mile trek around the base of the mountain and the one-mile trail up the summit), bike along dedicated, paved bicycle lanes in the park, enjoy two 18-hole golf courses at Stone Mountain Golf Club, or enjoy lunch under the tree canopy at many picnic areas. Children can expel energy on the park's playground (less than a mile past the West Gate)
Families who can't get enough of the great outdoors can rent campground sites inside the park; sites options include those for RVs, safari tents, pop-up tents, and yurt rentals. Camping amenities include a swimming pool, sand volleyball court, on-site general store, horseshoe courts, and more.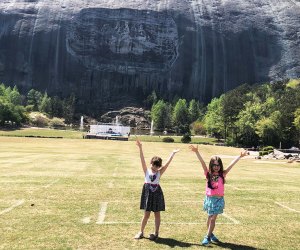 It's hard not to be impressed with the massive size of Stone Mountain. Photo by the author
Stone Mountain Park: Education
Stone Mountain Park offers lessons about ecology, geology, and history, so make sure your family takes in the breadth of such a huge natural site. At the base of the walk-up trail, nature lovers can visit the Historical Environmental Education Center and learn about the science of Stone Mountain, including a life-size cave with a video about the origin of the rock formation.
Nearby, Historic Square features a collection of original buildings from the across the State of Georgia (all built between 1793 and 1875). The structures were moved and restored at Stone Mountain Park, and provide a look into what life was like for Georgia residents centuries ago. Visitors take a self-guided tour of these buildings and get a glimpse of the diverse lifestyles in the South.
Stone Mountain Park: Know Before You Go
Admission prices vary by type of tickets. Depending on the time of year and seasonal event, one-day attraction passes prices can start at $29.95 and go higher. Skyride tickets can be purchased individually. Mountain Memberships, a 12-month pass, offer savings for those who continuously visit Stone Mountain Park; the regular annual passes are $59.95 (adults) and $49.95 (children), and the platinum memberships are $99.95 (adults and children).
Daily parking passes are $20 and annual parking passes are $40.
There are tons of dining options at the park, including Southern barbecue, pizza, burgers, funnel cakes, potatoes, and much more. You can also bring your own outside food into the park for a picnic.
Campground reservations must be made ahead of arrival. Visit the Stone Mountain Park website for details. There are also two hotels located inside the park
Strollers and wheelchairs are available for rent.
Festivals and special events: Lunar New Year, Spring Fun Break, Summer at the Rock, Fantastic Fourth Celebration, Yellow Daisy Festival, Pumpkin Festival, Stone Mountain Highland Games, Native American Festival and Pow Wow, and Stone Mountain Christmas.
All photos courtesy Stone Mountain Park unless otherwise noted.
Places featured in this article:
Click Here to Sign Up!
i