Healthy Restaurants in Atlanta That Kids Will Love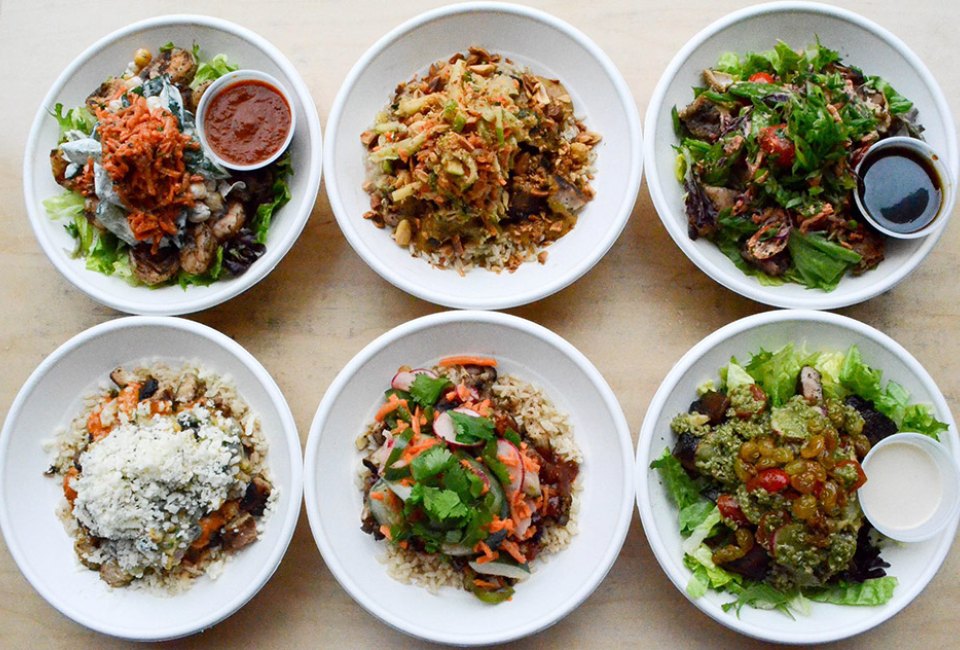 1/6/23
- By
Melanie Preis
As the new year begins, many families work to make better, healthy food choices. And Atlanta healthy restaurants offer a variety of options that not only taste good, but are also good for you. Sure we at Mommy Poppins love the occasional frozen treat and slice of cake, but for everyday nutrition, we prefer our kids to eat a wholesome meal that hits all the food groups. Whether your kids are snackers, pickers, dessertaholics, anti-green eaters, or something in between, we've rounded up our favorite healthy restaurants in Atlanta sure to please the entire fam!
It's important to note that these healthy restaurants aren't focused on weight loss, low sugar, etc.; they offer fresh ingredients, wholesome recipes, customizable options, vegetarian-friendly meals, and a welcome space for all eaters.
Create more healthy intentions for the new year with other ideas, including Walking the Atlanta Beltline, Outdoor Ice Skating in Atlanta, Taking an Atlanta Winter Hike, and more in our Atlanta Winter Activities Guide. And make sure to subscribe to our newsletter for awesome events and news delivered directly to your inbox!
Healthy Restaurants Great for Kids in Atlanta
Kids can choose from yummy options at Fresh To Order, like mac & cheese and grilled veggies. Photo by author
Fresh To Order makes eating healthy food easy and fast for Atlanta families. This self-proclaimed "pioneer of the fast, fine niche" has an extensive menu of flavorful dishes with fresh ingredients. This popular local chain has six locations and one at Concourse B at Hartsfield-Jackson Atlanta Airport! Patrons can choose from 10 potential proteins to add to tasty salads (all come with a sweet roll), or make a meal of sides like macaroni and cheese, sweet mashed potatoes, grilled veggies, and more. Kids can also enjoy burgers (with alternative protein options), paninis, soups, and hushpuppies. Gluten-free and vegan menus available as well.
With five locations across metro Atlanta, Souper Jenny has been a go-to healthy restaurant for more than 20 years. Menus change daily so families can visit the website or social media to plan what will be served that day. Souper Jenny is known for founder Jenny Levison's extraordinary soups, as well as fresh salads, sandwiches, cookies, and more. Get the lunch special and you'll get a homemade roll and side of fruit as well. Depending on the day and location, hungry families may get to try Souper Jenny's signature My Dad's Turkey Chili, as well as favorites like Classic Peanut Butter & Jelly sandwich, turkey burger, and more.
Ready for the best news? Souper Jenny sells quarts of its delicious, hearty soups available to go! Soups like Italian Tomato, Chicken Sausage, Split Pea and more are available refrigerated or frozen, ready to defrost whenever your kids are craving a bowl. Or attempt your own version of the famous Souper Jenny stews by purchasing one of her popular cookbooks!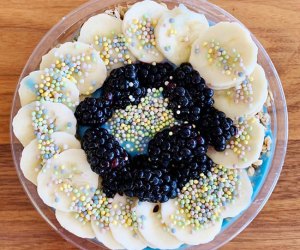 Upbeet's Little Mermaid smoothie bowl is delicious, nutritious, and perfect for hungry kids. Photo courtesy Upbeet
3. Upbeet - West Midtown
Picky eaters will love Upbeet as they get to customize their own meal, with fresh, healthy ingredients. You can either build your own bowl from a huge bar of ingredients, including greens, quinoa, proteins, fruits, etc.; or you can choose one of Upbeet's creations, like the Aloha Bowl (with organic rice, mango, coconut, macadamia nuts, poke tuna, and more). Personally, my kids LOVE the wonderful smoothie bowls, like the blue Little Mermaid (organic acai, organic banana, blue majik, organic cashew milk, organic banana, organic blackberries, organic hemp granola, and sprinkles).
Don't let the name freak your child out — they do not need to eat kale if they so choose. However, Kale Me Crazy does have crazy good smoothies, acai bowls, wraps, toasts, and juices. Kids will love the colorful smoothies at this "superfood cafe," including my daughter's favorite: Tropical Trippin' (orange, mango, pineapple, coconut yogurt, coconut milk) paired with the Almond Butter Toast (almond butter, banana, flax seeds, honey, sprouted bread).
5. Recess - Inman Park and Buckhead
Kids will love Recess as much as they love recess! Originally started at Krog Street Market, Recess has opened a second location in Buckhead, and offers food that makes you feel good. Literally. This casual dining spot serves signature warm bowls, salads, and green bowls with delicious sides like the Loaded Sweet Potato Fries.
6. sweetgreen - Multiple Locations
With locations across the United States, sweetgreen is a reliable healthy restaurant for kids and parents. Families can choose from salads, warm bowls, plates, and more; patrons can customize their own meal or select sweetgreen combos. Also, a cool aspect of this healthy food chain is that it offers local creations, like the Blackened Catfish warm bowl representing the A-T-L.
For more than 25 years, Cafe Sunflower has been the go-to vegetarian restaurant in Atlanta. This Buckhead mainstay has great, healthy food for those who follow vegetarian, kosher, or nut-free diets as well as adventurous eaters who just want to try something new. Kids will never know this meatless restaurant is actually good for them while they're chowing down on Quesadillas (with vegan cheese and veggies), Supreme Nachos (vegan cheese and veggie chili), and Buffalo Lollipops (soy chicken drumsticks and vegan blue cheese made in-house).
8. Gusto - Multiple Locations
My kids LOVE Gusto and that's saying a lot since they tend to stick to the same food orders over and over again. With locations sprouting up all across Atlanta (and Athens), Gusto is a tasty, accessible spot to enjoy good food at a good price (and some locations, like the one in East Cobb, even have drive-thru windows)! The menu is pretty easy —either get brown rice, mixed greens, half and half, or a flatbread wrap, then add a protein, and the Gusto sauce and toppings. The kids menu includes Cheese Foldies (quesadillas) or rice bowls, both with proteins, and served with sweet potato chips and apple juice.
I don't know how any child could resist the vibe and flavors of True Food Kitchen. The healthy restaurant, which originally started in Scottsdale, Arizona, is the epitome of big flavors and mindful choices. Children can order from the kids menu (featuring grass-fed burgers, teriyaki bowls, and organic tomato-sauced pizza), or veer to the regular seasonal menu and share items with parents. True Food even has a delish dessert menu!
I love the variety of proteins available at Flower Child, so my kids can try something new. Photo by author
10. Flower Child - Buckhead, Sandy Springs, and West Midtown
With "child" in the name, this Atlanta restaurant is sure to offer healthy food options any kid wants to try. The customizable menu features bowls, wraps, salads, all with a variety of proteins, veggies, and fruits. The "Healthy Kids" menu is $8 for kids 12 and under and allows for one protein and a choice of two sides: broccoli with parmesan cheese, smashed potato, sweet corn and quinoa, gluten-free mac & cheese, pineapple, Mandarin orange, and organic grapes. The regular menu is bursting with awesome choices, including creative, adult drinks like seasonal sangria and rotating kombucha.
11. Honorable Mentions: Chopt and Salata
I personally love Chopt and Salata for their amazing salad bar options. However, my kids get a little overwhelmed with all the choices and the sheer mass of ingredients. A good way to approach these healthy restaurants is to have a game plan before kids witness the offerings -- have your child map out what he or she wants to eat and then stick with them during the selection. Salata has a cool option for kids, where they can choose six items from the salad bar (including one protein) all scooped in individual plastic cups/dividers...great for those picky kids who don't like different foods touching.
Click Here to Sign Up!
i