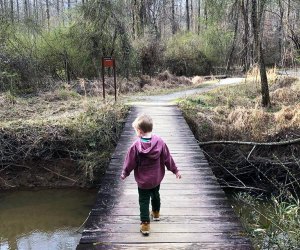 7 Kid-Friendly Winter Hikes in the Atlanta Area
Winter in the Atlanta area might be more conducive to nesting on the couch than braving the greyness and colder weather. Yet when the weather permits, why not get the family off the couch, bundle up in a layer or two, pack a picnic lunch, and get in a good hike?
Choosing a new destination each week can give your family something to look forward to while providing a great intrduction to Atlanta's outdoors. Some of these destinations offer access to playgrounds. And once the kids are all tuckered out from a long hike, parents might even be able to indulge in an uninterrupted Netflix/Hulu/Amazon Prime marathon, sans kids.
Read on for some of the best hikes for families in Atlanta and surrounding areas.
Keep in mind that amid the pandemic some parks offices, visitors centers, and even bathrooms might be closed. Visit the websites for COVID-19 protocols before heading out. And while we always try to promote safe activities, remember to wears masks and maintain a social distance. If a hike appears too crowded, try using the "nearby" search feature on our event calendar to find other exciting options.
Prefer to stay home this weekend? There is plenty of fun to be found on Poppins@Home. Virtual STEAM Labs, a plane, trains, and automobile series, and a tween/teen cooking class await Atlanta kids.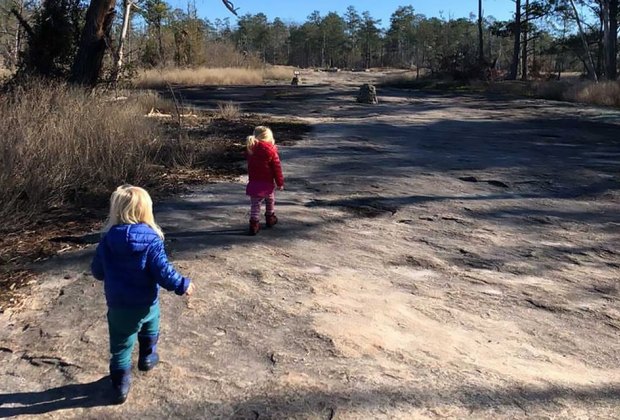 Discover the unique geological formations of Arabia Mountain. Photo courtesy of Arabia Mountain
Family-Friendly Hiking Trails in the Atlanta Area
Lithonia
It might sound exotic, but Arabia Mountain is conveniently located in the metro area, just 20 minutes east of downtown Atlanta. There are some 30 miles of trails that make up the Arabia Mountain PATH, with an Instagram-worthy geological formation that gives this destination an otherworldly feel. There are also a variety of rare flora that grow around the rock face.
Kennessaw
There are several hikes, most of them family friendly, spread throughout this National Park that spans just under 3,000 acres. The hike to the top of the mountain is a great opportunity to blend a brisk workout with a history lesson as you make your way to the top of Kennesaw National Mountain Battlefield Park, lingering over some of the remnants of the Civil War battle that was fought there in 1864.
RELATED: 22 Things We Are Excited to Do with Atlanta Kids This Winter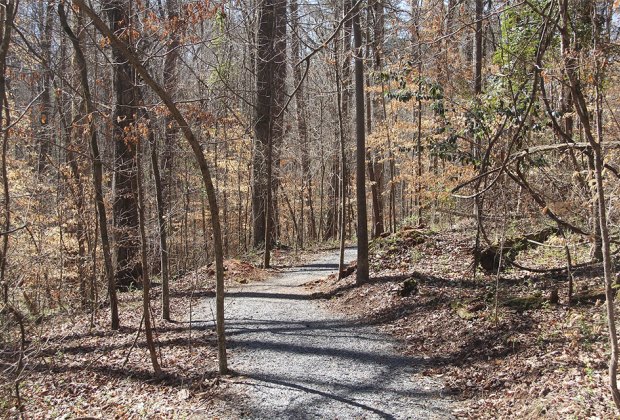 Trails at Lost Corner Nature Preserve are ideal for younger hikers. Photo courtesy of the Nature Preserve
Sandy Spring
Conviently located in the heart of Sandy Springs, this trail has some 24 acres of woodlands and nature trails and was once a working farm. The trails are level and perfect for younger hikers. The park features a community garden, greenhouse, apiary, and renovated cottage.
Morrow
This 146-acre preserve can be a great day trip for a family, featuring miles of trails in multiple loops that are easily walkable, as well as a wheelchair accessible path that leads to the center, the butterfly garden, and an adjacent native plants trail. There is also a nature center that houses live native animals and environmental displays.
RELATED: 14 Mountain Hikes to Try with Kids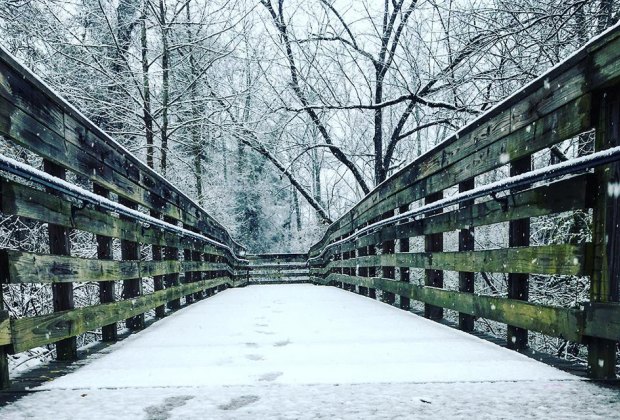 Enjoy a winter stroll along the Roswell Riverwalk and the Chattahoochee River. Photo courtesy of Visit Roswell Georgia
Roswell
This paved wooded path runs about 5 miles along the Chattahoochee River and the wetlands that surround it. The environs slightly resemble a wooded marsh that you may find in the swamps of Florida, with plenty of opportunities to stop and check out the local wildlife. The wooded boardwalk is wide enough for crowds of walkers, bikers, skateboards, and scooters who frequent the trails.
Cumming
Just north of Atlanta, the Sawnee Mountain Preserve ecompasses more than 900 acres of hiking trails, playgrounds, picnic pavilions, an amphiteater, and a visitor center. The mountain features "Indian Seats," which are natural rock formations that sit at the top of the trail offering picturesque views of the North Georgia Mountains. Guests are welcome to the visitors center to learn about the cultural history of the area.
RELATED: Amazing Playgrounds in the Atlanta Area for Kids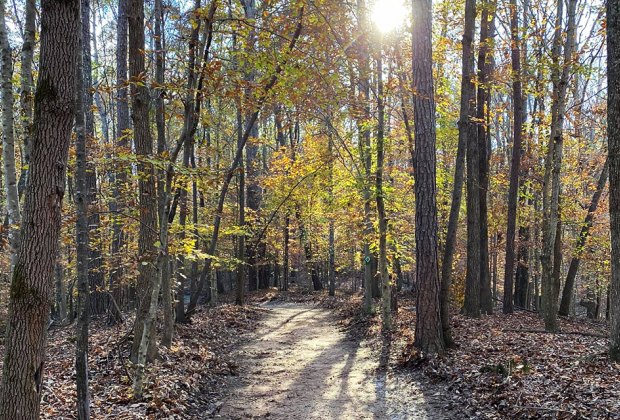 The wooded trails of Sweetwater Creek State Park are just minutes from downtown Atlanta. Photo courtesy of the park
Lithia Springs
Have you ever seen a yurt? If not, here's your opportunity. There are 10 of these indoor resting areas cattered along Sweetwater's camping site. This state park is located just minutes from downtown Atlanta with a wooded trail that follows to the ruins of an old textile mill. Be sure to catch the blossoming foliage in the spring, including magnolias, wild azaleas, and wild ferns. The visitor center is one of the most environmentally responsible buildings in the country, featuring wildlife displays, trail maps and a gift shop.