Best Outdoor Ice Skating Rinks near Atlanta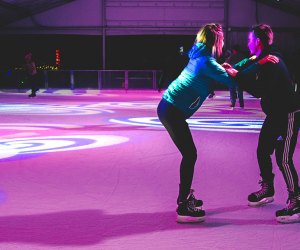 Ice skating near Atlanta is the quintessential winter activity, whether you're ready for the Olympic trials or can barely stand upright. Though it may take a few turns around the ice skating rink to get your "ice legs," adults and children alike enjoy spending time together spinning, skating, and realistically, falling down, together. Besides the bonding time, and shared bruises, seasonal ice skating near Atlanta also entails awesome bonuses, like hot chocolate, holiday music, Santa spottings, and more fun attractions.
Take a look at some of our favorite spots to nail that triple toe loop or cling to the ice skating rink for dear life and put in family bonding time on the ice!