Artificial Intelligence with Scratch Online Camp
Young Gates - Kids Online Personalized Classes

Online Robotics Camp
Young Gates - Kids Online Personalized Classes

Spark Math: Free Trial Class
Virtual
Sign up for our free newsletters.
Best Outdoor Ice Skating Rinks Near Atlanta
11/6/22
- By
Melanie Preis
Ice skating near Atlanta is the quintessential winter activity, whether you're ready for the Olympic trials or can barely stand upright. Though it may take a few turns around the ice skating rink to get your "ice legs," adults and children alike enjoy spending time together spinning, skating, and realistically, falling down, together. These seasonal outdoor ice skating rinks pop up each year from November through January or February. Families can find lots of ice skating in Atlanta, most of which include fun music and concessions like hot chocolate. We've rounded up the best ones and even included one that requires no skates at all (sock skating at Fernbank)!
Take a look at our favorite spots to nail that triple toe loop or cling to the ice skating rink wall and put in family bonding time on the ice! Want more ideas this holiday season? Read about Harry Potter: The Exhibition Atlanta and make a visit to Hogwarts or ride a Polar Express Train Ride and Christmas Train Near Atlanta. If you need more ideas of what to do in Atlanta, visit our Atlanta events calendar.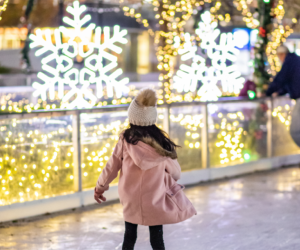 Cool Ice Skating Near Atlanta