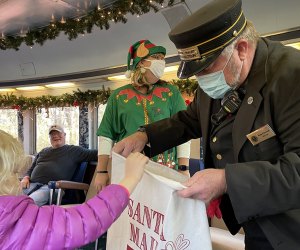 7 Polar Express and Holiday Train Rides Near Atlanta
It's no surprise that holiday trains are a big hit with families. After all, they include two things kids love: trains and Christmas. The whole experience just oozes holiday magic! Bonus? Kids and parents can don pajamas. Whether it's a Polar Express ride, a Night Before Christmas excursion or just a journey with lights and Santa, holiday train rides sell out quickly. So grab some hot cocoa and check out our list of the closest, most memorable Atlanta Polar Express rides and holiday trains near Atlanta.
Thinking of more ways to enhance your holiday season? If you're heading to Blue Ridge for the Holiday Express, stop by Helen, Georgia and read about the cutest Bavarian town this side of Europe. Or skip the train wheels and go for some bike wheels and head down our favorite bicycle paths in Atlanta. There's always something great happening in Atlanta!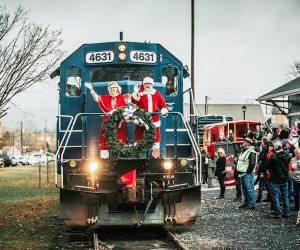 Hop on the Holiday Express at Blue Ridge to meet Santa and Mrs. Claus. Photo courtesy of the railroad
OUR LATEST VIDEOS
Christmas and Holiday Trains Near Atlanta 2021
Distance from metro Atlanta: One hour, 30 minutes
Dates: November 26-December 23
Cost: $35 children; $52 adults; Free 0-23 months on a lap
Families head north to the mountains for this one-hour holiday train ride on the Blue Ridge Scenic Railway, featuring the story, The Night Before Christmas. Riders are also treated to holiday music, an activity packet, and a jingle bell. Parents can purchase snacks and hot chocolate while on board. Masks required.

The Polar Express in Bryson City is a holiday train that takes kids to the North Pole. Photo courtesy of Great Smoky Mountain Railroad
Distance from metro Atlanta: Three hours
Dates: November 12-December 31
Cost: Starting at $29 per ticket, price varies depending on train section selected
Childen ride through the wilderness on The Great Smoky Mountain Railroad for this 1.25-hour round trip to the North Pole. Along the way passengers listen to the story and music from The Polar Express and enjoy hot cocoa and a treat. Santa makes an appearance on each holiday train ride. Masks required.
Distance from metro Atlanta: Two hours, 30 minutes
Dates: December 3-4
Cost: Starting at $29.99 per ticket, price varies by section of train (coach, deluxe, premium)
This excursion on the Historic SAM Shortline Railroad in south Georgia runs for just two days in December so interested families should book quickly. It is also the only trip on our list with a layover—two hours in Plains, Georgia. Passengers disembark the holiday train and explore the Jimmy Carter National Historic Site Museum, do some shopping, and sample peanut butter ice cream. Kids will love seeing their favorite passenger, Santa, on this holiday train ride. The higher-priced tickets include more options such as snacks, drinks, and lunch.
Distance from metro Atlanta: Two hours
Dates: November 20-December 23
Cost: $30 (daytime rides), $40 (evening rides)
Atlanta families travel to Chattanooga, either for the day or for an overnight visit, for this imaginary ride to the North Pole on the Tennessee Valley Railroad. Passengers enjoy refreshments (including cookies and hot chocolate), listen to stories, write their own letters to Santa, and take home an ornament on the hour-long ride. Know before you go: Santa does not hop aboard this train, but children can see him outside their windows once they arrive at the North Pole. Masks required.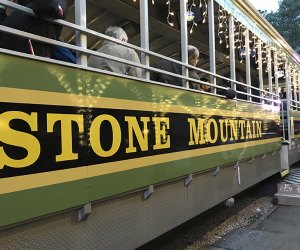 Take a Christmas Sing-a-Long Scenic ride on the Stone Mountain Railroad. Photo courtesy the railroad
Distance from metro Atlanta: 30 minutes
Dates: November 13-January 3
Cost: Included with attraction pass: $29.95 (ages 3-11); $34.95 (12+); free (2 and under)
If you like Christmas magic but also appreciate convenience, this holiday train ride at Stone Mountain Park is for you. Guests purchase attraction passes and can enjoy all that the park has to offer (including Summit Skyride, the interactive dinosaur exhibit, and mini golf) plus all the seasonal Stone Mountain Christmas activities. The train ride on the park's scenic railway is a five-mile trip around the mountain. At night the excursion turns even more festive with Christmas carols.
Distance from metro Atlanta: 35 minutes
Dates: December 1-23
Cost: $13; ages 2 and under free
As far as bang for your buck, this Atlanta holiday train out of the Pine Mountain Gold Museum is number one. Plus, depending on where you live, it may be closer than Stone Mountain. At only $13 per ticket, passengers experience plenty of Christmas magic with music, lights, and characters.
Distance from metro Atlanta: 5 hours
Dates: November 26-December 30
Cost: Starting at $15 for children; prices vary depending on day and time
This holiday train may not be as close to Atlanta, but if your family plans to head to the beach this holiday season, consider adding this Georgia Coastal Railway open-air ride to your agenda. On the Santa Special, kids enjoy an interactive adventure in which they help Mason and Molly save Christmas from being ruined by pesky mice. Families will also see special characters like the Snow Queen, elves and of course, Santa. Warm pajamas and masks are encouraged.