Chattanooga with Kids: 25 Best Things To Do in Chattanooga, Tennessee
8/27/22
- By
Jackie Jones
Chattanooga, Tennessee is known as the Scenic City, and it's not hard for visitors to see why. Set along the Tennessee River in the foothills of the Appalachian Mountains, this southern town is brimming with beauty and fascinating attractions. Though not as high-profile as Nashville or Memphis, Chattanooga is an affordable and easily accessible place. And with so many family-friendly things to do in Chattanooga, it's a great destination for a trip with kids.
Here are 25 of the best things to do in Chattanooga with kids, including kid-friendly museums, fresh-air fun, delicious Chattanooga restaurants, and great Chattanooga hotels for families. Be sure to visit our Family Travel Guide for more great family vacation ideas.

The Tennessee Aquarium is a must-visit Chattanooga attraction.
Top Attractions in Chattanooga for Families
Home to a whopping 10,000 animals, this massive Chattanooga aquarium is one of the most popular things to do in the city. The exhibits are divided into two buildings, one focusing on ocean wildlife and one on river animals. Perennial favorites like penguins, otters, turtles, and sharks are all on display, and there's a great touch tank where children can buddy up with stingrays and horseshoe crabs. The big highlight for my kids was seeing the species we weren't familiar with, like the arapaima, a freshwater fish that actually breathes air. Expect to spend several hours at this Chattanooga aquarium, which also boasts a butterfly garden and an IMAX theater.
Related: 25 Things To Do in Nashville, TN with Kids

The underground waterfall at Ruby Falls is truly magical. Photo courtesy of the Ruby Falls Facebook page
This underground cave and waterfall was not only a highlight of our trip, it was a highlight of our entire summer. On our guided tour, we descended 260 feet into Chattanooga's Lookout Mountain. Then, we walked the cavern trail (an easy, but narrow one-mile hike) before reaching our destination—the deepest underground waterfall open to the public in the US. The waterfall itself was magical, as was the ancient rock formations we saw on our journey. Many of these geological wonders are named after what they look like, so expect to see "the fish," "the elephant foot," and "cactus and candle." The tour typically lasts 60 to 90 minutes.
Located about 10 minutes from Ruby Falls, this 4,100-foot walking trail on Lookout Mountain features cool rock formations, a swinging bridge, and lush gardens. See how many gnomes you can spot in the trail's Gnome Valley, and take the ultimate family photo at Lover's Leap, a rocky overlook where seven states can be seen on a clear day. When it comes to outdoor things to do in Chattanooga, Rock City Gardens is a must.
Related: Memphis with Kids: 25 Things To Do in Memphis, TN

Take in the incredible views from Lookout Mountain.
4. Other Lookout Mountain Activities
Scale the Cavern Castle for amazing panoramic views of the Tennessee Valley and downtown Chattanooga. Big kids weighing 60 pounds or more can go zip lining through the trees on 700 feet of round-trip lines with High Point Zip Adventure. Even getting to Lookout Mountain can be an adventure—if you don't want to drive up the area's windy roads, consider taking the Incline Railway, a tram that carries visitors a mile up and down the mountain.
Visitors can see a wide variety of creatures at this 13-acre zoo, such as camels, gibbons, alligators, red pandas, and sand cats. The zoo is on the smaller side, but it's well-maintained and family-friendly. Expect a full walk-through to take about two to three hours. There is also a "zoo choo" train for kids and an opportunity to feed giraffes and barnyard animals. Little ones can get their wiggles out on the zoo's playground.
Go root, root, root for the home team at downtown's AT&T Field. The baseball stadium is home to the Chattanooga Lookouts, a minor-league team and double-A affiliate of the Minnesota Twins. Tickets are cheap, there are lots of giveaways, and the park really caters to families. After every game, kids are invited to run the bases. Some nights are also capped off with a fireworks show.
Best Chattanooga Museums for Kids
Perhaps you've heard the song "Chattanooga Choo-Choo." This city loves its trains, and that passion is on display at the Tennessee Valley Railroad Museum. Along with exhibits that include old photos, artifacts, and a model-train layout, visitors can purchase tickets aboard one of the museum's many trains. For families with young kids, the 65-minute Missionary Ridge Local is a great option. The six-mile round-trip ride packs in some history during the journey and travels through a cool horseshoe-shaped tunnel.
Related: The Best Children's Museums in the US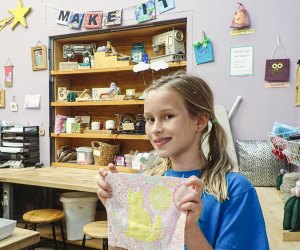 Kids can try their hand at sewing, woodworking, and more at the Creative Discovery Museum.
Just when I thought I had seen the country's best children's museums, Chattanooga came along and surprises me with an amazing space that's sure to delight kids of all ages. With tons of interactive exhibits, a family can spend a whole day here—my kids and I nearly got kicked out at closing time. The large water table in the RiverPlay exhibit kept my daughters occupied for nearly an hour, until they discovered the massive indoor playground. There's also a great music area where kids can try a variety of instruments and an arts gallery where they can design, sculpt, and draw. Kids 4 and under can play pretend in the Little Yellow House, while big kids try woodworking and sewing in the Make It room.
Kids 17 and under are free every day at this museum that features paintings, drawings, photos, and new media from the 1700s to the present. Stroll through the outdoor sculpture garden and browse the museum's diverse collection of photos on display. The building itself is also quite impressive. The Hunter holds regular Family Fun Days, when kids can take part in activities like food tastings, musical performances, games, and art-making stations.
Got a kid who's into cars? The Coker Museum has over 100 vintage autos, hot rods, motorcycles, trucks, and buses on display (and even a few airplanes, too). A self-guided tour in this lofty space takes about an hour. Be advised that there are no interactive displays at this museum.
Speaking of cool vehicles, who knew there was a museum dedicated to the tow-truck industry? About a five-minute drive from the Coker, this small but mighty attraction features lots of restored tow trucks, a driver's Hall of Fame, and a miniature tow truck kids can climb in to try their hand at operating a boom. Kids 5 and under get in free. This museum is certainly one of the more unique things to do in Chattanooga.
Outdoor Things To Do in Chattanooga with Kids
About 15 minutes outside downtown Chattanooga, this amusement park boasts 38 rides and a five-acre water park. Favorites at "Lake Winnie" include the Ferris wheel, the carousel (one of the oldest and largest in the US), the Cannon Ball (an old-school wooden roller coaster), and the Genie (a gravity-defying, spinning ride). The SOAKYa water park has tube and body slides, a lazy river, and a kids' obstacle course. Lake Winnie is open seasonally and is closed on some weekdays, even in the summer, so be sure to check the online calendar before visiting.
Related: 70 Fun Things To Do in Gatlinburg and Pigeon Forge, Tennessee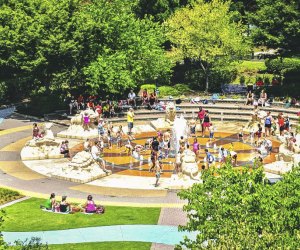 Cool off at Coolidge Park's giant splash pad. Photo courtesy of visitchattanooga.com
13. Local Splash Pads
Tennessee heat is no joke. Good thing Chattanooga has some great splash pads where kids can cool off. At the top of that list is Coolidge Park, which has a giant fountain that kids can play in alongside some cute animal sculptures. After drying off, take a spin on the Coolidge Park carousel, an antique from 1894 that has its calliope band organ. We also enjoyed the splash pad at Aquarium Plaza, just outside the Tennessee Aquarium. This water-play area is more like a long wading stream that ends in a small pool.
Lace up those sneakers for a walk on the 2,376-foot Walnut Street Bridge, one of the world's longest pedestrian bridges. Erected in 1891, it connects downtown Chattanooga to the north shore. Expect to spend about 35 minutes walking the bridge (longer if you understandably take lots of photos). To access the bridge, park for free at Coolidge Park. Strollers and dogs are welcome.
Want to go rolling down the Tennessee River? Chattanooga Ducks offers a narrated tour of the city on a renovated World War II amphibious duck boat. Visitors start the tour on land, driving past various points of interest and learning local history along the way. Then the vehicle converts into a boat and splashes into the river. Duck tours typically last about 90 minutes, with plenty of funny and corny jokes peppered in.
Reconnect with nature at this 317-acre arboretum that has a botanical garden, 12 miles of trails, small ponds, wildflower meadows, live animals, and a wetland tree house. There are flat, easy hikes for families, as well as native plant and animal exhibits (the endangered red wolves are a local favorite). Visitors can also rent canoes for a venture out on the scenic Lookout Creek.
More Fun Things To Do in Chattanooga with Kids

The Kid's Zone at High Point makes climbing fun.
Children as young as 3 can get harnessed up and test their skills at this climbing facility. While High Point offers plenty of classes, visitors can also get a day pass, giving them access to the super fun Kid's Zone. Young climbers can ascend a big spiderweb, a series of towers, or a variety of climbing walls with bright colors and fun themes. My daughters especially loved the ladder wall, the giraffe wall, and the maze wall.
Here's a "wheely" fun idea for an outing with the kids (sorry, couldn't help myself): Roller skate or blade your heart out at Hamilton Skate Place, located just east of downtown Chattanooga. The rink holds open skating sessions on the weekends and some weeknights. Visitors can rent or bring their own gear. SK8 helpers (which look like walkers) are available for beginner skaters.
19. Trampoline Parks
On a rainy day, sometimes you just can't beat a trampoline park. Greater Chattanooga has a few for families to choose from. Along with bouncing away, visitors can try the ninja course, play dodgeball, and do acrobatics in the aerial silks at DEFY Chattanooga. Just over the state line in Fort Oglethrope, Georgia (about 15 minutes from downtown Chattanooga) is XTreme Air Mega Park. Here, children can make their way through a giant inflatable playground, ride the zip line, and try to be the last kid standing in the wipeout zone.
Chattanooga Restaurants and Food for Families
20. Awesome Pizza Spots
Pizza night is always a crowd pleaser, and Chattanooga serves up some great pies! For delicious New York- and Detroit-style pizza, head to Community Pie, a cool and casual downtown joint. Foodies also love the hand-tossed pie at Lupi's Pizza Pies, a local chain with five locations around the city. And along with its Neapolitan-style pizza, the Fiamma Pizza Company serves up great salads and sandwiches.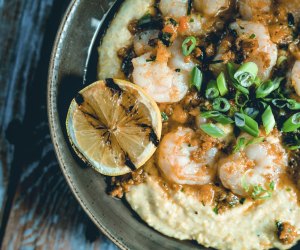 Enjoy delicious southern dishes such as shrimp and grits at Tupelo Honey. Photo courtesy of the restaurant
21. Yummy Southern Fare
Though the menu changes seasonally, you can count on Tupelo Honey for great southern comfort food, such as chicken and waffles. The biscuits alone bring local families to this bustling restaurant. Southern Star has one of the best lunch bargains in Chattanooga, a blue-plate special with a meat and three sides (expect offerings like chicken fingers and collard greens). STIR may be known for its craft cocktails, but the food is also delicious. It includes lots of fresh seafood dishes like shrimp and grits, and there is a kids' menu.
22. Sweet Ice Cream Treats
We all really do scream for ice cream, don't we? When that sweet tooth strikes, head over to Clumpies Ice Cream Company. This local chain scoops up specialty flavors like blueberry muffin and key lime pie. The Ice Cream Show has ice cream, frozen yogurt, coffee, and hot chocolate, as well as a pleasant patio to enjoy them on. Plus, the shop is adjacent to the Walnut Street Bridge, so your family can walk off those treats afterwards.
Family-Friendly Chattanooga Hotels
How cool is this? The old Chattanooga Choo Choo train station has been converted into a beautiful downtown hotel. There are old photos and artifacts on display in the lobby, and guests can take pictures with actual train cars (you don't have to be staying at the hotel to get selfies with the trains, though you will have to pay for parking). The property boasts several restaurants and shops, as well as an arcade and an ice skating rink in the winter. The station was listed on the National Register of Historic Places in 1974; it's currently undergoing a major renovation that should be completed by summer 2023.
Related: The Best Pigeon Forge Hotels and Hotels in Gatlinburg, TN for Families

Art lovers will enjoy a stay at the Edwin Hotel. Photo courtesy of the hotel
For a side of sophistication with your Chattanooga stay, the Edwin Hotel is an art lover's paradise. Besides its gorgeous views of the Tennessee River and rooftop plunge pool, this boutique hotel displays the works of 75 local artists. The Edwin also features an in-house gourmet restaurant. But don't be intimidated—the hotel is both kid- and pet-friendly, allowing one pet per family in its spacious rooms.
There's nothing outwardly luxurious about the Residence Inn Downtown, but for a traveling family, this hotel checks all the boxes. It offers an indoor pool, friendly staff, and a hot breakfast included with your stay. Above all, the location could not be better: my family was able to walk to the Tennessee Aquarium, the Creative Discovery Museum, and a variety of restaurants. While there are other hotels located in the heart of downtown, this is one this Mommy Poppins writer can personally endorse!
All photos by the author unless otherwise indicated