25 Things To Do in Nashville, TN with Kids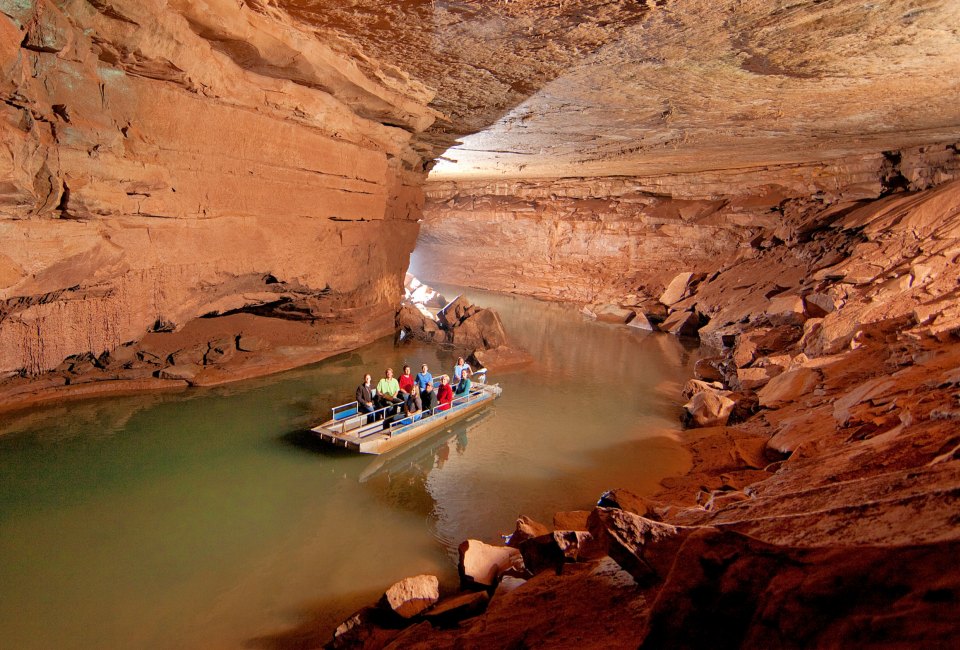 9/29/18
- By
Carrie Taylor
It only takes one minute in the Music City to see it's truly alive, from the constant pulse of live music in almost every public space and eatery to the rich history and beautiful landmarks. One thing is for sure, your family will never be bored. There is something for every kid, from the train enthusiast to the science lover to the outdoor adventurer.
And for more guides on visiting cities around the world with kids, check out our Mommy Poppins Family City Guide.
1. Take line dancing lessons at Wildhorse Saloon.
2. Tour the Country Music Hall of Fame and Museum. It's incredibly well done and has an area where interactive, kid-friendly exhibits rotate, like the Taylor Swift exhibit, where visitors draw and decorate their own stage costumes.
3. Just west of Nashville you can escape city life and soak up the outdoors by ziplining through the forest.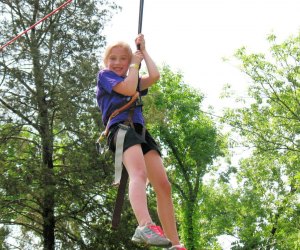 Ziplining through the treetops!
4. Visit and tour the state's capital building on the hill.
5. After your capital building tour, play and learn in the massive Bicentennial Capitol Park, where there are family-friendly activities and events almost every day.
6. Take a boat tour through the Lost River Caverns, located about an hour north of the city. There's a zipline here, too!
7. Work on your stand-up paddleboard skills on the Cumberland River.
8. Soak up the sights at the historic Riverfront Park commemorating Nashville's first settlers. It's also known to host inexpensive concerts featuring some of Country's greats.
9. Catch a Titans football game at Nissan Stadium.
10. See the animals (375 species and counting!) at the lush and beautiful Nashville Zoo.
11. Ride the waves at Wave Country, where admission is affordable and kids ages 2 and under are free!
12. Tackle one of the coolest climbing towers we've ever seen at SOAR Nashville. It's four stories high and features more than 100 climbing features. Oh, and there's mini golf, too.
13. Escape to Nashville Shores Lakeside Resort, home to outdoor adventure, a waterpark, and marina.
14. See Nashville's budding talent perform through the Nashville Children's Theatre.
15. Play in the beautiful 132-acre Centennial Park, which is also home to a stunning replica of the Parthenon.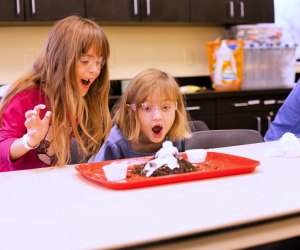 There are lots of amazing things to see at the Adventure Science Center
16. Learn and play as a family at the interactive Adventure Science Center, and while you're there, admire the stars at the Sudekum Planetarium.
17. Visit the Discovery Center, which is well worth the half-hour drive southeast of the city. It's a hybrid children's museum and nature center with themed "discovery" centers that feature interactive, hands-on displays, from trains and cars to the exciting Shadow Room.
18. Discover unique and original art at Frist Art Museum, where admission is free for guests ages 18 and under.
19. Ride the historical passenger train at the Tenessee Railway Museum.
20. Tour the Belmont Mansion, a massive and elaborately designed villa built in the mid-1800s.
21. Spend the day in Franklin, a small town south of Nashville and steeped in Civil War history. There are lots of great tours to be taken here, from casual walking tours to ghost expeditions.
22. Take a tour of the city on an old-time trolley downtown.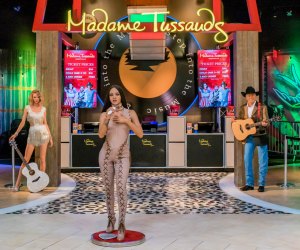 Photo courtesy of Madame Tussauds
23. See the stars at Madame Tussauds wax museum.
24. Treat your sweet tooth at one of Nashville's many candy shops, like The Bang Candy Company and Savannah's Candy Kitchen.
25. Eat some delicious local delicacies. Try the hot chicken at Hattie B's or Party Fowl, and dig into barbecue at Acme Feed & Seed or Puckett's Grocery.
All photos courtesy of Nashville Convention & Visitors Corporation, unless otherwise noted

Sign up for our free
newsletters.
Mommy Poppins is a family activity website that helps people find things to do with kids.
©
2023
MommyPoppins. All Rights Reserved.
mp-prod4-v4.32.99
We use cookies and other data collection technologies to provide the best experience for our customers.
Learn More
t Click Here to Sign Up!