The Best Zoos in the US: Take Your Kids on a Family Animal Adventure
8/28/21
- By
Danielle Smith
Whether you are 2 or 102, everyone loves a trip to the zoo! Kids never forget the experience of standing eye-to-eye with a giant giraffe or watching a mama gorilla scale a tree with her baby in tow. Experiences like this, and many more, can be had at amazing zoos across the US—perhaps even at a zoo near you. We've run down the very best places to feed a flamingo, pet a wallaby, and clap along with sea lions in all 50 states (plus DC).
With award-winning exhibits and extras—like rides, slides, ropes courses, and even entire water parks—these zoos could easily be the highlight of a great family vacation, so check our Family Travel Guide to get a jump on planning. And don't forget to see if one of the Best Children's Museums in the country is near the zoo you plan to visit!

A friendly sloth enjoys a leafy snack. Photo courtesy of Roger Williams Park Zoo
While some of these zoos—like the San Diego Zoo, Bronx Zoo, and Columbus Zoo—are quite famous, other zoos on our list are small but mighty. We've researched all the cool facts about what makes each zoo unique, and what not to miss on your visit.
COVID-19 NOTE: Safety precautions vary, as do hours, capacity limits, and availability of certain experiences. Be sure to check websites for the latest updates.
The Best Zoos in the Northeast
1. Beardsley Zoo –– Bridgeport, Connecticut
Highlights: Scavenger hunts for the whole family and outstanding outdoor animal shows
Finding the best zoo in Connecticut isn't that hard, since there's only one! Luckily, it's a good one. Beardsley Zoo in Bridgeport has monkeys, big cats, red pandas, wolves, and chinchillas. Check the calendar for special events like live performances, educational talks, and regular toddler group activities. Any day you decide to drop by Beardsley, don't forget to download a scavenger hunt first, for some competitive family fun.
Highlights: Zookeeper chats with live animal encounters, and the beautiful natural play area
The Brandywine Zoo is a small operation that's big on kid-friendly fun. The collection of animals that call this zoo home includes furry friends from North and South America, Asia, and Africa. The events calendar changes with the seasons, but daily activities include educational keeper chats and animal encounters with a featured ambassador. The Nature Play Area is an ideal location to give the animals (and yourselves) a little break.
Highlights: Rides, mini golf, and go karts at the amusement park, plus the beautiful Butterfly Kingdom
The smaller collection of animals at York's Wild Kingdom won't matter much to kids who'll find plenty else to do in addition to seeing the wildlife. The zoo boasts lions, monkeys, and alligators, right next to a carnival-like atmosphere with rides, mini golf, and go karts. The Butterfly Kingdom is a 5500-square-foot exhibit with species from South and Central America. One of the biggest draws of traffic to the zoo is nearby York Beach. Many local and vacationing families fashion a full-day excursion out of visiting York's Wildlife Kingdom before or after heading to the sandy shores.

Visit the rare white rhinos at The Maryland Zoo. Photo courtesy of the zoo
Highlights: See the rare white rhinos and interact with animals by grooming goats and feeding other animals
130 different species of birds, mammals, reptiles, and amphibians live in Baltimore at the Maryland Zoo. One of them happens to be the critically endangered white rhinoceros, the earth's third-biggest land mammal. After watching these majestic creatures, kids can groom goats, toss fish to penguins, and feed giraffes or tortoises. A 10-minute train ride chugs along for a whole mile of the zoo's grounds, and kids won't want to leave without a spin on the carousel.
Highlights: The Nature Play area has an oversized bird's nest kids can climb in!
Tucked inside Boston's historic Franklin Park, lies 72 acres of abundant wildlife at the Franklin Park Zoo. This zoo is especially kid-friendly, with several dedicated areas for them to explore and learn more about animal habitats and the environment. The Nature Play spaces used surrounding trees, twigs, and plants to create log-building stations, an oversized bird's nest for climbing, and a rain barrel for water play. A more traditional playground with slides and swings is close by, spanning 10,000 square feet. At the Children's Zoo, kid-sized animals like prairie dogs and cranes are on display, adjacent to even more play structures, like a bamboo climber and a grass maze.

Calling all Slytherins! Photo courtesy of Squam Lakes Natural Science Center
Highlights: Trek the Live Animal Exhibit Trail or take a lake cruise to see animals in their natural habitats.
While there's no official zoo in New Hampshire, most locals seem to agree that the closest thing is the Squam Lakes Natural Science Center. Native New Hampshire wildlife is on full display, especially while trekking the Live Animal Exhibit Trail, with stops to see coyotes, mountain lions, and black bears. On a cruise around Squam Lake, kids can keep an eye out for bald eagles, loons (of course there are loons, this is where On Golden Pond was filmed), and other lake life. If you have time, some playtime on the nature-themed Gordon Interactive Playscape completes the experience.
Highlights: There are so many ways here to interact with the animals including giraffe feedings and a touch tank, plus a unique ropes course.
There are loads of chances to interact with wildlife here: through the petting zoo, aviary, giraffe feedings, and the 1600-gallon touch tank filled with small sharks and stingrays. Taking in the views from the zoo train is always fun, and when you've seen enough, the dino-themed playground and Treetop Adventure ropes course make great activities for a little break. One big plus of the Turtle Back Zoo is that it's located at the South Mountain Recreation Complex – home to an ice skating rink, mini golf, and paddle boats at the nearby waterfront.
Highlights: Kids can zip and climb in the Treetop Adventure, and meet a two-toed sloth at the Children's Zoo.
Just 10 miles from Times Square you'll find the largest urban zoo in America, where more than 500 people help manage over 6000 animals on more than 265 acres. (Whew!) The Bronx Zoo is world-renowned, and the conservation efforts here have gained even more attention lately on Animal Planet's show The Zoo. The shuttle is a star attraction, carting guests from Wild Asia at one end of the park to the palace-themed Zoo Center at the other, with a midpoint stop at Tiger Mountain. Kids can get friendly with a giant anteater and two-toed sloth at the Children's Zoo, or watch feedings of the penguins and sea lions from a little more distance. The exhibits at this zoo are spectacular, especially Jungleworld and the Congo Gorilla Forest, which make it hard to believe you're in the Bronx. For a playful break from the wildlife, children will love climbing through Nature Trek, a tree-height playground village, or completing the Treetop Adventure ropes course.

Tigers enjoy the mesh trails at the oldest zoo in America. Photo courtesy of the Philadelphia Zoo
9. Philadelphia Zoo –– Philadelphia, Pennsylvania
Highlights: Look up! A network of mesh trails means the animals walk right over your head.
You can find the oldest zoo in America in the birthplace of America. The best direction to look at the Philadelphia Zoo is up, where kids can view Zoo360, the network of overhead mesh trails that serves as a walkway for lions, tigers, monkeys, and more animals as they pass through. KidZooU is the educational children's hub, full of hands-on learning opportunities. The carousel is a beloved attraction, as is Wildworks, an aerial ropes course where kids can test their daredevil skills.
Highlights: Soar above the zoo on the zip line and see the animals from a different perspective.
Roger Williams Park Zoo in Providence is the country's third oldest zoo, and home to a variety of naturalistic surroundings for over 160 different species of animals. Kids can meet with some of them at the farmyard or during giraffe feedings. For more thrilling experiences, the Explore and Soar area features a two-person zip line 115 feet in the sky, and train rides during warmer weather. The zoo's Big Backyard is a beautiful escape for younger ones, with water play stations, building blocks, a treehouse, and instruments. Carousel Village has even more to see, including of course the carousel, with seasonal bounce houses and pony rides.
Highlights: The 3D theater shows movies about living and extinct animals.
Vermont is known for a myriad of outdoor experiences, but a zoo isn't one of them. The state has no official zoo, but it does have ECHO, Leahy Center for Lake Champlain, with enough animal encounters to make it the next best option. This science and nature museum's purpose is to educate visitors about the lake and its inhabitants. Live animals on display include poison dart frogs, snapping turtles, newts, and rat snakes, while the shipwreck-themed Lake Champlain Aquatic Display holds some of the largest and most impressive fish in the region. The 3D theater plays movies with titles like Sea Monsters and Dinosaurs of Antarctica.
The Best Zoos in the South
Highlights: There's water play at the splash pads when it's warm, and keep an eye on the fantastic and unique special events and exhibits.
Alabama's Birmingham Zoo is home to over 550 animals of 180 species from 6 continents and is one of the state's most visited attractions. Children can ride the Red Diamond Express on zoo grounds, go for a spin on the carousel, or enjoy some water play at the splash pads. On weekends, animal encounters allow for up close and personal giraffe feedings or bird feedings. The zoo is constantly hosting special events, from princess-themed breakfasts to unique exhibits featuring characters from their favorite books.
Highlights: The Over the Jumps antique carousel is the only one of its kind still operating.
Some 500 big cats, bears, reptiles, and exotic birds all live together at the Little Rock Zoo, and you can cover its 33 acres in about two-three hours on a leisurely stroll, depending on your family's pace. Learning opportunities abound through popular amphitheater shows and zookeeper chats. The train is a favorite attraction, as is the antique carousel.
14. Zoo Atlanta –– Atlanta, Georgia
Highlights: Exploration backpacks are available for kids to borrow that turn kids into scholars for the day.
The Atlanta zoo staff are responsible for over 1000 animals, and they love teaching visitors all about them. One great way to learn more is by borrowing an exploration pack, complete with binoculars, stopwatches, magnifying glasses, and more to help young conservationists fill out the accompanying info sheet. Animal feedings and encounters, keeper talks, and the zoo train are also great ways to see all 40 acres of fun. When you're done exploring, challenge yourself with a go at the ropes course, and cool off from the Georgia sun at the splash fountain.

Give tired feet a rest by hopping on a Safari Cycle at Zoo Miami. Photo courtesy of the zoo
15. Zoo Miami –– Miami, Florida
Highlights: Make toys for the animals at the Animal Fun Factory and take a simulated Everglades tour.
Florida is a wildlife haven with no shortage of great zoos and safaris. But the biggest in the state is Zoo Miami –– it's also the only zoo in the lower 48 located in a subtropical climate. That allows for an array of animals that are harder to showcase in colder regions. Over 2000 animals roam hundreds of acres at this zoo, but there's plenty of entertainment beyond the exhibits. In addition to feedings and encounters, you can ride a carousel, monorail, safari tram, or enjoy a lake cruise in an open-air pedal boat. For water fun that's a little more thrilling, the Lostman's River Ride takes guests on a simulated Everglades tour with surprises at every turn. One of the coolest stops on your visit to Zoo Miami is the Animal Fun Factory, an interactive exhibit where kids can make toys and other crafts that the animals will actually get to play with.
Highlights: Meet the animals with seal & sea lion shows or rides on the ponies and camels.
Glacier Run, South America, and the Herpaquarium are a handful of the habitats you'll find housing some 1100 animals at the Louisville Zoo. Opportunities to interact with various creatures abound, with lorikeet feedings and a butterfly flight house among the most popular offerings. Seals, sea lions, and snow leopards demonstrate what they've learned in training sessions for guests to observe, while ponies and camels dole out rides. This zoo also has a splash park, carousel, playground, and ropes course to add to the day's excitement.

Nothing is cooler than the Cool Zoo water park. Photo courtesy of the Audubon Zoo
17. Audubon Zoo –– New Orleans, Louisiana
Highlights: The Louisiana Swamp Exhibit has a rare white alligator, and in hot weather, nothing is cooler than the Cool Zoo water park.
Audubon Zoo has been featured on USA Today's 10Best reader poll of the country's favorite zoos, and it's easy to see why. In addition to world-class exhibits, we love that this zoo honors its Bayou roots with the Louisiana Swamp Exhibit—the world's only urban swamp—showcasing animals native to southern Louisiana, including the rare white alligator. Stroll through Bambu village to engage with touch-friendly mammals and learn more at their education stations. And when the weather's right, Cool Zoo is an absolute must-do. This is a legitimate water park with a lazy river, huge water play structure, and cabanas—all perfect after sweating it out in the sticky Louisiana heat.
18. Hattiesburg Zoo –– Hattiesburg, Mississippi
Highlights: While the Wallaby Walkabout and Mining Expeditions are cool, little Minecrafters will go crazy to see real-life axolotls!
Hattiesburg may be a smaller city, but its zoo has animal life from all seven continents. Kids can spot jaguars, anteaters, and axolotls (your little Minecrafter will be so thrilled!) in this Mississippi zoo, and at the Australian Wallaby Walkabout exhibit, they can actually mingle with some friends from the Outback, including emus, wallabies, and KuneKune pigs. Apart from the animals, the Mining Expedition takes little ones on an archeological dig for gems and stones, and further adventure awaits at the ropes course. Round out your day at the Hattiesburg Zoo with some playtime on their bug-themed playground, a train ride around grounds, and a final cool-down at the splash pads.

Visit with a chimpanzee. Photo courtesy of the North Carolina Zoo
Highlights: Go on a safari across the Watani Grasslands.
With 500 developed acres, the North Carolina Zoo has the distinction of being the largest natural habitat zoo in the world. 1800 animals are spread across four defined habitats—Africa; North America; a global desert; and a tropical, free-flight aviary. The open-air safari vehicle is the best way to tour the 40-acre Watani Grasslands exhibit. And the best way to see the giraffes is from the giraffe deck, where the world's tallest land animals will meet you eye to eye for a snack. This zoo has multiple nature-inspired play areas, a carousel, a ropes course, and hiking trails to finish off your family adventure.
Highlights: here kids can feed flamingos and lorikeets and hop on a camel's hump.
9 different habitats shelter elephants, bears, giraffes, and lots of other wildlife at the Oklahoma City Zoo. Children's zoo activities allow for feeding flamingos and lorikeets as well as barnyard animals. Other ways to engage can be found by taking a camel for a ride or enjoying the marine mammal showcase, where seals and sea lions show off their intelligence. Helping round out this zoo's slate of fun activities are the train tour, Elephant Express Tram ride, and the carousel.

Riverbanks Zoo has water play on hot days. Photo courtesy of Riverbanks Zoo and Garden
Highlights: Meet marsupials at the Kangaroo Walkabout and cool off at Waterfall Junction.
Riverbanks Zoo earns high marks from South Carolinians and out-of-towners alike, who praise its pristine grounds and numerous educational and conservation efforts. Children can mix and mingle with many of them through giraffe and bird feedings, and Riverbanks farm encounters. The Kangaroo Walkabout is especially unique for the chance to meet live marsupials. Young adventurers love scaling the zoo's rock wall and navigating the ropes course, and the day is best ended at Waterfall Junction, where they can splash around next to a life-sized T-rex replica.
22. Memphis Zoo –– Memphis, Tennessee
Highlights: This friendly zoo has loads of ways to interact with animals including shows, feedings, and even camel rides.
From Cat Country to Primate Canyon to the Zambezi River Hippo Camp, animals abound and the fun never ends at the Memphis Zoo. According to the season, the zoo offers different animal presentations and experiences like the Flock Together bird show, Sea Lion shows, and Camel Rides. The Kanga Zoo Outback Experience takes guests on a designated pathway where the marsupials can be observed from afar in their natural habitats. Feedings take place with giraffes and stingrays. The Memphis Zoo is always highly ranked by leading travel outlets as well as guests.
Highlights: This zoo is famous for all the ways kids can get hands-on and play (like the Playbarn and Learning Theater), but we'd be remiss not to mention the Swinging Swamp Bridge.
The Lone Star State has many excellent zoos, making it hard to pick a single winner. But we're going with the Fort Worth Zoo, where attractions at the zoo include the Playbarn (a farm-themed interactive play area) and the 13,000 square foot Outdoor Learning Theater. The extensive shade provided by the theater is one reason Texans rank this zoo above the others in the state. Other popular zoo features are the 60-foot Swinging Swamp Bridge, a laser target game inside the Wild West Shooting Gallery, the carousel, and the train. No Texas zoo would be complete without a water park – Safari Splash cools kids down with four slides, a water dump tower, and animal-shaped water cannons.
24. Virginia Zoo –– Norfolk, Virginia
Highlights: The animals are amazing, but kids really remember playing here at both the Nature Discovery Zone and the water plaza.
Some 700 animals representing over 150 species are ready to be admired at the Virginia Zoo in Norfolk. Seven informative exhibits complemented by eight gorgeous gardens make up this zoo's 53 acres. Kids can see smaller animals in action at one of the Zoo Live! shows or keeper chats. The Norfolk Southern Express Train takes children on a unique and educational voyage. When they're wiped out from all that, they'll be eager for a play break at the Run Wild: Nature Discovery Zone, with its balance beams, dig boxes, and willow tunnel. And don't forget a swimsuit for the water plaza, where flowing fountains and spraygrounds add to the fun.

Meet Xiao Qi Ji, the newest member of the Giant Panda Family. Photo courtesy of the Smithsonian National Zoo
Highlights: Everyone loves seeing the famous Giant Panda family, and the Me and the Bee playground is buzzing with activities.
There's never any cost to enter the Smithsonian National Zoo in our nation's capital, making it a wildly popular tourist destination for over 2 million people each year. Right in the heart of the city's Rock Creek Park, lots of guests come to see the local celebrities – the Giant Panda Family of Tian Tian, Mei Xiang, and the couple's one-year-old cub Xiao Qi Ji. Besides the pandas, there are more than 2700 animals to see here, including those at the Kids' Farm, where children can come face to face with barnyard residents. Kids love to buzz around the pollinator-themed playground named Me and the Bee where they can slide down a hive and climb in and out of trees.
Highlights: Take a golf cart tour of the zoo, guided by a zookeeper, to learn about the animals and visit the zoo's veterinary hospital.
If you're going to visit a zoo, why not pick one at a resort? The Good Zoo at Oglebay Resort is exactly that, with 50 species of animals, 20 of which are endangered. Exploring this small zoo is an intimate experience, but families can dial it up a notch by sightseeing from the zoo train, or taking a behind-the-scenes golf cart tour. Animal Encounters here can get pricey, but they're not necessary given how close the regular experience gets you to the animals.
The Best Zoos in the Midwest

Look at the blue tongue! Photo courtesy of the Brookfield Zoo
Highlights: The Seven Seas exhibit features a dolphin show that entrances kids.
About 1000 miles from the closest SeaWorld, the Brookfield Zoo is easily the next best thing, thanks to Dolphins in Action. Several shows run each week, allowing kids to watch the mammals perform aerial jumps and show off human-like smarts. The dolphin area is part of the Seven Seas exhibit, where families can also check out seals and feed penguins. The rest of the zoo is pretty impressive, too, set on over 216 acres with more than 2000 animals and an accredited arboretum. Visiting exhibitions add to the excitement, like Dinos Everywhere, which brings 40 animatronic dinosaurs to the zoo for additional thrills.
Highlights: While the roller coasters and other rides provide plenty of thrills, the largest shark touch pool in the country is our pick for the coolest animal highlight.
There's so much to do at the Indianapolis Zoo, one could easily forget about the animals. For starters, the Kombo Family rollercoaster takes riders up to 21 mph across a 656-foot long track. And that's not the only ride – climb aboard the White River Junction Train for a 10-minute narrated journey, or soar 50 feet in the air for overhead zoo views on the gondola-style Skyline. The seasonal Race-A-Cheetah exhibit lets kids test their running speed against the speeds that a cheetah would reach in the same distance. Over in the Oceans exhibit is the country's largest shark touch pool, where a school of dogfish sharks mingles with guests eager to feel one in real life. All this in addition to a playground, treehouse, carousel, flamingo feedings, botanical garden, and 64 acres of animals from every corner of the earth? We're tired just thinking about visiting this zoo (but in the best way!).
Highlights: Go camping in the zoo, and then wake up and ride an electric scooter that looks like an animal.
Billed as Iowa's wildest adventure, the Blank Park Zoo may be on the smaller side, but it certainly doesn't skimp on adventure. Almost 1500 animals live here, and families can choose to spend the night with them on one of the zoo's overnight camping excursions. Camel rides transport visitors to faraway lands, and guests enjoy seeing the sights from the zoo's Rydables –– electric scooters covered in plush animal designs like elephants and giraffes.
Highlights: Family overnight campouts and boat rides on the canal both give a different view of the animals at this zoo.
If you happen to get the distinct feeling you're not in Kansas anymore, don't worry, it's probably just the Sedgwick County Zoo's animal experiences making you feel like you're on another continent. Warthogs, wallaroos, and chimpanzees all have habitats at this Wichita zoo, with plenty of other attractions and special events. Boat excursions on the canal surrounding the property give guests a unique view of animal life. Sedgwick also offers more intimate interactions through encounters with giraffes, elephants, tortoises, and penguins, as well as family overnight campouts to experience the zoo under the stars.
31. Detroit Zoo –– Royal Oak, Michigan
Highlights: The Detroit Zoo has the biggest penguin habitat in the world—and this is the only zoo with a SpongeBob SquarePants ride!
If you're looking for the largest penguin facility in the world, you can find it at the Detroit Zoo. The 33,000-square-foot Polk Penguin Conservation Center contains a 326,000-gallon tank where over 75 penguins can swim, jump, and dive. The zoo's award-winning National Amphibian Conservation Center houses over 1000 frogs, toads, salamanders, and more. One unique attraction is a SpongeBob-themed ride called The Great Jelly Rescue—a simulated experience inviting kids to help SpongeBob rescue some jellyfish in peril.
32. Minnesota Zoo –– Apple Valley, Minnesota
Highlights: The Family Farm is a totally unique way for kids to learn about the farm-to-table movement.
The Family Farm at the Minnesota Zoo is a great place for kids to connect with Midwestern agricultural traditions, and learn how food goes from farm to table. The World of Birds show lets owls, hawks, and parrots demonstrate natural free-flight behaviors before awestruck crowds. The Marine Education Center functions like an aquarium, where guests can touch sharks, sea stars, and sea anemones, as a variety of stingrays, tropical fish, and other marine life swim by.


Climb like a monkey on the Primate Canopy Trails climbing structure. Photo courtesy of Ray Meibaum for the Saint Louis Zoo
Highlights: Primate Canopy Trails is one of the coolest exhibits at any zoo, where guests go through a see-through tunnel and up into the treetops with the monkeys and apes.
Meet us in St. Louis, where the zoo's motto is "animals always," and admission is always free. The newest and most exciting attraction is Primate Canopy Trails. Connected to the Primate house, it's a 35,000 square foot expansion of elevated pathways and climbing structures, giving guests intimate access to the forest canopy where the primates roam. From August through October, watch sea lions perform tricks, flips, and balance balls on their noses at a show. Head over to Caribbean Cove to feel a stingray as it glides through the warm saltwater, right next to a 17,000-gallon pool, where more stingrays splash beneath a waterfall.
Highlights: While it's hard to pick a highlight at this incredible zoo, the biggest indoor rainforest (and biggest indoor desert) are real standouts.
When we think of world-class tourist destinations, Omaha probably doesn't make the cut. Yet people from way beyond Nebraska rave about the amazing facilities at Henry Doorly Zoo and Aquarium, which routinely tops lists of the best zoos in the US, as well as the world. Lots of our entries have water play areas, trains, aerial lifts, theaters, and carousels. Henry Doorly has all of that, plus North America's largest indoor rainforest, the world's largest indoor desert, and the largest aquarium within a zoo. The Lied Jungle features waterfalls, caves, and a swing bridge to explore, while the Desert Dome is an 84,000-square foot enclosure with real red sand, rock structures, and a variety of desert flora and fauna. The aquarium has sea life from temperate oceans, arctic regions, coral reefs, and the Amazon, including a 70-foot shark tunnel. Henry Doorly is an all-day affair your family won't want to miss.
35. Dakota Zoo –– Bismarck, North Dakota
Highlights: The tunnels in the Big Cat Complex give a unique look at tigers and snow leopards.
The best zoo experience in North Dakota is Bismarck's Dakota Zoo. Emus and arctic foxes share this zoo with snow leopards and Bengal tigers, giving visitors a well-rounded wildlife education. A system of tunnels in the Big Cat Complex actually provides first-hand views from turrets inside the exhibit itself! The facilities include a Discovery Center, with computers and hands-on learning activities for kids of all ages. Right outside the center, the playground is a great place to burn some energy.
Highlights: There's a whole amusement park and aquarium at this zoo, and golf and a water park nearby; but for animal encounters, we favor the camel and pony rides.
To fully experience the Columbus Zoo and Aquarium, a full day might not be enough. Nearly 10,000 animals live here, across regions designated as Heart of Africa, Asia Quest, Congo Expedition, Australia and The Islands, North America, Adventure Cove, and The Shores, where you'll find the zoo's aquarium. On weekends, there's a whole amusement park open, with 3 roller coasters, bumper cars, flying swings, and more. The Dinosaur Island Boat Ride is the coolest way to see the Australia area – watch out for the orangutans and otters. Kids can ride ponies or camels, and take advantage of the zoo's many interactive animal encounters. This zoo is part of a recreational complex that's also home to an 18-hole golf course and Zoombezi Bay, a 22-acre water park with slides, a lazy river, and a wave pool. The Columbus Zoo is a must-do destination for families vacationing in Ohio.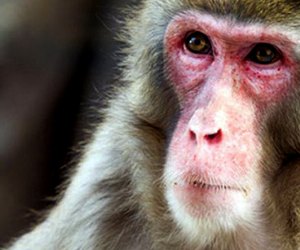 Visit a snow monkey, one of the rare species that live at the Great Plains Zoo. Photo courtesy of the zoo
Highlights: Snow monkeys are one of the rare species that live here, and if you're lucky, you might meet a little red-faced baby snow monkey!
The Great Plains Zoo in Sioux Falls provides a double dose of education, with a Natural History Museum right on the premises. Visitors get to see over 1000 animals across 8 different sections, including an award-winning snow monkey exhibit. Kids won't want to miss their chance to star in a Zoovie–a short interactive video that projects them dancing along with the wildlife. The Great Plains Zoo also boasts a carousel and a train, plus a full lineup of seasonal programs.
Highlights: See the zoo from the sky on either the Sky Safari aerial lift or from the zip line.
There's a whole lot to do at the Milwaukee County Zoo–from animal sightings to animal feedings and even animal theater–this is the best wildlife experience in Wisconsin. The Zoofari Express train zips guests across the property, which totals 190 acres. If your family prefers views from above, then the Sky Safari aerial lift can take you up and away. Expeditions on the open-air tram provide extra insight into the zoo's inner workings, and how the staff cares for the 2200+ animals. Younger kids will have a blast on the Family Farm, and the zoo's ropes courses and zip line have options for kids of all ages.
The Best Zoos in the Southwest and the Rockies
39. Phoenix Zoo –– Phoenix, Arizona
Highlights: You're in the desert, so it's extra cool to ride a camel here.
The Phoenix Zoo is one of the largest non-profit zoos in the country, looking after more than 3000 animals from 400 species, including many that are threatened or endangered. There are tons of kid-friendly activities here, where your family will run into lions, komodo dragons, and sloths just to name a few residents. And since you're in the desert already, you really should ride a camel! While you admire the beautiful wildlife, make sure to do so from the safari train, or bouncing along on one of the zoo's Rydables –– electric carts disguised as giant stuffed animals. Once you've seen all nature has to offer, cool down from the Phoenix heat at one of the splash pads.
Highlights: This gorgeous zoo is all about the view; ride the ski lift for a view from above. For on-the-ground fun, feed the rhinos and elephants.
Consistently ranked among the top zoos in North America, the Cheyenne Mountain Zoo is Colorado's best place to observe a variety of animal habitats in a beautiful setting. This is ski country, so naturally, there's a ski lift to transport visitors across the premises, with incredible views. For even more views, admission includes access to Will Rogers Shrine of the Sun, a historic monument about a mile and a half from the entrance, with a top deck sitting 8136 feet in the air. If you packed snacks for the kids, but forgot to bring some for the elephants and rhinos, don't worry. The zoo has some on hand, and kids can use their own hands for snack-time feedings.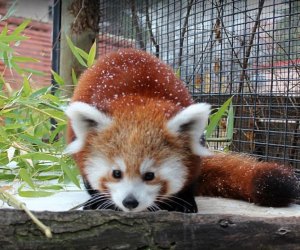 Snowy days are the best time to see active Red Pandas. Photo courtesy of Zoo Boise
41. Zoo Boise –– Boise, Idaho
Highlights: The Conservation Cruise is cool, but the Sloth Bear encounter is our favorite thing, where kids can watch the sloth bear eat bugs!
The Boise Zoo in Idaho has way more than just animals you'd normally see in the Rocky Mountains. Here you can discover mammals, reptiles, birds, and fish from all over the globe, and participate in customized experiences like the Sloth Bear encounter and the giraffe encounter. Locals rave about warm-weather activities like the butterfly garden and the conservation cruise that floats guests around a lagoon, showcasing vultures and monkeys along the way. The zoo also plans lots of special events according to season.
42. Zoo Montana –– Billings, Montana
Highlights: While this isn't the biggest zoo on our list, it just might be the most friendly, welcoming, and peaceful for families to visit.
Zoo Montana invites patrons to take a walk on the wild side. There aren't thousands or even hundreds of animals, but the more than 80 that do live here are mostly rescues, including Amur tigers, grizzlies, and wolverines. There's an accredited arboretum on site, and the events calendar stays busy with options like outdoor movies and Renaissance festivals. The real highlight of this zoo is the animals, and the knowledgeable, dedicated staff who care for them.
Highlights: The Cheetah Dash is a rare chance to see this fast animal flat-out run. It's incredible.
We're fine if whatever happens in Vegas stays there, because the best Nevada zoo is in Reno. Animal Ark Wildlife Sanctuary houses rescue animals that can't be released back to their natural habitats. Most are North American predators, but kids will spy a few exotic animals, too. One particular favorite is the cheetah, which participates in training demonstrations called Cheetah Dashes, where onlookers can observe the world's fastest land mammal at top speeds. Families enjoy the regularly held keeper talks, which educate children about wildlife and conservation efforts.
Highlights: One of the newer exhibits here is the Penguin Habitat, and it's one of the best places to see penguins outside of Antarctica.
Right off the Rio Grande, 900 animals occupy 64 acres of beautifully maintained habitats at the Albuquerque BioPark Zoo. There are species from all over the world, and some, like the giraffes, can be fed by visiting guests. Storytime takes place in the Africa amphitheater for kids who'd like to hear more about some of our four-legged friends. For a water excursion, families can hop in a pedal boat and take a short river cruise. Because the zoo is located on the Albuquerque BioPark grounds, access to an aquarium, botanical garden, and Tingley Beach are steps away.

Feeding time for the porcupines. Photo courtesy of Hogle Zoo
45. Hogle Zoo –– Salt Lake City, Utah
Highlights: Wildlife Connections program allows kids to feed the animals while zookeepers act as a personal guide and give an insider's look at the zoo.
More than 800 animals are cared for at the Hogle Zoo – one of the most visited places in Utah, and the top paid attraction in Salt Lake City. Exhibits like African Savanna, Asian Highlands, and Primate Forest spotlight rare and endangered animals from around the globe. The must-see list at this zoo includes Elephant Encounters, where the pachyderms might take a bow, return a keeper's hat, or have their toenails trimmed. Other popular encounters are offered through giraffe and rhino feedings. As long as it's hot enough, be sure to make time for the Lighthouse Point Splash Zone, with its jumping water streams and tidal pools.
Highlights: Rent a yurt and volunteer to help care for the animals.
Wyoming is one of a handful of states without an officially accredited zoo. But animal enthusiasts young and old can get their fix at the Kindness Ranch Animal Sanctuary, a home for former research and lab animals. It's not the place to spot anything exotic—it's mostly dogs, cats, and farm animals—but the mission here is worth the support, and the experience is a memorable one for kids (and parents). If you'll be in Hartville for more than a day, you can rent a yurt on the property and get in some good volunteer work during your stay. The Kindness Ranch is a great lesson for kids in treating animals with the utmost compassion.
The Best Zoos in the West
47. Alaska Zoo –– Anchorage, Alaska
Highlights: Meet wolverines and reindeer at this unique little zoo.
The Alaska Zoo takes its cues from the arctic region and the native wildlife, housing all kinds of animals you'd see on the tundra, including wolverines and reindeer! Small but mighty, the zoo offers tours, animal encounters, and live music performances among other programming. It's certainly worth a visit when in Anchorage.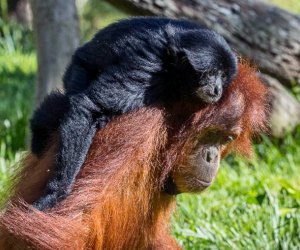 The San Diego Zoo just might be the most famous zoo in the world. Photo courtesy of the zoo
48. San Diego Zoo –– San Diego, California
Highlights: Routinely topping the list of the best zoos in the world, it's hard to single anything out! And it's about to get even better, as the Sanford Children's Zoo is scheduled to open later in 2021.
Here's one you've almost certainly heard of, or seen in numerous movies and TV shows. As the star of Animal Planet's "The Zoo," among plenty of other on-screen credits, the San Diego Zoo might be the most famous zoo in the world. This 100-acre wildlife park holds a whopping 12,000 rare and endangered animals from some 650 species, and anyone who's visited (my family included) will attest that while a visit can be overwhelming, it's well worth it. You will get tired trying to see everything in one day, so hop on the Skyfari aerial tram to get from one side to the other, and the guided bus tour, which covers most of the property in about 35 minutes. Take a break from the trek to catch a movie or animal show, enjoy an up-close encounter, or play on the playground. The zoo offers a host of special programs and seasonal celebrations.
Highlights: Twilight Tours and Morning Safaris are a special way to see more of the animals.
Hawaii may be known for breathtaking rainbows and hanging ten, but if you happen to be in Honolulu, hanging out at the zoo is a nice way to spend a few hours. Cheetahs, hippos, elephants, and more than 900 animals from tropical climates populate this island attraction, complemented by the stunning beauty of Hawaii's natural landscapes. When available, the twilight tours and morning safaris are excellent options to get to know the residents better.
50. Oregon Zoo –– Portland, Oregon
Highlights: Time your visit for the holidays, when the ZooLights takes visitors to behind-the-scenes areas of the zoo, all decked out. The zoo train is a great year-round ride.
The oldest zoo west of the Mississippi is also the top paid attraction in the Pacific Northwest. Habitats showcase bears, otters, cougars, and penguins alongside other species. Families can take the zoo railway for a relaxing ride, then hop off and listen to an educational keeper talk about their favorite animals. The Insect Zoo is part of the facility's newer education center, where kids can learn how small things make a big impact. End the day with a spin on the carousel.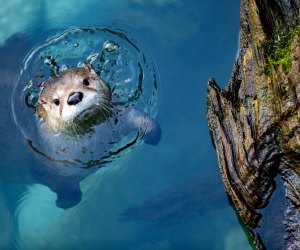 Sea Otter from the Woodland Park Zoo. Photo courtesy of Jeremy Dwyer-Lindgren
Highlights: Catch a performance at the Wildlife Theater, where animals star alongside humans. And the Zoomazium keeps kids entertained if you run into some PNW rain.
Woodland Park Zoo covers 92 acres and houses over 900 animals across habitat zones representing parts of Africa, Asia, tropical rainforests, and of course, the Northwest Trail. Performances at the Wildlife Theater are especially engaging, with elaborate costumes and sound effects, as well as free-flight birds and other animals participating alongside performers. Ambassador Animal Keeper Talks help children understand more about the lives of some of our smaller furry friends. The Zoomazium is an indoor nature play space that incorporates multimedia presentations with educational activities for kids 8 and under to explore. Guests rave that the layout of this zoo is simple to navigate, which helps maximize your time.
What do you think of our list? Got a favorite you want to advocate for? Let us know on Facebook!
Click Here to Sign Up!
i