30 Fun Things To Do in Salt Lake City with Kids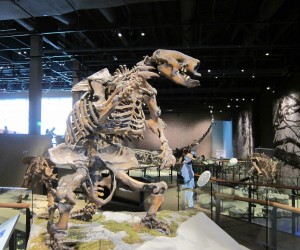 9/11/12
- By
Allison Tibaldi
Salt Lake City, Utah offers all the amenities and attractions of a big city, but is only minutes from scenic nature that provide recreational possibilities in all seasons.
The city is fairly compact compared to others in the wide-open American West, and the downtown is served by TRAX, a free light rail system that makes moving around town a breeze. Excellent area-wide public transportation can get you to the ski areas in a jiffy, so Salt Lake City makes a convenient base camp for families who want to ski Utah's famous powder.
Despite the Mormon influence, there is a somewhat surprising blossoming craft beer movement, so parents can enjoy a locally made brew with dinner. Combine this with an airport that gets top ratings for efficiency and non-stop flights from many U.S. cities and you have a family vacation in the making.
Find more family fun destinations in our Family Travel Cities Guide
City Attractions
1) Natural History Museum of Utah
This new museum showcases Utah's rich and varied natural history. Its design is very innovative. You approach it the way you would descend an actual red rock canyon in the southern part of the state, making for a visually stunning impact. The Native People, weather and dinosaur exhibits are especially well done. There are tons of hands-on, interactive activities, like basket weaving and dinosaur digs. There is a good café, with modest prices and a kid's meal option.
2) Clark Planetarium
This free state-of-the- art planetarium lets kids explore science and space. There is a charge if you want to watch a 3D IMAX movie in the Hansen Dome Theatre, but there are plenty of fun exhibits that could keep kids busy for a few hours at no cost. We loved seeing the moon rock from the 1971 first moonwalk and the classic Foucault pendulum that proves the earth is rotating.
3) Discovery Gateway
This children's museum boasts 60,000 square feet of interactive explorations. Older kids may like the Media Zone, where they can anchor the nightly news. Younger children should find lots to do in the kid-sized town, where the grocery store is a springboard for open-ended, creative play.
4) Gateway Mall
The Clark Planetarium and the Discovery Gateway are located in this 30-acre city shopping mall. There are lots of dining choices, shops and a 12-screen cinema complex.
5) The Leonardo
This contemporary science, art and technology museum encourages creativity and curiosity. It is full of hands-on participatory possibilities and has frequently changing special exhibits.
6) Salt Lake City Main Library
No ordinary library, it is the cultural hub of the city. There is a rooftop garden with a birds-eye view of the mountains, an auditorium with lots of family programs, a café and a huge children's section, all free.
7) Utah's Hogle Zoo
This is a well-maintained zoo that has up-close Animal Encounters, where visitors can interact and feed some of the zoo's inhabitants, including giraffes. You need to sign up for these encounters in advance and pay an extra fee.
8) The Tracy Aviary
These eight acres border Liberty Park and are devoted to birds. You can see over 400 species here. Our favorites were the many owls.
9) Red Butte Garden and Arboretum
The expansive lawns here are a wonderful place to stroll. The Children's Garden is fun and fragrant and there are frequent concerts and workshops for kids.
10) This is the Place Heritage Park
Explore a re-created pioneer-style village. Step back in time and pan for gold, ride a vintage fire engine and watch a blacksmith at work.
11) The Salt Lake Temple and Tabernacle
It is true that only Mormons can enter the temple, but the stately grounds and concerts can be enjoyed by anyone. Musical families should not miss a free rehearsal or concert by the Mormon Tabernacle Choir with its organ and thousands of pipes.
Activities
12) Play in Liberty Park
This city park has a swimming pool, tennis complex, pond and several playgrounds for hours of free fun.
13) Swim in the Great Salt Lake
These briny waters are so salty that you can't sink. Great Salt Lake State Park is outside of town, about a 25- minute drive. Locals say Antelope Island, which is farther from town, is the best place for a full body float, or just dunk a foot in to get the sensation.
14) The locals are a fit and outdoorsy bunch. Get into the spirit and rent bikes. Bingham Cyclery has five locations around town that rent bikes for the entire family. Liberty Park has a level, easy bike path.
15) There are lots of mountain biking opportunities in the Wasatch Mountains. Antelope Island State Park is a good spot for families with older kids, who are interested in a challenging ride or hike. You will see buffalo roaming and lots of birds in this park.
16) There are nearly a dozen ski areas within an hour of downtown, so you will have your choice of powder. Try family-oriented Snowbasin, an hour from town and easy to reach by bus.
17) Ice-Skate at the Utah Olympic Oval, where the 2002 Winter Olympians took to the ice.
When to Visit
18) Pioneer Day is a giant statewide holiday on July 24. Salt Lake City celebrates it with a parade, fireworks, a rodeo and more.
19) Utah Arts Festival is held each June at Library Square. It is a four-day event with hundreds of visual and performing artists' kicking off summer with non-stop, multi-disciplinary entertainment.
20) Every Saturday June through October there is a bustling Farmer's Market in downtown Pioneer Park, with fresh produce, food trucks and live entertainment.
Spectator Sports
21) The popular Utah Jazz is the hometown NBA team. They play at EnergySolutions Arena.
22) If you enjoy soccer, watch the Real Salt Lake play in nearby Sandy.
Family Friendly Hotels in Downtown Salt Lake City
23) The Grand America Hotel was built for the 2002 Winter Olympics. It is large and elegant, but 100% kid-friendly. It offers all the luxuries a family could want, plus a creative toy store, JouJou, and an over-the-top pastry shop, La Bonne Vie, that are destinations in themselves.
24) Little America Hotel is the comfy, lower-priced sister property of the Grand America, located just across the street. Guest rooms are clean and spacious.
25) Hotel Monaco is a sophisticated high-rise property that caters to kids with quirky perks like an in-room goldfish for the duration of your stay.
Family Friendly Restaurants
26) Settebello is an authentic Southern Italian pizzeria with its own wood-fired oven. The individually sized pies mean no one needs to fight over the choice of toppings. Prices are reasonable and service is efficient.
27) Little America Coffee Shop
Located at the hotel of the same name, breakfast and yummy comfort food is served all day. There is a large gluten-free menu.
28) Red Rock Brewery has a score of beers on tap and a family atmosphere. There are house-brewed sodas for the kids and a casual menu with sandwiches, burgers and salads.
29) Ruth's Diner is just outside of downtown on Emigration Canyon. It is a classic railcar-style diner serving signature biscuits and traditional American diner favorites. Prices are low and lines are long, so be prepared to wait.
30) Try dim sum at the casual and inexpensive Hong Kong Tea House, where delicious dumplings are served from rolling carts.
For more information on Salt Lake City, click on the Visit Salt Lake website. If you plan on visiting multiple attractions, consider purchasing the money saving Visit Salt Lake Connect Pass. It gives you admission to 13 attractions for one low price.
Find more family fun destinations in our Family Travel Cities Guide.