Best Things To Do with Babies in Houston Before They Turn 1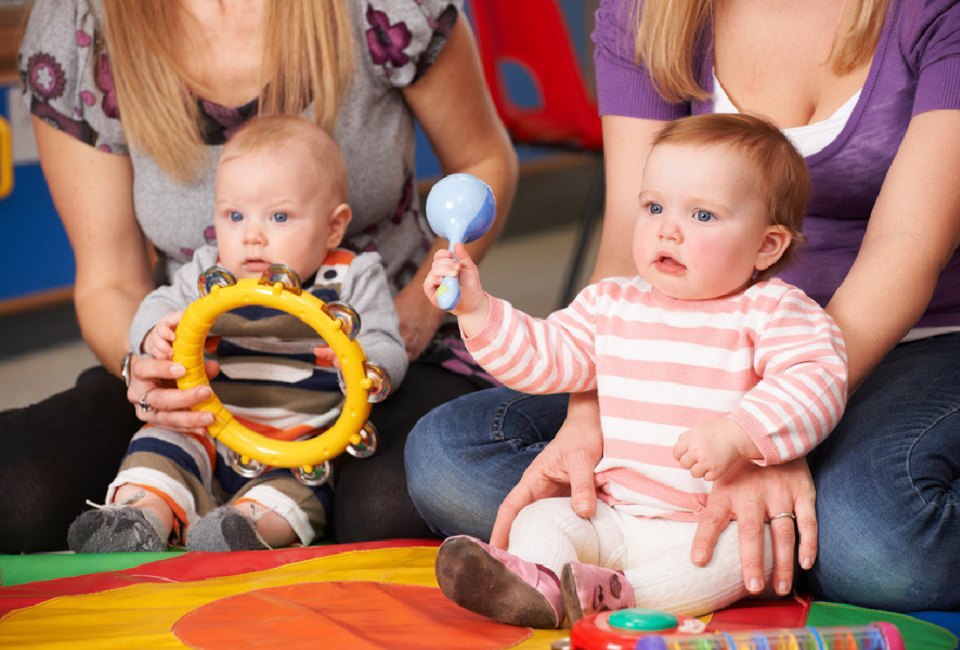 8/18/23
- By
Rachael Cherry
By the time the newborn stage is over, you're itching to get out of the house and start finding things to do in Houston with babies. The only problem is where do you even start? Rest easy, mama, because we're here to help! We've rounded up 14 of the best baby activities in Houston.
Check out our Baby and Pregnancy Guide for Houston Parents for more helpful baby tips.

Many indoor playgrounds have a baby or toddler area. Photo courtesy of Monkey Joes
1. Head to an indoor play space designed especially for baby.
When you first think of indoor play spaces, you probably think of the ones designed for toddlers and little kids. However, many indoor playgrounds have areas that are specially designed for smaller babies, allowing your little one to expend some much-needed energy and engage in sensory play that's tailored specifically for their little minds and hands. Our list of Best Indoor Play Spaces for Babies and Toddlers in Houston will help get you started. A favorite is the Tot Spot at the Children's Museum Houston,

Babies can start enjoying playgrounds as soon as they can sit in a swing. Photo courtesy of Levy Park
2. Sign up for a Parent-Child class.
What better way to bond with your baby than by regularly attending one of these Mommy and Me Classes in Houston? From music classes to baby yoga, sign language classes, and everything in between, there is no shortage of fun activities you can tackle with your baby. Who knows? You may even learn something, too!
3. Attend or join a mom's group in your area.
Motherhood can be isolating at times, but finding a group of moms that have babies and children the same age as your own can offer an outlet for babies and moms alike. These groups usually meet on a weekly or bi-weekly basis at designated spots that allow you and your baby to have fun together while making new friends for fun play dates - and the occasional mom's night out, of course! Check out our Mom's Night Out itineraries for Houston.
4. Sit down for storytime at your local library or park.
Foster an early love of reading and literacy in your baby at a local storytime, which you can find at Woodchase Park, Montrose Collective, Levy Park, Nature Discover Center, and many other places in Houston. In addition to interactive book readings, these storytimes typically also include sensory activities that teach babies how to follow instructions during the class and offer free play with other babies afterward.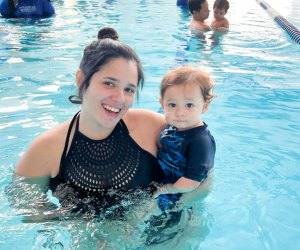 There are quite a few classes for babies in Houston. Photo by Oscar Martinez, courtesy of Wolfies Swim School.
It's never too early to start learning water safety tips and techniques, and parent-child swim classes are the perfect way to get your baby comfortable in the water at an early age. And since most of these classes require a parent in the water during the lesson, you get a chance to spend a little extra time with your little one.
6. Walk them around a museum, store, or park for YOU.
Once your baby gets moving, he or she probably won't want to stop, so take advantage of those pre-mobile months by popping baby into a carrier or stroller and visiting a store, park, or museum (check out the Free Museums and Museum Days) that YOU want to visit. While you still can.
7. Start yearly holiday traditions.
From Meeting the Easter Bunny to visiting the Top Pumpkin Patches in Houston and taking those yearly Santa Photos, you definitely want to start your yearly traditions during year one and watch the progression. Just don't be surprised if there are a few tears of fear shed the first year... Santa can take some getting used to!
8. Say hi to all the animals at the Houston Zoo.
Your baby will love getting to meet all the animals at the Houston Zoo; all the colors, sounds, and smells will be sensory heaven! Plus, you can also visit the petting zoo, cool off at the splash pad, and take a ride on the Hermann Park train - there's no shortage of fun to be had during your trip. Visit on the first Tuesday of the month September through May and you can also take advantage of FREE admission.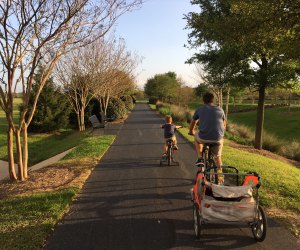 Family bike rides and stroller runs are the perfect pairing of fun and exercising. Photo courtesy of the author.
9. Hit the trails.
Houston is home to lots of easy trails you can tackle with your baby, whether you're looking for Houston's Best Parks and Trails for Family Bike Rides or the Top 10 Stroller Hikes in Houston and the Suburbs. Everyone gets a little fresh air and a nice change of scenery, and you get to get in some extra exercise. It's a win-win!
10. Visit the beach.
It's never too early for some sand, sun, and a little family fun, so start planning your first beach trip with baby. Check out our favorite Family-Friendly Beaches in Galveston and this Essential Beach List to get you started.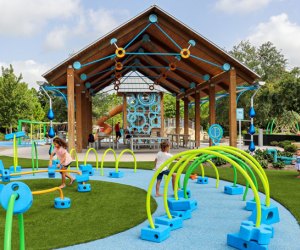 Swings and slides are perfect for little ones. Photo courtesy of Exploration Park
11. Take your playtime outdoors at one of Houston's many playgrounds.
Swings and slides offer endless smiles for your babies, making a nearby park or playground the perfect option for fair-weather days. Our Guide to Playgrounds and Parks in Houston will help you find a playground near you.
If you're not quite ready to brave the pool, but want to cool off on a hot summer day, a splash pad is the ideal alternative. Babies can crawl around while the water sprays without the risk of traveling into water that's too deep.
It's never too early to start visiting some of our favorite Houston landmarks, and with 100 items on the list, starting sooner than later is always a good idea.
14. Plan their first birthday party.
You made it through the first year together and it's time to celebrate! Whether you're hosting a party at home or need this list of Places to Host a First Birthday Party Near Houston, all first birthdays have a few things in common: family, friends, and lots of cake!
Cover photo courtesy of Bigstock.
Click Here to Sign Up!
i