13 Places to Host a First Birthday Party Near Houston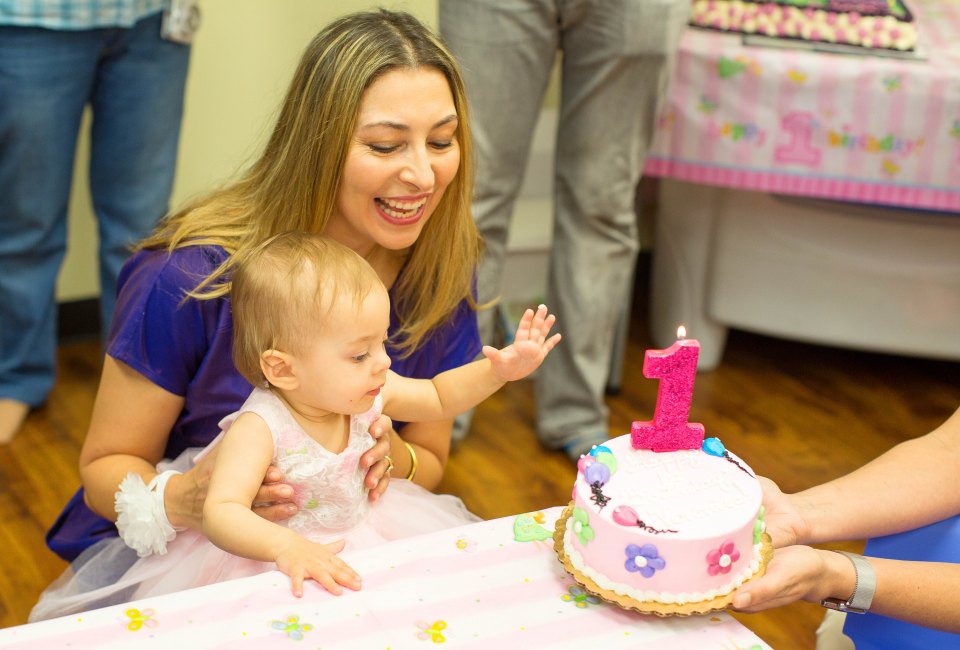 8/20/21
- By
Ashley Jones
Congratulations! You've almost survived an entire year of keeping a tiny human alive and now it's time to plan a first birthday party to mark the occasion. First birthday parties near Houston come in all shapes and sizes and often involve guests of all ages, including parents, siblings, friends from daycare, and more. Choosing the theme, decor, food, and location for a first birthday party in Houston can seem like a daunting task, but it doesn't have to be. We've rounded up a list of Houston-area birthday party venues that provide age-appropriate activities for your birthday boy or girl to help you plan a fun, festive first birthday celebration.
If you'd rather celebrate in a socially distant way, we've also got First Birthday Party Ideas for Quarantine Babies. For those of you keeping social occasions outside, we've got a nice list of Outdoor Kids' Birthday Party Ideas. For more helpful birthday party tips, check out our Birthday Party Guide for Houston families.
1500 Binz Street
It's no secret that the Children's Museum of Houston is one of the most fun places in the city for kids of all ages. This is especially true when it comes to birthday parties. The museum provides a staff member to serve as your birthday guide for the day and helps tailor birthday parties to the needs and wants of the guest of honor. For a first birthday party, taking advantage of the Tot Spot area on the second floor of the museum is a no-brainer. The entire area is designated for kids ages 35 months and under, and it is filled with stimulating activities to keep babies and toddlers engaged in creative play. And if you have older siblings or other child invitees over age 3, they can explore other areas of the museum during the party as well.
3750 S. Mason Rd, Katy With a castle-themed play structure built specifically for babies and toddlers and a larger play structure for older kids, first birthday party-goers of all ages are sure to have a blast at this Katy spot. Birthday party rentals at Hooray Indoor Playground include two hours worth of a party room rental, plus one extra hour of free play in the play area for guests. The venue also supplies solid colored balloons, flatware, and paper products that you can easily customize to the theme of your choice. If you've never been to Hooray, you can read our review of this awesome play area to see what it's all about.
610 Chisolm Trail, Simonton
Enjoy an outdoor party at Blessington Farms where your little one can go for a hay ride, play in the sand mountain, ride in a barrel train, jump on a giant bounce pad, meet farm animals, and more. Birthday party packages at Blessington Farms have a 20 person minimum, but children age 24 months and younger are FREE, making it a great choice for large celebrations. Outside food and drinks are welcome for parties, and you can reserve a covered pavilion or palapa with picnic tables to give guests a place to gather during the party.

Celebrating at The Little Gym. Photo courtesy Sweet Pecks Photography
Find the location closest to you here.
Planning a first birthday party at The Little Gym will ensure that your little one and their friends have loads of safe, active fun. The Little Gym takes care of set up and clean up of all birthday parties booked at their facilities. Partygoers will have their choice of gym activities and instructor-led games and music throughout the party. The Little Gym offers a plethora of party themes to choose from and even has packages available that include character decor like plates, cups, and napkins.
Find the location closest to you here.
Gymboree birthday parties promise personalized fun and zero clean-up for parents. They specialize in parties for ages 1-5, and even have a specific first birthday party package available at many of their locations. Gymboree provides all of your party supplies and gives you exclusive use of their facilities for at least an hour and a half. Trained staff members lead birthday party games, songs, and dances for little ones using age-appropriate props like puppets, balls, and bubbles to keep kids entertained throughout the party.
14031 Southwest Fwy, Sugar Land
This indoor play place is a versatile space to host a first birthday party. With multiple play structures, this venue boasts soft toys and foam blocks for toddlers, as well as a large multi-level climbing and slide structure for older children. Their jumping pillow and imagination playground are favorites for all ages. For birthday parties, Majestkids offers multiple packages and dozens of themes to choose from including many popular characters like Elmo, Cinderella, and Mickey Mouse. They really go all out with their party decorations and depending on the party package you choose, you can even include face painting or character visits to ramp up the fun level.
Find the location closest to you here.
If your birthday boy or girl loves to bounce, a party at Pump It Up may be the way to go. When you host a party at Pump It Up, you don't have to share play space with the public. This is a great option for parties with a lot of younger guests because it ensures they won't be accidentally knocked over by older kids using the inflatable playgrounds. Parties can be customized with your child's favorite character theme, and Pump It Up even has discounted rates available for parties booked during the week.
20117 Park Row, Katy
The entire facility at Giggles & Fun is designed for children ages six and under, making it an ideal spot for a first birthday party. Themed play areas encourage imaginative play for toddlers and a soft, padded play area provides the perfect place for little ones to safely explore during the party. Party packages at Giggles & Fun are customizable with food and themed decor options, a designated staff member to help set up and clean up, and some options even give your group private access to the facility.

Part of the toddler area at The Play Space where young party goers can play. Photo by the author.
25410 Hwy 290 Suite B-8, Cypress
If you're in Northwest Houston and looking for the perfect play space to host your child's first birthday party, look no further than Kidtastic Park in Cypress. The space offers four birthday party packages that you can customize to your liking and reserve a designated party room. Alternatively, if you have many children planning to attend, you can book a VIP party package to rent out the entire facility. The designated toddler play area is ideal for ages 3 and under, which means the guest of honor and any other toddlers can safely play and have fun throughout the party.
1020 W. Nasa Pkwy. #224, Webster
Touted as the largest indoor playground in Texas, The Play Space in Webster features an endless supply of indoor fun for little ones, and their birthday party experiences are top-notch. When you book your child's first birthday party at The Play Space, not only will they get unlimited free playing time in their gated baby and toddler play area, but you'll receive a bevy of other party perks as well. Each party package includes a dedicated party host who will set up and clean up before and after your 90 minutes in a reserved private party room where guests can enjoy food, cake, and opening gifts. Deluxe package options include pre-loaded arcade cards that are perfect for older party guests to enjoy. Read our review of The Play Space here.
11. Kidville - The Woodlands
4747 Research Forest Drive, The Woodlands
Kidville in The Woodlands offers customizable first birthday celebrations that you will be able to look back on with so much joy. From the moment you begin party planning, Kidville will make the party all about celebrating your baby in kid-friendly style. From setting up interactive play-doh stations to providing a toy station filled with fun and engaging baby toys, they truly think of every detail. Your party host will lead kids in attendance through sing-a-longs and gym time with parachute and ball play, as well as help your guest of honor create a handprint keepsake with air-dry clay.
Toddler Town is a Houston-based soft play rental company that turns almost any place in Houston into your baby's first birthday party venue. Their party packages offer 6 hours of playtime with a variety of play setups that include themes like Dinosaur, Rainbow, and Enchanted. Babies and toddlers can enjoy a safe, fun space featuring ball pits, mazes, tunnels, climbing structures, and more. All equipment is thorougly disinfected between parties.
4775 West Panther Creek Drive #280
Enjoy the entire Museum, plus a private room for your first birthday party at The Woodlands Children's Museum. Basic party packages include a private room for the birthday child and up to 12 other children. For an additional fee, the Museum will include a themed activity, such as music or superheroes. Packages include access to all exhibits, but your one-year-old might enjoy the Little Ocean Wonders exhibit, which is reserved for those ages 2 and under.