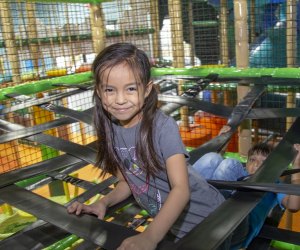 Kidtastic Park Indoor Playground: Colorful Fun in Northwest Houston
There is no shortage of great indoor playgrounds around Houston for kids, and the latest opening in northwest Houston does not disappoint. Kidtastic Indoor Playground has a stimulating (and monitored) playground as well as a separate toddler play area, and is guaranteed to land on your kid's list of favorite places to play around the city!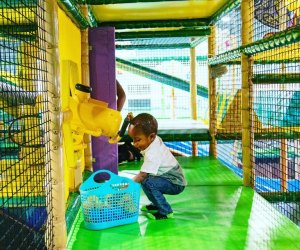 Ball blaster zone for the big kids.
So when Kidtastic Park Indoor Playground opened up, we couldn't wait to check it out, and it did not disappoint. The play space was started by two families who wanted to create a space for their kids that also extended to other families, and that is evident the moment you step inside. Kidtastic is a mecca for kids of all ages, offering everything from slides to a ball blaster zone and a zipline, a dedicated toddler area, and more.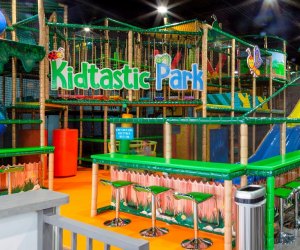 Endless entertainment for kids of all ages.
Walking in you can immediately tell this place is going to be an experience. The big kid area has several different slides, with two of the big slides placed next to each other so you can race down. Parents are welcomed and encouraged to slide and play with their kids, and we did just that, racing down the slides together and laughing the whole time. Nestled next to the slides is a blaster zone where my kids gladly pelted each other and climbing nets and stairs that take you up to an elevated obstacle course of fun.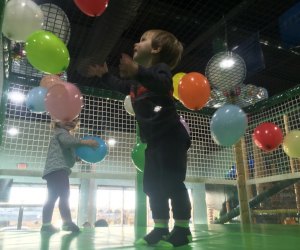 Balloon fun in the toddler area. Photo courtesy of the author.
Next up came a trip to the toddler area, which is for children ages 3 and under, and it has to be one of my favorite toddler areas to date (and I've seen a lot!). Toddler areas are generally snubbed by my toddler because she wants to be with big brother, but she gladly left him for this one. Her favorite part was easily the balloon room, which has fans pushing balloons into the air that the kids are able to bat around. It's genius! Who knew playing with balloons could be so enthralling? It also has mini slides and tunnel areas, as well as floor toys to keep the littles entertained.
Related: Best Indoor Play Spaces for Babies & Toddlers Around Houston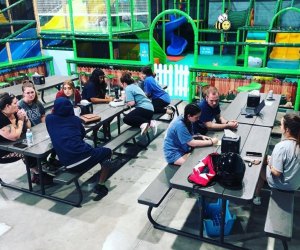 Kids and parents can take a break at the picnic tables to catch their breath and eat some snacks.
Lastly, the hangout area. You know, the space where moms congregate and kids flock for snacks. Every place needs this space, and Kidtastic offers rows of picnic tables and a snack bar stocked with kid-favorite junk food and mom-favorite healthy options ready to chow down on for a nominal fee. You can see both the toddler and big kid areas from the tables and any areas that you can't see are covered by their security cameras that can be viewed on their TV. Oh have I not mentioned those yet?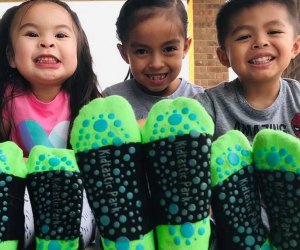 Keeping an eye on little smiling faces is of the utmost importance.
One of my litmus tests for play spaces is always: can I take both of my kids there and be able to keep an eye both of them, even if the areas designated for their ages aren't combined or near each other? This is a decidedly big shoe to fill, however, at Kidtastic, this stress is alleviated with strategic security cameras placed throughout the play structure that allow you to see the entire play space on their main TV. They also have a five-foot extension around the perimeter of the play areas so you can quickly and easily locate your children.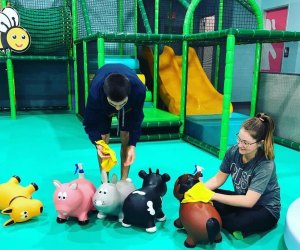 Keeping everything sparkly clean is a priority at Kidtastic.
Also worth noting, because I feel like every mom will appreciate this tidbit: when you start going to indoor play spaces you quickly realize there can be a disparity in the level of cleanliness, and walking into one that is lacking is enough to make any parent hightail it out the door. Thankfully, Kidtastic is a breath of fresh, clean air in that department - and with good reason! The park closes once a month for routine deep cleans to ensure that their areas are spic and span AND they are DIS.IN.FX-certified. If you're unsure of what that means (I was!), it means that they use hospital-grade antibacterial daily to keep their facility in tip-top shape. Germs be gone!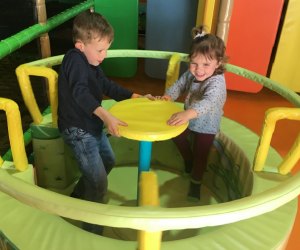 Whirlwind fun for all ages of kids. Photo courtesy of the author.
Kidtastic Details
There is a changing table in the men's room (and all the moms rejoiced!)
There is a Mommy Room if you need a quiet place for you and your little one
Every family is given wristbands with matching ID numbers to ensure families enter and leave together
There are four different birthday party packages offered with dedicated birthday rooms, or you can get the VIP party experience and book the entire facility
Hours of operation are: noon-6 p.m. Sunday, 10 a.m.-6 p.m. Mon.-Thurs., 9 a.m.-7 p.m. Fri.-Sat.
Kidtastic is just that - kidtastic! - and we can't wait to go back for more indoor fun.
All photos courtesy of Kidtastic Park Indoor Play Ground unless otherwise noted.