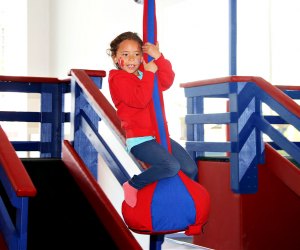 The Best Indoor Play Spaces for Houston Kids
Living in Houston means navigating weather that is often hot and humid or wet and stormy, and now we're navigating COVID, too, which makes getting out extra interesting. Fortunately, there are many options for indoor activities still available, including fun indoor playspaces. Heck, we even have the largest indoor playground in Texas not too far away.
Read on for our recommendations of where to play when going outside is not an option. The indoor playgrounds below have implemented extra health and safety standards for these crazy times, reinforcing why these Houston spots are some of our absolute favorites for any day of the year.
Giggles and Fun is a large play space with themed play areas including a grocery store and a barn with toy ponies to encourage imaginative play. Children can engage in active play on climbable structures with slides and tunnels as well as push toys and ride-on toys. An entire enclosed area is devoted to interactive play on a virtual playground that is projected onto the ground. They host gorgeously decorated birthday parties with your choice of theme, and you can even rent out the facility in its entirety for private events.
COVID-19 Update: Giggles and Fun is still open for open play, however the facilities are operating at a reduced capacity and closing down from 1-2pm daily for sanitizing. The venue is also closed on Mondays. Private play can also be booked by appointment from 8-9:30am and 5:30-7pm.
See imagination come to life right in front of your eyes as kids engage in creative play at this Pearland spot. The main play space boasts a floor-to-ceiling climbing structure with an enclosed trampoline area, a triple-seated racing slide, and extra-long corkscrew slide. Disco lights shine from underneath the darker areas below the play scape to light up the climbing area and enhance the fun. A miniature city complete with a barbershop, restaurant, fire station, theater, and police station are located on the opposite side of the venue for kids to explore. A plethora of costuming options are available for playing dress up and fully engaging in imaginative play with other children. A beautifully decorated cafe space offers plenty of delicious snack options for kids and adults at Kid 'n Play. Safety features at the venue include multiple entry gates and a stamp system to ensure that kids leave with the same adults that brought them.
COVID-19 Update: Kid 'n Play is currently operating at a limited capacity with reduced hours to allow for increased sanitation and is closed on Tuesdays. Hours of operation are currently also changing daily/weekly based on demand. Private play options are available for booking to ensure an even safer environment. The most up-to-date hours of operation can be found on the Kid 'n Play Facebook page.
Tackle floor-to-ceiling climbing walls, race through play structures, dive into ball pits, bust a move on the dance floor, and more at Kids Empire. With both a dedicated big kid area and toddler area, there is something for all kids at this indoor playground. Kids can even ride around on vehicles that are just their size in both sections of the play space. Plus, your day pass gets you all-day access and re-entry if you leave and come back on the same day!
COVID-19 Update: Guests can stay safe by enjoying reduced capacity, sanitation upon entry, and a face mask requirement for everyone who is 10 years of age and older. There is also a dedicated team who cleans throughout the day.


Enjoying the kid-sized grocery store inside Kid 'n Play in Pearland. Photo by Ashley Jones
This Katy spot is sure to give kids of all ages more fun than they can handle. Separate play areas offer age-appropriate spaces for kids to explore. For babies and toddlers, a wooden play scape boasts small slides, rockers, and several types of educational toys on soft padding. The area for older kids provides a climbing structure complete with a ball cannon, tunnels to crawl through, and of course, slides. Parents and caregivers love that from most common areas inside Hooray, you can easily see children in both play areas. Another great reason to visit this indoor playground is that if you're going to be in the area all day (or live nearby) admission is good for the entire day which allows you to leave and return to Hooray later in the day for more playtime.
COVID-19 Update: Customers can book an open play reservation online for 1.5 hours of play and 30 minutes of snack time. Families may be able to stay longer subject to availability in the subsequent session. The play space is sanitized after each open play session to ensure the safety and health of all patrons. Guests are asked to call or book online prior to coming in to ensure the facility is open.
There are two playspaces at Kidtastic, one for the big kids and a separate area for the little kids, making this a safe, fun environment for kids of all ages. Parents are able to monitor kids easily from the hangout area, which not only has great visibility to both play areas but also features monitors that project any areas that aren't readily visible. Big kids are able to go down big slides, shoot across a zip line, and blast each other from the ball blaster zone. Little kids can try and catch floating balloons, go down little slides, and crawl through mini tunnels. And parents who still play like kids are encouraged to take part in all the fun as well!
COVID-19 Update: Kidtastic is operating with limited hours and open play is through reserved times only. Daily cleaning and sanitation is performed, and the play space is closed every 4-6 weeks for a deep cleaning.
With 16,000 square feet on the ground and three levels, The Play Space proudly takes the title of the largest indoor play space in Texas. Once inside, you'll be transported into outer space through the playground's intergalactic theme, which features ball blaster arenas, 20 foot slides, endless tunnels and obstacles galore, plus a full arcade that is home to over 35 different games. Little ones can head to The Baby Space for children 18 months and younger, or The Tot Space for children who are 4 and under. The Baby Space features a padded playground that's perfect for ground play, crawling, and taking those baby steps. The Tot Space has 4 different imaginative areas that foster creative play as well as a miniaturized version of The Play Space, so younger kids can practice and prepare for when they make their debut in the big area.
COVID-19 Updates: The Play Space has limited hours of operation, a 50% occupancy, a ramped up cleaning and disinfecting schedule, and socially distanced tables and chairs for visitors. Temperatures are taken at the gate, and adults are asked to let only the kids play in The Play Space area. Adults are allowed to accompany little ones in both The Baby Space and The Tot Space. Masks are required for everyone age 10 and up. Small toys and balls have been removed from play areas until further notice.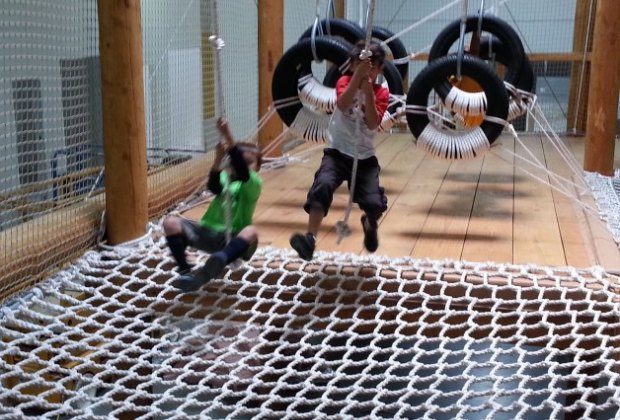 Swinging through the ropes course at Wonderwild
Wonderwild is a safe indoor play space for kids ages eight and under where they can explore their physical abilities on three-story play scapes with climbing structures, jumping pillows, a toddler-sized ball pit, and giant slides. Creativity is encouraged through fun areas such as play kitchens with toy food and kitchenware and a play workbench. Bigger kids ages five to 11, can explore the Wonderwild(er) area, which takes up half of the large play area and has an indoor ropes course and a go-kart pedal track. Food and drinks are not available at Wonderwild but guests are also welcome to bring their own. Socks are required on the Wonderwild side and closed-toed shoes are mandatory for the Wonderwild(er) side. Birthday parties are quite epic at this venue, boasting intricately themed birthday packages complete with decorations. They also host their own parties for various holidays and special events where kids can dress up and engage in activities like crafting and staff-led games.
COVID-19 Update: The facility is cleaned and sanitized for 15 minutes every 2-3 hours. Guests are able to play on the opposite side of the play area while cleaning takes place. Social distancing is strongly encouraged and face masks and socks are required for adults. Private play times are available for booking on Saturdays and Sundays.
We Rock the Spectrum is a special play space that features a safe, fun, sensory-friendly environment for children of all abilities and levels. Each play area has a double feature: not only are they fun, but they also focus on different sensory skills. Trampolines build leg and core strength, suspended equipment and swings challenge balance and vestibular treatment, sensory-based toys promote improved auditory processing and fine motor skills, and more. This play space is truly for all ages and abilities, so everyone feels welcome and included when they come to play.
COVID-19 Update: We Rock the Spectrum is operating at limited capacity and guests are being asked to book all services ahead of time when possible. Cleaning and disinfecting practices have been increased and guests are asked to sanitize their hands and have their temperature taken upon arrival. All adults are required to wear face masks and children are asked to wear them as well if they are able. Payments are made through the mobile app. Social distancing is implemented as much as possible and all small toys are kept behind the counter and given to children one at a time.

Playing at indoor play space Kanga's in Cypress
Kanga's Indoor Playcenter is a huge multi-level playground that is packed with unique features, like the fan favorite Pirate Ship Ride, as well as standard favorites like slides, ball pits, and more. Parents are able to relax with snacks and coffee in the cafe area while kids play, so everyone gets to take a fun break during the day (though you can also join in on the play space fun, if you feel so inclined!). There is also a dedicated area for babies and toddlers to play safely - no big kids allowed!
COVID-19 Update: Temperatures are taken upon entry and face masks are required in compliance with local regulations. Sanitizing stations have been placed around the center for easy disinfecting and the cafe has a reduced 50% capacity until further notice. Increased cleaning and sanitation is also in effect to ensure the health and safety of all guests and employees.
Temporary Pandemic Closures:
Majestkids Playland specializes in playtime for infants, toddlers, and preschoolers (up to 7-years-old or under 47-inches-tall). This indoor playground has a variety of entertaining indoor play structures and activities that encourage motor development and social skills. A three-level play area offers ample space for larger kids to climb and slide, while a double-level wooden structure gives smaller children an area to explore and play. There is a designated soft play area for infants and another specifically for toddlers. The most unique part of this venue is the huge jumping pillow, which is much like a trampoline but consists of a huge inflatable pad that kids can jump and bounce on. The cafe space is great for relaxing and enjoying healthy snacks and light lunch items like veggie cups, soups, sandwiches, and smoothies.
COVID-19 Update: Majestkids is temporarily closed until further notice.
Kids will love playing at this glow-in-the-dark play facility. There are tons of activities, from a rock wall, laser maze, arcade, and more. But we mean it when we say glow-in-the-dark - some corners are almost pitch black, which was fine with our crew of kids ages 4 and up, but it may be challenging to visit with younger children.
COVID-19 Update: GlowZone Katy is temporarily closed until further notice.
Main Street Indoor Park is an indoor play space for kids age 5 and under that is FREE and open to the public. The space is beautifully designed to look like a busy main street with doors to shops and a green space with benches in the center as well as a climbing structure with a train on it. The venue often hosts crafting activities and story times that are available free of charge. A train table and craft tables are open for kids to use for playdoh and coloring. Parents are welcome to bring small snacks for kids to enjoy as well. Parent supervision is required at all times, but that is a small price to pay for all of the absolutely free fun that can be found at this spot. Free parking available in the reserved spots in the lot on the southeast corner of Travis and Polk Streets across from the Houston Police Museum.
COVID-19 Update: Main Street Indoor Park at First Methodist Houston is temporarily closed until further notice.
Frolic's Castle is FREE a medieval-themed play area inside Memorial City Mall in the Sears Wing. It is fully ADA-accessible. The three-level play area is designed to look like a castle with a drawbridge and catapult. It surrounded by an Enchanted Forest full of wizards, knights, and other fanciful creatures. Many of the features have interactive sounds, such as a snoring dragon and a bubbling cauldron. For small toddlers and babies, there is Puffy's Playground, which features soft play objects for kids under 32 inches tall. While the space can get very crowded, there is a security guard at the entrance at all times to regulate traffic. Extended hours during school holidays and the holiday shopping season gives parents a great opportunity to explore this play area on long days spent at the mall. As a bonus, kids can also ride the train around the very same mall or visit the double-decker carousel!
COVID-19 Update: Frolic's Castle is temporarily closed until further notice.

This post originally published in 2016. Photos courtesy of the venues, unless otherwise noted