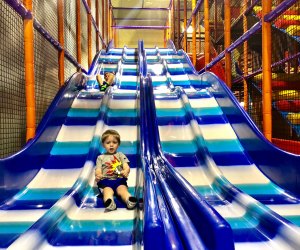 The Best Indoor Play Spaces for Houston Kids
Living in Houston means navigating weather that is often hot and humid or wet and stormy. Fortunately, there are many options for activities to do indoors, such as free museum days, trampoline parks, and fun indoor play spaces. But where should you go when you want the best of the best indoor spaces to play?
Read on for our recommendations of where to play when going outside is not an option and why each of these Houston spots are some of our absolute favorites for any day of the year.
Giggles and Fun - Katy
20117 Park Row
281-492-2000
Giggles and Fun is a large play space with themed play areas including a grocery store and a barn with toy ponies to encourage imaginative play. Children can engage in active play on climbable structures with slides and tunnels as well as push toys and ride-on toys. An entire enclosed area is devoted to interactive play on a virtual playground that is projected onto the ground. They host gorgeously decorated birthday parties with your choice of theme, and you can even rent out the facility in its entirety for private events. The venue is known to host their own themed days during open play with visits from characters like Mickey Mouse and the PJ Masks crew. Weekly story times and special events throughout the year give kids plenty of options for joining in on the fun. You'll often find the crew at Giggles and Fun celebrating Houston sports teams with discounts for wearing team gear on certain game days, putting a uniquely Houston twist on indoor playground fun.
Kid 'n Play - Pearland
9515 West Broadway Street
281-412-7200
See imagination come to life right in front of your eyes as kids engage in creative play at this Pearland spot. The main play space boasts a floor-to-ceiling climbing structure with an enclosed trampoline area, a triple-seated racing slide, and extra-long corkscrew slide. Disco lights shine from underneath the darker areas below the play scape to light up the climbing area and enhance the fun. A miniature city complete with a barbershop, restaurant, fire station, theater, and police station are located on the opposite side of the venue for kids to explore. A plethora of costuming options are available for playing dress up and fully engaging in imaginative play with other children. A beautifully decorated cafe space offers plenty of delicious snack options for kids and adults at Kid 'n Play. Safety features at the venue include multiple entry gates and a stamp system to ensure that kids leave with the same adults that brought them.

Enjoying the kid-sized grocery store inside Kid 'n Play in Pearland./ Photo by Ashley Jones
Majestkids - Sugar Land
Majestkids Playland specializes in playtime for infants, toddlers, and preschoolers (up to 7-years-old or under 47-inches-tall). This indoor playground has a variety of entertaining indoor play structures and activities that encourage motor development and social skills. A three-level play area offers ample space for larger kids to climb and slide, while a double-level wooden structure gives smaller children an area to explore and play. There is a designated soft play area for infants and another specifically for toddlers. The most unique part of this venue is the huge jumping pillow, which is much like a trampoline but consists of a huge inflatable pad that kids can jump and bounce on. The cafe space is great for relaxing and enjoying healthy snacks and light lunch items like veggie cups, soups, sandwiches, and smoothies.
GlowZone - Katy and Northwest Houston
Kids will love playing at this glow-in-the-dark play facility. There are tons of activities, from a rock wall, lazer maze, arcade, and more. But we mean it when we say glow-in-the-dark - some corners are almost pitch black, which was fine with our crew of kids ages 4 and up, but it may be challenign to visit with younger children.
Hooray Indoor Playground - Katy
This Katy spot is sure to give kids of all ages more fun than they can handle. Separate play areas offer age-appropriate spaces for kids to explore. For babies and toddlers, a wooden play scape boasts small slides, rockers, and several types of educational toys on soft padding. The area for older kids provides a climbing structure complete with a ball cannon, tunnels to crawl through, and of course, slides. Parents and caregivers love that from most common areas inside Hooray, you can easily see children in both play areas. Another great reason to visit this indoor playground is that if you're going to be in the area all day (or live nearby) admission is good for the entire day which allows you to leave and return to Hooray later in the day for more playtime.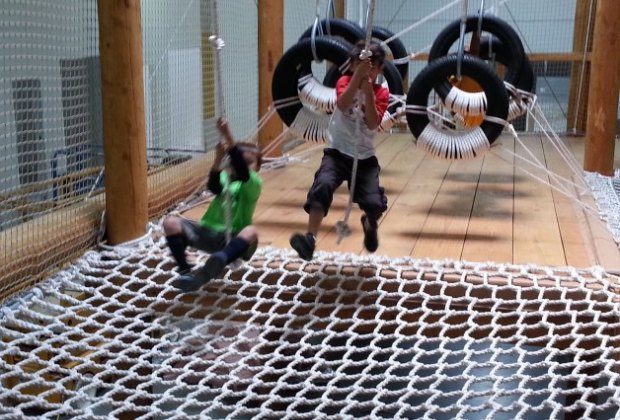 Swinging through the ropes course at Wonderwild. Photo courtesy of Wonderwild
Wonderwild - The Heights
Wonderwild is a safe indoor play space for kids ages eight and under where they can explore their physical abilities on three-story play scapes with climbing structures, jumping pillows, a toddler-sized ball pit, and giant slides. Creativity is encouraged through fun areas such as play kitchens with toy food and kitchenware and a play workbench. Bigger kids ages five to 11, can explore the Wonderwild(er) area, which takes up half of the large play area and has an indoor ropes course and a go-kart pedal track. Food and drinks are not available at Wonderwild but guests are also welcome to bring their own. Socks are required on the Wonderwild side and closed-toed shoes are mandatory for the Wonderwild(er) side. Birthday parties are quite epic at this venue, boasting intricately themed birthday packages complete with decorations. They also host their own parties for various holidays and special events where kids can dress up and engage in activities like crafting and staff-led games.
Frolic's Castle at Memorial City Mall - Memorial City
Frolic's Castle is FREE a medieval-themed play area inside Memorial City Mall in the Sears Wing. It is fully ADA-accessible. The three-level play area is designed to look like a castle with a drawbridge and catapult. It surrounded by an Enchanted Forest full of wizards, knights, and other fanciful creatures. Many of the features have interactive sounds, such as a snoring dragon and a bubbling cauldron. For small toddlers and babies, there is Puffy's Playground, which features soft play objects for kids under 32 inches tall. While the space can get very crowded, there is a security guard at the entrance at all times to regulate traffic. Extended hours during school holidays and the holiday shopping season gives parents a great opportunity to explore this play area on long days spent at the mall. As a bonus, kids can also ride the train around the very same mall or visit the double-decker carousel!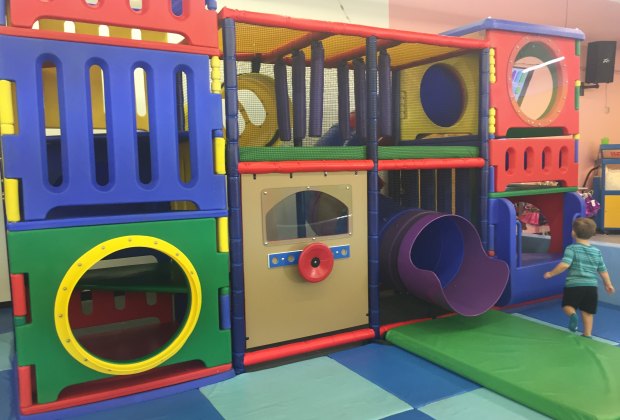 Exploring one of the many play structures at Houston Party Playland. Photo by Ashley Jones
Houston Party Playland - Webster
We love this indoor playground for its ample room to roam and multiple play areas separated by age. The largest play scape for ages 3 and older features 1600 square feet of climbing structures, slides, and a trampoline for older kids to run, climb, and bounce across three levels. A smaller, yet similar space is designed specifically for kids ages 1-3 with smaller slides and low-level climbing obstacles. An enclosed area filled with large, moveable foam blocks allow kids ages 2-4 to build their own creations and romp around in a soft space. For the smallest kiddos, the baby area boasts padded structures and plenty of space for babies and parents to interact. Yet another area features classic arcade games and a virtual playground projected onto the floor. One of the most unique things about Houston Party Playland is that they have their very own bear factory where kids can buy stuffed animals to clothe and accessorize, much like Build-A-Bear Workshop, yet at a more affordable price point.
Main Street Indoor Park at First Methodist Houston - Central Houston
Main Street Indoor Park is an indoor play space for kids age 5 and under that is FREE and open to the public. The space is beautifully designed to look like a busy main street with doors to shops and a green space with benches in the center as well as a climbing structure with a train on it. The venue often hosts crafting activities and story times that are available free of charge. A train table and craft tables are open for kids to use for playdoh and coloring. Parents are welcome to bring small snacks for kids to enjoy as well. Parent supervision is required at all times, but that is a small price to pay for all of the absolutely free fun that can be found at this spot. Free parking available in the reserved spots in the lot on the southeast corner of Travis and Polk Streets across from the Houston Police Museum.
Top photo of Frolic's Castle by Carrie Taylor
This post originally published in 2016.