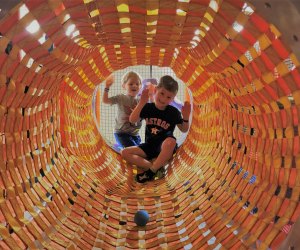 Kanga's Indoor Playcenter: What to Expect Inside This Massive Play Gym
It's easy for kids to get lost in their imaginations at Kanga's Indoor Playcenter. The towering play structure is a dream for little explorers, with multiple levels and slides and secret rooms and areas to discover. Kanga's has two locations in the Houston area, Cypress and The Woodlands. Read on for what to expect inside.
To see more great places to play around Houston, visit our Indoor Fun Guide.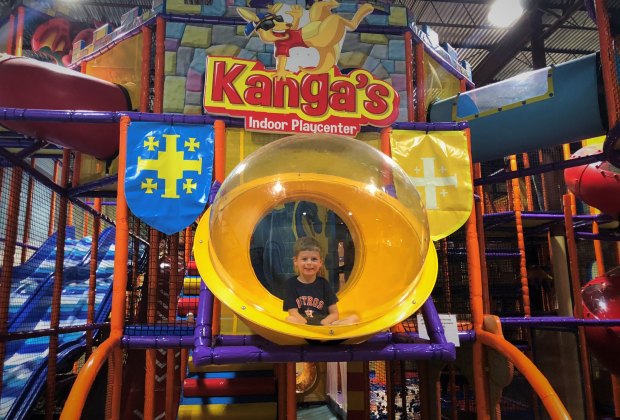 The play center has multiple levels, and parents can fit inside most of them, too.
The focal point of Kanga's is its giant, colorful and enclosed play gym. There are numerous slides, obstacles and interactive pieces to keep kids busy. For a long time. I had to climb around calling out my kids' names after an hour and a half of play.
Related: Fun indoor playgrounds for kids around Houston
Adults can fit in many of the play gym's "hallways," but it definitely is a tight squeeze if you're trying to climb to the top. Keep that in mind if you have little ones who may get scared if they feel lost or stuck toward the top. However, my boys - ages 5 and 2 - had a blast running after the other children and discovering new routes and slides along the way.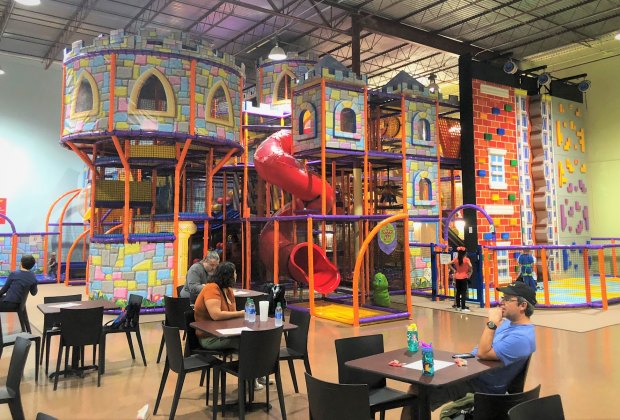 Kanga's play gym is best for children up to 11-years-old.
While the kids swim the ball pit or jump in the bounce house, adults can lounge in the cafe area. There are tons of tables and chairs, free WiFi, and a small cafe with snacks and food. Highchairs are available as well for little siblings who aren't quite big enough to join in on the fun.
Related: How to get free admission to Houston's biggest attractions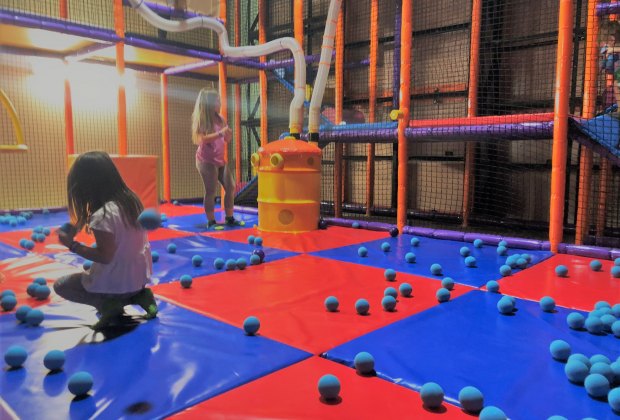 Kids can spend forever in this ball room, where upstairs canons blast foam balls into the center.
Toward the front of the facility is a separated toddler play zone equipped with a small slide, climbables, and interactive musical toys. It's a great spot for young ones; just note you may have to be on guard for older kids who wander in - the entrance is open for anyone to walk inside.
Related: Guide to fun sport and action centers for Houston kids
Just like any great indoor playspace, Kanga's has several party rooms lining its permiter. Party packages include decorations, playtime, a visit from Kanga, and food. During our visit, there were two parties happening. But because of the spacious interior, the crowd never felt overwhelming.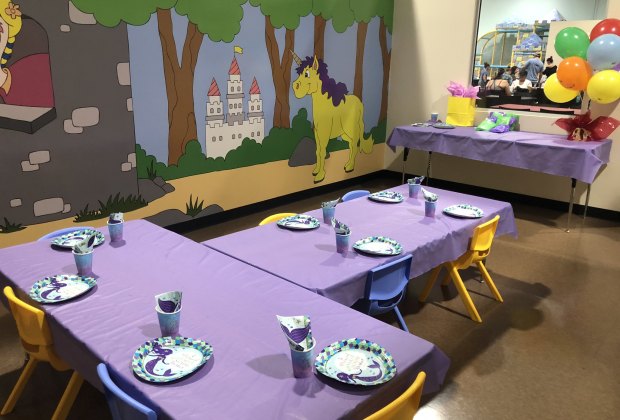 There are several themed party rooms to rent.
All pictures in this post are from the Cypress location, but The Woodlands' facility has similar features - a large enclosed play center, cafe, party rooms, and separate toddler play area.
If your kids somehow do become bored of the gym space, there is a climbing wall, bounce house and pirate ship ride to keep them busy. There are a few arcade games in the corner as well, but we mean it when we say a few - 3-4 max.
Related: Best spots for indoor rock climbing around Houston
Kanga's is a great place to spend a few hours inside. Kids have ample space to play independently, and adults have ample space to sit and zone out with a coffee.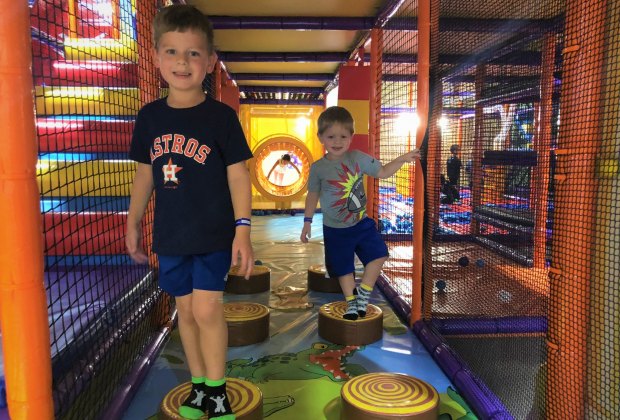 Hopping on the river logs inside the play gym.
All photos by the author
Kanga's Indoor Playcenter - Cypress
11037 Fm 1960 Rd W D-1
Houston, TX 77065
Kanga's Indoor Playcenter - Oak Ridge North/The Woodlands
26803 Hanna Rd
Oak Ridge North, TX 77385