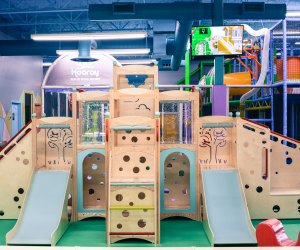 Houston's Newest Indoor Playground Makes Us Say 'Hooray'
Every mom can agree that having a good go-to indoor playspace can be a lifesaver when you need to get out of the house, but not necessarily outdoors. However, as the mom of two kids that fall into very different categories on the developmental spectrum, it is surprisingly hard to find playspaces that cater to both of my kids' age groups within the same space. More commonly, there are two entirely separate areas for the babies/young toddlers and the older toddlers/little kids, making it impossible to keep an eye on both kids if I let my youngest play. Houston's newest indoor playground just opened in Katy, and it did not disappoint. Read on to get the inside scoop on Hooray.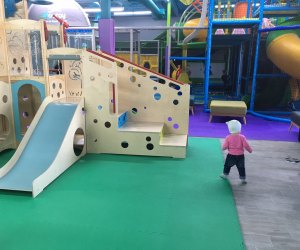 Indoor playspace gold.
Hooray is unique in the indoor playground realm. From the moment you walk in, you know you're somewhere different. The entrance to the playspace is gated, and everyone - parents included - get a blacklight stamp upon entering that has to be checked before you leave.

The older area, full of ball cannons, tunnels, and more.
The playspace is broken into two different sections: a small castle playground for babies and young toddlers with small slides, rockers, and educational toys and then a larger area for the older kids that has a ball cannon, larger slides, tunnels, and more. In addition to the two playspace areas, there is also a video projector in the back of the building that projects games onto the floor.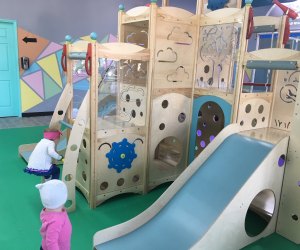 Castle toddler area, perfect for littles.
What sets Hooray apart is that you can easily see both areas no matter where you are, so people who have kids falling into both age ranges, like me, can play with the younger kids and keep an eye on the older ones. It is essentially like we hit the indoor playspace jackpot.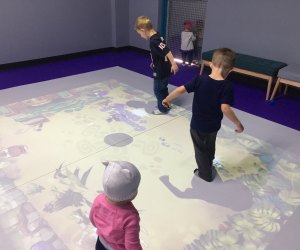 Video games projected on the floor.
Since it opened last month, we've been several times, and every time we've been it's been a slam dunk with both kids. They don't stop moving the entire time we're there, and then they crash when we get home and take solid naps (jazz hands for that!!). During the school week, the mornings have been relatively calm, and it's been easy to just let the kids run wild because I know I can locate them quickly.
There is also a small café that is stocked with baby snacks, chips, drinks, and coffee, as well as a sitting area with tables and chairs, and a bench overlooking the toddler area that has bins underneath for all of the shoes and other items. Every time we go, we're there for several hours, so it's nice to have a place to come sit and let the kids take a short break before they play hard again.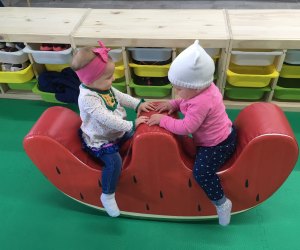 Rockin' away at Hooray.
And then there's the icing on the cake: the place is CLEAN. Sparkling clean. My standards are typically pretty low at these kinds of places because, well, it's a place full of kids and kids are dirty. But cleanliness is a priority at Hooray and it has officially ruined me for other indoor playspaces not up to the same calibar.
As if that weren't enough, you can also leave and then come back later if it's on the same day. Wondering why you would want to frequent the same place twice in one day? Go once and you'll see why you just may want to take the kids before naptime and then come back after, promise. And if I haven't given you enough reasons to go, it's also in the same strip center as a Mexican food restaurant, so you can let the kids play in the afternoon and then go grab dinner. Win-win-win.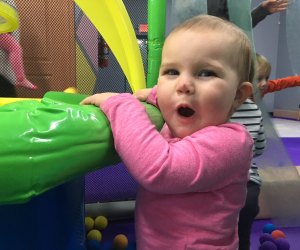 This face sums up how we feel about Hooray.
Does it sound like I'm obsessed with the place? It's because I am, and so are my kids.
More information to know before your trip:
Hooray is open from 10am-8pm Monday through Sunday, unless there is a holiday or a private event booked.
A waiver must be signed before kids can play. This can be filled out online in advance.
Everyone has to take their shoes off to be on the playspace. Socks are required.
There is a full snack bar on site. Outside food is not permitted.
No child can come without an adult and no adult can come without a child.
Parents must be present with their children at all times.
Top photo courtesy Hooray/All other photos by the author