Amusement Rides and Indoor Play Spaces Await at Palisades Center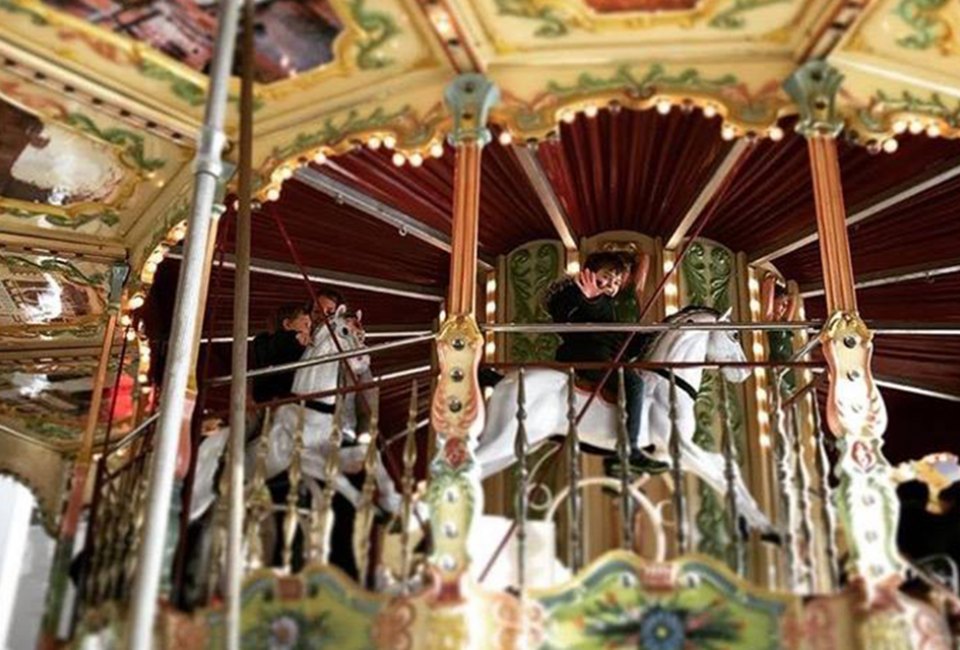 7/19/18
- By
Lisa Johnston
I remember watching the Palisades Center being built from the ground up as I shuttled between Rockland and Westchester counties for various athletic meets and games in high school. At the time, I never imagined that 20 years later, I would be a parent seeking out that very mall to entertain and amuse my own child. But seek it out I do—and with good reason.
It's not just the shopping that makes the Palisades Center a destination spot for families (though, seriously, who can resist four full floors of restaurants and shops?). Palisades Center is also an entertainment complex that lures patrons of all ages. From indoor play spaces larger than many elementary schools to carnival rides and extreme ropes courses, this gigantic mall has something for kids with every interest—with plenty to entertain parents, as well. Read on for the highlights.
Looking for even more fun? Check out some other family-friendly spots!
Billy Beez
Billy Beez is an enormous indoor playground boasting more climbing and sliding opportunities than I could possibly count—"over 1,000 feet of slides", according to its website. There are trampolines, a soft-play toddler area, air-propelled ball fountains, and a multi-use sports court—just to name a few options. There are spots for parents to sit, snacks for purchase, bathrooms, and cubbies for shoes (socks required and long pants recommended to prevent slide-burn on some of the faster moving slides). Billy Beez has a very elaborate system for ensuring that kids stay inside the facility and leave only with the adult that brought them—it includes a scan-able bracelet and closed gates at the entrance and exits.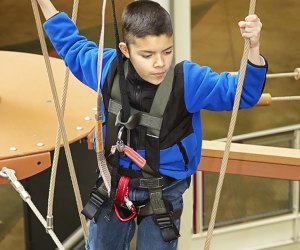 Adventurers big and small can tackle the indoor ropes course. Photo courtesy of Palisades Climb Adventure
Palisades Climb Adventure
Billed as the tallest indoor ropes course in the world, Palisades Climb Adventure soars 85 feet into the air and takes up the large open atrium in the center of the mall between the first and fifth floors. (Though officially it's located on Level 4.) Visitors 48 inches tall (or 42 inches tall, when accompanied by an adult), are strapped into a chest and seat harness that follows them throughout the 75-obstacle course. Not for the faint of heart, this course includes tremor bridges, cargo nets, tightropes, and balance beams way above the mall floor. Not 48 inches yet? No problem. Littler kids can spend their time at the Sky Tykes course. Designed for children ages 2 to 7, this 10-obstacle mini-course gives younger kids a chance to explore the ropes course with their parents close by.
AMC Loews21 and IMAX
If sitting back and letting the adventure wash over you is more your speed, check out the IMAX Theater located on the top floor. This high-tech theater, with movies usually offered in 2D or 3D, brings viewers right into all of the action taking place on screen. At the AMC theater, you'll find Real 3D showings, as well as digital showings of the latest blockbusters and family-friendly movies.
Lucky Strike Lanes
And because gigantic slides, a ropes course, and 3D movies aren't enough action for one mall, Lucky Strike Lanes offers 12 state-of-the-art lanes and a game room to entertain kids made restless by a morning of back-to-school shopping. Kids are a common sight at these luxury lanes, where birthday parties and other celebrations are the order of the day. Hungry? Look no further—food is available onsite while you bowl.
Palisades Center Ice Rink
Also located on the 4th floor, the Palisades Center Ice Rink has open-skate hours year-round, all week long. Getting a spot on the ice during these sessions is easy—just show up with your skates (or rent a pair on the spot) and head out onto the ice. In addition to public ice times, the Palisades Center Ice Rink also offers learn-to-skate programs, private lessons, ice hockey lessons and team play, ice skating summer camp programs, and figure skating coaching. Looking for a cool space for a party? Depending on the package, birthday parties at the rink include pizza, goodie bags, and skate rentals for all guests.
RELATED: Bounce Off the Walls at New Launch Trampoline Park in West Nyack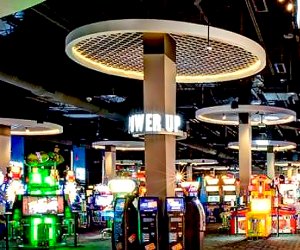 Hit Dave and Buster's for games galore and kid-friendly fare. Photo courtesy of Dave and Buster's
Dave and Buster's
Dazzling lights, food, and noisy games that dole out tickets to cash in for prizes—sounds like bliss for many a kid. Dave & Buster's offers a full-service restaurant with kid pleasers like quesadillas and mac and cheese, an enormous game room with everything from racing games to bowling, billiards, and even shuffleboard. Earlier is better for bringing the kids, who must be accompanied by an adult over age 25.
Carousel and Ferris Wheel
Looking for a very low-key adventure—or a low-cost bribe to get through those last few stores? This is where I turn to the promise of a carousel ride or a few rounds on the Ferris Wheel. Located in the food court on Level 3, these carnival rides remain exciting for big and little kids alike. The carousel is a modern double-decker ride with horses that go up and down and a variety of stationary benches.
RELATED: Mini-Golf with Westchester Kids: Top Putt-Putt Spots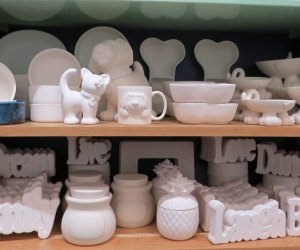 Take your pick of pottery to paint at Color Me Mine. Photo by the author
Color Me Mine
Sometimes homemade crafts just don't cut it. When that's the case, try Color Me Mine, a pottery painting studio that recently opened in the mall, on Level 3. There, kids (and adults, too) will be able to choose from a slew of different ceramic shapes to paint, from vases and mugs to holiday-specific creations. Once they're done with their project, it's fired onsite and ready to bring home. You can also have a birthday party at the studio, and it offers lots of fun kid-specific events, like Mommy and Me, Kids Night Out, Special Needs Painting, and more.
RELATED: Zip Lines, Ropes Courses, and Outdoor Adventure Parks Near NYC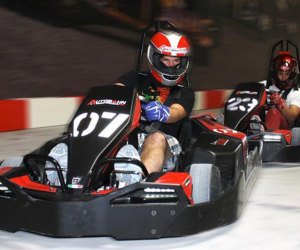 Kids ages 8 and up can catch some speed at the Autobahn Indoor Speedway. Photo courtesy of the Autobahn Indoor Speedway
Autobahn Indoor Speedway
Thrill-seeking kids will love to test their go-kart driving skills at this 43,000-square-foot indoor racing spot. Juniors—kids starting at age 8 and measuring 48-inches tall—can do a race of 10 laps in a junior-sized go-kart for $22.99 per race (you can also buy race packs.) There's also a $7.95 yearly fee that will get you a helmet, head socks, deals, and more. It hosts birthday parties and, if you have a big event, you can even rent the whole place, which is on Level 2. If your child really enjoys it, there are even leagues he or she can join.
Escape the Mystery Room
Have a kid who can't get enough of puzzles and games? Try one of the adventures at Escape the Mystery Room, located on Level 3. Players have to answer everything right in order to, well, "escape the room." Each adventure has a difficulty level—from Level 1 to 5—and here you'll find three Level 1 and 3 adventures that would work for kids: Superhero's Adventure, Treasure Island, and Escape from Alcatraz, among others with a higher difficulty level. Each adventure lasts just under an hour and tickets start at $20 each, with kids under 6 free with an adult ticket.
OMG Entertainment
Virtual reality–loving kids will get a kick out of OMG Entertainment, on Level 1. There, kids and grown-ups sit in an amusement park ride–looking "simulator" that moves up to 360-degrees while they check out a 9D (!) movie. There are eight movies available, including City Escape 1, Island Coaster, and Mission Mars. It even hosts birthday parties, where kids can get one or two "rides of flying theater," plus games, pizza, and more, depending on the package.
5 Wits
If you're looking for something for your tweens and teens to do, consider 5 Wits, located on Level 4. There are three different adventures—which operate on a similar premise to an escape room—to choose from at: Deep Space, Tomb, and Drago's Castle. Each interactive adventure involves solving clues (and more!) and is infused with lots of cool elements and special effects. Not sure if it's right for your kid? There are intro videos for each adventure on the website so you can get a feel before you visit.
The Palisades Center is located at 1000 Palisades Center Drive in West Nyack. Mall hours are Monday–Saturday, 10am–9:30 p.m., and Sunday, 11am –7pm, though hours vary for some venues listed above. Call ahead or check online for details.
Places featured in this article:
Sign up for the Mommy Poppins Newsletter today!