Mini Golf with Westchester and Hudson Valley Kids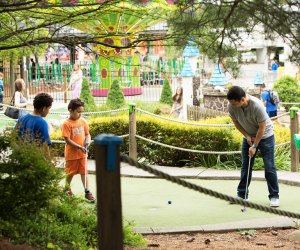 While many Westchester and Hudson Valley families are foregoing their usual vacation by the shore, one familiar tourist attraction can be found right here at home: mini golf. No need to limit this fun to the boardwalk; both Westchester and the Hudson Valley offer destinations for whimsical putt-putt fun.
The summer of 2020 is like none prior; fortunately, there's plenty of fun nearby. Browse (and bookmark!) our summer staycation list for great options for keeping kids entertained throughout the season.
Read on for the roundup of our favorite mini golf destinations, and for even more great activities, consult our Summer Fun Guide and our Stay-at-Home Guide to create a picture-worthy summer.
Please note, while we've attempted to highlight these nearby courses at their best, the pandemic has forced many changes for 2020. Please click through to each course's website for details before heading out to play.

Brookside Mini Golf has a big course so get ready to putt.
2020 update: Masks are required and golfers are asked to practice social distancing. Equipment is sanitized between uses. Open daily at noon with the last person permitted on the course at 6pm. Cost is $8 per player, and refreshments available for purchase.
Housed inside Tibbetts Brook Park, this course underwent a major renovation a couple of years ago, with new obstacles, new greens, and updated landscaping. The fun, but still challenging, 19-hole course is great for families with kids of all ages, including those as young as 3, who can use the toddler-sized clubs. Sink a hole-in-one on number 19 and there's a prize coming your way! For food, you'll find kid-friendly fare like pizza and nachos. It's open every day in the summer, from noon until dusk. Have a birthday coming up? You can also host a party at the course.

One of the courses at The Castle can accommodate strollers, making it ideal for families with kids of all ages.
2020 update: Mini golf is open daily from noon-8pm, with social distancing requirements in place. All clubs and balls are sanitized between uses. Masks are required for guests when social distancing is not possible.
The sprawling Castle Fun Center is packed with things to do for families, including a roller rink, go-karts, batting cages, an arcade, and two mini-golf courses. The two courses—The Dragon Slayer, which can accommodate strollers(!) and The Knight's Revenge—are 18 holes each and have fun features like tunnels, a rope bridge, a large dragon, and, if you make it to the top of the castle, a great view. The courses are open from spring to fall, and there's a snack stand with ice cream and drinks near the courses. Other food options, including a café and family-friendly pub, are in the main building.
3. DC Sports – Wappingers Falls
2020 update: Open daily from 11am-10pm, participants here must keep a one-hole distance on the course and wear masks while indoors.
The 18-hole mini golf course at DC Sports in Wappingers Falls has lots of interesting features, including waterfalls, bridges, a castle, shipwrecks, and even fake animals that spray water at you. The course is open year-round, and, as long as there's no snow, guests are welcome to play even on cold days. There's a snack bar inside that sells kid-friendly fare like quesadillas, sliders, pizza, and wraps. Weather not so great? Kids (and adults!) can try their hand at the indoor virtual mini-golf.

You don't have to be a resident to play mini golf at Germonds Park.
2020 update: Face masks and safe social distancing are required for all golfers. Supplies are disinfected between uses. Only credit cards are accepted for payment. Coupon books are available.
The mini golf course at Germonds Park in Clarkstown is run by the town's Recreation & Parks department, but you don't have to be a resident to play. The well-manicured course has lots of greenery and a waterfall and is open from May to September. Plan to make regular visits throughout the season? Snag a coupon book that includes10 passes for a discounted rate. Just note that the under-9 set has to be accompanied by a caregiver or a sibling who's at least 12.
2020 update: Purchase a daily farm pass that includes both produce-picking and assorted attractions, including mini-golf. Reserve your date and time on the website, which also allows for contactless payment. Walk-ins pay a higher rate and are accommodated if availability allows. Ages 2 and under are free.
Consider making a day trip to this 200-year-old farm in Kerhonkson, where the family can pick everything from strawberries and raspberries to broccoli and cucumbers, depending on the season, as well as check out the petting zoo, playground, jumping pillow, and, of course, the mini golf course. The farm takes its commitment to fresh produce seriously, and that includes on the course, which is a "tasting garden." Open from the end of April to the end of October, the course features old-school farm equipment throughout. While you're there, be sure to snap a picture with Chomsky—a 13-foot-6-inch garden gnome who used to be the Guinness World Record holder for the largest garden gnome.
2020 update: Open daily from 10am-7pm. Families must keep a distance of one golf hole, with a maximum of five families on the course at a time.
Looking for an evening activity? Check out the 18-hole course at Overlook Golf & Recreation Center in Poughkeepsie, which has lights on its 18-hole course and stays open until 9pm daily. On the course, you'll find a gazebo, ponds, pretty rock features, and more. If you have little ones in your family you're in luck: Kids under 5 can try their hand at the game for FREE.

Hit the course at Playland Park for free!
2020 update: Though the rides at Playland are not open in 2020, mini golf is offered Tuesday through Sunday from 10am–6pm.
There are two things that make this mini-golf course particularly family-friendly: If you've got early risers on your hands, the 18-hole course opens about an hour before the park does. It's also one of the most affordable locations on our list. The course, which has a waterfall, windmill, and sand features, is outside the main park. Westchester residents can snag a spectator pass that lets you walk around the park for FREE; snack on amusement park favorites like funnel cake and cotton candy.
2020 update: Current safety measures include sanitization of equipment between uses and limiting capacity to 50%. Golfers must remain one hole apart and need to wear face masks when not at a safe social distance on the course.
Enjoy a game of mini golf at this course located inside Saxon Woods Park in White Plains. The traditional course has fun, nature-like features, including fountains and more. Players are welcome every day in the summer from noon–10pm, and weekends in April and October. Visit the website for current hours. Food, like hot dogs and hamburgers, is available, as are party packages.
2020 update: Golfers are required to wear masks and practice safe social distancing. Equipment is cleaned between uses.
You'll find 14 acres of fun at this spot in Mohegan Lake, which includes batting cages and a covered driving range—along with an 18-hole mini golf course. Open every day in the spring and summer, the course has features like waterfalls, greenery, and more. There are picnic tables and tents on the premises, where you can take a break or check out the food selection, which includes ice cream and snacks.
2020 update: FunFuzion is currently closed.
Here's a fun twist on the traditional mini golf game: a glow-in-the-dark course! And at FunFuzion at New Roc City, that's not the only cool part of this 18-hole course—it's themed after the Yucatan Peninsula in Mexico, which means you'll find native plants, animals, jungle sounds, and other great features. Admission prices vary depending on when you visit. Available food includes burgers, hot dogs, and wings.
This post has been updated for 2020.
Photos courtesy of the venues