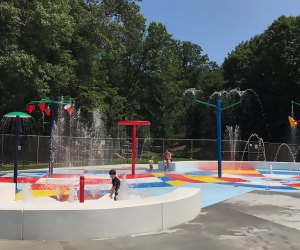 Splash Pads and Water Playgrounds in Westchester and Hudson Valley
Ready to cool off this summer? There are plenty of local pools and swimming lakes, but if you're looking for something a little different, a splash pad or sprayground is a great choice. The setting is especially fun for younger kids, who can run through the sprinklers and water jets, so swim vest required. Lucky for us, there's a slew of family-friendly sprinkler parks to choose from in Westchester and the Hudson Valley, whether you're looking for a quick morning trip or an all-day adventure.
We've rounded up a few to check out, from Yonkers to Wappingers Falls, including several that offer FREE entry.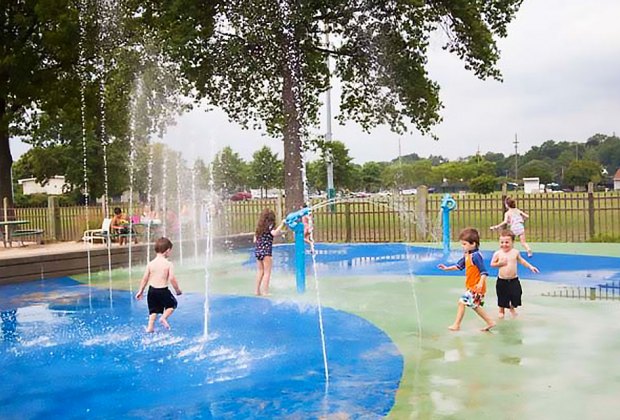 Harbor Island Park is right on the beach, so you can spend time splashing and playing in the sand.
Harbor Island Park – Mamaroneck
Kids want a beach day and time at the splash pad? Head to Harbor Island in Mamaroneck, where the sprayground is at the beach, making it easy for kids to run through the sprinkler jets and then get back to building their sandcastle. The sprayground is getting an update this year, with the addition of some new features—including a 12-foot-tall, wavy palm tree—and some of the older features, like the water cannons, will be removed. While the beach is open from 9am to 8pm (though swimming stops at 6pm), the splash pad is on from 10am to 5pm. There's a parking fee as well as a fee to enter the beach, which varies depending on the day. (Kids under 3 are free to get on the beach, though.) Done with water activities? There's a great playground at the park, too.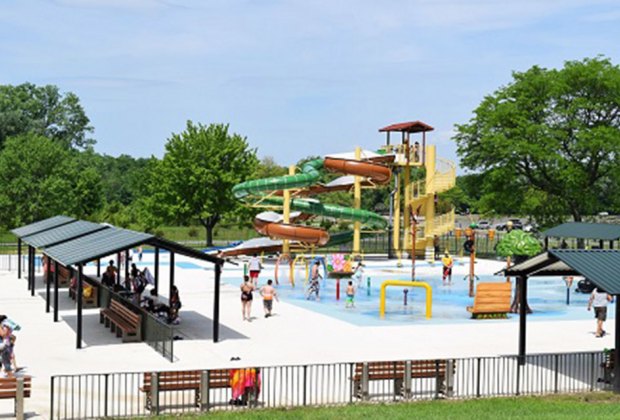 The recently renovated pool at Rockland State Park includes a state-of-the-art splash pad.
Rockland Lake State Park – Valley Cottage
Following a multimillion-dollar renovation, the pool at Rockland State Park boasts tons of new features, including a state-of-the-art splash pad. With water slides, sprinklers, and more, there's tons to keep kids happy. There's also a 25,000-square-foot pool with zero-depth entry, a playground, picnic area, and lakeside trail that's great for bike riding. There's a fee to park, and pool entrance prices vary.
RELATED: 100 Things To Do with Westchester Kids Before They Grow Up

Spook Rock Pool's cute sprayground is perfect for toddlers and preschoolers
Spook Rock Pool – Suffern
Parents of little kids take note: The sprayground at Spook Rock Pool in Suffern is geared toward the toddler set. It offers various sprinklers and jets for them to play in, and it's gated (ideal for those pint-sized runners!). If you have older kids with you, they can enjoy the pool and basketball courts. There are entrance discounts for Rockland County residents, but you don't have to live in the county to visit.
Sprain Ridge Pool – Yonkers
Sprain Ridge Pool has had its share of issues lately. After reopening in 2017 following an extensive renovation, the pool closed again in 2018 due to leaks. The pool complex is scheduled to reopen this summer, though an opening date has not yet been announced. The complex boasts lots of family-friendly features, including a sprayground for kids. When the kids are done running through the jets and sprinkler features, you can check out the zero-entry pool and the concession stand. Keep in mind that it's cash-only and you have to be a Westchester resident to use the facilities. Check the park's website for updates on its reopening.
RELATED: Best Swimming Pools for Westchester and Hudson Valley Families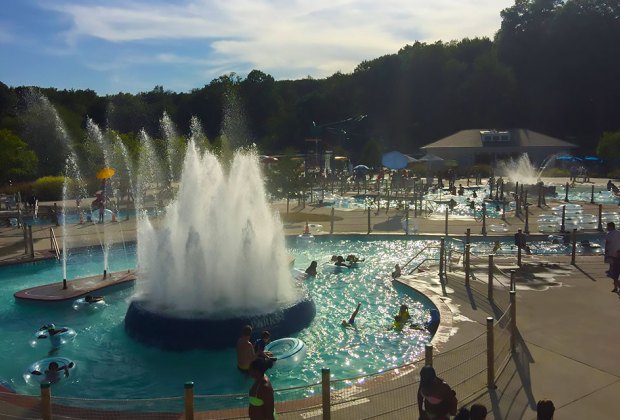 Tibbets Brook Park's swimming complex includes a water playground complete with cool jets and sprinklers.
Tibbets Brook Park – Yonkers
There's everything from mini-golf to soccer fields and playgrounds at this 161-acre park in Yonkers—and that includes a swimming complex, complete with sprayground. There, you'll find cool jets and sprinklers. If you decide to hit the pool, kids can try their hand at water sports or you can relax on the lazy river (well, try to, at least!). You have to be a Westchester resident to visit this county pool—and parking and entrance fees vary.
Wilson's Waves – Mount Vernon
Water-loving kids will be thrilled with all the things they can do at Wilson's Waves, which is housed inside Wilson's Woods Park in Mount Vernon. That includes water slides, a wave pool—with waves up to three feet high—and of course, a water playground and a spray deck with 57 jets! You need to a Westchester resident to visit this pool, and parking and entrance fees vary.
Free Water Playgrounds
Barnhardt Park – Sleepy Hollow
Head to this Sleepy Holly park where you'll find lots to do for kids—including a splash pad. After the kids have had their fill of running through the water, they can continue the fun at one of two playgrounds, depending on their age. Also important: there are bathrooms (though they're closed in winter) and space for picnics or a snack break.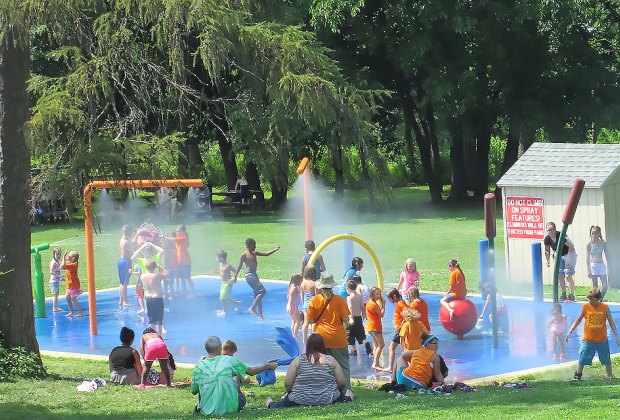 Take a break from swinging and climbing to cool off in the splash pad at Bowdoin Park.
Bowdoin Park – Wappingers Falls
With water cannons that actually move, a circular spray area to run through, and lots of other fun features, the colorful splash pad at the 301-acre Bowdoin Park will be a blast for little ones. The park also boasts a playground, as well as picnic areas, scenic river views, and more. We don't call it a Destination Playground for nothing. FREE entry.
Louis Engel Waterfront Park – Ossining
Want to ditch the car for the day? This Ossining park is close to the Metro North station, making it a quick walk from there to enjoy the splash pad as well as the playground.
Carol Nichols Park – Elmsford
There are lots of fun sprinkler features for kids at the bright sprayground at Carol Nichols Park. Plus, there are picnic tables and a playground for post–splash pad fun. FREE entry.
Pierson Park – Tarrytown
You'll find various jets and sprinklers at this fun splash pad. There's a playground right next to it, as well as room to have a picnic lunch or snack under the pavilion (when it's not in use). If the kids still haven't gotten all their energy out, there's a huge grassy field perfect for running and other outdoor games. Also great? Parking and entry are FREE.
Photos courtesy of the parks