25 Things To Do in Yonkers With Kids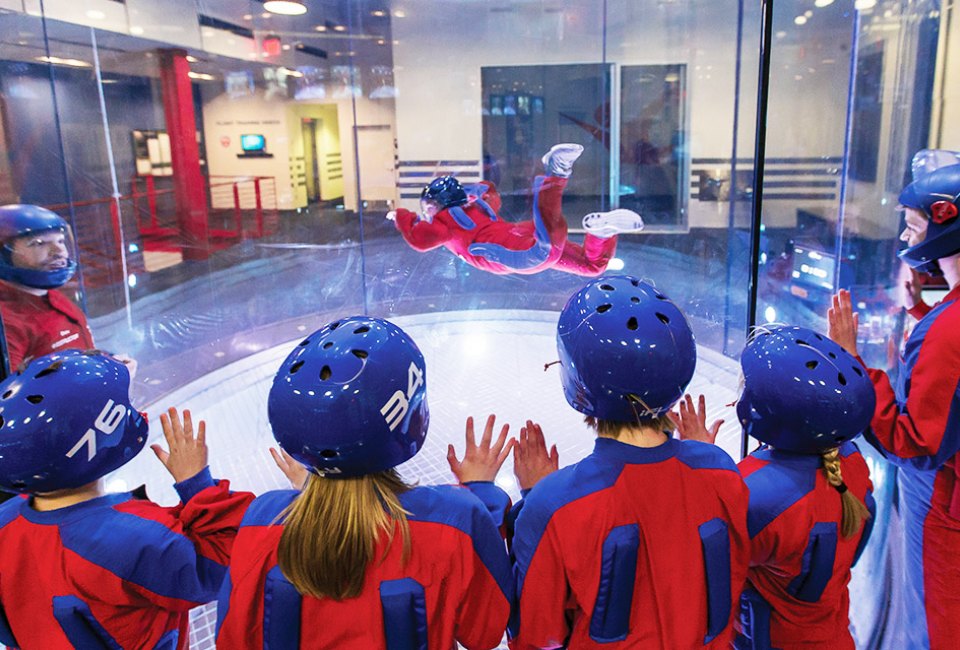 5/5/21
- By
Tom Stefanchik
Although located in Westchester County, the Yonkers feels more like a borough of New York City. It is quite large—the fourth largest city in the state—and features many distinct neighborhoods, plus historical charm that dates to the pre-colonial era.
Located just north of the Bronx, Yonkers is easily accessible to city families and those further out in the 'burbs, as it's crisscrossed by four highways, serviced by four Metro-North stops, and numerous Westchester County Bee-Line bus routes.
So, next time you're looking for something to do with the kids, consider a visit to this underrated city, the southernmost of the county's Rivertowns. We've rounded up 25 things to do in Yonkers with kids. Find more family-friendly outings nearby in our Guide to Southern Westchester or our Family-Friendly Day Trip Guide.
Editor's note: While we are trying to promote safer activities that occur outdoors or with social distancing guidelines in place, please keep your family and others safe by always wearing a mask and practicing social distancing. If you arrive at a venue that appears too crowded, try using the "nearby" search feature on our Event Calendar to find something else to do. Some photos in this post were taken before the pandemic.
Indoor Places to Play in Yonkers
1. Completely remodeled in 2018, Showcase Cinemas de Lux Cross features ultra-plush, power-operated, fully reclining seats with swivel tables to hold drinks and snacks. There's plenty of free parking, great eats, and shopping nearby.
2. Take flight without ever boarding an airplane at iFly, in the Ridge Hill Shopping Center. Certified instructions help you and your family step into a wind tunnel for a smooth takeoff. Children as young as 3 can take flight here.
3. There is so much more than books at the three branches of the Yonkers Public Library: Riverfront, Will, and Crestwood. In non-COVID times, visitors can enjoy story time, musical programs, fitness classes for teens, scavenger hunts, and more. Bookmark our Event Calendar to see what's happening beyond the stacks.
RELATED: Family-Friendly Mother's Day Brunch Spots in Lower Westchester

Legoland Discovery Center offers plenty of ways to play with its namesake bricks. Photo by Janet Bloom
4. Legoland Discovery Center is an indoor mini-theme park with rides, a 4D theater, character greetings, a New York City Miniland, snack bar, gift shop, and of course, loads and loads of the namesake bricks.
5. Recently refurbished, Murray's Skating Center is the place to go whether your kids are interested in skating lessons, hockey, or just a recreational skate. After skating, enjoy a delicious snack from The Waffle Box, a food truck that makes frequent visits to the center.
6. Book timed-entry tickets to visit the Hudson River Museum. As the county's largest cultural institution, it includes galleries, a planetarium, amphitheater, historic mansion, and picturesque outdoor space.
7. Let kids bounce off the walls at Rockin' Jump, the indoor trampoline and action-packed indoor amusement.
RELATED: Indoor Action Centers Where Westchester Kids Can Burn Energy

Even big kids and kids at heart find joy in the Stew Leonard's displays.
Family-Friendly Shopping in Yonkers
8. Gourmet food superstore Stew Leonard's is the Walt Disney World of supermarkets. Kids enjoy singing and dancing bananas, cows, and chickens, while you shop. In the summer, you can see live sheep, cows, chickens, and more at Stew's Little Farm behind the store; in the fall, take a (slightly) haunted hayride around the parking lot. Family-friendly events like Easter egg hunts and trick-or-treat events are always popping up, too.
9. Sprawling shopping center Ridge Hill offers plenty of family-friendly shops, restaurants, and even places to play. Be sure to join the RH Kids for discounts and rewards, plus invites to local events.
10. Let your children explore the vast children's department at the local outpost of Barnes & Noble and encourage their love of reading. Time your visit to include a performance of the Yonkers Storytellers (when live events return), which feature puppetry and reading.
11. Geek out while perusing the collection at The Spider's Web, a go-to destination for comics and collectibles.
RELATED: Short Hikes for Toddlers and Preschoolers in Westchester and the Hudson Valley

Enjoy the stunning views from the grounds of Untermyer Gardens.
Parks, Playgrounds, and Outdoor Destinations in Yonkers
12. Immerse yourself in the sprawling and scenic urban oasis at Untermyer Gardens year-round. Kids love climbing around the bridges and tunnels to The Temple of Love, while parents appreciate the classic beauty of the Walled Garden.
13. Bring the whole family and work on your swing at the renovated Brookside Mini-Golf course in Tibbetts Brook Park, including reconstructed bridges, putting greens, and landscaping.
14. The whimsical, uniquely designed Big Girl Playground, from artist Tom Otterness, is the centerpiece of Ridge Hill, offering kids a chance to climb up, down, and all around the personality-filled play structure. It's a perfect place for kids to blow off steam while waiting for a table at The Cheesecake Factory next door or to burn off calories afterward.
RELATED: 5 Things To Do on a Day Trip to Croton Gorge Park

Splash, play, and laze the day away at the Tibbetts Brook Water Park. Photo courtesy of the park
15. If you want to spend a day at a water park, there's no need to drive for hours. Tibbetts Brook Water Park is an exciting aquatic complex with slides, a lazy river, sprayground, lap lanes, and much more.
16. Strap on your hiking boots and visit Lenoir Preserve to explore its 40-acre expanse of woodlands and field habitats. Enjoy spectacular views of the Hudson River, watch for hawks and eagles, and visit the large butterfly and hummingbird garden.
17. Located right on the banks of the Hudson, Habirshaw Park is an inviting riverfront park with spectacular views of the Hudson, Palisades, and the George Washington Bridge. Enjoy sunbathing, fishing, and watching wildlife in its restored tidal marsh.
RELATED: Top Playgrounds in Westchester and the Hudson Valley

Set your kids loose in the Luckey Climber at the Cross County Shopping Center.
18. Located near Chipotle at the Cross County Shopping Center, the Luckey Climber is an interactive children's playground featuring an artfully designed climbing structure for children. Standing 16-feet-tall, the climber resembles lily pads stacked atop each, surrounded by netting and covered by a canopy.
19. Enjoy some hands-on, STEM-inspired fun at The Science Barge. Though currently offering online and pre-scheduled visits only, the floating environmental center operates off the grid and grows tons of fresh produce.
20. A rippling Saw Mill River is the centerpiece of Van der Donck Park, which was daylighted, replacing an unsightly parking lot in downtown Yonkers. An excellent place to relax and enjoy nature, search for the resident ducks, turtles, and giant carp while enjoying a picnic or takeout from one of the nearby restaurants.
RELATED: 10 Destination Parks for Westchester Families

Gianna's serves classic Italian fare in a family-friendly atmosphere.
Family-Friendly Eats in Yonkers
21. Gianna's is a cozy neighborhood Italian restaurant. Kids love its many pizzas, and adults go for classic dishes like fried calamari and penne alla vodka.
22. If your family enjoys a little entertainment with dinner, then hibachi restaurant Little Buddha, located in Ridge Hill, is a great go-to. Food is prepared fresh at your table by chefs with more than a little showmanship. If you prefer a calmer dining experience, regular table service is also available.
23. Nasty weather day? No worries, you can still play a few rounds at Monster Mini Golf's indoor, monster-themed course. Plan to spend the day because there's also mini bowling and an arcade.
24. If you and your kids love Mexican food, you will love the charming Rancho Grande with its authentic regional cuisine, including guacamole prepared tableside to your specifications.
25. Eat breakfast at all hours at the decidedly old-school Argonaut Diner which maintains its 24-hour table service.
A version of this post was first published in 2014, but it has been updated.
Unless noted, all photos by author