Westchester's Rivertowns with Kids: 75+ Things To Do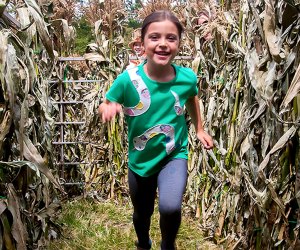 There's so much to do in Westchester's Rivertowns, the scenic and charming cities, towns, and villages that line the eastern shore of the Hudson River, from Yonkers to Peekskill.
The best part about the Rivertowns, of course, is their location along the water. This affords them not only scenic views and aquatic activity, but also a rich history from centuries of settlement along its banks.
Below we've rounded up assorted highlights of Westchester's Rivertowns for family fun, including kid-friendly restaurants, cool museums, beautiful parks, historic mansions, and much more. There are also numerous family-friendly events—from festivals to performances—that can be found year-round on our Event Calendar and via our free newsletters.
Centuries ago, when parts of Manhattan were farmland, wealthy developers with household names like Rockefeller built mansions along the river. Several have been converted into museums, and all are well worth the visit. (Note: Mansion tours are generally held at certain times and are offered seasonally; check ahead before planning your visit.)
Since that time, the Hudson River was found to be polluted, eventually inspiring the intervention of folk singer Pete Seeger, who is widely credited as leading a multi-decade conservation effort that continues today. That effort spawned Clearwater's Great Hudson River Revival, the popular festival that takes place annually in Croton-on-Hudson.
Several of the Rivertowns are the place to be in Halloween season, when extravagant walk-through productions are staged. After all, this is where Washington Irving's "The Legend of Sleepy Hollow" is set, and the surrounding communities do not disappoint!
Things To Do in Yonkers
1. View the exhibitions at the Hudson River Museum—a highlight being Red Grooms' The Bookstore, a permanent immersive pop-art installation. Also don't miss the historic 19th-century Glenview Mansion and its charming dollhouse; the hands-on, interactive Hudson Riverama; shows tailored to various ages at the Andrus Planetarium; and frequent family events and workshops. On select summer nights, the Arts in the Amphitheater performance series features quality productions in dance, music, magic, and theater. You might be able to get free admission.
RELATED: Museums with Cool Kids' Programming in Westchester and the Hudson Valley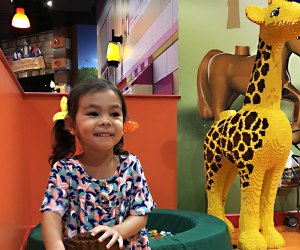 Legoland Discovery Center has activities to keep kids busy for an entire day. Photo by Janet Bloom
2. Romp through Legoland Discovery Center's giant indoor play structure and while away the hours with its various activity stations and 4-D theater.
3. Have dinner and a movie—at the same time (or brunch, lunch, a snack...)—at the Alamo. On prolonged school breaks, make an optional donation to gain admission to Alamo Kids Camp.
4. Stroll the elegant, tranquil gardens of Untermeyer and enjoy seasonal performances and events.
5. Catch and release aquatic wildlife at weekly Hudson River Seining events.
6. Play mini-golf, go swimming, and cool off in the sprayground at Tibbets Brook Park (open to Westchester residents).
7. Bop till you drop at Rockin' Jump.
Things To Do in Hastings-on-Hudson
1. Join a kayaking expedition with Mountain Valley Guides.
2. Navigate the self-guided Museum in the Streets.
RELATED: Top Swimming Lakes and Rivers for Westchester Families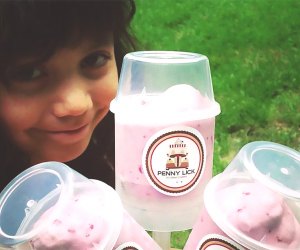 Get a push-pop at Penny Lick Ice Cream. Photo courtesy of Penny Lick Ice Cream
3. Savor a custard-based ice cream from Penny Lick Ice Cream Co.
4. Snack on a gluten-free treat from By the Way Bakery.
5. Browse the stacks at the independent bookstore Galapagos Books,
6. Enjoy riverfront dining at Harvest on Hudson, where the playground keeps kids occupied.
Things To Do in Dobbs Ferry
1. Catch a flick in upscale style at the iPic Theater.
2. Order a wood-fired pie at The Parlor.
3. Allow ample time to pour over the Dobbs Dawg House menu. There are more than 60 "specialty dawgs," with hot-dog toppings that include mac-'n-cheese, pizza toppings, crushed potato chips, and seaweed salad. The Stuffed French Toast "dawg" comes with cream cheese, grape jelly, cinnamon sugar, maple syrup, bacon, and powdered sugar, while the S'more Dawg comes with chocolate sauce, marshmallows, and graham-cracker crumbs. Then there's the tater-tot menu…
4. Get STEAM-y with classes for tinkerers and discoverers at Curious on Hudson.
5. Dine on "farm-to-taco" Mexican food at Tomatillo.
Things To Do in Irvington

Take a tour of the Octagon House, then explore the lush grounds. Photo courtesy of the Octagon House
1. Tour the striking Octagon House, restored to its 1872 appearance.
2. Celebrate Halloween season in Washington Irving style at the kid-friendly production of Home of the 'Legend.'
3. Grab an organic treat by the river at the Red Barn Bakery.
4. Catch a show at the historic Irvington Town Hall.
5. Compile your own fro-yo (or choose from other treats) and watch the trains whiz by at Brrzaar.
Things To Do in Tarrytown
1. Explore the house and grounds of Washington Irving's Sunnyside, which is celebrating the 200th anniversary of the publication of "The Legend of Sleepy Hollow" in 2019-2020.
2. Catch a show or flick at the historic Tarrytown Music Hall. A concentration of family-targeted programs take place in the holiday season.
3. Take a tour of Lyndhurst Castle, including the historic bowling alley. In fall, the autumnal decorations lend added charm.
RELATED: 15 Kid-Friendly Restaurants in Westchester with Outdoor Dining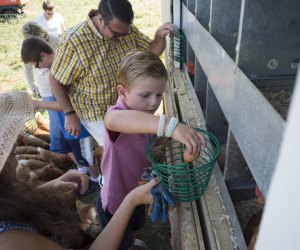 Gather eggs, plant seeds, or eat a farm-fresh meal at Stone Barns Center for Food and Agriculture. Photo courtesy of the center
4. Visit the farm animals, take a workshop, and eat farm-to-table food in the cafe at Stone Barns Center for Food and Agriculture.
5. Stroll, bike, picnic, or fish at Hudson RiverWalk Park.
6. Cool down with a frozen treat at Lighthouse Ice Cream Co.
7. …or head into town for some homemade ice cream at Main Street Sweets.
8. Further up on Main Street is A Nu Toy Store, which sells used and gently-used toys.
9. Take in the view at Rivermarket Bar and Kitchen.
10. Chill out at Pierson Park's splash pad.
11. Savor the amazing bread basket (scones, popovers, cinnamon toast, muffins, and more) over brunch at Horsefeathers.
12. Celebrate Halloween season at Jay Ghoul's House of Curiosities, a walk-through spookfest.
Things To Do in Sleepy Hollow
1. Visit the Old Dutch Church, depicted in Washington Irving's "The Legend of Sleepy Hollow."
2. Take a walking tour of the Sleepy Hollow Cemetery—where the Headless Horseman is said to have taken its late-night ride!
3. Follow the Thirteen Bridges Loop at Rockefeller State Park.
4. Visit the working grist mill and learn about colonial life at Philipsburg Manor.
5. View the stained-glass windows designed Henri Matisse and Marc Chagall at the Union Church of Pocantico Hills.
RELATED: 10 Destination Parks for Westchester Families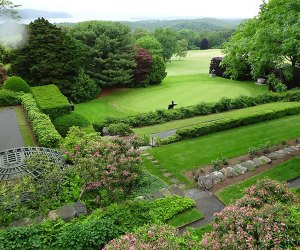 Explore the beautifully kept gardens at Kykuit. Photo by Susan Miele
6. See how the 1% lived back in the day at Kykuit, the Rockefeller estate.
7. Root for your chosen rubber ducky at the Y Healthy Kids Day/Rubber Duck Derby.
8. Step back in time with 18th-century festivities at Sheep-to-Shawl.
9. Immerse your family in historical African traditions at Celebrate Pinkster.
10. Tour the Sleepy Hollow Lighthouse, which seasonally hosts Food Truck Fridays.
11. Have a corn-y time at the CORNucopia festival.
12. In Halloween season, experience Washington Irving's "The Legend of Sleepy Hollow" at Irving's Legend, a dramatic 45-minute performance by master storytellers…
13. …or dare to meet the creepy characters at Horseman's Hollow.
Things To Do in Ossining
1. Meet the resident wildlife and take a hike at Teatown Lake Reservation. Visit in February and March to savor the maple-sugaring season.
2. Watch apples get pressed into cider and choose from a wide assortment of apple varieties to take home.
3. Take a tour of the Old Croton Aqueduct's Ossining Weir and be on the lookout for bats.
RELATED: Canoe, Kayak, and Paddleboat Rentals for Westchester Families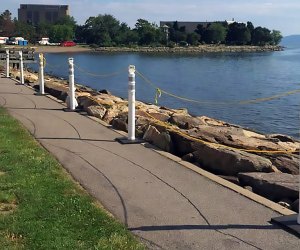 Stroll along the walkway at Louis Engel Waterfront Park. Photo courtesy of the park
4. Pack a picnic for riverfront DIY dining, a playground, and spray park at the Louis Engel Waterfront Park.
5. Stage your own prison break in one of the replica Sing-Sing cells at the Caputo Community Center.
Things To Do in Croton-on-Hudson
1. Take a stroll on the Westchester RiverWalk, which you can pick up in Tarrytown, Croton, or Peekskill.
2. Go kayaking and stand-up paddleboarding with Hudson River Recreation.
3. Fish, swim, play, run, hike, ski, boat, camp, picnic, and bird-watch at Croton Point Park.
4. Support environmentalism while enjoying seven stages of live music plus many family attractions at the weekend-long Clearwater's Great Hudson River Revival. Inspired by Pete Seeger's desire to clean up the river over forty years ago.
5. Grab some BBQ at Holy Smoke…
6. …or a cup of hot cocoa and some baked goods at Black Cow.
7. Learn about colonial life in the Hudson Valley at Van Cortlandt Manor.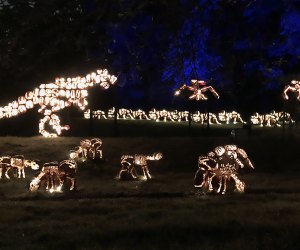 Get your tickets early for the Great Jack O'Lantern Blaze in Croton-on-Hudson! Photo by Janet Bloom
8. Around Labor Day, purchase your tickets (don't delay!) for the much-lauded The Great Jack O'Lantern Blaze.
9. Cool off with some ice cream at the Blue Pig…
10. …or grab a sweet treat from Baked by Susan.
11. Run, jog, walk, skate, ride, or scoot along the Croton Landing waterfront path.
Things To Do in Cortlandt Manor
1. Explore the tidal wetlands, fresh-water pond, and wooded trails at George's Island Park–also a good spot for spotting eagles.
2. Marvel at the waterfall coming down from the New Croton Dam at Croton Gorge Park.
Things To Do in Peekskill​
1. Catch a show at the historic Paramount Hudson Valley Theater, originally a movie palace dating to 1930.
2. Shop at Bruised Apple Books and Music Store in Peekskill, which sells used books and records in a cozy spot with multiple rooms and chairs—plus a foosball table in front.
3. Bike the trails at Blue Mountain Reservation.
4. Linger over crepes, baked goods, or lunch at The Peekskill Coffee House.
5. View the exhibits at Hudson Valley MOCA.
6. Roam the shops and eateries at Peekskill Central Market, which occupies a revitalized building from 1838.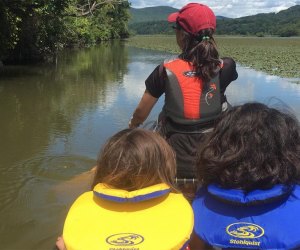 Cruise down the Hudson in a kayak or on a stand-up paddleboard. Photo courtesy of Hudson River Expeditions
7. Go kayaking or stand-up paddleboarding, either on a guided tour or solo via equipment rental with Hudson River Expeditions.
8. Rent a kayak from this outpost of Mountain Valley Guides.
9. Book a 1-hour boat tour up to the Bear Mountain Bridge.
10. Pack a picnic and relax at the Riverfront Green.
Ready for more? Continue north into Putnam County to explore Cold Spring and Beacon!