Silver Screen in Style: iPic Luxury Movie Theater Now Open in Westchester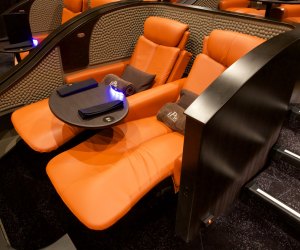 There's a new option in Westchester for watching those summer blockbusters or going on a date night: iPic Theaters in Dobbs Ferry.
The eight-screen luxury movie theater is the newest in a chain of iPic Theaters throughout the country—and the first of its kind here in Westchester. With other nearby locations in Manhattan and Fort Lee, N.J., the Dobbs Ferry theater marks the company's 16th location and is set to open on Friday, May 5.
We received a first-hand sneak peek at this upscale—but family friendly—theater. Looking for even more fun places to visit this spring? Check out our Event Calendar and sign up for our newsletters.
The iPic theater, which is located in the Rivertowns Square complex, has a modern and contemporary feel. Taking the place of the usual concession stand is the iPic Express, which greets you when you first walk in. There's also lounge-like seating outside the auditoriums where couples on date nights can linger with their cocktails.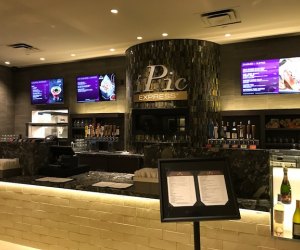 The dining options at iPic go well beyond popcorn and Red Vines.
The theater offers a variety of luxury amenities, with different types of seats accompanied by different services. The most basic (and kid-friendly) option is the Premium section, where the whole family can sit together. Food can be ordered from iPic Express and brought in with you. While there's no official kids' menu, there are some of the usual suspects like soft pretzels, nachos, pizza, tater tots, popcorn and candy. This section also offers chaise lounge seating in the first row; since these seats can fully recline, sitting so close to the screen is meant to be more comfortable. These seats share tables for food.
The Premium Plus pod seating is the higher-end option—and the most ideal for a date night. These seat two people and have leather chairs that completely recline. (As a six-month pregnant lady, I can attest that they were super comfy!) There's unlimited popcorn, as well as a pillow and blanket. In case you're skeptical of communal linens, theater management told us there are 7,000 blankets available for the 500 Premium Plus seats, and they're washed every night.
Pressing a button inside the pod summons a server who will come at any point to take your food and drink order. (The theater likes to describe the non-disruptive servers as "ninja-like.") As for the food, along with the kid-friendly items offered in iPic Express, a "Dine in the Dark" menu features foods that don't require utensils—think pulled pork sliders, beef tenderloin skewers, caprese paninis and lobster rolls, plus desserts like triple ginger cookies and a chocolate s'mores cake. There are also vegetarian, vegan and gluten-free options available, as well as beer, wine and cocktails. Pricing ranges from $4 for the cookies to $19 for the lobster roll.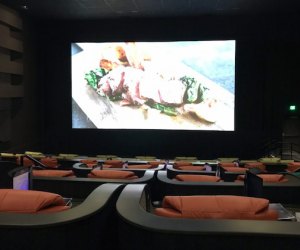 You can bring in food from the iPic Express or have it delivered right to your seat.
The theater can rented for birthday parties, and kid-centric events are planned, including a Minecraft gaming series.
Ticket prices range from $12 to $27, depending on the type of seat and the time of your movie; advanced reservations are recommended.
Top photo: Couples can get cozy in the pod seats. Photo courtesy of the venue. All others taken by the author.