What's New at the Westchester Children's Museum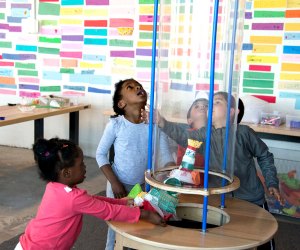 The Westchester Children's Museum in Rye is a go-to spot for area families looking for a fun day out with the kids. And now there's even more to love: The museum recently underwent an expansion and has grown to a whopping 20,000-square-feet (up from 6,000), with lots of new features either already in place or coming soon.
We took a tour of the updated space to get the scoop on what's still in play, what's been added—and what's on tap.
For even more great kid-friendly activities, check out our guide to area museums and galleries, or sign up for our newsletters.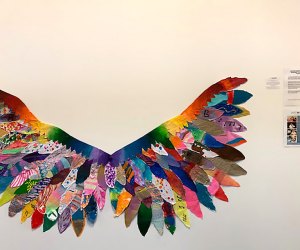 Gaze at gorgeous artwork in the admission area.
If you've visited the STEAM-centric museum before, you'll notice a few changes right as you walk in. For starters, the admission area has moved, and is now located in the space that formerly held a few tables and coat racks.
There, you'll find lots of artwork lining the walls—and even hanging from the ceiling—with local ties. That includes Flying Cranes by Origami4Cause, an initiative started by three Westchester kids, and ARTWORKS: The Naomi Cohain Foundation, which features pieces created by kids at area children's hospitals, and is on display until the end of March.
RELATED: Museums with Cool Kids' Programming in Westchester and the Hudson Valley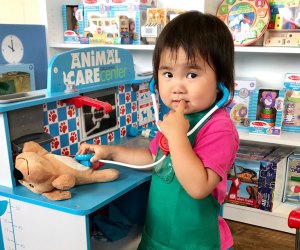 The Westchester Children's Museum's new interactive play space and gift shop features Melissa & Doug toys. Photo courtesy of the museum
Also by the entry area, you'll find a brand-new gift shop. But this isn't your run-of-the-mill shop that sells pencils and keepsake keychains. The museum partnered with the toy company Melissa & Doug to create a space that serves as both a play area and a gift shop. There are various stations set up with Melissa & Doug toys—like a 1950's diner and a mini market—so kids can play and pretend. (And of course, there are plenty of toys for sale, as well.) But if Melissa & Doug toys are as big of a hit in your house as they are in ours, we're sure it'll be popular.
RELATED: 30 Ways To Spend a Rainy Day with Westchester and Hudson Valley Kids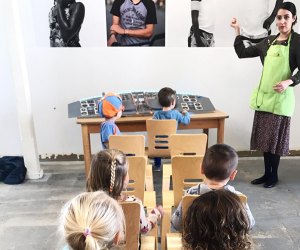 The museum offers lots of children's programming focusing on science, art, and more. Photo courtesy of the museum
New Exhibits and Familiar Favorites
You'll see a few new exhibits already set up in the recently expanded space, including one dedicated to nanotechnology, which any STEAM-loving kid is sure to get a kick out of. The museum describes it like this: "Visitors use their 'spy skills' to find examples of nano products and phenomena as part of several interactive challenges and can build a stable nano environment on a tippy table while exploring effects of static electricity and gravity."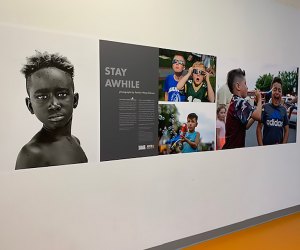 Check out the kid-centric Sandra Wong Geroux photography exhibit in the new Lavan Family Gallery.
There's also the new Lavan Family Gallery, where artwork and multimedia will be on display Currently, you can check out the kid-centric Sandra Wong Geroux photography exhibit "Stay Awhile." What's also cool about this space is that the artist or creator will host a workshop to coincide with their exhibit.
Many of the spaces that have been family favorites—like Build Your Own Rollercoaster, Toddler Beach, and the Construction Zone—are still in play. Most are currently in the same place they were pre-expansion, but be aware that some might be moved to other parts of the museum in the coming months.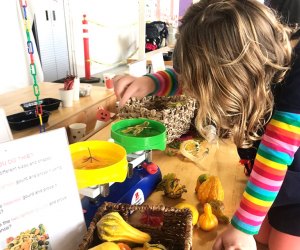 The MakerSpace offers opportunities for creativity, science, technology, engineering, art, design, and imagination. Photo courtesy of the museum
There's the MakerSpace for younger kids, with a second MakerSpace, this one geared toward kids ages 7 and up, opening in the next few months. That one will give kids a chance to try their hand at everything from woodworking to painting to checking out slides on microscopes.
Also coming soon? Ping-pong, which should be ready to go by the end of March.
More Coming Soon
And there's even more on tap: There are plans for a Sound & Music area, a Weather Center, and even a water feature and a climbing structure down the line.
While the renovation is visible in all the added space, there were also more behind-the-scenes changes made, like upgrading electrical and IT systems.
Also important: As the museum continues to move into the expanded space and set up new exhibits, the current programs and events are still running. And in terms of food, there are a few vending machines on site, and families are welcome to bring in snacks and sit at the tables set up.
Overall, the expansion is great for Westchester kids—and adds a new dimension to an already wonderful space.
Museum Hours
The museum is open Wednesday through Sunday, with special opening hours on certain holidays and school vacations. Admission is $7.50 per person (Infants under 1 are free) and parking is at Playland, with fees depending on the park schedule.
Unless noted, photos by the author