See Baby Animals and More at Petting Zoos in Westchester and the Hudson Valley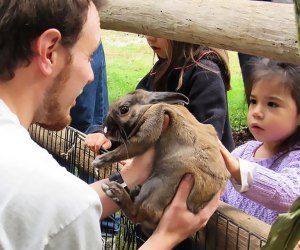 Have an animal lover on your hands? Westchester and the Lower Hudson Valley are filled with opportunities to see animals up close and personal—including petting zoos at local farms, nature centers, orchards, and animal sanctuaries. Many of these spots also offer kid-friendly activities in addition to the chance to see, touch, and feed horses, goats, cows, pigs, chickens, alpacas, and more.
Read on for our top picks, and find more seasonal fun in our Spring Fun Guide.
Where to See Farm Animals in Westchester County
Visitors are welcome at Faraway Farm Alpacas. Families can schedule a visit to tour the farm and see the alpacas and Icelandic Horses. Alpacas are soft, sweet, gentle animals whose fleece is valued for its softness in yarn. The farm store features various alpaca garments (sweaters, shawls, hats, gloves, etc.), blankets, toys, and yarn. Visits to the farm are by appointment only, so call ahead. And there are virtual options available, too!
2021 update: The indoor exhibits are currently closed, but outdoor areas—including outdoor animal exhibits—are open.
The Greenburgh Nature Center gives kids the chance to see and touch various animals (like ferrets, guinea pigs, snakes, and turtles) at its indoor exhibits. There's also a playground and trails to explore, where kids just might see birds and other small animals like squirrels and chipmunks in their natural habitat. There's even a beehive at the nature center. While the Greenburgh Nature Center's grounds are open from dawn to dusk, the indoor exhibits are open every day except Friday. The indoor exhibits require an admission fee, but kids under 2 and members are FREE; a Westchester Parks pass gets users half-price admission.
2021 update: Outdoor areas are all open, but the indoor buildings are currently closed.
Alfred B. DelBello Muscoot Farm is a popular spot for many local kids and families. This beloved, kid-friendly farm has been around since the late 1800s and has plenty of animals, including cows, pigs, chickens, goats, and sheep, with lots of places to walk and explore. The farm doesn't allow visitors to touch or feed the animals, and dogs are not allowed. The farm is open seven days a week, year-round—and admission is FREE.
2021 update: The Stone Barns Center is currently closed, though it is open at select times for members only. Some events, including virtual events, are still happening.
Stone Barns Center is perhaps most well-known for its famous restaurant—Blue Hill at Stone Barns—but the Center has much more to offer. Visitors can explore the grounds and check out the animals (pigs, chickens, sheep, goats, and more). The Stone Barns Center also has events, some of which are family-friendly, like its annual Sheep Shearing at the end of April. The center is open Wednesday through Sunday (closed to the public on Monday and Tuesday). On Wednesdays, Thursdays, and Fridays, entry is FREE; on weekends from April through November, visitors must purchase admission tickets. Weekends are popular, and purchasing in advance is recommended. Dogs are allowed, but they must be leashed and are prohibited in certain areas. Make sure to visit the cafe for lunch or snacks.
RELATED: Spring Festivals and Fairs for Westchester and Hudson Valley Families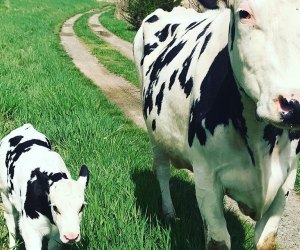 Meet Annabelle and baby Spencer at Kelder's Farm.
Kid-Friendly Farms in Ulster County
2021 update: Masks and social distancing is required.
Visitors to Kelder's can pet such farm animals as sheep, goats, alpacas, cows, and donkeys. There's also a playground, giant jumping pillow, and mini golf—not to mention the largest garden gnome you've ever seen. Dogs are welcome, but they must be leashed. Open daily, 10am–6pm, during the growing season, which starts in May.
2021 update: The Sanctuary is only open for member tours by appointment, and since masks are mandatory, kids who are too young to wear them won't be able to visit. There are virtual tours on Tuesdays.
The Catskills Animal Sanctuary has more than 300 animals, including cows, pigs, goats, sheep, chickens, and horses. If you want to make a weekend getaway of your trip, you can even stay overnight at the sanctuary's guest house or in one of the many nearby hotels or B&Bs. Weekend tours are offered, and Saugerties and the surrounding towns also have plenty of dining options.
Petting Zoos in Dutchess & Orange Counties
Barton Orchards offers tons of family fun in the summer and fall. In addition to pick-your-own fruits and flowers, and a host of other family-friendly activities, Barton Orchards has a petting zoo where children can feed the animals. There's also a Treetop Adventure course open on weekends and a Fun Park with giant slides, a bounce house, rope maze, pedal kart track, and lots more open in the fall. The petting zoo is open daily starting in April.
This favorite pick-your-own spot also has a small petting zoo with miniature goats and resident donkeys Misty and Eeyore. Open daily.
This post, originally purchase in 2017, is updated annually. Photos courtesy of the farms