Best Fun Restaurants for Kids' Birthdays in Westchester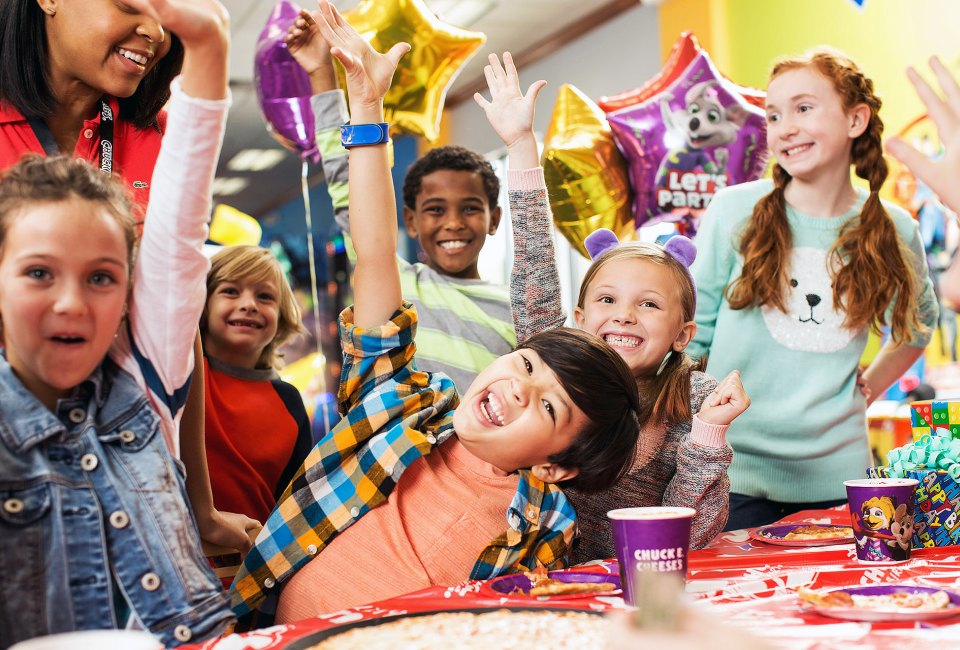 4/28/23
- By
Tom Stefanchik
Most Westchester restaurants will offer some kind of birthday package. But what if you want something more for your child's special day than table service in a quiet room at the back of the restaurant? What if you want a truly unique experience?
Fortunately, Westchester County has lots of restaurants, some exclusive to the area and others with multiple locations, that offer a wide range of singular birthday celebrations. With that in mind, here are 10 of Westchester's most entertaining and unique birthday experiences.
Check out our rundown of the best birthday party places for toddlers in Westchester and more in our Kids' Birthday Party Guide for Westchester Families.
Subscribe to our newsletters to get stories like this delivered directly to your inbox.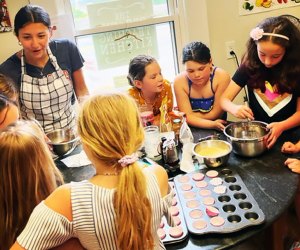 Bake up delicious treat for your birthday gathering at The Organic Teaching Kitchen. Photo courtesy of the venue
Restaurants for Birthday Dinner Unique to Westchester
You and your guests will be greeted and entertained by your own Party Squad from the minute they arrive at this Jefferson Valley Mall restaurant. The staff will run the entire event, which includes leading the kiddos into interactive circle time and applying sparkle tattoos while they romp around a playground or bounce house. Next comes pizza and lemonade, an art experience, and a cookie cake. Your kids will be wiped out but you won't have to lift a finger.
If your child is a foodie, a budding chef, or even a future restaurateur, then this hands-on experience is the place for them. Enjoy a 2-hour party in the kitchen and party room with time to cook, eat, and celebrate. Kids get to create two baked items and a smoothie, all using organic ingredients, and also learn a little about nutrition. They even get their own recipe cards to take home.
What's better than eating chocolate at a birthday party? How about making your own? Chocolate Works brings the party to your home, giving your guests the chance to become chocolate makers for the day. Kids enjoy pouring delicious, premium-quality Belgian chocolate into the mold of their choice and creating chocolate confections. Packages range from basic to deluxe.
If you're looking to throw a massive birthday blowout, this time-honored steakhouse offers cavernous, wood-paneled catering facilities that accommodate 75-500 guests. Guests receive white-linen service, old-fashioned hospitality, and a buffet featuring classic Irish-American fare, including shepherd's pie and tender prime rib. Kids' favorites like chicken fingers and French fries are also included, and additional items can be added to the buffet.
Everyone loves cupcakes, and Baked by Susan lets guests create and design their own. Kids choose the cake flavor and decorations and design their cupcakes from start to finish. Parties begin with all the fixings for each child to make their own pizza. While the pizza is cooking, each child gets two uniced cupcakes, one to use for the celebration and one to bring home in a box that they also decorate. A special gift for the birthday child is also included.
Teppanyaki tables, the individual hibachi grilling stations, are the perfect stages for an entertaining, and delicious, children's party. Each table is helmed by a personal and entertaining Master Chef. You can enjoy steak, chicken, and seafood dishes, and a children's hibachi menu is available for guests 10 and under. Banzai serves ice cream cake, but for a truly indulgent dessert, try the fried ice cream!
RELATED: Teen Birthday Party Ideas in Westchester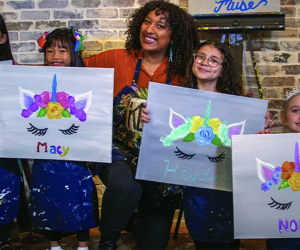 Throw your mini-me an unforgettable party at Muse Paint Bar. Photo courtesy of the venue
Westchester Restaurants for Birthday Dinner with Multiple Locations
Let your child's artistic side shine with a painting party, and give your guests the ultimate party favor: A finished painting that they create themselves. Muse will provide a designated artist to host your event, tasty bites to feed the artists, and even a full selection of fun, age-appropriate playlists. What's more, a full bar is available for adult guests.
Who wouldn't want to have their birthday party in a restaurant named after cake? Apart from its delicious dessert selections (including more than two dozen varieties of cheesecake), the Cheesecake Factory is known for its encyclopedic menu, offering more than 250 items. Even the pickiest of eaters will find something to enjoy.
RELATED: Bakeries Making Outrageous Birthday Cakes for Westchester Kids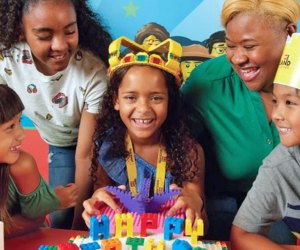 Build birthday memories brick by brick at Legoland Discovery Center. Photo courtesy of Legoland
Hold an unforgettable party at this indoor mini-theme park located at Ridge Hill in Yonkers. Packages include a private room, a dedicated host, a Lego build activity for children to take home (led by the party host), a Digital Photo Pass, beverages, and pizza. Cake is not available but can be brought in. After the party, guests can enjoy unlimited ride time, a 4D theater, explore the New York City Miniland, and, of course, play with loads and loads of Legos.
For years the big cheese has been the go-to spot for children's parties, although they never had a Westchester location. Well, that changed late last year with the opening of their Yonkers site, conveniently located on Central Avenue just above Tuckahoe Road. For the uninitiated, this is an all-in-one birthday destination, with games, rides, pizza, cake, and an appearance by Mr. Cheese himself.