Restaurants Open on Thanksgiving in Westchester and the Hudson Valley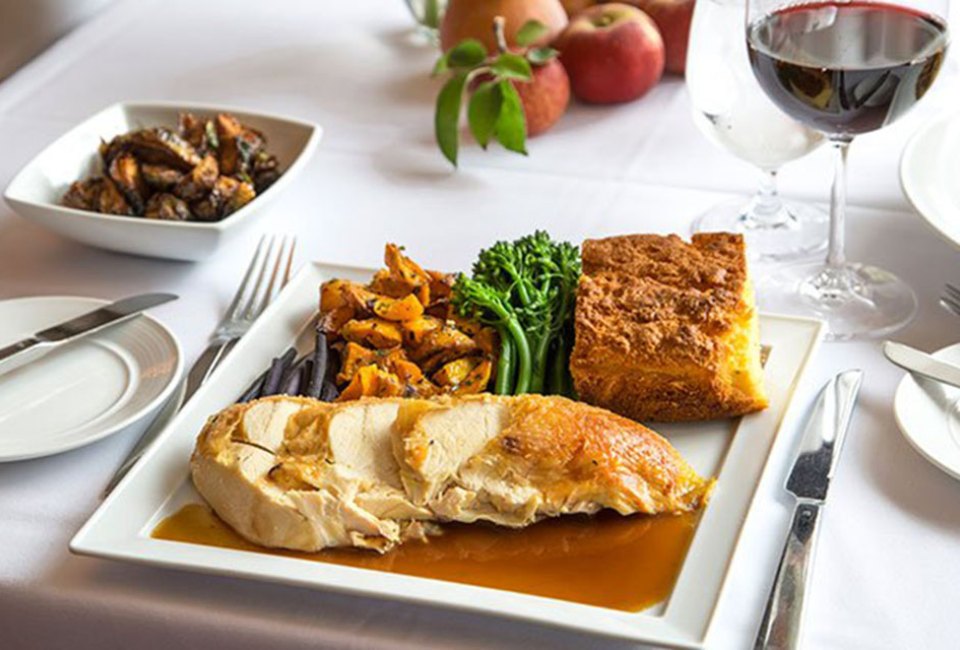 10/27/23
- By
Tom Stefanchik
Sign up for our newsletters for weekly updates on the best family-friendly activities in Westchester and the Hudson Valley.

Feast on Thanksgiving favorites without having to lift a finger at Benjamin Steakhouse.
Restaurants Open on Thanksgiving in Westchester
The famous steakhouse focuses on poultry for the day with a traditional turkey dinner with sides, salad, and pumpkin pie (plus other dessert options!) for $89 per person.
For a middle-of-the-road option between cooking yourself and dining out, City Limits serves a special Thanksgiving takeout menu for either six or 12 people. In addition to turkey, there are traditional sides including stuffing, mashed potatoes, and seasonal veggies, with pumpkin pie and other desserts available. Prices start at $320 for the six-person meal, with pickup on Thanksgiving Day. Smaller or larger crowd? It also has a personal turkey dinner option for $44.95. Orders are accepted up until Sunday, November 12.
At this waterfront restaurant, you and your family will be able to enjoy entree options such as turkey (of course), ham, prime rib, salmon, and rigatoni, along with appetizers such as oysters, butternut squash soup, and Caesar salad. There's a dedicated kids menu, too, which includes a "Thanksgiving Special" or kid favorites like chicken fingers and mac and cheese. The price is $90 for adults; $30 for kids. A $50 deposit is required when making a reservation.
For a high-end option, consider this Jean-Georges Vongerichten restaurant, which offers an elegant three-course menu, offering your choice of appetizer, entrees (including, of course, turkey with stuffing), and dessert. Seatings run from noon-8pm, and the cost is $188 for adults and $94 for kids 10 and under.
A tasty Thanksgiving Day three-course menu includes entree options like traditional roasted turkey, salmon, and butternut squash spaghetti, among others. There's also a great selection of apps, including pumpkin soup, roasted Brussels sprouts, and desserts such as apple pie, pecan pie, ice cream, and pumpkin cheesecake. The price is $92 per adult, and $38 per child ages 12 and younger, for a two-course meal of children's menu items.
RELATED: Best Family-Friendly Restaurants in the Rivertowns

Savor a delicious turkey roulade on Thanksgiving at Morton's Steakhouse.
This White Plains steakhouse offers a Thanksgiving special with such mouth-watering items as oven-roasted turkey roulade with savory sage and cranberry stuffing, smoked gouda au gratin potatoes, and green beans almandine. However, if you prefer to stick with its regular menu, you can do that, too.
This elevated Thanksgiving menu includes everything from apple bisque and sweet potato gnocchi to branzino and slow-braised short ribs, plus a whole range of desserts to choose from, like pumpkin and pecan pies. The per-person price is $110.
Offering a twist on traditional Chinese food, this Tarrytown restaurant turns to traditional Thanksgiving fare for A Goosefeather Thanksgiving. Located inside the Tarrytown House Estate, it's open from 2pm-7pm on Thanksgiving, just in time to celebrate the holiday.
Tuck into a three-course Thanksgiving feast at this White Plains restaurant with choices as diverse as lobster dumplings and an autumn harvest salad to start, delectable mains like prime rib or bison short ribs—in addition to the traditional turkey dinner—plus plenty of sides and you're surely in for a memorable meal. This sit-down affair runs $85 for adults; $45 for children ages 12 and younger. If you don't feel like dining out, consider ordering its Grab & Gobble special and setting your table at home.
Restaurants Open on Thanksgiving in Rockland and Orange Counties
As the oldest restaurant in America, the '76 House, a 300-year-old structure listed as a national landmark, is the perfect setting for a traditional Thanksgiving dinner. The restaurant serves a four-course dinner, with seating beginning at noon and running until 6:30pm.
This elegant, yet casual, Italian restaurant offers a complete five-course Thanksgiving dinner package for $49.95 for adults and $24.95 for children ages 12 and under. Taxes and gratuity are not included, and there is a two-hour maximum on seating. The restaurant's regular a la carte Italian menu is also available.
A delicious meal prepared with fresh, healthy ingredients awaits you at Dolce Vita. Its Thanksgiving dinner special includes turkey, turkey soup, mashed potatoes, stuffing, cranberry sauce, sweet potatoes, and string beans, all for just $29. Or try its regular menu of Italian favorites, seafood, and steaks.
The Thanksgiving dinner buffet at this casual family restaurant offers a bounty of delicious, traditional holiday favorites, plus such mouth-watering items as a charcuterie platter, shrimp scampi, honey-bourbon glazed salmon, and sliced steak. The buffet runs from 1-7pm, and the price is $60 for adults; $25 for children under age 12.
Enjoy a spectacular view of the Hudson River as you feast on such Thanksgiving favorites as butternut squash bisque, oven-roasted turkey, bourbon-glazed sweet potatoes, and multiple desserts. For those looking for something different, there's also an Italian station serving lasagna and more. Call to make reservations for this feast, which runs from noon-5pm. The price is $52.95 per adult; $24.95 per child.
Located in The Thayer Hotel at West Point, this renowned restaurant is brimming with old-world charm. Its Thanksgiving buffet features an abundance of traditional holiday favorites, as well as New York strip loin, lobster fricassee, spice-rubbed pork loin, and other sumptuous culinary treats. The price is $70 for adults and $35 for children 12 and under; children under 5 eat for FREE. Seating is limited, so call for reservations.
This post was originally published in 2015. Lisa Johnston contributed additional reporting.
Photos courtesy of the restaurants
Sign up for the Mommy Poppins Newsletter today!