26 Restaurants Open on Thanksgiving in NYC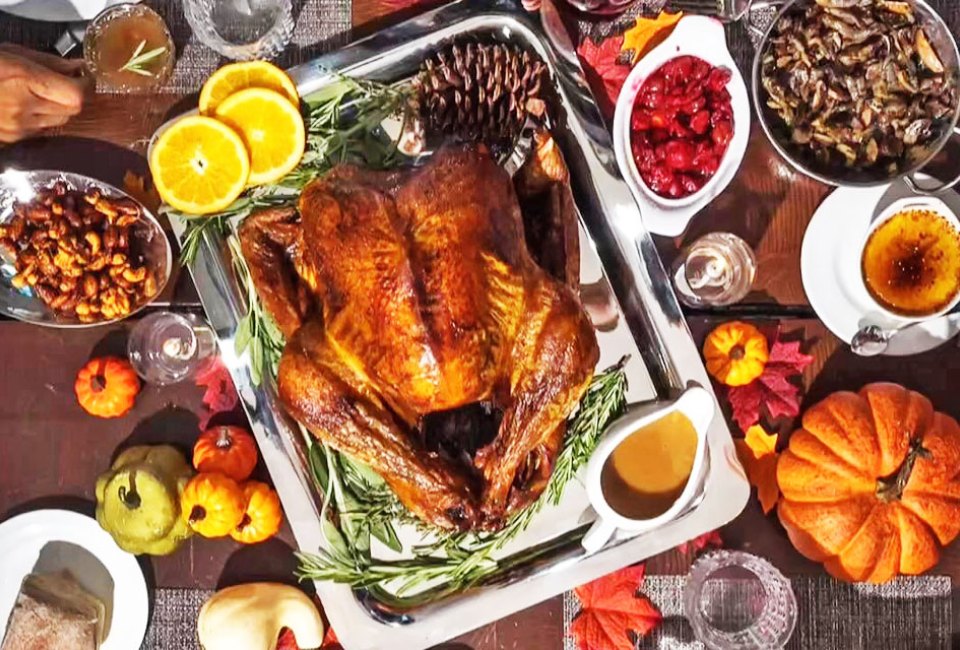 10/28/22
- By
Diana Kim
New Yorkers of small-space kitchens and rapid-fire takeout options often prefer to let someone else handle cooking our Thanksgiving feast, so we've found 25 restaurants open on Thanksgiving in NYC. Our picks for restaurants open on Thanksgiving include family-friendly spots in Manhattan, Brooklyn, Queens, and Staten Island sure to make this Thanksgiving—which falls on Thursday, November 24, 2022—as easy and delicious as possible. Be sure to book your reservations soon.
Now, instead of deep-cleaning your apartment to host those far-flung relatives (and their expectations), you can spend Thanksgiving morning at the Macy's Thanksgiving Day Parade. What's more NYC than that?
Be sure to bookmark our NYC Kid-Friendly Restaurant Guide for more family-friendly picks no matter the date. If you're visiting NYC this Thanksgiving and still looking for a place to stay, check out these family-friendly NYC hotels, or these Midtown gems offering views of the Macy's Thanksgiving Day Parade.
Subscribe to our newsletters to get stories like this delivered directly to your inbox.



Hearth's traditional Thanksgiving feast is built with ingredients from the Union Square Greenmarket and our local farmer friends.
Restaurants Open on Thanksgiving in Manhattan
1. Hearth – East Village
Hearth is the perfect home away from home for Thanksgiving. With a cozy atmosphere, Italian-influenced "healthy fine dining," and a James Beard Award nomination, it's probably a better place to celebrate the holiday than home. Start with autumn squash soup with citrus yogurt or pear and Pecorino salad, then move on to poached turkey breast with mushroom leak stuffing, cranberry and turkey gravy, and traditional sides. Finish with pumpkin panna cotta or apple crisp. A three-course dinner is $120 per adult and half-price for children under 12 years. An optional wine pairing is also available for $48. Visit the site for reservations.
The Fulton spices up its three-course Thanksgiving prix fixe menu with festive treats like the pumpkin spice sundae with ice cream, coffee custard, and apple cider caramel. While you can enjoy a traditional turkey and all the fixings, other options include a seafood hot pot or zaatar-crusted salad. The meal is $158 per person and $79 for children under the age of 10. Guarantee a spot, by making a reservation.
Jones Wood Foundry is a food-driven pub that uses locally sourced ingredients to put an updated twist on British culinary tradition. On Thanksgiving, the chefs prepare a turkey dinner with trimmings, including chestnut, apple, and sage stuffing, glazed carrots, caramelized Brussels sprouts, sweet potato puree, roasted potatoes, and pumpkin pie. Dinner is $98 per person; $40 for kids under 12. Visit the website to book your reservations. Prefer to stay in? Order a similar menu to-go and reheat it at home.
RELATED: 8 NYC Hotels with Views of the Macy's Thanksgiving Day Parade

Eat to your heart's content at Carmine's, which serves a generous family-style Thanksgiving meal.
4. Carmine's – Theater District and the Upper West Side
Can't fit visiting family members at your dining table, or just can't understand the joy of cooking for hours on end? Carmine's offers a family-style Thanksgiving menu with an 18-pound turkey and all the traditional fixings, sides, and pies. The dinner package feeds six to eight people, for $349. It's available for dine-in, take-out, and delivery. Call or pre-order online. If you prefer pasta to potatoes, the restaurant's regular menu is also available for dine-in clients.
Enjoy a family-style meal at Bubby's, which offers a Thanksgiving menu that includes deviled eggs, a market salad, and pickled market vegetables for starters, followed by a choice of roasted turkey and old-fashioned ham with pineapples and cherries, plus all the sides: cornbread sausage stuffing, green bean casserole, candied sweet potatoes, and roasted seasonal veggies. The prix fixe menu is $100 for adults and $70 for kids under 10, not including beverages. A Thanksgiving take-out menu is also available.
6. Oceana – Rockefeller Center
Oceana, one of New York's top seafood restaurants, offers a three-course, prix fixe meal from 12-8pm. The cost is $125 for adults and $55 for kids under 12. A mouth-watering menu includes traditional favorites, plus seafood specialties.
RELATED: 100 Things To Do in NYC with Kids Before They Grow Up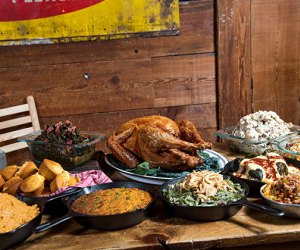 Hill Country Barbecue puts on an impressive turkey day meal.
Want a little sweet tea with your turkey? For Southerners who miss home cooking or native New Yorkers who want something out of the ordinary, Hill Country pays tribute to the Lone Star State by smoking its barbecue low and slow over Texas post oak. This year's Texas-style Thanksgiving menu showcases pit-smoked turkey, signature barbecue, and all the traditional sides and desserts. The meal runs for $95 per adult and $45 for kids ages 5-12. Bonus: Kids under 5 eat for FREE! Reserve your feast online for takeout or make reservations to dine-in.
Enjoy the flavors of island life at this Caribbean eatery, which serves a flavor-packed Thanksgiving menu. Slow-roasted jerk turkey takes center stage, and sides include mac-and-cheese pie and Jamaican greens. Enjoy elevated treats like pumpkin pie with pimento whipped cream or banana cream pudding. The $58 per person price point is particularly family-friendly. Book reservations online in advance.
9. Orsay – Midtown East
This modern French restaurant offers a three-course prix fixe menu that includes harvest salad, a choice of turkey with all the trimmings, sirloin steak, or salmon, and dessert. It's $82 per adult and $35 for kids 10 and under. Dinner is served from served 12pm-8pm.
RELATED: Best High Tea Spots in NYC to Enjoy a Cup with Kids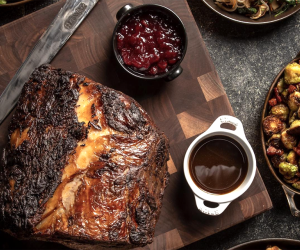 Cote offers a Korean-inspired take on the holiday meal.
10. Cote – Flatiron District
If you're thinking a little outside the box for Thanksgiving dinner, how about ordering some Korean barbecue? Billed as NYC's first Korean steakhouse, Cote is offering a Thanksgiving feast featuring four different cuts of USDA prime and American Wagyu beef. The meal also includes Korean side dishes and accompaniments like noodles, stews, and an assortment of lettuce leaves to wrap your meat. Cost is $125 per person.
Enjoy a three-course, prix fixe meal in this gorgeous, greenhouse-like Soho restaurant from George Mendes. Start your meal with a charcuterie platter or shrimp alhino, then opt for main course choices like salmon, baked cod, beef tenderloin, or Arroz de pato in addition to a traditional turkey feast. A caramel-bourbon pecan pie makes for a sweet finish. Book reservations online in advance. Veranda's Thanksgiving feast runs $95 for adults and $42 for children ages 12 and under.
For an indulgent Thanksgiving dinner experience, consider booking at this Upper East Side hotel, where the menu kicks off with lobster bisque and a foie gras torchon. Main courses include traditional turkey and fixings or options like herb-crusted lamb and butter-poached halibut. Finish off with a traditional pie or a decadent three-layer chocolate cake. Book your reservation in advance for this sit-down affair, which runs $175 for adults; $65 for children under 12.
RELATED: 18 Insane, Must-Try NYC Desserts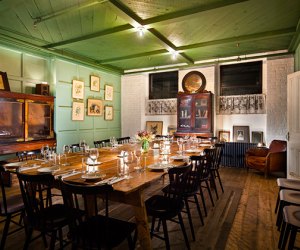 Enjoy heritage turkey with stuffing or whole grilled trout during Freemans' four-course meal.
Hidden at the end of a Lower East Side alley, this hip spot serves a four-course traditional Thanksgiving dinner for $120 per person. Highlights from this year's menu include hot artichoke dip, candied delicata squash soup, and a choice of roasted heritage turkey with gravy and cranberry sauce, or whole grilled branzino. Dessert options include pumpkin flan as well as apple pie. Make reservations online; booking is limited to two hours.
Celebrate a classic New York Thanksgiving in Central Park and enjoy executive chef Bill Peet's traditional five-course Thanksgiving menu, with turkey and all the trimmings. Dinner costs $125 per adult and $75 for children 12 and younger. Email reservations@tavernonthegreen.com or call 212-877-8684 to book.
Served from 12-8pm, Thanksgiving dinner at this modern American steakhouse is $110 per person and $55 for children 12 and under. The family-style menu includes chicory salad and deviled eggs, roasted McEnroe Farms turkey, sourdough stuffing, traditional sides, and several pies. Make reservations online.
RELATED: 20 Must-Visit Cafes, Sweet Shops, and Iconic Family-Friendly Restaurants in NYC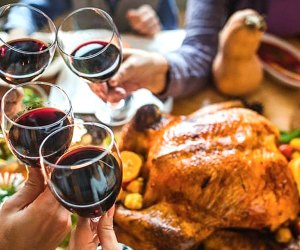 Enjoy unlimited organic roasted turkey as part of the prix fixe Thanksgiving meal at Arte Cafe.
16. Arte Cafe – Upper West Side
This upscale Italian eatery on the Upper West Side offers a four-course Thanksgiving dinner that includes butternut squash soup, pumpkin ravioli with porcini mushrooms, roasted organic turkey with all the fixings, and dessert. The cost is $58 per person, and an a la carte menu is also available. Make reservations online.
Multiple locations
Several Manhattan restaurants are part of the Noho Hospitality Group and offer decadent Thanksgiving dinners for both dine-in and take out, including The Dutch where guests can dine on a family-style main course that includes organic roast turkey, mashed potatoes, rich turkey gravy, and spoon bread stuffing for $145 per guest and $65 for children 12 and under.
The nearby Lafayette restaurant is also serving tasty fare. For $130 per person ($65 for children 12 and under), you can feast on entrees like grilled arctic char, duck leg confit, or heritage turkey served with traditional accompaniments and gravy.
Hop aboard the glass-enclosed Bateaux New York on this luxurious Thanksgiving Day cruise. Enjoy a chef-prepared, three-course, plated, holiday menu while taking in spectacular views of the Manhattan, Brooklyn, and New Jersey skylines. The cruise comes in at $74.90 for adults and $54.90 for children ages 3-12. It's FREE for ages 2 and under.
Restaurants Open on Thanksgiving in Brooklyn
This cozy neighborhood spot offers its annual Thanksgiving Day feast featuring a generous selection of appetizers, entrees, sides, and desserts. Dinner is $90 per person, reservations are required, and dinner is served from 1pm-7pm. Menu highlights include a ricotta gnocchi or tuna tartare starter, a choice of braised beef short ribs, vegetable pot pie, lamb, or halibut in addition to a traditional turkey dinner. End your meal with apple strudel pie, chocolate bourbon pecan pie, or pistachio nougat. Book your reservations in advance.
Celebrate the holiday with a three-course menu of Thanksgiving classics including heritage turkey roulade with fresh herbs, Brussels sprouts with walnuts, Parmigiano Reggiano, and lemon, and your choice of 4 and 20 Blackbirds pumpkin pie or apple galette for dessert. Reserve now; $125 for adults and $50 for children 11 and under.
RELATED: Thanksgiving Volunteer Options in NYC for Kids and Families

BKLYN Larder is known for its farm-to-table ethos and lively atmosphere year-round.
21. BKLYN Larder – Prospect Heights, Brooklyn
If you want to enjoy Thanksgiving at home without the work, reserve your meal from BKLYN Larder, a local establishment that's been supplying Park Slope and Prospect Heights with hand-crafted cheeses, homemade prepared foods, and hard-to-find grocery items. For its Thanksgiving menu, choose either a whole turkey or a turkey roll—a de-boned turkey with pork stuffing and a variety of side dishes and sweets. To reserve your meal, email catering@bklynlarder.com.
Palo Santo, a neighborhood favorite, peppers its Thanksgiving menu with the Latin-inspired flavors it's known for. There's turkey, of course, but also fish, meat, and vegetarian options. The three-course meal runs $75 for adults; $45 for children with an optional $25 wine pairing for grown-ups. Seatings begin at 2pm. Reserve online.
23. Leuca – Williamsburg
Located in The William Vale, this restaurant serves Southern Italian cuisine such as handmade pasta, wood-fired pizza, and rustic dishes. For Thanksgiving, enjoy an Italian-inspired prix fixe menu featuring a variety of antipasti, turkey with pecorino and fennel sausage stuffing, and Sicilian pistachio cake. The menu is $105 per person. Make reservations online.
More Restaurants Open on Thanksgiving in NYC
24. The Queensboro – Jackson Heights, Queens
This festive meal starts with a Thanksgiving salad with pears, walnuts, blue cheese, pomegranates, mixed greens, and mustard vinaigrette. Entrees include a choice of roasted turkey, whole stuffed trout, petite filet of beef, or spice-roasted cauliflower. Round out the feast with sour cream walnut apple, pecan, or pumpkin pie.
Try a Mediterranean-inspired feast for Thanksgiving from this family-owned bistro. The holiday menu offers a choice of one main course—turkey, lamb chops, or shrimp—plus a variety of appetizers and Greek side dishes. Make reservations online or call.
26. Bario's – Heartland Village, Staten Island
This Staten Island establishment has an extensive catering menu for every major holiday. Its Thanksgiving feast serves six to eight and includes a 10-12 pound turkey, all the fixings, veggies, appetizers, bread, salads, pasta, and dessert, all for $249. For an extra-large group of up to 15, you can feast on a 20-pound turkey with all the fixings for $349. Call or order online.
Unless noted, photos courtesy of the restaurants. A version of this story was published in 2017; it is updated annually.