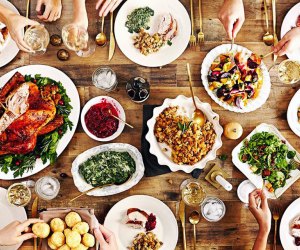 25 NYC Restaurants Serving Family Thanksgiving Dinner
Thanksgiving is a time to count your blessings—and to spend hours in the kitchen, right? Eh, we New Yorkers of small-space kitchens and rapid-fire takeout options often prefer to let someone else handle our annual turkey fest. Of course, in New York City we can choose from many award-winning restaurants for that amazing dinner. With that in mind, we've rounded up a number of options in Manhattan, Brooklyn, and Queens to make this November 28, 2019 as easy and delicious as possible. Be sure to make reservations early.
Now, instead of deep-cleaning your apartment to host those far-flung relatives (and their expectations), you can spend the night before Thanksgiving in a more festive way—say, watching the inflation of the Macy's Thanksgiving Day Parade balloons, sightseeing, or even volunteering. After all, what could be more of a New York City Thanksgiving experience than that?
Find even more family-friendly NYC eateries in our local restaurant guide. Visiting and still looking for a place to stay? Check out these top family-friendly NYC hotels, or these Midtown gems offering views of the Macy's parade.

Eat to your heart's content at Carmine's.
Manhattan
Carmine's —Theater District/Upper West Side
200 West 44th Street, (212) 221-3800
2450 Broadway, (212) 362-2200
Can't fit visiting family members at your dining table, or just can't understand the joy of cooking for hours on end? Carmine's offers a family-style Thanksgiving menu with a 18-pound turkey and all the traditional fixings and sides. The a la carte menu, which feeds six to eight people, ranges from $265 to $275. Call soon to make a reservation, since this restaurant always books up fast.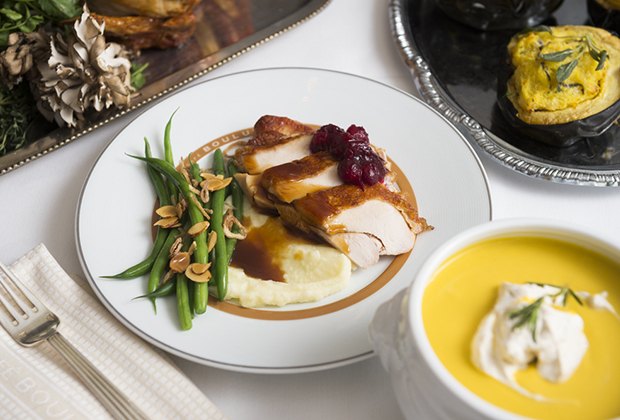 Families with older children can delight in an upscale meal at DB Bistro. Photo by Evan Sung
DB Bistro Moderne — Midtown
55 West 44th Street, (212) 391-2400
For a slightly more glamorous take on Thanksgiving, award-winning French chef Daniel Boulud whips up a three-course, prix fixe Thanksgiving dinner at his Midtown bistro. You can go traditional with turkey with chestnut and apple stuffing, or get more unconventional with lemon sole Veronique. Other temptations include squash soup, seared scallops, citrus cured salmon, and to finish, pumpkin profiterole or molten chocolate fondant. Cost is $75 per person. Children 12 and younger can order a two-course meal for $40. Call or visit the website for reservations.
Hearth — East Village
403 East 12th Street, (646) 602-1300
Hearth is the perfect home away from home for Thanksgiving. With a cozy atmosphere, Italian-influenced "healthy fine dining," and a James Beard Award nomination, it's probably a better place to celebrate the holiday than my home. Start with autumn squash soup with citrus yogurt or pear and pecorino salad, then move on to poached turkey with mushroom leek stuffing, cranberry and turkey gravy, and traditional sides, and finish with pumpkin custard or apple crisp. A three-course dinner is $98 per adult and half price for children under 12 years. An optional wine pairing is also available for $38. Visit the site for reservations.
RELATED: 100 Things to Do in NYC with Kids Before They Grow Up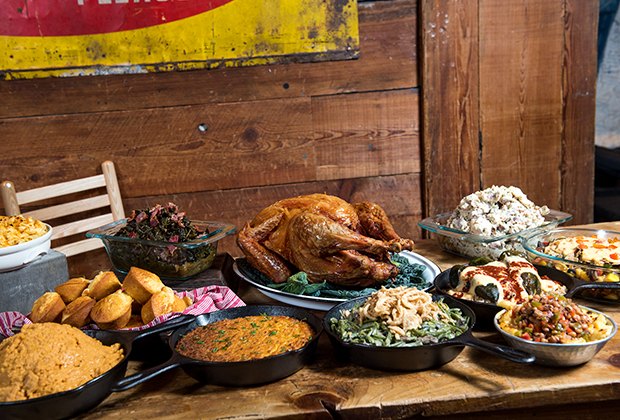 Hill Country Barbecue puts on an impressive turkey day meal.
Hill Country Barbecue — Flatiron
30 West 26th Street, Manhattan, (212) 255-4544
Want a little sweet tea with your turkey? For Southerners who miss home cooking or native New Yorkers who want something out of the ordinary, Hill Country pays tribute to the Lone Star State by smoking its barbecue low and slow over Texas post oak. This year's Texas Style Thanksgiving menu showcases pit-smoked turkey, signature barbecue, and all the traditional sides and desserts. The Ranchers Feast, which is $270, serves eight to 10 guests, and includes turkey, gravy, cornbread, your choice of four sides, and a pie. Call for reservations or takeout. Take note, football will be shown all day!
Jones Wood Foundry — Upper East Side
401 East 76th Street, (212) 249-2700
Jones Wood Foundry, a "food-driven pub," uses locally sourced ingredients to put an updated twist on British culinary tradition. On Thanksgiving, the chefs prepare a turkey dinner with trimmings, including chestnut, apple, and sage stuffing, glazed carrots, caramelized Brussels sprouts, sweet potato puree, roasted potatoes, and pumpkin pie. The prix fixe dinner is $78 per person, and kids under 8 can order from the children's Thanksgiving menu for $35.
Rock Center Cafe — Midtown
20 West 50th Street, (212) 332-7620
Is there a more classic New York Thanksgiving than dinner overlooking the famed Rockefeller Center ice skating rink? Indulge with a three-course, prix fixe menu that starts with a choice of kale salad, duck and porcini meatballs, and roasted beets and cauliflower, and stars roasted Vermont turkey, short ribs, salmon, and duck breast. Finish with your choice of pumpkin pie, chocolate layer cake, cheesecake, or apple pie—then work off the calories by lacing up some ice skates. Dinner costs $85 for adults and $29 for the children's menu. (Note: This dinner is not for the strict vegetarian or vegan; almost all dishes have some meat.) Visit the website for reservations.
The Capital Grille — Downtown and Midtown
120 W. 51st Street, (212) 246-0154
120 Broadway, (212) 374-1811
155 East 42nd Street, (212) 953-2000
The three Capital Grille locations in NYC dish up a scrumptious family-friendly Thanksgiving meal with a three-course prix fixe for grown-ups and a children's plate for tykes that comes loaded with all the fixings: roasted turkey, brioche stuffing, green beans, mashed potatoes, and gravy, plus pumpkin cheesecake with gingerbread crust. Call or make a reservation online.

A mini version of the Thanksgiving prix fixe at American Cut Midtown is available for kids (at a mini price).
American Cut Midtown— Midtown East
109 East 56th Street, (212) 388-5277
This year, the family-friendly steakhouse menu highlights include sweet potato gnocchi, turkey with root vegetable stuffing, filet mignon, salmon, and a range of sides. For dessert, there's a pumpkin pie and banana split. The prix fixe menu is $85, with the option to order off the regular dinner menu instead, and there's also a mini-version of the fixed menu for children for $35.
Fine and Rare — Midtown East
9 East 37th Street, (212) 725-3866
For a fancier Thanksgiving experience, you can listen to live jazz while enjoying a four-course dinner for $120 at this upscale establishment. This year's Thanksgiving menu includes butternut squash soup, apple cider brined turkey with cornbread stuffing and homemade cranberry sauce, sweet potatoes, and pumpkin flan.
Bubby's — Tribeca and Meatpacking District
120 Hudson Street, (212) 219-0666
73 Gansevoort Street, (212) 206-6200
Go family style at one of Bubby's two locations, both offering a Thanksgiving menu that includes deviled eggs, market salad, and pickled market vegetables for starters, followed by a choice of roasted turkey and old-fashioned ham with pineapples and cherries, plus all the sides: cornbread sausage stuffing, green bean casserole, candied sweet potatoes, and roasted seasonal veggies. The prix fixe menu is $75, not including beverages; children under 10 eat for $50.
RELATED: 18 Insane, Must-Try NYC Desserts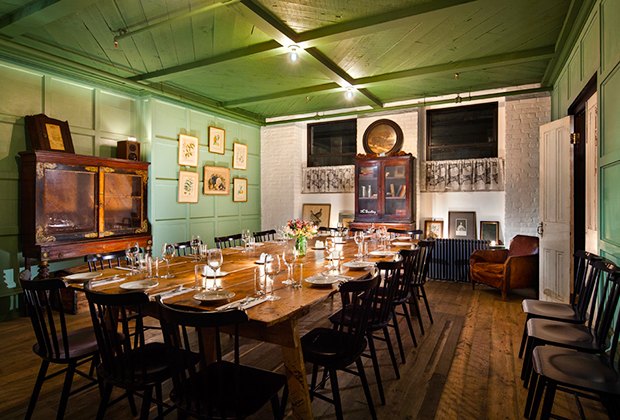 Enjoy heritage turkey with stuffing or whole grilled trout at Freemans four-course meal.
Freemans Restaurant — Lower East Side
End of Freeman Alley, off Rivington Street between Chrystie and the Bowery, (212) 420-0012
Hidden at the end of a Lower East Side alley, this hip spot is serving a four-course traditional Thanksgiving dinner for $98 per person and $55 for kids ages 11 and under. Highlights from this year's menu include hot artichoke dip, butternut squash soup, and a choice of roasted heritage turkey with sourdough stuffing and giblet gravy, or whole grilled Edenbrook trout. Dessert options include sticky toffee pudding as well as the classic pumpkin pie.
Riverpark — Kips Bay
450 East 29th Street, (212) 729-9790
Another upscale option, this farm-to-table restaurant with views of the East River is serving a three-course, family style Thanksgiving dinner for $145 per person; kids up to 12 eat for $65. Start with baby kale and chicory salad or beet cured salmon, then move on to free-range heritage turkey, wild mushroom stuffing, Brussels sprout and apple hash, and more. Dessert options include pumpkin pie and apple pie. Make reservations online or by calling. (Menu subject to change.)
The Dutch — Soho
131 Sullivan Street, (212) 677-6200
This modern American joint in Soho is serving a three-course Thanksgiving dinner with an array of options. As of this writing, this year's Thanksgiving menu hadn't been finalized. Prix fixe menu is $130 per person, $60 for children 10 and under.
The Breslin — NoMad
16 West 29th Street (212) 679-1939
This cute gastropub inside the Ace Hotel is serving a traditional Thanksgiving dinner with a twist. The four-course meal is $95 per person and includes yummy choices such as ceasar salad, turkey breast and confit leg, and a pumpkin and apple pie. Call or email hosts@thebreslin.com for reservations and to inquire about kids' pricing.
Tavern on the Green — Central Park
67th Street and Central Park West, (212) 877-8684
Celebrate a classic New York Thanksgiving in Central Park and enjoy executive chef Bill Peet's traditional four-course Thanksgiving menu, with turkey and all the trimmings. Dinner costs $125 per adult, $65 for children 12 and younger. Email reservations@tavernonthegreen.com or call 212-877-8684 to book.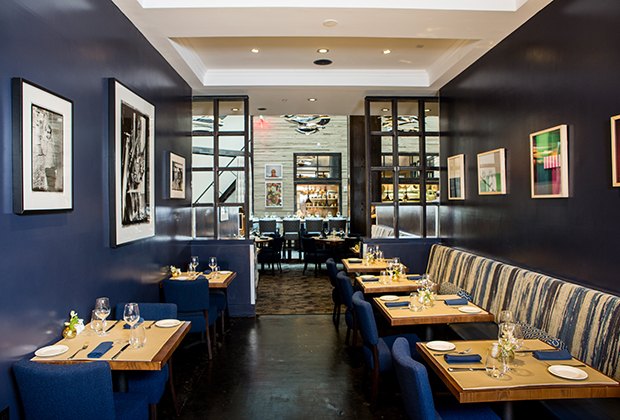 The modern Charlie Palmer Steak New York serves a rich and delicious turkey meal with traditional offerings and new twists.
Charlie Palmer Steak New York — Midtown
47 West 38th Street, (212) 302-3838
Served from 11:30am to 9pm, Thanksgiving dinner at this modern American steakhouse is $90 per person and $20 for children under 10. The three-course prix fixe menu includes butternut squash tortellini, turkey with white and dark meat, traditional stuffing, family style sides, and cheesecake. (Menu subject to change.)
The Wayfarer — Theater District
101 West 57th Street, (212) 691-0030
Along with their annual pre-fixe Thanksgiving menu, The Wayfarer also offers a prime view of the 2019 Macy's Thanksgiving Day Parade for those who want to enjoy an early celebration. At $68 per person, the Thanksgiving menu includes butternut squash soup, roasted turkey, steak tartare roll, and pumpkin pie.
Chola — Midtown
232 East 58th Street, (212) 688-4619
This authentic Indian Midtown spot offers a new way to experience traditional Thanksgiving dishes. This year's holiday menu includes cranberry chutney, potato madras, fish cafreal, and goat biryani. At only $19.95 per person, the price can't be beat.
Brooklyn
Buttermilk Channel — Carroll Gardens
524 Court Street, (718) 852-8490
This quaint and cozy restaurant has a reputation for welcoming children, which is definitely something for which to be thankful. As of this writing, this year's Thanksgiving menu hadn't been finalized. In previous years, 15 percent of food sales were donated to Neighbors Together, an organization committed to ending hunger and poverty in Brooklyn. Call for reservations and more information. This spot is not to be missed!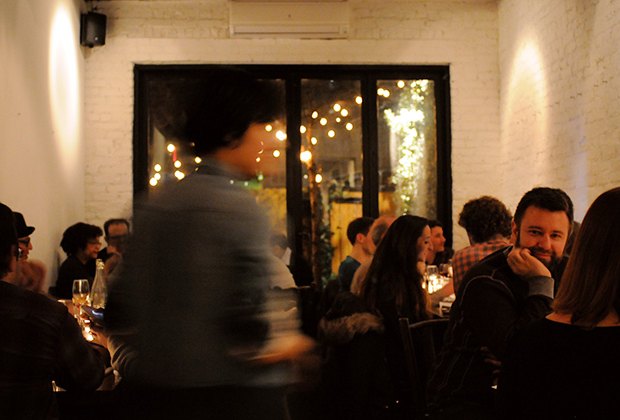 Neighborhood hotspot The Farm on Adderley is known for its farm-to-table ethos and lively atmosphere year round.
The Farm on Adderley — Ditmas Park
1108 Cortelyou Rd., (718) 287-3101
The Ditmas Park neighborhood in Brooklyn, known for its traditional Victorian-style homes, actually subbed for Iowa in the TV show Girls, so this charming and kid-friendly restaurant fits right in. The three-course, prix fixe menu is $75 per adult. They also offer a kids' Thanksgiving plate available for $25, including dessert. Some of the delights on this year's menu include oyster stew and roasted turkey breast, while the kids' menu includes the staple mac and cheese. Email reservations@thefarmonadderley.com to book.

Palo Santo serves a Latin inspired Thanksgiving meal.
Palo Santo — Park Slope
652 Union Street, (718) 636-6311
Palo Santo, a neighborhood favorite in Park Slope, peppers their Thanksgiving menu with the Latin-inspired flavors they are known for. Both dark and white meat turkey are showcased with vivid sauces. Their menu is still being finalized, but the meal will run you about $75 per person. Call for more information.
RELATED: The NYBG Holiday Train Show 2019: What's New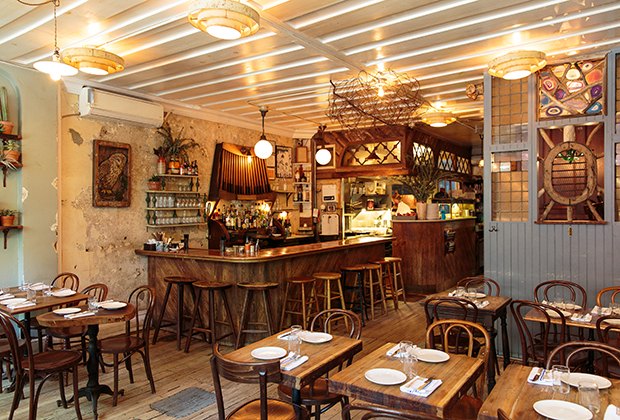 Grab an early Thanksgiving Day seat at the rustic but upscale Vinegar Hill House.
Vinegar Hill House — Vinegar Hill
72 Hudson Avenue, (718) 522-1018
A neighborhood gem between Dumbo and the Brooklyn Navy Yard, Vinegar Hill House is an acclaimed restaurant in a historic building. This year they're offering a three-course prix fixe menu of traditional turkey with all the trimmings: stuffing, mashed potatoes, curried squash, cornbread, cranberry chutney, and choice of chocolate pecan or pumpkin pie. Cost is $75 per person and $50 for kids ages 8 and under. Reservations can be made by calling or emailing info@vinegarhillhouse.com.
Queens
Gastroteca Astoria — Astoria
33-02 34th Ave, (718) 729-9080
Care for Thanksgiving with an Italian accent? At this quaint bistro you can order off the full menu if you are feeling more like pasta than turkey. Otherwise, for $55 per person you can get a four-course traditional Thanksgiving dinner with all the trimmings...including a pasta course, naturally. Call for reservations.
Marbella Restaurant — Bayside
220-33 Northern Boulevard, (718) 423-0100
This Spanish-inspired restaurant is also known for French and Italian offerings. For Thanksgiving, Marbella offers a three-course prix fixe dinner featuring a choice of 12 appetizers plus turkey and traditional trimmings. Dessert offerings include apple pie, pumpkin pie, and ice cream. This is one of the more moderately priced restaurants at $32 per adult and $20 per child. Let's hear it for Queens! Call for reservations.
Bubba's Bistro — Astoria
31-13A Ditmars Blvd., (718) 728-2227
This relaxed and kid-friendly Astoria spot specializing in Southern-style comfort classics serves a bargain-priced Thanksgiving dinner for $24.95 per person, including turkey breast, apple chutney, biscuits, and a choice of two sides. Call for reservations.
Unless noted, photos courtesy of the restaurants. A version of this story was published in 2017; it is updated annually. Katie Nave Freeman contributed additional reporting.