8 NYC Hotels with Views of the Macy's Thanksgiving Day Parade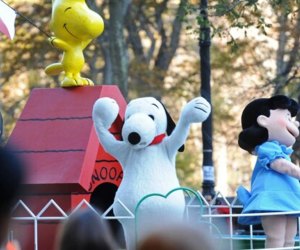 9/11/22
- By
Rosalind Muggeridge
Chances are you're not even thinking about the Macy's Thanksgiving Day Parade yet. After all, we still have Halloween to get through! But anyone familiar with NYC hotels will tell families looking to book an NYC hotel room where they can watch the Macy's Thanksgiving Day Parade in 2022 to begin doing so up to a year ahead of time. If you want to score one of these NYC hotels with a view of Snoopy, Spidey, Hello Kitty, and their friends, you've got to plan in advance.
It's not just NYC tourists who splurge on hotels for the annual Macy's Thanksgiving Day Parade. Over the past few years, we've had many New Yorkers write in asking which NYC hotels look out on the Macy's Thanksgiving Day Parade route. While most of these NYC hotels still have availability as of this writing, call right away, as everything will likely sell out. If you do get shut out, it's worth checking closer to Thanksgiving since there are sometimes last-minute cancelations.
Subscribe to our newsletters to get stories like this delivered directly to your inbox.
Important note: It's best to call to make your reservation at these NYC hotels with views of the Macy's Thanksgiving Day Parade, so you can confirm the room you're paying oh-so-much for has a good view of the Macy's Thanksgiving Day Parade. You will also want to go over all of the details, including whether you can invite non-registered guests. Hotels we spoke to for this story recommended booking by July, so it's worth keeping this list in your back pocket for next year if you can't snag a spot for this year's Macy's Thanksgiving Day Parade.
RELATED: 14 Cool Hotel Pools in New York for Family Vacations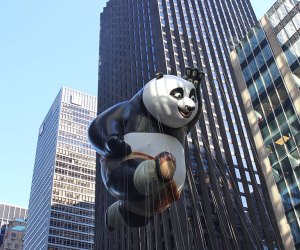 The prime location high above Columbus Circle makes the Mandarin Oriental perfect for enjoying the parade.
NYC Hotels with 2022 Macy's Thanksgiving Day Parade Views
80 Columbus Circle at 60th Street
212-805-8800
The Premier Central Park view rooms and suites on the 45th through the 52nd floors offer guests the chance to watch the festivities from floor-to-ceiling windows. Just like last year, you can also book a non-parade-view room and watch the parade from the hotel's MO Lounge while enjoying a Thanksgiving brunch. Reservations are limited to hotel guests. When not watching the parade, pass the time in the hotel's renowned spa and fitness center which includes a sunlit lap pool. The restaurant will also open in the afternoon to non-hotel guests for a special prix fixe offering. Special services for families include roll-away beds, cribs, childproofing accessories, bottle warmers, high chairs, storybooks, and kids' DVDs. There's a two-night minimum; call to reserve.
1335 Sixth Avenue at 54th Street
212-586-7000
The Hilton Midtown offers an array of Thanksgiving Parade packages (up to a five-night minimum stay is required for the grandest ones). All of this NYC hotel's views, both full and partial, look out onto Sixth Avenue. Got questions? The hotel has an entire Thanksgiving Parade team set up to answer them: Call 212-261-5955 or email ThanksgivingHiltonNYC@Hilton.com.
RELATED: NYC Hotels With Family-Friendly Perks and Amenities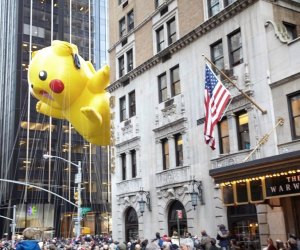 Book parade-view rooms at the Warwick Hotel.
65 West 54th Street at 6th Avenue
212-314-7728
Perfectly located along the Macy's Thanksgiving Day Parade route, this historic NYC hotel has a few rooms and suites available offering a prime view of the parade. There is a three-night minimum stay, and rooms start at $1,950 per night. Call the Director of Reservations Angela Calabrese to book.
101 West 57th Street at Sixth Avenue
212-245-7846
The Quin offers a variety of rooms with full and partial views of the parade, including studios and suites. Some of the rooms have balconies. Guests can dine in-room during the parade or nab a grab-and-go breakfast from the first-floor dining room to take back to their rooms.
160 Central Park South between Sixth and Seventh Avenues
212-247-0300
There's a three-night minimum stay required for the prime viewing rooms with Central Park views at Essex House, a JW Marriott hotel in NYC. The hotel also offers premium suites with partial views of the parade. If you don't manage to book a room in time, you could try to snag a premium-view breakfast table at Southgate Bar & Restaurant on the lobby level. Unlike years past, reservations no longer come with all-access bracelets, so curb access is first come, first served. You must book online for the Central Park view rooms.
50 Central Park South
212-308-9100
This glitzy hotel offers luxurious parade view rooms. You have the option to choose between mid- and lower-floor rooms. All packages include a welcome gift and certain suites come with a $250 credit and in-suite Thanksgiving Day brunch or dinner. There is a two-night minimum.
More NYC Hotels with Macy's Thanksgiving Day Parade Views
These hotels are all booked for the 2022 parade, but we're including them in case you want to get a head start on booking them for next year.
1033 Sixth Avenue between 38th and 39th Streets
212-768-0007
This hotel offers various Macy's Thanksgiving Day Parade view packages at different price points. For the best view of the parade, choose the Prime View Room to experience unobstructed, eye-level views. Partial View Room Packages are also available and include accommodations in north- or south-facing studio suites on the higher floors of the hotel, which offer a birds-eye view.
1414 Sixth Avenue at 58th Street
212-703-2001
The 1 of a Kind View package includes an in-room dining credit and an up-close view of the parade action.
First published in September 2013. Jody Mercier contributed additional reporting.
Photos courtesy of the hotels