Sleep in a Lighthouse and More Hudson Valley Family Resorts and Hotels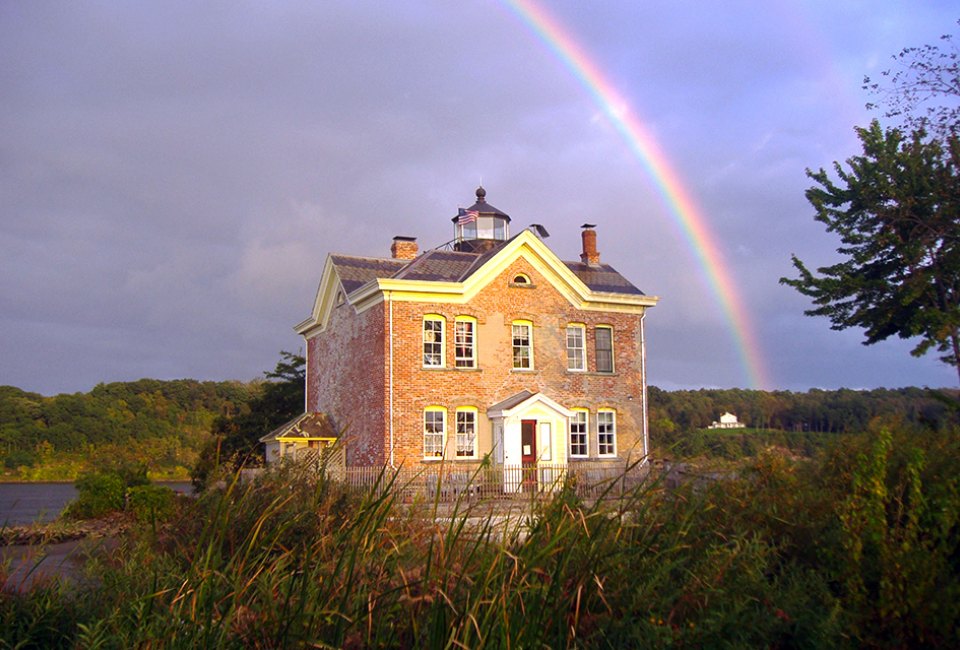 7/2/21
- By
Allison Tibaldi
The Hudson Valley is an easy weekend getaway for those in the New York City vicinity, especially from Westchester—and it boasts a variety of unique, family-friendly resorts and hotels, from an all-inclusive dude ranch to a lighthouse and even a working farm.
We've rounded up 10 spots for a range of budgets in Hudson Valley towns that are filled with history, charm, and natural beauty, including Hyde Park, New Paltz, Hudson, and Rhinebeck.
Subscribe to our newsletters to get stories like this delivered directly to your inbox.
Family Resorts and Hotels in Ulster County
This 30-room boutique hotel in the heart of cozy Saugerties offers Insta-worthy views of Esopus Creek from each room's private balcony. Built on a former paper mill site, it keeps the integrity of its industrial past while offering a high level of service. There's a restaurant on-site—with a kids' menu—and the town itself provides families with a Main Street shopping experience, including a must-visit candy store, Krause's Chocolates. Also: Don't skip a stop at Opus 40, a sculpture park just outside of town.
RELATED: 7 Things to Do at Minnewaska State Park Preserve With Kids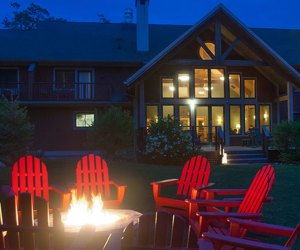 Enjoy a night by the fire at Minnewaska Lodge.
Minnewaska Lodge benefits from a stunning location at the base of the Shawangunk Mountains. With thousands of acres of state preserve, scenic vistas and peace are plentiful. The 26 rooms are decorated in a folksy style that brings elements of the natural world indoors. If your family enjoys hiking, you'll find trails at your doorstep, as well as rock climbing and lots more outdoor activities.
RELATED: 35 Things to Do in the Hudson Valley With Kids

The majestic Mohonk Mountain House caters to families.
This Victorian-style castle is an old-world resort with charming accommodations and stunning grounds. A full lineup of activities, including archery, boating on the lake, and tennis attracts legions of families, many of whom are return guests. All meals plus a dainty afternoon tea are included in your rate. There's entertainment, and for when you require some true relaxation, a spa. If you are on a tight budget, this may not be for you—except as a worthy splurge. Keep your eyes out for periodic deals where kids can stay and eat FREE. If you don't want to drive, take a bus from Port Authority to New Paltz, where, with a 24-hour notice, the resort will pick you up.
RELATED: 100 Things to Do in New York State With Kids Before They Grow Up

Rocking Horse Ranch offers endless all-season family activities, from kayaking to a new water park.
This resort is a dude ranch that doesn't sit on its high horse. Rates are all-inclusive, so there are no surprises when it comes time to pay. Meals, activities, and entertainment don't cost an extra dime. One add-on that is worth it: The ranch offers supervised programs for kids of all ages for $20/day. Infants and toddlers are well cared for at The Little Tykes Nursery, with its 3-to-1 staff-to-child ratio. Older children have their own supervised programs and will have a ball riding ponies and playing mini golf. Childcare is limited to one 75-minute session per child per day. There's also a weatherproof indoor water park and a brand new outdoor splash complex. This is not the place to come if you're seeking tranquility—but if you're looking for rambunctious, good, clean fun, and a non-pretentious environment less than two hours from Manhattan, definitely check it out.
Though it's not currently taking new reservations for 2021, if you're looking for an out-of-the-box experience, keep the Saugerties Lighthouse in mind for a future trip. Situated on a remote shoal, which you get to by walking a flat half-mile trail, the lighthouse rents two bedrooms, each with a double bed. Larger families renting both rooms can request cots. There is one shared bathroom. A home-cooked breakfast is also included in the rate. There is no air conditioning (but there are fans), and there's heat in the winter.
RELATED: 14 Cool Hotel Pools in New York for Family Vacations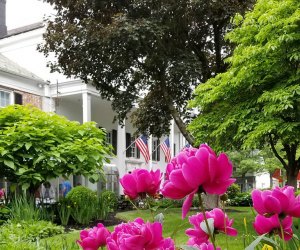 Enjoy the lovely grounds at the quaint village of Rhinebeck while staying at the Beekman Arms and Delamater Inn.
Family Resorts and Hotels in Dutchess County
These sister properties are located in the charming village of Rhinebeck. It's a great walking village, loaded with shops and galleries. The food scene is thriving, with scores of family options, including the kid-favorite Gigi Skizza (flatbread pizza) served at Gigi's Trattoria. With 80 rooms, The Beekman Arms claims to be America's oldest operating inn, and the rooms are scattered in several historic buildings. On the other hand, the Delamater Inn offers rooms as well as seven spacious guest cottages around a courtyard. Several of these cottages are kid-friendly. While antiques and fireplaces won't work for every family, this atmospheric inn certainly pleases many. Sunday brunch at the Tavern at the Beekman Arms is a winner that fills you up for the rest of the day.
You don't have to spend an arm and a leg to stay in the Hudson Valley. The Roosevelt Inn is a family-owned motel that harkens back to a simpler time. The 25 rooms are clean and comfortable. Choose between a deluxe room or a less expensive "rustic" room. A robust continental breakfast is served at the on-premises coffee shop, which is included in the rate. Sit at one of the old-fashioned stools at the counter for a diner-esque experience. The helpful owners take pride in their property and are an excellent resource for all things local. The motel is just a mile from the FDR Home and Library and within easy walking distance of the palatial Vanderbilt Estate.
RELATED: Day Trip Guide: Top 10 Things to Do at Bear Mountain State Park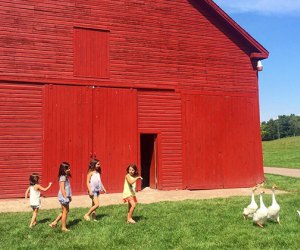 Experience life on a working farm with an overnight at Kinderhook Farm. Photo by Dora Somosi via Instagram
Family Resorts and Hotels in Columbia County
Looking for a more rustic feel? Now renting as an Airbnb, guests here have the opportunity to stay on a working farm. Time spent at Kinderhook Farm is a wonderful way to connect children with their food sources. Families stay in a cottage that sleeps up to four adults and two kids. There's a kitchen, two sleeping areas, and a large bathroom and fire pit, as well as family-friendly essentials like a crib and high chair. Help with farm chores such as collecting eggs and gardening or just watch the sheep and cows graze.
Hudson is a riverfront town that attracts urbanites in droves. Anchoring the revitalization are farm-to-table eateries, independently owned shops, art galleries, and the chic 27-room Rivertown Lodge. If a design-forward hotel with public spaces and guest rooms that retain a vintage feel doesn't exactly scream toddler-friendly, well, that's correct. While it doesn't cater to kids, it does welcome them. There are a limited number of cribs and simple camp cots with cushions, so reserve when you book or bring the pack-n-play. Ride Amtrak to Hudson to make this a car-free getaway.
Originally published in 2016.
Unless noted, photos courtesy of the hotels/resorts
t Click Here to Sign Up!