A Hudson Valley Family Getaway: Rocking Horse Ranch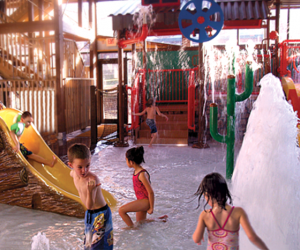 For families looking for a fun weekend getaway near NYC, Rocking Horse Ranch in New York's Hudson Valley is a definite crowd-pleaser in winter or summer. This year-round, all-inclusive resort provides non-stop activities for all ages, including an indoor water park, horseback riding, snow tubing, skiing and even spa services and babysitting, all of which add up to a memorable family getaway less than two hours from NYC.
Read on for our parent review of the resort and useful tips to know before you go.
Family Activities
Every aspect of Rocking Horse Ranch is designed for families. The staff is friendly and attentive, helping visitors navigate what can be a dizzying array of activities for kids and adults. They will help you plan your day, book mealtimes and spa appointments and camps.
Depending on the season and weather, activities include horseback riding, pony rides, swimming, ice skating, tubing, rafting, skiing, bungee cords, horse-drawn sleigh rides, gaming rooms, hikes and playgrounds. Thanks to this year's record warm temperatures, many outdoor winter activities, including skiing and snow tubing, were not in operation when we visited, though my kids were all too happy to spend the majority of their time time in the indoor pool which also featured a water park. Warmed to a balmy 85 degrees, the pool was a perfect place to play with other kids, shimmy down the water slides, splash in the water fountains, challenge themselves on the water walk and ride the thrilling 250-foot long water slide: the Gold Rush Flume.
RELATED: Winter Getaways: 7 Family-Friendly Spa Resorts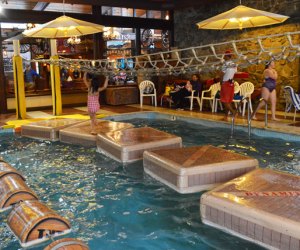 The kids spent all morning in the pool, splashing in the water park and braving the Dynamite Alley Water Walk Challenge. Photo by author.
We also took advantage of the resort's ranch specialty, too, and enjoyed multiple horse rides. My husband and 7-year-old daughter opted for the intermediate ride which included walking and trotting. Intermediate riders must be at least 7 years old and have had at least 10 hours previously on a horse. The rides typically last an hour and the trails are beautiful and serene. The ranch doesn't leave out younger kids either. Those under 7 can enjoy a pony ride, which typically last 15 minutes.
The Fun Barn—a large foam structure with a bouncy castle, climbing walls, soft foam balls, and ping-pong tables—was a major hit with the kids, too. The resort also boasts of a brand-new polymer surface rink for ice skating, but we were a bit disappointed. The surface actually made gliding and skating difficult, so it was not our favorite activity.
RELATED: Skiing, Snowboarding, & Snow Sports Guide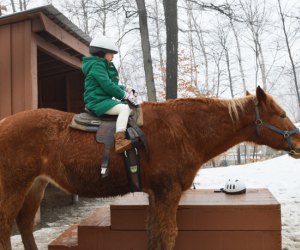 Pony rides are available for the little ones and kids over the age of 7 can go on longer trail rides. Photo by author.
Entertainment
In addition to all the activities, Rocking Horse puts on a number of family entertainment options, including marshmallow bonfires and sing-alongs, country line-dancing, character lunches, Wild West shows, magic shows and fireworks. The resort also offers a few adult-only options such as comedy shows and cocktail and wine and cheese parties. These often coincided with the kid shows, so parents were able to drop the kids off for a bit and enjoy some adult company. Other downtime activities include games, cards or taking a break in the lobby (fireside) or watching movies in the lounge.
Children's Programs
Rocking Horse provides supervised children's programming for kids 12 and under, which offers parents an opportunity to enjoy the spa or other activities without little ones in tow. Its Wild Buckaroo's Day Camp is designed for kids ages 6-12 and is chock-full of activities including mini-golf, pony rides, romps in the indoor water park, face painting and so much more. The Little Tykes Nursery hosts infants and tots (newborn to 5 years), and features age-appropriate entertainment including storytime, crafts and sing-alongs.
Accommodations/Pricing
Rocking Horse Ranch in an all-inclusive resort, which means everything is included in one price—accommodations, food, activities and entertainment. The resort usually charges a price per room, based on two adults, including a discounted price for children. Be sure to check the resort's website for special deals and discounts.
The few exceptions to the all-inclusive rate are for alcoholic beverages and spa treatments. These items and services are charged separately. Tips for restaurant and other staff are not included.
The accommodations aren't fancy, but they are clean and worked well for us. The Main Lodge offers rooms with either two queen beds, a queen bed with bunk beds or two queen beds with bunk beds. Another option is its new Oklahoma Building where suites offer a queen bed and bunk beds with two bathrooms, but it's located further from the Main Lodge with no Wi-Fi at this time. We usually like to have our kids stay in a separate room, but opted for a Main Lodge room with two queen beds and a bunk bed that worked just fine for our family of four. Expect rustic decor and minimal room amenities. We were happy that we chose to stay in the Main Lodge with the swimming pool and dining hall located so close.
Resort Dining
My husband and I were expecting pretty bland, cafeteria food but were pleasantly surprised that the food was actually good! All the meals are served in the main dining hall. For breakfast and lunch, meals are served buffet style with an array of options. For those with special dietary needs or for especially finicky eaters, the chefs are as accommodating as can be.
Dinner is served by making reservations, but you only have to make reservations once and that time block is yours for your whole stay. There is an la carte menu for dinner that offers several appetizers, salads and entrees options. The dessert buffet really wowed the kids: a chocolate fondue station, half a dozen pies and cakes and an ice cream bar!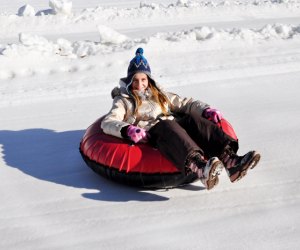 Weather permitting, skiing and snow tubing are favorite activities. Photo courtesy of Rocking Horse Ranch.
Good to Know Before You Go
Free shuttle service is offered to and from the Poughkeepsie Metro North station, so it is possible to reach without a car.

The pool and water park gets packed with kids most afternoons. Visit in the morning or evening hours for a quieter experience.

Rooms on the second floor are a bit quieter because you don't hear the noise from children running up and down the hallway.

Check-in is at 4pm; however, you can get there earlier and enjoy the facilities even if your room isn't ready.

Cribs and roll-away mattresses are available.
Rocking Horse Ranch is located at 600 State Road 44/55 in Highland, New York, about 1 hour and 45 minutes from Midtown Manhattan and 1 hour from central Westchester.
Top photo courtesy of Rocking Horse Ranch.