Visiting Rocking Horse Ranch with Kids: Top Tips for a Hudson Valley Family Getaway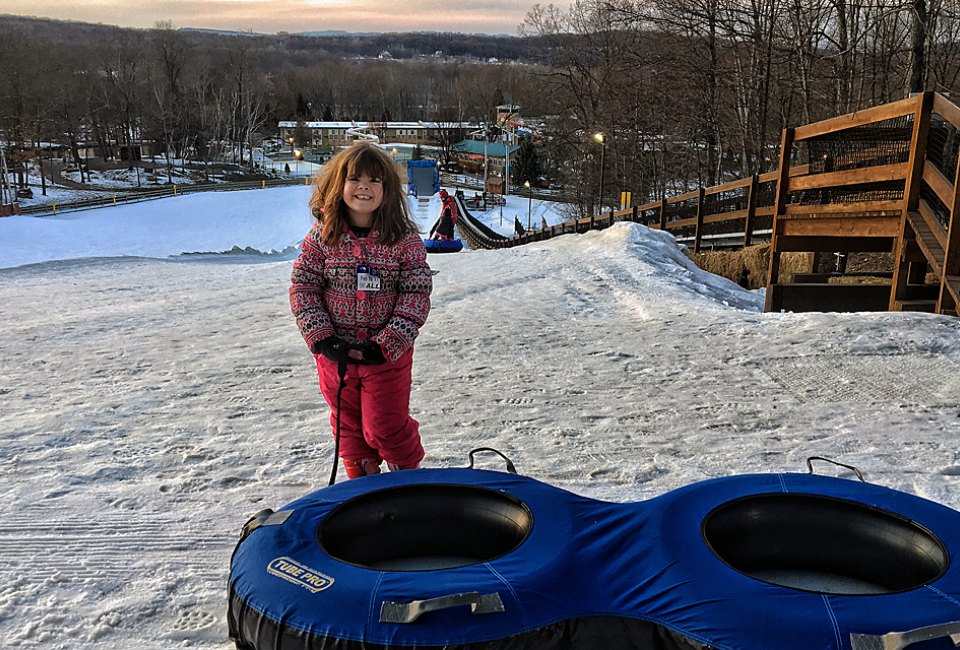 8/25/22
- By
Ally Noel
Rocking Horse Ranch Resort in New York's Hudson Valley is a crowd-pleaser any time of the year. This year-round, all-inclusive resort provides non-stop activities for all ages, including an indoor water park, horseback riding, snow tubing, skiing, and even babysitting, all of which add up to a memorable family getaway less than two hours from NYC.
Read on for our top picks for fun things to do at Rocking Horse Ranch, and our tips for planning your own Rocking Horse Ranch Resort getaway. Be sure to bookmark our Guide to Day Trips and Weekend Getaways for more family-friendly travel destinations nearby.
Subscribe to our newsletters to get stories like this delivered directly to your inbox.
Every aspect of Rocking Horse Ranch is designed for families. The staff is friendly and attentive helping visitors navigate what can be a dizzying array of activities for kids and adults. They will help you plan your day, book mealtimes, horseback rides, and everything else the resort has to offer.
Top Things To Do at Rocking Horse Ranch in the Summer
If water slides are your idea of family fun, then Boulder Bay is the perfect place to spend some time together. During the summer months, Boulder Bay—the resort's outdoor aquatic adventure and one of our favorite hotel pools in New York state—is the place to be! Boulder Bay features two heated pools and five water slides. It is also the spot for a lot of the resort's organized activities like frozen T-shirt competitions, pool volleyball, and more. For more adventures on the water, Rocking Horse Ranch also offers big banana boat rides, kayaking, canoeing, and fishing.
RELATED: River Tubing and White Water Rafting near NYC: 7 Spots for a Wet-and-Wild Ride

Jump the day away on the super bungee jumpers at Rocking Horse Ranch during the summer.
For those seeking all the thrills without getting wet, Rocking Horse Ranch has guests covered, too! Try climbing its rock wall or blasting off on the super bungee jumpers. Rocking Horse Ranch Resort is also the home of the Northeast's longest mountain tubing track, where you can race down the mountain on an inner tube. Make sure to check the schedule for cosmic night tubing on select evenings.
Fun Winter Activities at Rocking Horse Ranch
With a fluffy coat of freshly blown snow, Rocking Horse Ranch really shines in the winter. You can glide across its new outdoor ice skating rink, sip hot cocoa by the fire, and get pulled in a horse-drawn sleigh.
Rocking Horse Ranch is also the perfect spot to try out skiing. Skiing equipment and instruction are included in your all-inclusive rate. Take a magic carpet ride (aka conveyor) up to the top of "Big Hill" and take a lesson. For newbies, there is a rope tow lift for the "Never Ever" bunny hill. Rocking Horse Ranch Resort has equipment sized to fit everyone in the family. Group instruction is available throughout the day and you do not need an appointment. You can also ride the Magic Carpet to the Timber Chutes Snow Tube Lanes and soar 500-feet down the mountain on an inner tube.
RELATED: Family-Friendly Spa Resorts Near NYC

Even little ones can hop astride a pony for a ride in all seasons.
Year-Round Things To Do at Rocking Horse Ranch Resort
Rocking Horse wouldn't be a ranch without horses! Horseback riding is a year-round activity, so make sure you pack appropriately (that includes closed-toe/closed-heel shoes!) There are all sorts of horse adventures available for the entire family. With more than 100 horses in its stables and 500+ acres of trails to explore, it is easy to see why this is one of the resort's most popular activities. Trail rides are available for all levels of riders. Children under 48-inches tall can take a pony ride, learn about the ranch's horses in a barn tour, or watch a horseshoeing demonstration.
After a long ride, enjoy a soak in the warm waters of Eldorado Springs, where it's always a relaxing 98 degrees. Eldorado Springs is open year-round and provides rest and relaxation, though children under age 6 are not allowed in Eldorado Springs.
RELATED: Best Family Resorts with Water Parks: All-Inclusive Family Resorts and More

Big Splash offers wet-and-wild fun all year round at Rocking Horse Ranch Resort.
Big Splash Indoor Water Park is an indoor pool that features a ton of fun. Warmed to a balmy 85 degrees, the pool is the perfect place to play with other kids, shimmy down the water slides, splash in the water fountains, challenge yourself on the water walk, and ride the thrilling 250-foot long water slide, dubbed the Gold Rush Flume.
Family Entertainment at Rocking Horse Ranch Resort
Rocking Horse Ranch offers nightly entertainment in the Silverado Saloon. Each and every night, the resort hosts top-name entertainment for the entire family. It has everything from live music to magicians, comedians, and jugglers. You may even luck out and catch one of its spectacular fireworks displays!
But, wait there's more! Check the schedule for bonfires, cowboy singalongs, marshmallow roasts, character meet-and-greets, and more.
Accommodations and Pricing at Rocking Horse Ranch
Rocking Horse Ranch is an all-inclusive resort, which means everything is included in one price—accommodations, food, activities, and entertainment. The resort usually charges a price per room based on four-person occupancy. Fees do apply for additional guests. Be sure to check the resort's website for special deals and discounts.
The few exceptions to the all-inclusive rate are for alcoholic beverages and a few other activities which are all noted in the schedule.
Rocking Horse Ranch offers rooms in a variety of configurations to suit your family's needs. From rollaway beds to portable cribs, bunk beds, and queen-sized beds—it has all your sleeping needs covered, including suites that offer a queen bed, plus bunk beds with two bathrooms. Expect rustic-ranch decor and amenities like refrigerators, flat-screen cable TVs, and free Wi-Fi.
RELATED: Legoland New York Hotel Extends the Bricktastic Fun Past Bedtime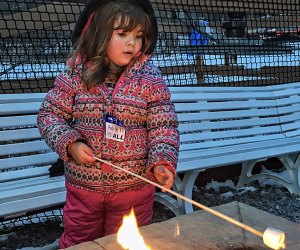 DIY s'mores make a sweet ending to any day at Rocking Horse Ranch Resort.
Dining at Rocking Horse Ranch
All the meals at Rocking Horse Ranch Resort are served in the main dining hall. For breakfast and lunch, meals are served buffet-style with an array of options. For those with special dietary needs or especially finicky eaters, the chefs are as accommodating as possible.
Dinner is served by making reservations, but you only have to make reservations once and that time block is yours for your whole stay. There is an a la carte menu for dinner that offers several appetizers, salads, and entree options. The dessert buffet really wows the kids: a chocolate fondue station, half a dozen pies and cakes, and an ice cream bar!
Originally published in 2016. Diana Kim contributed additional reporting. Unless noted, all photos by author
Places featured in this article:
Click Here to Sign Up!