The Adventures of Tortoise & Hare The Next Generation
The Sheen Center

The Very Hungry Caterpillar Show
DR2 Theatre

NYC Easter Brunch Cruise 2023
Event Cruises NYC
Sign up for our free newsletters.
Quaint & Crafty in the Hudson Valley: 25 Things to Do with Kids in Rhinebeck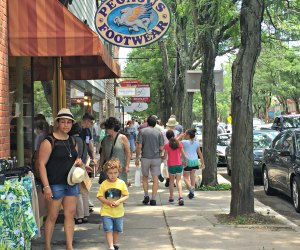 8/24/17
- By
Susan Miele
About 100 miles north of Manhattan, the quaint town of Rhinebeck in Dutchess County is a prime destination for a family day trip with enough attractions to justify even a longer stay. Steeped in Dutch history, Rhinebeck is home to the Dutchess County Fairgrounds, where numerous fairs and family-friendly productions are held annually, as well as a performing arts center, an aerodrome, the oldest hotel in the country, great eateries, family shopping and nature excursions.
We've gathered up some of our favorite Rhinebeck attractions culled after a recent visit. These include both year-round opportunities and some seasonal excursions, as well as a sampling of the creative shops and eateries that remind visitors of the quaintness afforded by a town supportive of independently owned businesses.
Read on for our inside scoop on all the great fun that lies ahead for your family in beautiful Rhinebeck! And for more great days out, check out our guide to family fun in Hudson Valley.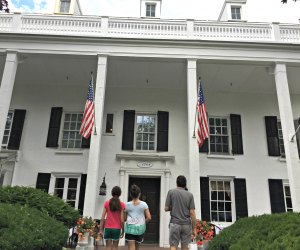 It's true -- George Washington slept here!
1. Spend the night in the historic Beekman Arms, the oldest continuously operating inn in the U.S. George Washington was a guest.
2. Dine at the Foster's Coach House Tavern, in operation since 1890.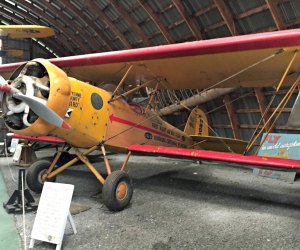 There are weekend air shows through October at the Rhinebeck Aerodrome.
3. See a World War I air show, view historic aircraft and fly in a biplane at the Old Rhinebeck Aerodrome.
4. Take in a live show at the Family Entertainment Series, offered most Saturday mornings, at the Center for Performing Arts at Rhinebeck.
5. Camp, hike, picnic, ski, bike or climb the tower at the 200-mile Ferncliff Forest Game Refuge and Forest Preserve.
6. Go sledding, hiking and more at the Drayton Grant Park at Burger Hill.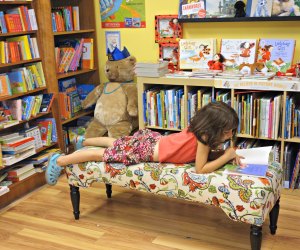 Kids can stretch out and enjoy a good book at Oblong Books & Music.
7. Find great selections for kids (and adults) at Oblong Books & Music, offering books, toys, and gift items.
8. Shop the eclectic five-and-dime at A.L. Stickle Variety Store (aka Stickles).
9. Enjoy a full-blown fair, replete with livestock competitions, carnival rides, food, racing pigs, a petting zoo, a roving robot and much more at the Dutchess County Fair.
10. Bounce a three-mile course at the Insane Inflatable 5K.
11. Snag a burger, fries and a shake at Del's Dairy Creme.
12. Meet the animals, watch demonstrations and participate in cool wool-related workshops for kids at the annual Sheep and Wool Festival.
13. Take a pony ride or horseback riding lesson at the Southlands Foundation.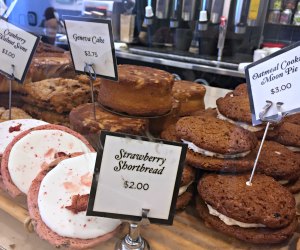 The only trouble with Bread Alone is having to choose.
14. Dine at the family-friendly Bread Alone Bakery & Café, where breakfast, lunch and the bakery items are all top-notch.
15. Pay a visit to the 19th-century Wilderstein Historic Site (which gets decked out for the holidays in November and December).
16. Pick apples and pumpkins at the Cedar Heights Orchard.
17. Catch a film or special event at the artsy (and low-priced) Upstate Films.
18. Shop for handmade crafts and meet the artisans at the Rhinebeck Crafts Festival.
19. Buy local from Hudson Valley purveyors at the Rhinebeck Farmers Market where you can snatch some delicious tacos.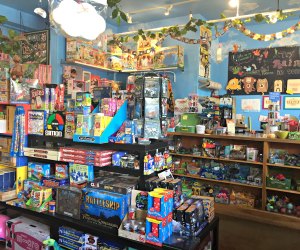 A small sample of the selections at Land of Oz.
20. Watch eyes widen at the Land of Oz Toys & Gifts.
21. Be a kid in a ... well, you know, at the Samuel's Sweet Shop (co-owned by a pair of familiar faces).
22. Sample the selection at Oliver Kita Chocolates.
23. Soak up the holiday spirit at the effervescent Sinterklaas Festival Day.
24. Venture slightly south to Hyde Park for FDR, CIA and other family attractions.
25. Head slightly further to Poughkeepsie for the Walkway over the Hudson, cultural events at Bard and Vassar Colleges, and the Mid-Hudson Children's Museum.
All photos by the author