Best Sledding Hills in the Hudson Valley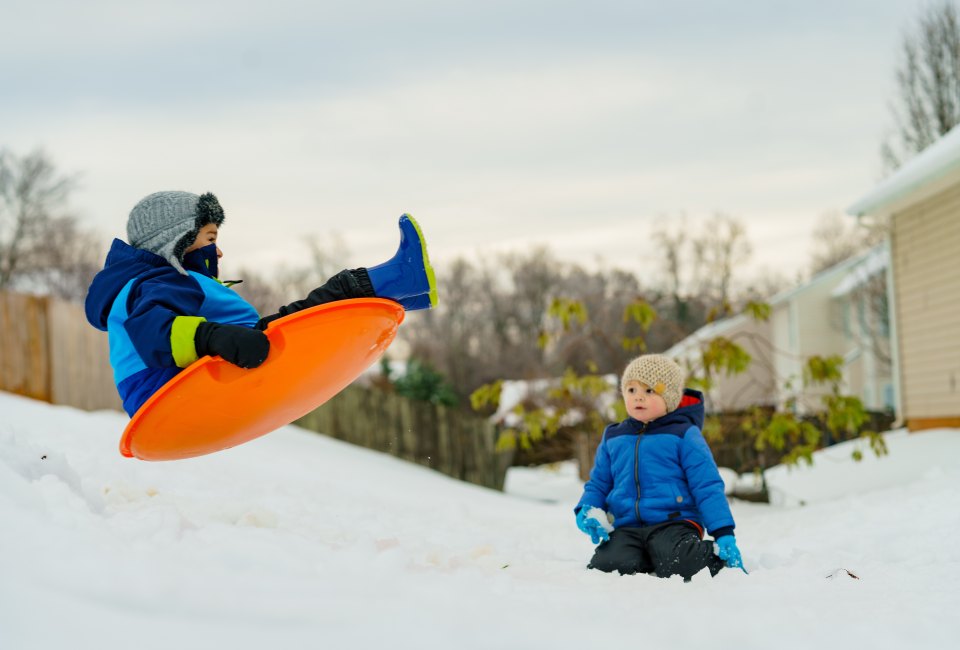 2/27/23
- By
Katherine Dhurandhar
The Hudson Valley's sledding hills take on an aura of magic when the first blanket of snow covers the ground. What better way to enjoy it than by getting the kids out of the house for some fresh air and family fun at one of the many sledding hills in the Hudson Valley?
We have pulled together this list of the best sledding hills in the Hudson Valley, plus some tips on how to stay warm and dry and, of course, where to go for hot chocolate afterward.
If you're looking for more seasonal fun, we've got the skinny on sledding in Westchester County, winter hikes in the Hudson Valley, and outdoor ice skating region-wide.
Subscribe to our newsletters to get stories like this delivered directly to your inbox.
Best Sledding Hills in Dutchess County
1. Bowdoin Park – Wappingers Falls
Situated on a hill overlooking the Hudson River, Bowdoin Park is a popular spot in the summer with a huge playground, pavilions, and hiking trails. After a good snow, the big hills are ideal for sledding. The main sledding hill is steep and fast, so if the kids want a gentler experience there is another sledding hill to the side. For little ones, there is a beginner-friendly sledding hill right next to the playground. From here it's just a five-minute walk down the street to a bridge with stunning views of the waterfalls in Wappinger Creek.
2. Drayton Grant Park at Burger Hil – Rhinebeck
Burger Hill is arguably the best sledding hill in the Hudson Valley, and it's located on Route 9G just a few minutes drive from Rhinebeck. Big kids love the 550-foot hill with a half-mile-long sledding slope. But don't worry, it is surprisingly gentle for its size and has a long flat space at the end for stopping. The hike to the top of the sledding hill is worth it for kids and adults alike, with stunning views of the Catskills to the west and Berkshires in the east. For little ones, there are small sledding hills right near the parking area with plenty of space for building snowmen and making snow angels.
To make a day of it, take a stroll through nearby downtown Rhinebeck. With its lighted streets, decorated shop windows, and snow sparkling on the walkways, it's reminiscent of a Christmas storybook. Stop by Samuel's Sweet Shop for a sweet treat, including decadent chocolate-dipped candy canes, or a hot chocolate or espresso drink. For a truly decadent experience, check out the selection of Hudson Valley-made chocolates at Oliver Kita Chocolates, which has a great selection of natural and vegan options.
3. Memorial Park – Beacon
A few minutes drive from downtown Beacon on Fishkill Avenue, Memorial Park is a popular family hangout in all seasons, with ballfields, a large playground, and a tots park. When it snows, there are multiple sledding hills, with gentler options for little kids. The park is just minutes away from downtown Beacon, with abundant food and snack choices, including The Chocolate Studio, Glazed Over Donuts, where kids can pick from a huge list of toppings and the Hudson Valley Marshmallow Company.
4. Mills Mansion – Staatsburgh
The Mills Mansion, at the Staatsburgh State Historic Site just outside Rhinebeck, is an elegant estate built in the late 1800s. The sledding hill, which is just behind the mansion, overlooks the Hudson River, the Esopus Meadows Lighthouse, and the Catskill Mountains. It's arguably the best view you can get while sledding in the Hudson Valley. The sledding hill itself is quite long, but not too steep, and dips up at the bottom, so no worry of running into anything or not being able to stop at the end. After sledding, take a tour of the mansion and its breathtaking interior design or check out the hiking trails with amazing river views that are open for show shoeing and cross-country skiing.
Top Sledding Hills in Putnam County
5. Fahnestock Winter Park – Carmel
Just off the Taconic State Parkway, in Fahnestock State Park, the Appalachian Trail surrounds beautiful Canopus Lake. The Fahnestock Winter Park features nine-plus miles of groomed and mapped trails for skiing, hiking, or snowshoeing, plus a sledding hill. Snow tubes and baby sleds are available for rent. Note that wooden toboggans, steel runner sleds, and sit-atop models, along with skis and snowboards are not allowed on the sledding hill. Warm up at the park's café and enjoy hot chocolate by the outdoor fire pit. Restrooms and changing stations are available in addition to food and drinks. One big advantage of Fahnestock: There might be snow here when other locations don't have it. With a north-facing trail system at an elevation of 1,100 feet, Fahnestock Winter Park supports colder temperatures that encourage snow retention. Often it is raining in NYC or Westchester but snowing in the park.
6. Winter Hill – Garrison
Winter Hill, located just a few minutes from Bear Mountain Bridge, is a restored Tudor revival mansion built in 1883 on 30 acres of Hudson-view property. It also features one of the best sledding hills in the area. This sledding hill is ideal for little ones since the climb back up is not so steep. Afterward, check out the kid-friendly Garrison Pizza Café or the Desmond-Fish Public Library, which has a spacious playroom with a view of an actual castle, Castle Rock estate built in 1881.
Best Sledding Hills in Ulster County
7. Cornell Park – Kingston
Cornell Park is a tiny park in the heart of the historic Rondout District of Kingston with a small but steep sledding hill. The park is just steps away from the marina and the maritime museum, with a walkway along the river that passes underneath the majestic Port Ewen suspension bridge. Check out the Half Moon Rondout Cafe, which serves delicious, hot doughnuts made fresh to order plus a variety of drinks and pastries.
8. Comeau Property – Woodstock
Just outside downtown Woodstock on Route 212 is this popular sledding hill that is small but steep enough to build up some serious speed and catch air flying over the bumps. Since the sledding hill is open, sledders can opt for a gentler or shorter slope depending on experience level. The small areas to the side are ideal for beginners. If the kids ever get enough of sledding, take a stroll around the trail on the beautiful Comeau Property, which winds through pine forests alongside the Sawkill Stream, or explore the numerous shops and cafes in downtown Woodstock with plenty of options for hot chocolate. The Mud Club is especially fun with its rock garden and outdoor fire pits.
9. Hasbrouck Park – Kingston
With large open fields and amazing Hudson River views, Hasbrouck Park is perfect for little sledders as there are several small hills and a playground. Just minutes away is downtown Kingston, with a wide selection of eateries. Check out Village Coffee and Goods for a daily selection of pastries and hot chocolate, or order a kids' grilled cheese if the little ones work up an appetite. There are also health-conscious options like chia pudding and quinoa bowls.
10. Snyder's Farm Hill – Saugerties
If you're heading west on Route 212, Snyder's Farm Hill is on the right, about half a mile from the I-87 Exit 20 toward Saugerties. The sledding hill is large and visible from the road. One of the bigger sledding hills in the Hudson Valley, Snyder's Hill is popular with kids and adults and offers amazing mountain views while sledding. The slopes are long, so the climb back up is time-consuming.
Top Sledding Hills in Orange County
11. Thomas Bull Memorial Park – Campbell Hall
Spanning more than 700 acres, Thomas Bull Memorial Park is best known for its snow tubing slopes, with stadium lighting to allow for tubing well into the evening. However, there are several sledding hills as well and abundant space for building snowmen. The Graham Skea Lodge is located inside the park and offers elegant dining with an expansive view of the Shawangunk Ridge.
Tips for Staying Warm and Dry on the Sledding Hills
Even on the gentlest sledding hills, you're pretty much guaranteed to take a tumble in the snow while sledding. Wearing the right snow-proof gear can keep you warm and dry and allow you to enjoy a full day of outdoor winter fun.
Wear waterproof gear, including waterproof gloves and a jacket with cuffs to prevent snow from getting inside gloves and sleeves.
Opt for a full snowsuit or snow bib rather than regular pants to keep snow from getting into the gaps at the back and belly.
Thick-bottomed high snow boots are essential for keeping feet dry while trudging through the thick snow.
Bundle up with layers, but avoid cotton materials as it retains moisture. Even if the snow doesn't get in, the sweat underneath can make kids cold and uncomfortable. Opt instead for synthetic, quick-dry fabrics.
In spite of the cold temperatures, the exercise from climbing the hills can make sledders hot and hungry. Pack plenty of water and snacks for kids. If you are just watching, maybe take along a hot drink in a thermos to stay warm while they enjoy.