9 Winter Hikes to Take With Kids in Westchester and the Hudson Valley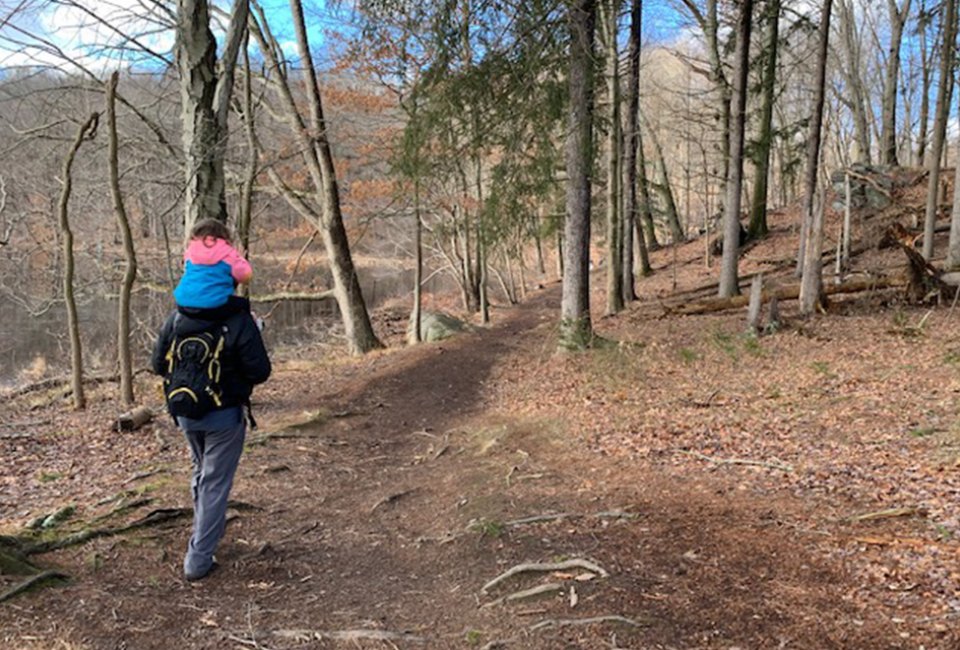 2/10/21
- By
Marisa Iallonardo
For many of us, spending time outdoors every day—especially now, when many indoor activities are limited—is key to maintaining some sense of normalcy. There are times, though, when a neighborhood walk just won't cut it. That's when you can head out for one of these winter hikes at one of the many parks and preserves in Westchester and the Hudson Valley.
The best part? Not only will you find hikes that work for toddlers up through teens, but many of these sites also offer other outdoor activities to try as well, whether it's a winter zoo visit, an outdoor picnic, or even heading to an on-site playground if you're up for it. Here, we've rounded up nine local, parent-tested options we love.
Looking for even more cold-weather activities? Check out our Winter Fun Guide.
This 1,000-acre park in Ossining offers some great cold-weather hiking. One of our favorite trails to try with young kids: The 1.5-mile Lakeside Loop Trail, which rings around Teatown Lake and is flat enough for toddlers and preschoolers. (We recently visited with my 3- and 6-year-old, and they did great.) There are plenty of spots to stop for breaks—including a cool covered structure with a picnic table—and lots of great views. Another option? The just-less-than-a-mile Catamount Hill Loop, which is also marked 'easy' on the trail map. And while you're there, check out the other things to do, including fun, family-friendly events throughout the year.
RELATED: Where To Go Maple Sugaring in Westchester and the Hudson Valley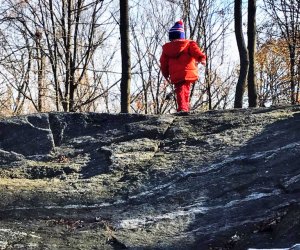 Enjoy more than two miles of hiking trails at the Rye Nature Center. Photo courtesy of the Center
Tucked away off Post Road in Rye, the Rye Nature Center offers lots in the way of classes and events—including summer camp—for kids. But on a daily basis, you can check out the numerous trails around the property. The trail map details each, including how long the trail is and what kinds of animals (turtles! ducks!) and trees you can spot on each. Once you're done with the hike, you can check out its cool playground—the spider web is always a favorite—which is currently open. One note: The main building is not open at this time.
There are actually two different entrances to this 700-acre park off Mamaroneck Avenue in White Plains, and both lead you to fun hiking options. Trails look long on the trail map, but we've gone plenty of times with friends and as a family and simply turn around when the kids start to get tired. No matter which entrance you choose, there are picnic tables for snack or lunchtime. There are also playgrounds at both entrances, though the recently revamped playground at the pool-side entrance is much bigger and more popular.
When you're up for a drive, this state park in Ulster County is definitely worth a visit. The walk to Awosting Falls, a 65-foot waterfall, is particularly kid-friendly, with wide (though not paved) roads that can also accommodate strollers. There are many other hikes to check out as well, including guided ones, along with options for cross-country skiing and snowshoeing if you want to try something a bit different. Just be aware that there are some winter trail closures, and there are no snowshoe rentals this year.
RELATED: Cross-Country Skiing Near NYC: Where to Hit the Trails With Kids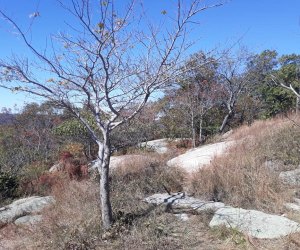 Choose an easy family-friendly walk at Bear Mountain State Park. Photo courtesy of the Park
There's lots to do at Bear Mountain—even these days and even in the winter—including checking out the Trailside Museums and Zoo, which are currently open. When it comes to hiking, you can find lots of options, with the 1.5-mile Hessian Lake Loop and the 1-mile Bear Mountain Dock both marked "easy" on the park's suggested hikes list. Another option? Walk the Bear Mountain Bridge. There are some COVID-related road closures, though, so keep that in mind before you head out.
A county-run park, this preserve in North White Plains is close to 200 acres and offers several hikes for different skill levels. The shortest, the Blue Trail, is about a mile and takes you around the lake, while budding history buffs (and older kids) may want to try the 2-mile Purple Loop, also known as the History Trail. With its own map to guide your way, it offers a few different spots to stop and find out more about the nearby Kensico Dam, with "points of interest" including abandoned cars, a quarry, and more.
RELATED: Outdoor Ice Skating Ponds and Rinks For Westchester Families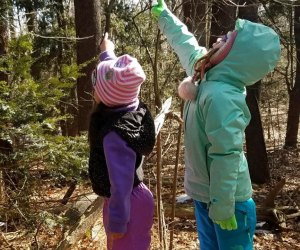 You never know what wildlife you might see along the trails at the Greenburgh Nature Center. Photo courtesy of the Center
There are 33 acres and five trails to check out on this property, off Central Avenue in Scarsdale. And with some hikes as short as 1/10 of a mile, there is definitely something for every type of kid. While you're there, you can also check out some of the other outdoor options, like the barnyard, and great lawn, though the main house and playground are currently closed.
Another county-run option, this northern Westchester park is massive. And we mean massive: It's more than 4,000 acres—and clocks in as the biggest in Westchester. That means there are plenty of trails to try, including some that are flat enough for even toddlers to walk. Also great? There's lots of green space for games as well as picnic tables if you want to enjoy some "outdoor dining." Its website offers a close-up look at some more to-dos, including hiking.
RELATED: Winter Fun Guide For Westchester Families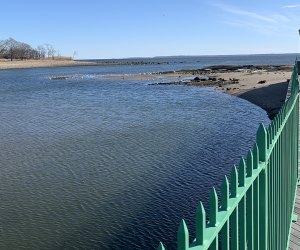 Stroll along the Playland Boardwalk for a gorgeous view! Photo by the author
OK, so this one is definitely more of a walk than a hike, but hear us out: It's outdoors, it's flat—so great for strollers and scooters—and it's not terribly long, which is ideal when you want to get the kids outside but they (or you!) might be a bit cold-weather averse. The boardwalk follows the water, with the trail taking you through the outer edge of Playland itself. If you want to extend your walk, you can head toward the nearby Edith Read Wildlife Sanctuary, which also has a few trails.
Click Here to Sign Up!