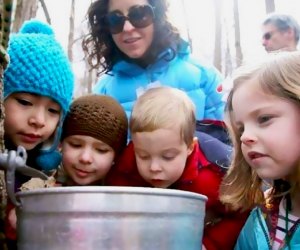 Maple Sugaring Events in Westchester and Hudson Valley for New York Kids
Here in the Northeast, what apple picking is to fall, maple sugaring is to winter. We've rounded up maple sugaring events in Westchester and the Hudson Valley—some of which are FREE. These are great day trips for Westchester and New York City families alike.
The season begins in February and runs through late March. Ideally, temperatures must dip below freezing at night and warm up during the day to stimulate sap flow. Thus, the maple-sugaring season is brief. And to make just one gallon of pure maple syrup, it takes more than 40 gallons of sap!
Read on for details on where to learn about and celebrate this centuries-old tradition.
Looking for more seasonal fun? Check out our Westchester Winter Fun Guide, and look to our Event Calendar for new events added daily.