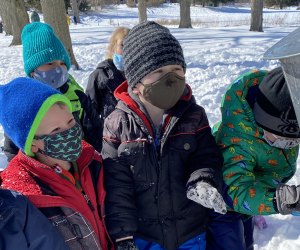 Where To Go Maple Sugaring in Westchester and the Hudson Valley
While apple picking is a popular seasonal pastime in the Northeast, maple sugaring has remained rather under the radar. Maple sugaring events include education about an age-old tradition that started with Native Americans and evolved to include the use of modern evaporator machinery. The season generally begins in February and runs through late March, when below-freezing nights combined with warmer days result in the stimulation of sap. To make just one gallon of pure maple syrup, it takes more than 40 gallons of sap!
In most years, maple-sugaring events are rounded out with a pancake breakfast, so visitors can savor the sweet stuff on the spot. This year, COVID-19 restrictions have limited that perk. However, some sites are offering private sessions for individual families—a new development in lieu of group tours.
Below we've rounded up maple sugaring events in Westchester and the Hudson Valley, plus one pick over the border in Connecticut. These events make for great seasonal day trips for Westchester and New York City families alike. Though some venues are taking the year off, we'll update this list with any additional opportunities.
Looking for more seasonal fun? Check out our Westchester Winter Fun Guide, and look to our Event Calendar for new events added daily.
Editor's note: While we are trying to promote safer activities that occur outdoors or with social distancing guidelines in place, please keep your family and others safe by always wearing a mask and practicing social distancing. If you arrive at an event that appears too crowded, try using the "nearby" search feature on our Event Calendar to find something else to do.