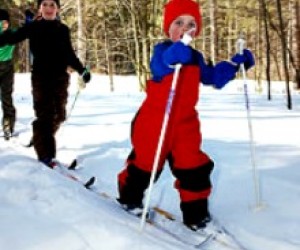 Cross-Country Skiing Near NYC: Where to Nordic Ski with Kids
While we've written plenty of posts about downhill skiing with NYC kids, we've never covered cross-country skiing. Also known as Nordic skiing, cross-country skiing is a great winter sport for families. Children as young as five can ski alone, and parents can tow tots in a sled or carry them in a backpack while on the trails. You can't do that while swooshing down a mountain!

Cross-country skiing is a fun way for active kids to burn off energy in the colder months and spend time outside. While you use most of the same equipment that you'd need for a day on the slopes—skis, boots, bindings, poles, goggles, helmets and warm clothing—cross-country skiing is nowhere near as dangerous or as expensive as downhill skiing. You won't be at risk for slamming into a tree at full speed, and trail passes usually cost about $20 per person.

After a good snowfall in New York City, you can cross-country ski just about anywhere. I've seen people doing it in parks and even right down the middle of Fifth Avenue before the snow plows cleared the street. But if you're looking to go cross-country skiing in a more scenic (and less bumpy) environment, there are tri-state area destinations that offer many miles of well-groomed trails, as well as amenities like warm lodges where you can sit back, relax, sip on hot cocoa and enjoy a family meal.

Unlike traditional ski resorts, most cross-country trails aren't in the business of making their own snow. So you're going to have to wait for the white stuff before you can get out there. Once that happens, here are six spots where families can enjoy cross-country skiing, most less than a two-hour drive from New York City.
Mohonk Mountain House – New Paltz, NY
1000 Mountain Rest Road
Trail Pass: $21 midweek, $26 on weekends and holidays; ski and snowshoe rentals available for an additional fee
One hour and 45 minutes by car from midtown Manhattan
This fantastic year-round resort offers complimentary skiing to its overnight guests, but even if you're not staying at the Mountain House you can purchase a day pass to use the facilities, which include 30 miles of groomed cross-country trails. We've actually stayed here so check out our full resort review.

Bear Mountain State Park – Bear Mountain, NY
3006 Seven Lakes Drive
$8 for parking
One hour from midtown Manhattan by car
If you have your own skis, Bear Mountain State Park offers five miles of groomed trails and some breathtaking views. If the kids tire of skiing, the park boasts a small zoo and an outdoor ice-skating rink. No car? No problem: Coach USA offers direct daily service to the park from the Port Authority Bus Terminal.

Fahnestock Winter Park – Cold Spring, NY
75 Mountain Laurel Lane
Grounds Pass: $10 for adults, $7 for children under 17; ski and sled rentals available for an additional fee
One hour and 20 minutes by car from midtown Manhattan
This dedicated snow sports area is located within the 16,000-acre Clarence Fahnestock Memorial Park. It's a particularly good place for kids, with 15 kilometers of groomed trails for all skiing levels along with warming huts, outdoor fire pits and hot beverages for purchase.

High Point Cross-Country Ski Center – Sussex, NJ
1480 State Route 23
Trail Pass: On weekdays: $16 for adults, $14 for children; $3 more on weekends; ski rentals available for an additional fee
One hour and 30 minutes by car from midtown Manhattan
Go cross-country skiing at the highest elevations in New Jersey at this center featuring 15 miles of groomed trails, a lodge with a roaring fireplace and a cafeteria. Bonus: High Point sometimes makes its own snow! Group instruction is available on weekends and holidays.

Frost Valley YMCA – Claryville, NY
2000 Frost Valley Road
Grounds Pass: $40 for full day, $25 for half day; both include trail pass, lunch and access to all Frost Valley activities. Ski rentals available for an additional fee.
Two hours and 30 minutes by car from midtown Manhattan
The enormous facility offers 25 kilometers of groomed trails for skiing, a weekends-only rental shop and group instruction. The best way to experience the winter activities at Frost Valley is to book a weekend trip as the trails are only open to the public on specific days of the year. The grounds fee also includes lunch and all the other wintertime activities the Y has to offer, like snow tubing. If you plan to stay overnight, there are a variety of affordable lodging options, from rustic cabins to hotel-style rooms.

Lapland Lake Nordic Vacation Center – Northville, NY
139 Lapland Lake Road
Visit the website for pricing info
Four hours by car from midtown Manhattan
All of my friends rave about this spot in the Adirondacks. It's too far away for a day trip, but you can stay in a small Scandinavian-style cottage called a Tupa and use the trails for free. Lapland also offers tubing and sledding, so it's a fun-filled winter getaway.

Read about more seasonal sports activities in our Winter Fun Guide.

Originally published on January 15, 2013