Cross-Country Skiing Near NYC: Where to Hit the Trails With Kids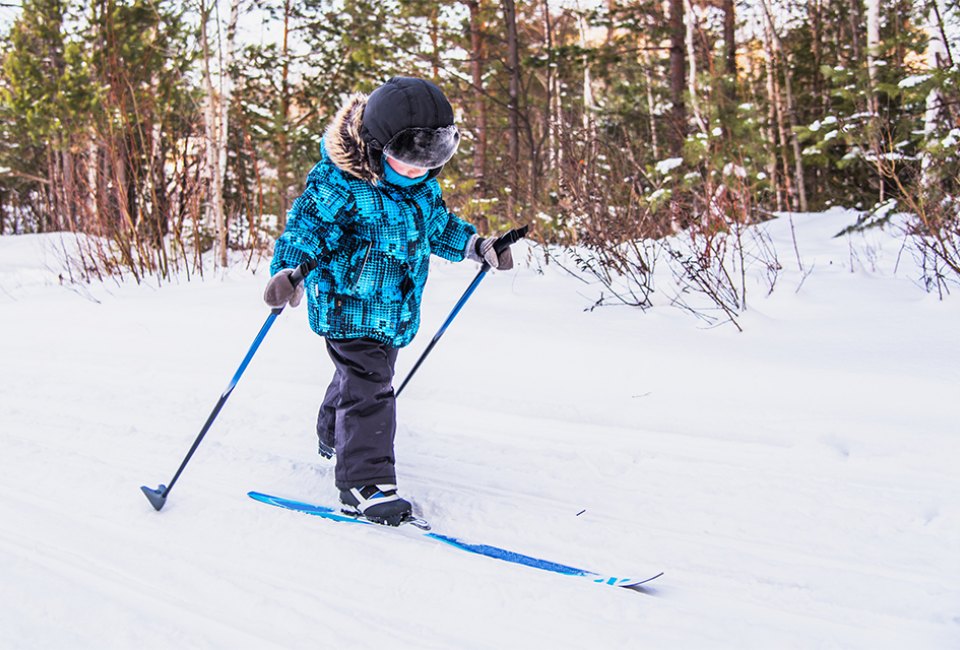 2/8/21
- By
Rosalind Muggeridge
Although NYC is close to plenty of downhill skiing options, cross-country skiing is also a fun option with kids. Also known as Nordic skiing, cross-country skiing is a great winter sport for families. Children as young as 5 can ski alone, and parents can tow tots in a sled or carry them in a backpack while on the trails. You can't do that while swooshing down a mountain!
While cross-country skiing is nowhere near as dangerous or as expensive as downhill skiing, the tricky thing is finding snow and equipment. Unlike downhill ski resorts, most cross-country trails aren't in the business of making their own snow so you're going to have to wait for the white stuff before you can get out there. Getting outfitted with XC skis is relatively inexpensive comparend to downhill, but unless you want to purchase kits for your growing children, you also need to find a spot that offers children's gear rental. Your best bet is a Nordic Ski Center that offers trails and rentals.
Here are our favorite spots where families can enjoy cross-country skiing, and most are less than a 2-hour drive from New York City. But conditions and offerings change, so call ahead to make sure they have both snow and ski rentals in your sizes.
Find more fun seasonal activities in our Snow Sports Guide.
Where To Go Cross-Country Skiing in NYC and Westchester County
No reservations needed. BYO equipment
After a good snowfall in New York City, you can cross-country ski just about anywhere. People usually head to the parks, though some intrepid New Yorkers even do it right down the middle of Fifth Avenue before the snowplows clear the street. Central Park has some fairly decent trails—try Sheep Meadow, the Great Lawn, and the other large meadows in the park. Van Cortlandt and Prospect Park also offer some good open spaces to try it out for the first time or hone your skills. The Staten Island Greenbelt and Queens' Floyd Bennett Field are other options.
1600 Spring Valley Road
1 hour by car from Midtown Manhattan
$5 parking. No reservations needed. BYO equipment
With close to 1,000 acres, this pristine nature preserve boasts more than 15 miles of trails, perfect for Nordic skiing. Take a snack break at one of many scenic spots like the covered deck next to the lake.
148 Martine Avenue
1 hour by car from Midtown Manhattan
$10 parking on weekends. No reservations needed. BYO equipment
At 4,315-acres, this reservation is Westchester County's largest park. With its miles of wooded trails, the park makes an excellent option for Nordic skiing. The landscape features a mix of ravines, hardwood forest, rock outcroppings, wetlands, and open meadows.
RELATED: Northeast Snowboarding Parks Where You Can Catch Some Air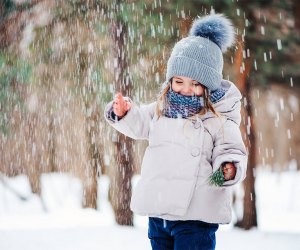 Book a weekend trip or just cross-country ski for the day at Mohonk Mountain House.
Cross-Country Skiing in the Hudson Valley and Catskills
1000 Mountain Rest Road
1 hour, 45 minutes by car from Midtown Manhattan
One-day trail pass: $29 per adult (ages 13+); $24 per child (ages 4-12). Bring your own equipment. (Skis, snowshoes, or MICROspikes are required.)
One-day sports pass: $99 per person; includes all equipment rental fees for ice skating, snowshoeing, cross-country skiing, and MICROspikes. Access to the Mountain House, the ice skating pavilion, Greenhouse, Gift Shop, Carriage Lounge, and parking in Lot B.
Both passes require advance booking.
This fantastic year-round resort offers complimentary skiing to its overnight guests, but even if you're not staying at the Mountain House, you can purchase a day pass to use the facilities, which includes more than 30 miles of groomed cross-country trails. We've actually stayed here, so check out our full resort review.
299 Rockland Lake Road
1 hour by car from Midtown Manhattan
No reservations needed. BYO equipment
This park, located on a ridge of Hook Mountain above the west bank of the Hudson River, is more than 1,000 acres, including the 256-acre Rockland Lake. The park's many trails attract cross-country skiers and afford stunning views of the Hudson Valley.
3006 Seven Lakes Drive
1 hour by car from Midtown Manhattan
$10 for parking on weekends. No reservations needed. BYO equipment
If you have your own skis, Bear Mountain State Park offers 5 miles of groomed trails and breathtaking views. If the kids tire of skiing, the park also boasts an outdoor ice-skating rink and a small cafe to grab a hot chocolate or snack.
2021 update: Equipment rentals are not available for the 2021 season.
75 Mountain Laurel Lane
1 hour, 20 minutes by car from Midtown Manhattan
Trails Pass: $12 for adults, $10 for children under 17. No reservations needed.
This dedicated snow sports area is located within the 16,000-acre Clarence Fahnestock Memorial Park. It's a perfect place for kids, with 15 kilometers of groomed trails for all skiing levels along with warming huts, outdoor fire pits, and hot beverages for purchase.
RELATED: Best Snow Tubing Spots Near New York City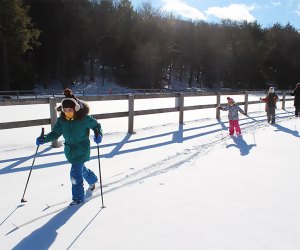 Book a weekend trip to Frost Valley for a winter getaway with lots of snow activities!
2021 update: Cross-country ski trails are not open to day guests for the 2021 season. Overnight guests have access to cross-country skiing provided the weather and trail conditions permit.
2000 Frost Valley Road
2 hours, 30 minutes by car from Midtown Manhattan
The enormous facility offers 25 kilometers of groomed trails for skiing, a weekends-only rental shop, and group instruction. The only way to experience the winter activities at Frost Valley this season is to book a weekend trip. If you plan to make the overnight trip, there are various affordable lodging options, from rustic cabins to hotel-style rooms.
2021 update: Some trails in the preserve are closed to visitors. Visit the website before you go for updated conditions. Rentals are not available this season
5281 Route 44-55
1 hour, 30 minutes by car from Midtown Manhattan
Parking: $10; Trail fee: $10; $7 for ages 17 and younger. BYO equipment.
This picturesque state park located on the dramatic Shawangunk Mountain ridge is packed with gorgeous natural features, including three lakes, numerous waterfalls, dense forests, 35 miles of carriage roads, and 50 miles of footpaths.
2021 Update: Closed due to COVID-related issues, but hoping to open in the 2021 season.
Just 2 hours from NYC, Mountain Trails offers 35 km of groomed trails, rated by difficulty, as well as lessons and rentals. The Catskills location makes it a great spot for a weekend getaway too.
Just outside of Albany, north of the Catskills, Pine Ridge offers 35km of groomed trails for all abilities. They have rentals for all ages and offer lessons as well. Resrevations are not needed for skiing, but are for lessons.
Cross Country Skiing in the Adirondacks
Although a little further north, the Adirondacks have snow all winter so you can more reliably count on the 55km of groomed trails at Garnet Hill being open. This is one of the nicest places for Nordic skiing near NYC. They offer rentals and lessons for adults and kids. There's a cafe and warming hut. You can purchase day passes and rentals online in advance or, if you want to stay, they have a lovely lodge and restuarant. You can also purchase a package that includes downhill skiing at nearby Gore Mountain.
2021 update: Day visitors must buy tickets in advance. Food Service is limited to an outdoor food truck, which offers service on some weekdays, in addition to weekends.
139 Lapland Lake Road
4 hours by car from Midtown Manhattan
Visit the website for trail and rental pricing info.
All of my friends rave about this spot in the Adirondacks. It's too far away for a day trip, but you can stay in a small Scandinavian-style cottage called a Tupa and use the trails for FREE. Lapland also offers tubing and sledding, so it's a fun-filled winter getaway.
RELATED: 25 Things To Do in Lake Placid on a Winter Vacation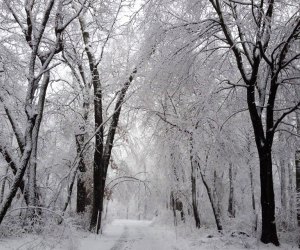 Caleb Smith State Park is a scenic backdrop for a cross-country skiing outing.
Where To Go Cross-Country Skiing on Long Island
581 West Jericho Turnpike
1 hour, 15 minutes from Midtown Manhattan
$8 parking. No reservations needed. BYO equipment
One of only four state park nature preserves on Long Island, this park's 543 acres feature plenty of great skiing trails, including about 3 1/2 miles of the Long Island Greenbelt Trail that cuts through the park. Stop by the Visitor Center, located just beyond the parking lot, to pick up a trail map and other helpful information, or download a trail map on your phone.
Find more great cross-country skiing trails on Long Island in our roundup of where to cross-country ski in the region.
RELATED: 15 Winter Walks For Long Island Families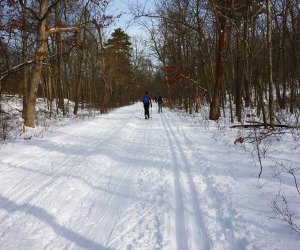 High Point Cross-County Ski Center has miles of trails for intrepid cross-country skiers to explore.
Where To Go Cross-Country Skiing in New Jersey
1480 State Route 23
1 hour, 30 minutes by car from Midtown Manhattan
Trail pass: On weekdays: $18 for adults, $16 for children; $3 more on weekends; ski rentals available for an additional fee. No reservations needed.
Go cross-country skiing at the highest elevations in New Jersey at this center featuring 15 miles of groomed trails, a lodge with a roaring fireplace, and a cafeteria. Bonus: High Point sometimes makes its own snow! Group instruction is available on weekends and holidays.
805 Newman Springs Road
About 1 hour by car from Midtown Manhattan
This sprawling Monmouth County park has more than 15 miles of groomed cross-country trails waiting to be explored. Even better: If you don't have your own equipment, you can rent some at the on-site ski hut when conditions are ripe. It's got skis and snowshoes available for ages 2+ on a first-come, first-served basis.
Photos courtesy of the parks/venues
This post, originally published in 2013, has been updated for 2021.
Click Here to Sign Up!
i