Where To Go Cross-Country Skiing on Long Island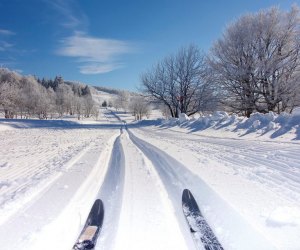 1/21/21
- By
Lisa Mancuso
When the flakes fly, Long Islanders might long for a chance to break out their skis, and while you can find plenty of family-friendly downhill slopes nearby if you want to ski locally, cross-country skiing is your only bet. Luckily, there are several awesome cross-country skiing spots on Long Island offering terrific trails whether you're skiing with young kids or other beginners or have more experienced Nordic skiers in your crew. As a bonus, most of these spots also allow snowshoeing on their trails too.
Many of our local state parks, county parks, and golf courses open bright and early after a snowfall so cross-country skiers can hit the fresh powder. Just be sure to call in advance to make sure the venue is open, and there is enough snow for winter activities.
For more cold-weather fun, check out our Skiing, Snowboarding & Snow Sports Guide.
Editor's note: While we are trying to promote safer activities that occur outdoors or with social distancing guidelines in place, please keep your family and others safe by always wearing a mask and maintaining appropriate social distancing.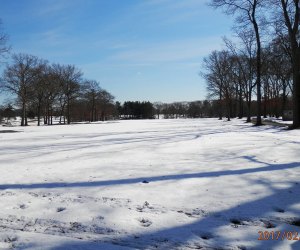 Bethpage State Park may be best known for its golf courses, but it's got plenty of area for intrepid cross-country skiers to explore.
Where To Go Cross-Country Skiing in Nassau County
99 Quaker Meeting House Road
516-249-0701
Enjoy miles of cross-country skiing and snowshoeing trails at this popular park. Sledding is also allowed on steerable sleds; no inflatables are allowed.
600 Merrick Avenue, Field 1
516-572-0348
Although there aren't designated trails, cross-country skiing is allowed at this Nassau County park. Sledding and tobogganing are also popular, as is ice skating. The park boasts two indoor rinks and one outdoor rink.
RELATED: The Best Family Sledding Spots on Long Island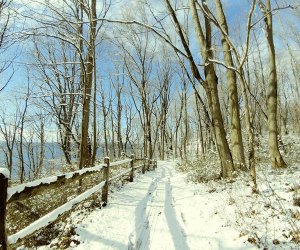 Cross-country skiers are welcome on the trails at Garvies Point Museum & Preserve in Glen Cove. Photo courtesy of Garvies Point Museum and Preserve
50 Barry Drive
516-571-8010
With 62 acres of forests and meadows, families can visit Garvies to cross-country ski, but stick around to learn more about Long Island's rich history in its on-site museum. For a listing of upcoming events, keep an eye on our Event Calendar.
750 Hungry Harbor Road
516-571-7801
Enjoy the views as you cross-country ski through this beautiful 150-acre Nassau County park.
Route 25A on Muttontown Lane
516-571-8500
Sprawled over 550 acres, Muttontown Preserve offers fields, nature trails, and woodlands for exploring by cross-country skis or foot. When it's open, save time to check out the Chelsea Mansion, a former residence now on the National Register of Historic Places.
Jericho Turnpike just west of Woodbury Road
631-423-1770
This 400-acre park, which extends from Cold Spring Harbor State Park on the north shore of Suffolk County to Bethpage State Park, and eventually to the south shore of Nassau County, boasts pretty, tranquil forests for cross-country skiing and snowshoeing.
Southern State Parkway, exit 15A
516-825-4128
This state park offers cross-country ski trails, as well as snowshoeing and walking trails. Kids may catch sight of some cold-weather friends on the Squirrel Nut and Hickory Nut nature trails.
RELATED: 15 Winter Walks For Long Island Families

Caleb Smith State Park is a scenic backdrop for a cross-country skiing outing.
Where To Go Cross-Country Skiing in Suffolk County
581 West Jericho Turnpike
631-265-1054
With more than 540 acres, visitors are welcome to don their cross-country skis or snowshoes and explore the beautiful landscape. The park also has many wonderful winter activities planned for kids and families.
625 Belmont Avenue
631-667-5055
Cross-country skiing is allowed at this state park, where are more than 7 1/2 miles of trails to explore.
69 Bergen Avenue
631-661-8282
When snow covers the ground, families can cross-country ski around the perimeter of this county golf course.
Veteran's Memorial Highway
631-854-3713
The are plenty of trails to explore on your skis or by foot in this local park, plus a number of cool sites to discover in this 627-acre park, including a historic grist mill and the Blydenburgh Farm.
Yaphank-Middle Island Road
631-852-5502
There are trails throughout the 320 acres of this county park where families can cross-country ski. Prosser Pines Nature Preserve, adjacent to the park, is also a great spot for families to explore.
RELATED: Outdoor Ice Skating Rinks For Long Island Families

Sunken Meadows State Park offers varied topography to explore via cross-country skiing.
Route 25A and Sunken Meadow Parkway,
631-269-4333
Here's another state park that allows cross-country skiing on its many trails. It also offers tons of family-friendly programming like an upcoming winter scavenger hunt.
150 River Road
631-581-2401
Glide along on your cross-country skis around the perimeter of this county golf course.
200 Montauk Highway
631-567-1704
This local links spot welcomes cross-country skiers to explore its perimeter.
Where to Cross-Country Ski on Long Island's East End
5 Cedar Point Road
631-852-7620
There are more than 600 acres to explore at Cedar Point County Park, and after a few hours of cross-country skiing, visitors can take in the gorgeous views of Gardiner's Bay. It's also the home of the historic Cedar Point Lighthouse.
661 Riverside Drive
631-727-7776
When there's enough snow on the ground, families can cross-country ski on the perimeter of this public golf course.
Montauk County Park – Montauk
Montauk Highway
631-852-7878
Hit the cross-country ski trails at this park where there is so much to see and explore, including a national natural landmark, a burial ground of the Montaukett tribe, and Camp Wikoff, the home Teddy Roosevelt and his Rough Riders rested after battles.
790 Hulse Landing Road
631-929-4314
Cross-country ski along scenic hiking trails at Wildwood State Park. This park consists of 600 acres of undeveloped forest and features a stunning view from atop a high bluff overlooking the Long Island Sound.
Unless noted, photos courtesy of NYS Parks