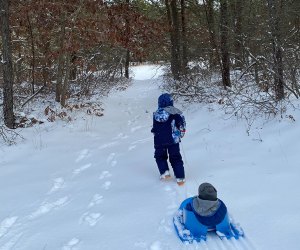 15 Winter Walks For Long Island Families
With the cold weather upon us, getting outside might seem like an impossible feat. But when the mercury hasn't dipped too low, bundle up the kids and fend off the stir-craziness and winter blues with one of these winter walks on Long Island.
Long Island is home to several state parks, preserves, and historical grounds that provide family-friendly hiking trails, serene natural beauty, and breathtaking views—even in the middle of winter. So, grab your warmest coats and boots and head for the hills (so to speak).
Don't forget to check out our Outdoor Winter Fun Guide for more ways to enjoy Long Island's breathtaking beauty in any season.
Editor's note: While we are trying to promote safer activities that occur outdoors or with social distancing guidelines in place, please keep your family and others safe by always wearing a mask and maintaining appropriate social distancing.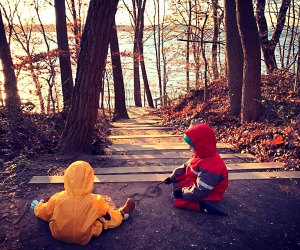 Garvies Point Preserve boasts a natural shoreline, meadow, and woodland environments along Long Island's Gold Coast. Photo by Malena Hoefling
Winter Walks For Families in Nassau County
50 Barry Drive
Take in various natural shoreline, meadow, and woodland environments at this 62-acre North Shore preserve. Marvel at the trees, shrubs, vines, and wildflowers until you reach the high cliffs. In addition to nearly 150 bird species, the preserve is home to woodchucks, opossums, and raccoons that can occasionally be seen along the meadow's edge. Grab a map and check out which trail is best for your family, as all are cleared and marked for visitors. If you visit in warmer months, don't forget to visit the butterfly garden near the front entrance. Tip: They're attracted to colorful clothing! Pop into the on-site museum, which illustrates the cultural and natural history of Long Island's North Shore through interactive exhibits and dioramas depicting the daily life of the Native Americans who lived here. The museum is also a research facility, and there is a large-scale model of archeological excavations from the area.
194 Bayville Lane
This 40-acre North Shore preserve houses its own Children's Habitat, allowing kids to explore, climb, build, create, and even make music, all outdoors. Picnicking, dog-walking, and cross-country skiing are allowed here. There is no charge during the winter months; however, donations are encouraged. Stage an impromptu photo session at the oversized rocking chair. Be sure to visit the Volunteers for Wildlife Outdoor Wildlife Garden during your visit; its resident animal ambassadors were wounded and treated by the center, but their injuries mean they cannot be re-released. One note: All buildings, including the bathrooms, are currently closed.
Bethpage Bikeway
Located in the heart of town, the Massapequa Preserve is a 432-acre oasis that transports you to a forest-covered greenway. Its bike path is used by walkers, runners, and, of course, cyclists. Enjoy the path from the Long Island Expressway to the north, all the way to Cedar Beach. The miles-long path is paved and filled with interesting scenery to satisfy curious kids, plus plenty of bridge crossings and ducks.
Department of Sanitation entrance off of Merrick Road
This converted landfill serves as a plant and wildlife sanctuary, complete with two manmade ponds. A 3-mile, winding hiking trail offers 18 exercise stations. On a clear day, you can spot the New York City skyline from the path's 115-foot peak. Wildlife such as egrets, turtles, snakes, and fox call this preserve home; goats help keep the grass trimmed, and Guinea fowl are employed to keep the ticks controlled. There's a 500-foot fishing pier that extends into Merrick Bay. Admission is free. If you're planning to bring a stroller, be forewarned: This trail does have some stairs.
Tanglewood Road between Lakeview Road and Ocean Avenue
This 11-acre Nassau County park and preserve has a mostly flat, very short trail that meanders through the woods and around a pond. The pond is stocked, and fishing is allowed. Leading down to the trail is a rolling green kids will enjoy racing down. The Center for Science Teaching & Learning is also on-site, and kids can enjoy indoor and outdoor animal habitats, such as peafowl, emus, and owls, as well as its outdoor dinosaur exhibit. The trail is free, however, there is an admission fee for CSTL exploration.
200 Park Ave.
Twin Lakes Preserve in Wantagh is a short 1-mile loop with semi-rugged terrain and stunning pond views from every point on the trail. The 58-acre preserve features five freshwater ponds and an extensive section of freshwater wetlands and transitional stage woodlands. Bring a fishing pole or hike the trails. Beware: Parking is quirky. There are a few roadside spots at the base of the Park Avenue Bridge.
Winter Walks For Families in Suffolk County
3525 Sunrise Highway
You'll find bathrooms, a pond, streams, and even a fish hatchery at this unique South Shore park. It boasts stroller-friendly paved paths, as well as narrow, woodsy trails. There are bridle trails, too, so you might catch someone trotting by. Note: Bicycling, picnicking, and pets are not allowed, as this is a nature preserve.
440 Montauk Highway
This 691-acre park overlooking the Connetquot River is described as an "oasis of beauty and quiet." When you walk along the trail, trees are labeled for educational purposes. Be sure to find the hidden maze under a weeping willow tree. There is so much going on at this arboretum that it's ripe for a scavenger hunt. The Hidden Oak Cafe, which offers a quaint tea and sandwich menu, has re-opened, but the Manor House is closed until further notice. Grounds and house tours are canceled as well.
New Mill Road
The possibilities are endless at this lush, forested 627-acre park that is open year-round to Suffolk residents (and their guests). The head of the Nissequogue River is also located in the park. Hiking, fishing, camping, rowboats, horse paths, a playground, and a dog run are all available here. A collection of historic buildings dating back to the 1700s is also located on the property. If you enter via Jericho Turnpike, you'll face more rugged trails.
95 Harbor Road
Take in the scenic vistas of Cold Spring Harbor from 40 acres of hilly terrain in this park. Keep your eyes peeled for songbirds, great horned owls, and red-tailed hawks. Enter at the northern trailhead of the Nassau Suffolk Greenbelt Trail (which extends to Bethpage State Park and eventually the South Shore of Nassau County.) If the snow permits, park-goers are welcome to snowshoe or cross-country ski as well. Bring Fido along, but make sure he's leashed and remains on the trails with you. Pets are not permitted in the playgrounds, boardwalks, or beaches.
RELATED: 15 Long Island State Parks Worth a Visit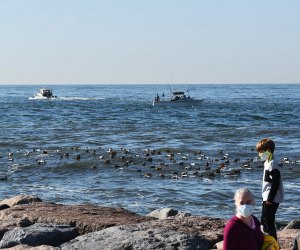 Take a winter walk with the South Fork Natural History Museum and Nature Center. Photo courtesy of the Center
Winter Walks For Families on Long Island's East End
377 Bridgehampton/Sag Harbor Turnpike
This animal and nature fueled natural history museum offers kids hands-on experiences and immerses them in nature. Reservations are currently required to enter the building. Once inside, you're surrounded by murals of the natural world, including forests and freshwater ponds. Kids love sinking their hands into the downstairs touch tank to feel prickly sea urchins and other sea creatures. Reptiles, frogs, and more live animal exhibits are available, too, and so is an outdoor butterfly garden. Take a guided nature walk on the grounds or check out one of the many family-friendly events and workshops happening at the museum.
2595 Noyac Road
Established in the mid-1950s, this refuge is home to diverse habitats, including an expansive and majestic bay-facing beach. If you love getting up close with feathered friends, bring along some birdseed. Birds will use you as a perch and eat the seed right from you! Hike the trails and set up camp at the beach, but note that portions of the Amagansett and Morton Refuge beaches might be closed for short periods in the spring and summer to protect migratory bird nesting areas.
75 South Ferry Road
Located 3 miles from the south ferry, Mashomack Preserve boasts 12 miles of coastline and acres of creeks, woodlands, and fields. There are several trail options, from 1 to 10 miles, so choose wisely as to which you think your brood will handle best. We managed to do 2 miles with my boys, at ages 7½ and 10. The terrain was steep at times and bumpy, so tread carefully. The visitors center and restrooms are currently closed, and the trails are only open on weekends from 9am-4:30pm.
Sagaponack Road
Called one of the most beautiful nature walks on the East End by Hamptons Magazine, this 105-acre preserve boasts an array of oak, red maple, and Atlantic white cedar trees. There is also a 700-foot boardwalk that curves out over the swamp, where you might spot some of the 14 species of mammals that live there, as well as 84 species of birds. It's open from dusk to dawn.
200 Montauk Highway
Nature trails and sweeping water views are abundant at this state park. Cross-country skiing and dog walking are also permitted. You can visit the state's oldest lighthouse, the Montauk Point Lighthouse, which is open seasonally.