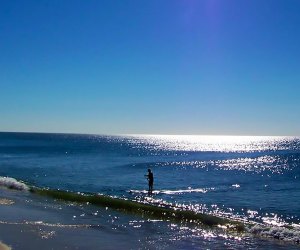 Massapequa With Kids: Beaches, Parks, and Plenty More
Massapequa is massive.
From its northernmost boundary at the Southern State Parkway (technically North Massapequa) to the waters of South Oyster Bay, this community within the Town of Oyster Bay extends through the village of Massapequa Park to the Suffolk County border at Amityville.
Residents boast of Massapequa's award-winning public schools. But also included is a bustling downtown along Park Boulevard and a thriving beach community on the South Shore, making Massapequa a jewel in Nassau County. Read on to see what makes this area attractive to families.
What to do
The town's Marjorie R. Post Community Park offers playgrounds, picnic areas, tennis, handball, volleyball and basketball courts, a lakeside walking area, swimming pool, diving pool, kiddie wading pool, ice skating, and roller hokey rinks. Just across Merrick Road is John. J. Burns Park, situated at the mouth of Great South Bay. Playgrounds, courts, and turf baseball fields, as well as running/walking/biking paths and a boat launch make for an active visit for families.
RELATED: Visiting Port Washington, a haven along Nassau's north shore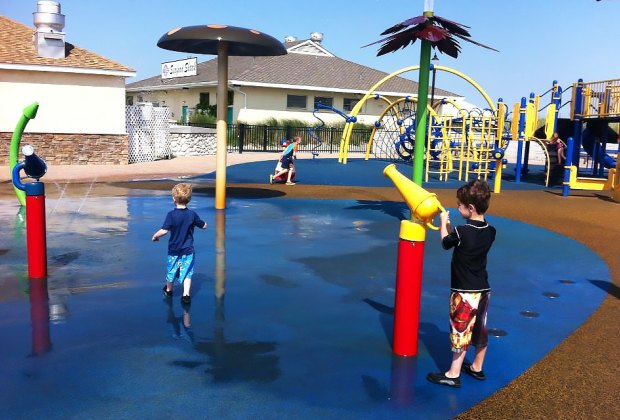 Kids can splash the summer away at Tobay Beach's spray park. Photo by Linda Di Geronimo
During the summer months, cool off at Tobay Beach. The spray park was updated after superstorm Sandy, complete with a new snack shack and separate picnic area near the sprinklers. Grab a bite at Bay Burger, The Crazy Oyster, Mango Bay Latin Kitchen and Cantina, or The Ocean Club. The sprinkler area has shallow water with spray arches, dumping buckets, and the ever-popular water cannons. Tobay is derived from "Town of Oyster Bay." The daily parking fee for town residents is $20 with seasonal parking available for $60. The beach is open to nonresidents on weekdays only, not including holidays, for a parking fee of $50.
Tobay's nine-hole mini-golf course covers a 7,500-square-foot area along the bay side of the beach. Enjoy the nautical theme as you shoot for a hole-in-one. A bonus: This course is disabilities accessible.
RELATED: Glen Cove is Nassau's "city by the sea"

Discover the secrets of our natural world at Massapequa Preserve. Photo by Tara Berghorn
Also on site is the John F. Kennedy Memorial Wildlife Sanctuary, which is FREE for all. The sanctuary is a 550-acre stretch of protected wetlands that is home to ducks, hawks, and falcons. The centerpiece of the sanctuary is Guggenheim Pond, which draws herons, egrets, black ducks, and even rare bird species. While the sanctuary is open year-round, visiting hours are limited during June, July, and August until after 6 p.m.

Massapequa Preserve's bike trails connect to Long Island's Greenbelt Trail. Photo courtesy of the preserve
On the hunt for more nature in Massapequa? You don't have to travel far. Located in the heart of the community is the 432-acre Massapequa Preserve. Families can hike or bike via the Greenbelt trail, as well as fish in three lakes, marvel at turtles and water fowl, or create a scavenger hunt to tackle during a relaxing nature walk — until the cries of "carry me" and "pick me up" commence, of course.
RELATED: The best of Port Jefferson for families

Take a class or host a party at Kitchen Time's Party Place. Photo courtesy of the venue
Where to eat
Cook up some family fun at Kitchen Time's Party Place. This Massapequa biz offers small-group cooking classes that supply kids with entire meals and recipes. You can also create your own private class of friends to make indulgences including lasagna rollatini or sweet-and-sour meatballs. Birthday parties include cake decorating as well as meal creations such as English muffin pizzas, "monogrammed" hamburgers, and homemade manicotti. Kids can also choose a candy-making party, or bake teddy bear cakes and sweet cinnamon pretzels.
Looking for someone else to whip up your meal? Step back into the 1950s at retro Krisch's for homemade ice cream and American fare. Serving breakfast, lunch, and dinner since 1920, this hot spot keeps bellies and smiles full. The Good Life, in the village, is an English-style pub that packs a perfect punch for families. It's loud and fun with comfort-food faves and an eclectic selection of brews for mom and dad.
RELATED: Stony Brook boasts New England charm on Suffolk's north shore

The old-school All American Hamburger Drive In serves up burgers, fries, shakes, and more. Photo courtesy of the restaurant
Enjoy an informal barbecue setting at Smokin' Al's, where messy faces — and hands — are encouraged. Bonus: It offers extensive gluten-free options. I'd be remiss in not mentioning the iconic Long Island staple, All American Hamburger Drive In. An ideal spot for food on the go, this old-school fast-food joint serves up burgers, fries, and shakes from a counter-service takeout window. I'm sure this place is Daddy-O approved.