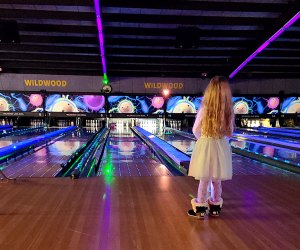 Best Bowling Alleys For Long Island Families
Bowling is one of those activities that provides hours of fun for all-ages, and luckily, Long Island has no shortage of family-friendly bowling alleys.
We've put together this list of the best bowling alleys for Long Island families, so you can find one no matter where you live. From bumpers and ramps for toddlers to glow-in-the-dark game nights for tweens and teens, each venue offers a little something extra. Most offer specials during school breaks and some have after-school youth bowling leagues, too.
Read on for 15+ family-friendly bowling alleys nearby, and find more fun family outings in our Guide to Indoor Fun and on our always-updated Event Calendar.
Editor's note: While we are trying to promote safer activities that occur outdoors or with social distancing guidelines in place, please keep your family and others safe by always wearing a mask and maintaining appropriate social distancing. If you arrive at a venue that appears too crowded, try using the "nearby" search feature on our Event Calendar to find something else to do.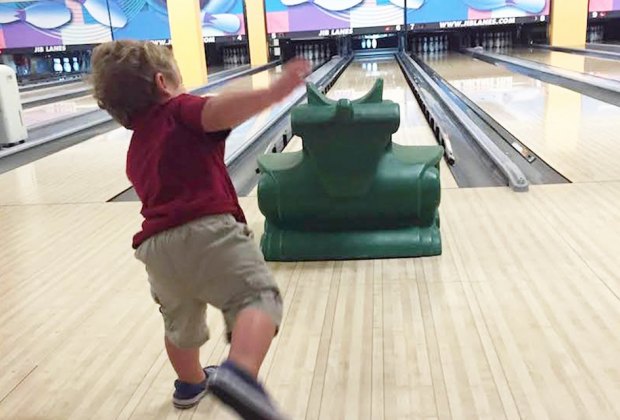 Automatic bumpers and ramps help young bowlers at Maple Lanes RVC.
Family-Friendly Bowling Alleys in Nassau County
At this bowling alley, all lanes have automatic bumpers that can be raised when kids bowl and lowered when it's mom or dad's turn. Dinosaur-shaped ramps make bowling easier for wee ones. Its 8-for-8 Bowling Club and family fun packs offer great value.
If you're looking for a non-chain bowling alley, Herrill Lanes is for you. This family-oriented spot has been independently owned for 40 years. Bumpers are available for kids, as well as lightweight balls, and the facility and lanes are wheelchair-accessible. Specials are offered during school breaks, and food and beverages are available for purchase.
Levittown offers bowling options for the whole family, including junior leagues and non-competitive bumper bowling for little ones. Levittown also hosts birthday parties, glow bowl on the weekends, school break specials, as well as plenty of daily and weekly specials and family events year-round.
San-Dee offers 16 lanes and an arcade, bar, sports lounge, and kitchen serving homemade pizza. Bowl under black lights at laser bowling on weekend evenings. Adult and junior leagues are available, and the space can be rented for birthday parties.
This alley offers patrons 30 lanes along with state-of-the-art technology. It hosts adult-only and adult-youth leagues, a Saturday morning kids' instructional bowling league, and school-break and summer programs.
Woodmere Lanes is a small, family-friendly bowling alley that hosts leagues for children and adults. There's also a snack counter. Weekend specials include Sunday night all-you-can-bowl special and family and friends events on Friday and Saturdays.
RELATED: Top Indoor Play Spaces on Long Island Open Now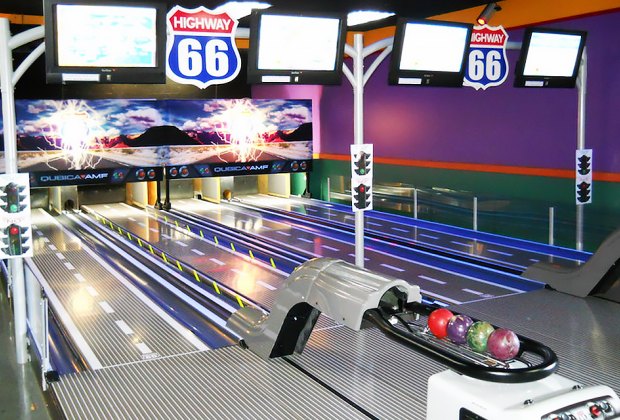 The mini lanes at Coram Country Lanes are perfect for the littlest bowlers.
Family-Friendly Bowling Alleys in Suffolk County
Here, the littles bowlers can enjoy mini bowling, complete with pint-sized lanes and balls, which is ideal for kids ages 2 to 6. Bumpers and ramps are always available. The center also offers mini-leagues. Youth leagues and programs are available for older kids. There's a special every day of the week, including family fun packs and Sunday fun day family deals.
This bowling alley offers tons for kids to do. Youth leagues include bumper bowling basics, "Rock 'n Glow," and a "Pee Wee & Me" league for adults and younger children. East Islip Lanes offers specials during school holidays and a Sunday early-bird unlimited bowling special.
Families can get a fun pack that offers two hours of bowling and the use of shoes for up to six people. Farmingdale Lanes also offers a Kids Bowl Free summer program and school break specials.
Port Jeff Bowl has family-friendly events covered, including weekend fun nights and school break specials. Kids can join a youth league. Contact the center for more information on its special-needs bowling program.
In the summer, this alley offers Camp Rock-n-Bowl for kids that includes two games, shoes, and a meal. All bowlers can enjoy Rock 'n Bowl on Friday and Saturday nights. School breaks and different daily specials are available.
RELATED: What's Open Now on Long Island For Kids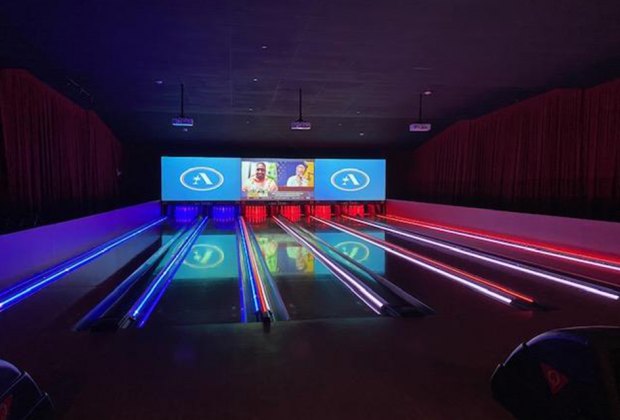 Glow-in-the-dark lights liven up the alley at The All Star in Riverhead.
Family-Friendly Bowling Alleys on the East End
This large, 22-lane bowling alley has big-screenTVs hanging over the lanes that play music videos, plus black lights, and glow-in-the-dark effect, but it is also very family-friendly with automatic bumpers at every lane. There is a large arcade with various shooting and prize games, basketball, Skeet Ball, an on-site restaurant, and more. Birthday party packages are available.
A familiar site in Riverhead since 1955, this bowling alley boasts a retro feel but still entertains with neon lights and loud music. With 30-foot ceilings and 16 lanes, there's plenty of room for the whole family. A small arcade and on-site restaurant add to the fun. Leagues are available for adults and kids. Specials are offered during school breaks.
Family-Friendly Bowling Alleys Across LI
AMF – Multiple Locations
Visit their website for a complete list of locations.
National chain AMF is known for its large-scale, high-tech bowling experiences—perfect for a memorable family night out. There are locations in Nassau and Suffolk counties. All offer leagues for kids and adults, as well as adult-child leagues, and special-needs bowling. Kids can try their hands at bumper bowling; they can also request lighter balls and ramps to help their aim. AMF specials include late-night and early-bird bowling, $2.88 Tuesdays, Sunday fun day, and more. Birthday parties, of course, are a big hit here, too. Hours, leagues, and specials vary by location.
A previous version of this story was published in 2017. It has been updated for 2021. Photos courtesy of the bowling alleys