Top Indoor Play Spaces on Long Island Open Now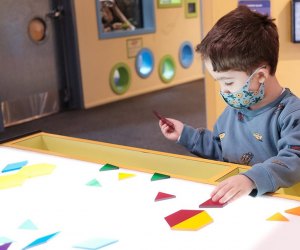 Chase away the winter blues and embrace a change of scenery outside the walls of your living room at one of these Long Island play spaces open now and welcoming visitors . We've rounded up 11 fun places to play indoors, from toddler-friendly play spots to action-packed sports centers for bigger kids. Of course, no matter which you visit, expect to see some changes from capacity limits, to temperature checks, and reservations requirements.
For more indoor fun, check out our Guide to Play Spaces, and find plenty of seasonal entertainment on our winter fun list for Long Island kids.
Editor's note: All the play spaces listed are adhering to COVID regulations, including mandatory mask wearing, temperature checks, hand washing, and additional cleaning and sanitizing measures. Given how quickly things are changing during this pandemic, be sure to check their websites or call to confirm pricing and availability. Please always keep your family and others safe by wearing a mask and practicing social distancing.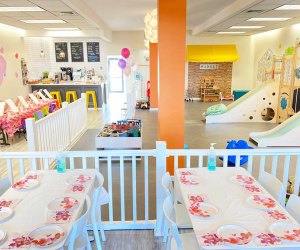 Kids and adults enjoy the beautiful and ultra-clean space at Sippy Cups Cafe.
Indoor Play Spaces Open Now in Nassau County
Book your reservations for open play, and the 6-and-younger crowd can enjoy a wooden climber with slides and peepholes, a train table, puppet theater, Duplo Legos for building, and a cozy reading area. Adults appreciate the selection of coffees, teas, and snacks for noshing. You're welcome to bring your own peanut-free food as well. Open play sessions last two hours, and the space can be rented for private play sessions or birthday parties. All items are sanitized frequently, and visitors are asked to enter through the rear entrance. Temperature checks are required before entry.
This intimate and extensive play space is perfect for babies, crawlers, and preschoolers. It features life-sized dollhouses and stores for imaginative play and so much more, including trains, blocks, puzzles, books, and art supplies. It's phasing in reopening activities and limiting the number of visitors during open play sessions. Reservations are recommended, but walk-ins are accommodated if space allows. Private play sessions can also be booked. Don't forget your socks: They're required in the play area. Temperature checks are required for entry, and all guests must sanitize their hands before entering the play areas.
Admission to this popular museum must be booked in advance but includes access to indoor play areas at Tot Spot and Climb It. At Tot Spot, kids can play in the pretend train, grocery store, or construction areas, as well as wiggle, jump, slide, and play. In Climb It, geared toward ages 4+, find two stories of crawling and climbing adventures. The museum is currently open Thursday through Sunday. However, families or learning pods can book private playtime at Tot Spot when the museum is closed.
RELATED: Arts and Crafts Studios on Long Island Offering Classes and Take-Away Kits

Social Play Haus encourages drawing on tables. Photo by the author (Photo of unmasked kids under 2-years-old)
Reservations are currently required for brunch and open play at Social Play Haus, where you can grab a cold-brewed beer or hot brewed coffee and settle in for some cozy fun. The 5,000-square-foot space offers a cool mid-century industrial design, plenty of food and drink, and even office spaces with FREE Wi-Fi for when your work-from-home-gig needs a new backdrop. If you need a little alone time to crush your to-do list, enlist the help of a play specialist (for a fee) to watch after your little ones while you utilize a private office space. Temperature checks and hand sanitizing are required for entry.
This large indoor play space focuses on creating settings for imaginative play. It is probably best for younger children, but older kids, especially part of a mixed-age group, can have fun as well. The space is organized as if it were a little town or city, with rooms set up as a post office, restaurant, school, veterinary office, grocery store, construction zone, and more. Kids can run from room to room or ride little cars and bikes. There is a climbing treehouse with a slide. Parents must supervise children, but the staff is available to encourage imaginative play. A few additional safety and sanitary measures have allowed for in-person play to continue; however, visitors must sign a participation agreement in advance. Open play hours are limited at this time, but the space can be rented for private 60-minute sessions, too. Temperature checks are required for entry, plus all visitors must sign a participation agreement waiver.
An abbreviated open play schedule is announced on a week-to-week basis. Visit the website for current hours and to reserve your spot. Toddlers and preschoolers can enjoy climbing, swinging, and jumping on the different play structures. There are also sensory play areas, such as water mats, sensory boards, and an interactive game projected onto the ground. What makes sensory beans truly unique is the staff, who don't just walk around cleaning up. They interact and play with the young ones as well. Accessible equipment is also an integral part of the play space, making it comfortable for children of all abilities. Temperature checks are required for entry.
RELATED: 10 Creative Virtual Playdate Activities for Preschoolers

A two-story playhouse greets little adventurers at A Latte Fun.
Indoor Play Spaces Open Now in Suffolk County
A Latte Fun is currently accepting reservations for open play, VIP private play dates (minimum of six children; maximum of 12), as well as mini birthday bashes. This venue is the perfect spot for kids and adults. Crawlers, toddlers, and older kids enjoy the large, enclosed play area while parents appreciate the full-service coffee bar. Light breakfast and lunch items are also available, along with its 'not-so-hot' hot chocolate for kids. Only one adult can accompany their child in the play area, but a second adult can wait in the cafe. Ample time is left between play sessions to sanitize and disinfect.
Timed-entry reservations can be booked online. The Children's Museum of the East End features several themed play spaces. Children can run a general store or soda fountain, enjoy a story inside an upside-down book, crawl through hollow logs and mouse holes, sail a ship, drive a fire truck or tractor, play nine-holes of mini-golf outside, and more. The museum's open arts-and-crafts studio features ongoing drop-in projects. Though the museum is aimed at kids 2-7, there is a special Crawler Garden for pre-walking kids, and families with children under 2 years old can request a special set of baby toys. Surfaces are sanitized throughout the day, and deep cleanings happen during closures.
Hone your skills for ninja warrior, parkour, obstacle course races, and more at this indoor training facility. Built like a custom obstacle course playground, kids work on their strength, speed, endurance, agility, and balance—all the while having high-flying fun. Enjoy pay-as-you-go, drop-in sessions, open play, or sign up for Junior Warriors or ninja skills classes. Open gym drop-in times are specific each week, and temperature checks before entering are a must. Small class sizes, a separate parent waiting space in the rear to reduce capacity, and hospital-grade cleaning products are just a portion of its COVID protocols.
Climbing time slots must be reserved for 2-hour periods; private climbing pods can also enjoy 90-minute sessions. Explore more than 20,000 square feet of indoor rock climbing space at The Gravity Vault, from easy beginner courses to rough terrain, your family can tackle more than 100 climbing stations. You can rent all the gear you need, and a guide can help you learn the ropes. Even up in the air, climbers must mask up and maintain six-feet of distance.
Reservations are required and must be booked at least a day in advance. Children 6 months to 8 years love this creative space that offers weekly music, gymnastics, movement, and art classes. Open-play sessions give kids access to an imaginative play area, book nook, baby corner, and craft table. Drop off and open play sessions are available after school and on Saturday mornings.