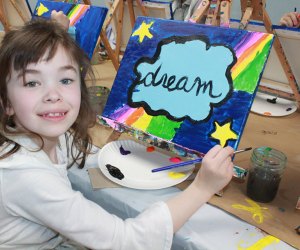 10 Drop-In Art Locations for Long Island Kids
Lucky enough to have a potential Picasso on your hands? Perhaps a little Salvador Dali´ in the making?
There are few things quite as inspiring as discovering your child's artistic soul. And you can cultivate that on Long Island at one of these 10 art spots that offer drop-in classes, painting parties, and more. Long-term commitments are often not necessary, so kids can pop in for arts and crafts fun and get those creative juices flowing.
While you're at it, check out our guide to classes and enrichment opportunities for Long Island kids. Our Winter Fun Guide has a host of seasonal activities to consider, and our museums guide offers the best venues to cultivate your child's intellect.
Nassau
Artrageous — Rockville Centre
5 North Village Avenue
Drop into Artrageous and design a piece of pottery. Look at a blank canvas, choose your colors and embellishments, and get to work on that masterpiece. Note that items take up to two weeks to be glazed, requiring a trip back. But that's OK because Artrageous also offers opportunities to learn glass fusing. Older kids can choose a glass or wood base to create a beautiful mosaic. Artrageous also offers kids' seasonal clay classes.
As You Wish — Bellmore
​418A Bedford Avenue
This party place offers drop-off and mommy-and-me canvas painting sessions. Holiday- and character-themed events are offered with snacks and play time. It also offers mom's night out, holiday camps, and other events.
Cool Crafts — Wantagh
3443 Merrick Road
Kids can create plaster crafts, combination banks, cork boards, piggy banks, mini-lockers, stuff-a-teddy, and more. Items can be carried home when finished. Cool Crafts also offers daily themed camp days in the summer.
Lakeshore Learning — New Hyde Park
2079 Hillside Avenue
Enjoy a free craft every Saturday between 11 a.m. and 3 p.m. Kids can create paper goggles, pencil holders, musical instruments, holiday themes, and more.
Suffolk
Bubble — Babylon
15 East Main Street
Pop into the craft bar to see what sparks your imagination. Moms can create scented soap while little ones craft a beaded bracelet. Older kids can even mold a candle. The staff inspires, assists, and cleans up. It also offers weekly classes, a shopping boutique, holiday camps, workshops, mom's night out, and a party space.
RELATED: Great rainy-day activities for LI kids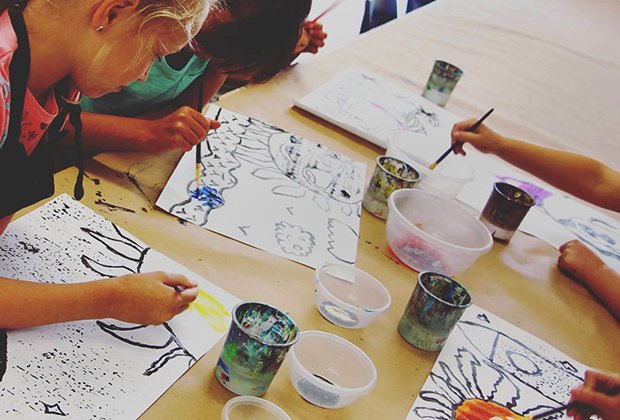 Inspire your little ones with character-themed creativity at Key to My Art.
Key to My Art — Amityville
10 West Oak Street
Key to My Art hosts character-themed, drop-off paint nights for kids. From Star Wars to Super Mario Brothers, there's a crowd pleaser for all creative little ones. It also offers baby-and-mom art classes, and hosts camps and birthday parties.
Picasso Kidz — Greenlawn
​72 Broadway
Enjoy one-day workshops, classes, and more directed by state-certified instructors. Explore painting, collage and print making, sculpture, and more. Mommy-and-me classes and birthday parties are available also.
East End
East End School of the Arts — Riverhead
141 East Main Street
Kids can tap into their creative spirit through painting, photography, music, and more at this 45-year-old fine arts nonprofit.
Golden Eagle Art Store — East Hampton
144 North Main Street
Kids can enjoy drop-in "afternoons of art" at this long-established Hamptons institution. Enjoy watercolor making, clay works, linocut print making, and more. Most classes are $25 per hourlong session. 2018 February-break art camps are $50 for a single day or $250 for a five-day series.
Islandwide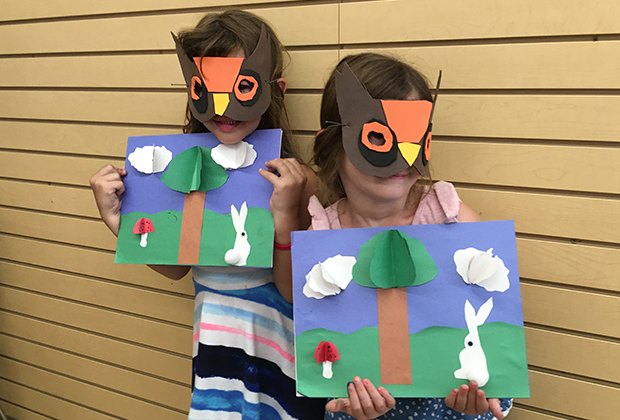 Childhood creativity is on display every week at Long Island craft giant Michael's. Photo by Bari Rees.
Michael's — Various locations
Pop into Michael's locations across Long Island to enjoy its ongoing Kids Club. From cookie decorating to mask-making, embroidery and finger painting, kids learn a new artistic skill each week.
Top photo: Your child can tap into his or her creative spirit at As You Wish in Bellmore. Photo courtesy of As You Wish
This post was published in 2017. It was updated in February 2018.