Liddle Bites Play Cafe: A Welcome Addition to Long Beach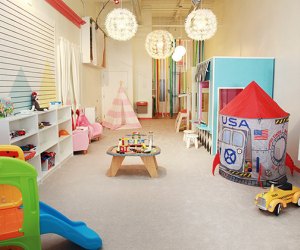 1/19/17
- By
Lisa Fogarty
Sometimes a change of destination and access to new toys—ones you don't have to actually buy—is all small children and their parents need to survive the harshest months of winter.
Liddle Bites Play Cafe in Long Beach is one of the newest and sweetest indoor play spaces to open in Nassau County. With plenty of toys, costumes, and structures set up to encourage play, seating, and even snacks, it's an intimate and complete play space that helps kids stay engaged and unleash imaginations — no matter what the weather is like outside.
Liddle Bites Play Cafe, which opened in August 2016, is located on busy East Park Avenue, A free and convenient two-hour parking lot is nearby. On the afternoon of our visit, my 2-year-old son and I had no trouble finding a spot directly in front of the play space. Walk in any direction and you find a shop or cafe to buy coffee or tea beforehand, which is convenient if you plan to settle in for a while while your tot plays.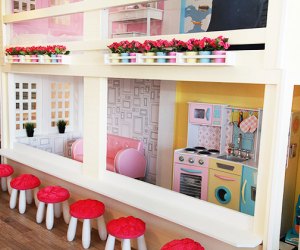 A two-story dollhouse greets young adventurers.
The first thing I noticed upon entering was the bright, clean, and airy interior of an intimate setting, which unlike many other play spaces we've visited doesn't have hidden corners or crevices where you can lose your child if you aren't focused on him or her the entire time. Play stations include a table with books and puzzles, two "Thomas the Tank Engine" tables stocked with all of the favorite characters, a ball pit, and teepee. There is also small slide, soft balls, crayons and paper, costumes and princess gowns, dolls, Legos, cars and trucks, and sensory toys perfect for little hands. Two of the coolest attractions are the sweet shoppe, where kids can use a cash register to ring up ice cream and cake treats, and a life-size, two-story dollhouse that boasts a full kitchen, living room, and upstairs bedroom.
Popular children's songs stream lightly. The music, along with serene lighting fixtures and a clean, minimal design aesthetic, give the space a peaceful feeling. There is plenty of seating in every section of the space, including several tables in the center of the action, where caregivers can rest and still see their child playing happily. Free Wi-Fi is offered, which is a bonus for busy guardians, but remember, parents are responsible for watching their kids at all times, and for cleaning up after them. If you have little ones who like to pretend they're escape artists, pay extra caution to the front swinging door, which is not locked.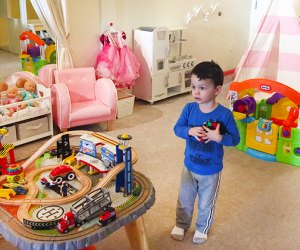 It's train activities and more at Liddle Bites in Long Beach. Photo by the author.
Liddle Bites is ideal for ages 0-6, but if you have an older child accompanying you, he or she will have little trouble keeping busy coloring, building with Legos, and checking out the trucks and dolls. The space offers enrichment classes that include Baby Ballet, a mommy-and-me class for walkers up to age 4, Music Express Music Class, and even a Wannabe Model Workshop for style-savvy kids. Every month or so, the space offers a festive event — on January 28, it is hosting a Disney "Frozen" costume party with pizza, treats, a photo booth, and even a visit from Elsa. Check its website for more fun to come — owner Ingrid Ceniceros said it is planning additional events and classes for older children as well.
If planning a play day around food is on your mind, Ceniceros keeps a stack of take-away menus from local restaurants and encourages moms and dads to order in and enjoy lunch or an early dinner at the play space. It also sells treats, including granola bars, cookies, muffins, juice, and water at reasonable prices; there are highchairs for babies.

​Liddle Bites is open Sunday-Friday, but closed on many Saturdays for private events. Check its calendar for specific open-play times and to make sure your trip doesn't coincide with a class or event. Admission is $10 for children and $7 for crawlers, but it offers season passes at a discounted price. Liddle Bites also can host your child's birthday party with a variety of fun options for boys and girls ages 1-7.
Stop by Liddle Bites, welcome it to the neighborhood, and get ready to add it to your list of favorite play spaces in Nassau County.
Top photo: The main play area at Liddle Bites. Unless otherwise noted, photos courtesy of the space.