New Sensory Gym on LI Appeals to Special-Needs Community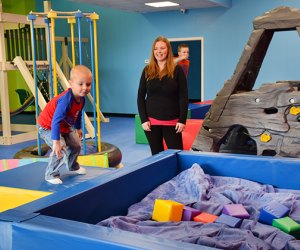 Therapeutic meets functionality at the newly opened Sensory Beans children's gym in Wantagh. Designed for children with sensory and special needs, the open-play space offers a vibrant and engaging world of visual and tactile stimulation. It is a family-facilitated gym for Long Island children of all ages and abilities.
A years-long dream of Rachel and Brett Roslow, the couple wanted a space to engage their son Ethan, who is on the autism spectrum, as well as appeal to younger son James. Inclusion is a key to getting children comfortable in these social settings, Rachel Roslow claims.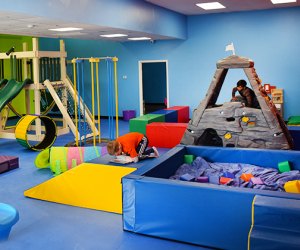 Sensory Beans in Wantagh offers 2,500 square feet of amusement for little ones.
There's plenty to explore in the 2,500 square feet of this all-inclusive oasis of amusement. Climb atop the mountain and plant a flag to show your accomplishment. Build a wall of large rubber blocks then slide into them from the jungle gym. Take a ride on the adaptive swing or baby bucket seat. With a running start, leap into the soft foam pit. Rock and roll around in the hamster wheel or slither through the pressurized body roller—a super comforting experience.
RELATED: Indoor Family Fun Guide for Long Island Kids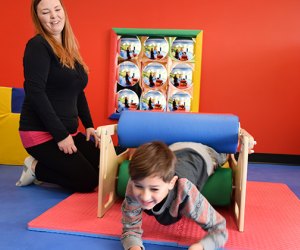 Crawl, climb, slide and glide at Sensory Beans.
Have an overstimulated wee one on your hands? He or she can hang out in a hammock and watch the world go by. The gym also offers headphones to buffer out loud noises. There's a separate space in the back that promotes a less busy, more tranquil environment. And the gym's after-school open-play session serves a dual purpose as homework headquarters. This is also a device-friendly facility that is completely wheelchair accessible.
We know it takes a village to raise a child, so if your family is working with an occupational or physical therapist or speech pathologist, the specialists are welcome to tag along—FREE—and utilize the equipment. The Roslows know how integral access to this type of a space is to a child's social development and educational progress.
They also occupational thearpy play groups, parent/family support groups, and birthday parties. The daily draw is drop-in open-play sessions at a per-child rate. Adult companions are FREE.
Sensory Beans is located at 3309 Merrick Road in Wantagh. The phone is 516-308-1462.
Looking for more indoor fun? Check out these swimming pools, indoor play spaces for big kids and toddlers or bowling alleys in Nassau or Suffolk counties.