The Best Indoor Play Spaces for Long Island Toddlers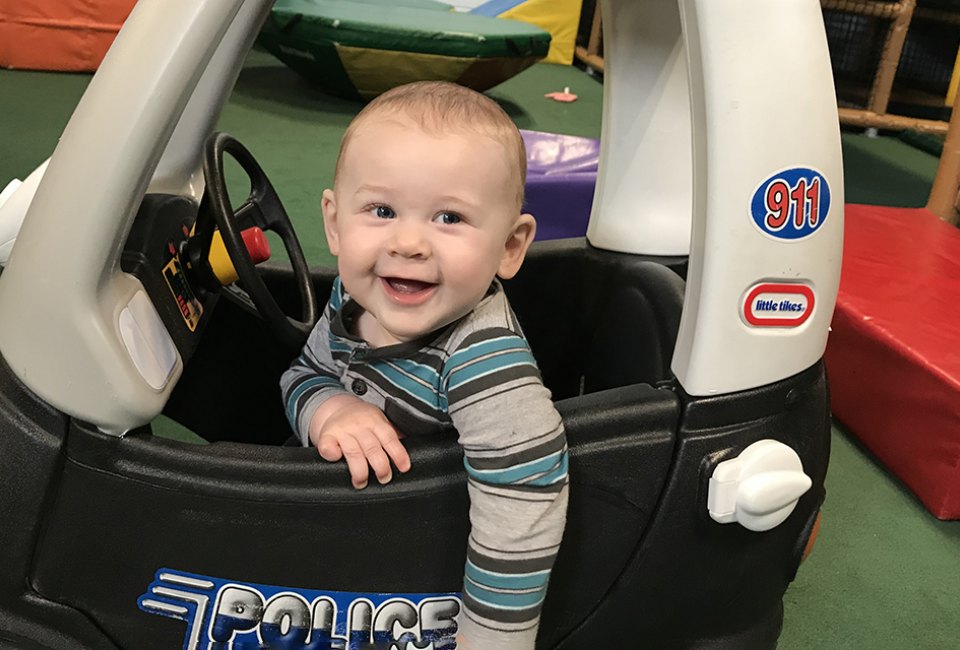 2/14/22
- By
Thien August
While many indoor play destinations on Long Island cater to a range of ages, some parents feel more comfortable when areas are designated for younger children. With that in mind, we've rounded up a list of fun and imaginative play spaces for toddlers on Long Island.
At most of these locations, children ages 5 and younger are the primary focus and can play freely without fear of being knocked down or bumped into by older crowds. They also offer age-appropriate equipment and activities for toddlers.
For more fun seasonal ideas, check out our winter fun list for Long Island kids as well as our Guide to Play Spaces and Fun Centers on Long Island.
Nassau County Play Spaces for Toddlers
From 11am to 3pm on Mondays, Wednesdays, and Fridays, Active Kidz holds its toddler bounce, best for ages 1-6. Littles can safely enjoy the bouncy houses and adventure maze for just $20. Advance reservations are preferred, but not required.
This facility features a separate toddler area with small bounce houses. At Toddler Time, little ones ages 2-6 can jump and play without worry and look for guest appearances by their favorite characters. Be sure to wear or bring socks.
RELATED: Where to Throw a Birthday Party for Long Island Teens and Tweens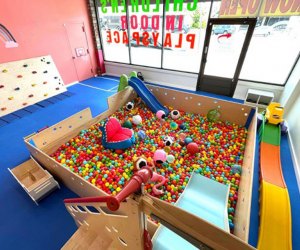 Little ones will delight in The Children's Social Club's ball pit.
This play place is a must for toddler parents. Everything is geared toward toddlers and preschoolers, and parents can relax while watching the kids safely play behind the gated play area. The highlight is a climbing structure with a slide leading into a giant ball pit. All play sessions must be reserved in advance.
Crawlers and toddlers have plenty of open space to play around at The Kiddie Clubhouse. There is a kiddie coaster, chalk wall, climbing structure, and plenty of toys to enjoy. Advance registration required.
You'll feel as if you're inside a life-sized dollhouse at Liddle Bites. This indoor play space offers imaginative playhouses and shops. Pre-packaged snacks are available, as are merchandise and gifts. In addition to daily pricing, it offers five- and 10-visit discounted punch cards.
Housed inside the Cradle of Aviation Museum, this interactive play area caters to children up to age 6. Young aviators can build, explore, and even settle down for a story in its book corner. The Junior Jet Club is included with museum admission, or you can enjoy it minus the museum for a nominal fee. Enjoy a mock airplane cockpit, foam rockets, a Lego table, and more.
This enormous play space boasts interactive and imaginative play, oversized Connect 4, a sand table, American Girl Doll vanity area, dress-up clothes station, a musical instrument section, a gigantic Lego wall, reading nook, separate baby crawl area, and more. Stay for lunch or enjoy a quick snack at the cafe. The menu includes salads, sandwiches, pizza, and more, including gluten-free options.
RELATED: The Best Indoor Play Spaces on Long Island for Kids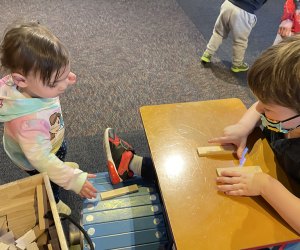 |
All the exhibits at the Long Island Children's Museum are kid-, and especially toddler-friendly. Photo by the author
Little ones will delight in all the exhibits at this kid-friendly museum, but of particular interest to toddlers are Tot Spot and Climb It. At Tot Spot, kids can play in the pretend train, grocery store, or construction areas, as well as wiggle, jump, slide, and play. In Climb It, geared toward ages 4-plus, they'll find two stories of crawling and climbing adventures.
RELATED: Where to Host Birthday Parties on Long Island Now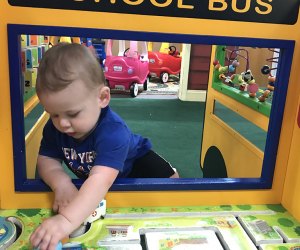 Adventurous minds will delight in Once Upon a Treetop's multilevel play space. Photo by the author
This interactive city is designed for toddlers and preschoolers. Along the back wall is a multilevel indoor playground and climbing area for adventurous kids. Expect to pay different prices for walkers and crawlers, who have their own separate area to play. No shoes are allowed, so remember to wear or bring socks. Parties, classes, sports, and more are offered.
Sessions are held specifically for 7-and-younger, so caregivers don't have to worry about toddlers getting trampled. There is also a gated space dedicated to toddlers with an easel, play kitchen, and more. In addition to open play, it offers a sensitive space play session and party bookings.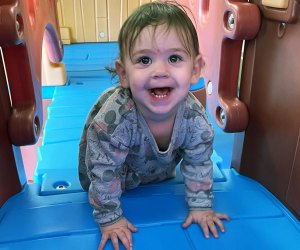 Sensory play is front and center for children of all abilities at Sensory Beans. Photo by the author
Sensory Beans was created to cater to toddlers and preschoolers of all abilities. There are various climbing structures, slides, a foam pit, and lots of sensory activities. Sensory boards can be found throughout the play area. The staff at Sensory Beans is twonderful, playing and interacting with all the children. All play sessions must be booked in advance. Private play sessions are available as well.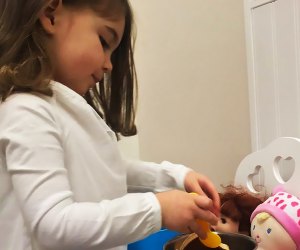 Parents and toddlers alike will appreciate Sippy Cups Cafe.
Ages 6 and younger can run and climb out all that energy on the cafe's wooden climber, complete with slides and hiding spots. There is a big Lego table and areas for pretend play. When it's time to settle down, visit the reading nook, which is stocked with books and quiet toys. Adults appreciate the selection of specialty coffees, as well as choices for lunch and snacks. Reservations are required for open play. Private play sessions and parties also available.
RELATED: Mommy-and-Me Classes for Long Island Families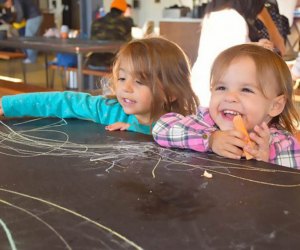 The Social Play Haus' drawing tables are perfect for little hands. Photo by Jaime Sumersille
Parents can grab a pint, a glass of wine, or a cup of coffee while young ones climb, jump, and play in the designated indoor playground. The Cedar Works play structures are the perfect size for toddlers and their physical abilities. There is also a play kitchen, dress-up area, train table, and even board games for older siblings. Play sessions are by reservation only.
Suffolk County Play Spaces for Toddlers
Crawlers, toddlers, and older kids enjoy the large, enclosed play area while parents appreciate the full-service coffee bar. Founded by a local mom of two young ones, there's plenty of engaging playthings, and regular events, storytimes, and classes are hosted here. Light breakfast and lunch items are also available, along with its "not-so-hot" hot chocolate for kids. Only one adult can accompany a child into the play area, but a second adult can wait in the cafe. Ample time is left between play sessions to sanitize and disinfect. Open play and special event tickets must be booked in advance.
The Children's Museum of the East End caters to kids ages 2-7 and features several themed play spaces. Children can run a general store or soda fountain, enjoy a story inside an upside-down book, crawl through hollow logs and mouse holes, sail a ship, drive a fire truck or tractor, play nine holes of mini-golf outside, and more. The museum's open arts and crafts studio features ongoing drop-in projects, and there is a special Crawler Garden for pre-walkers. Reservations are required.
RELATED: The Best Things to See and Do on Long Island With Kids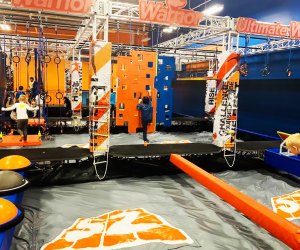 Sky Zone offers plenty of padded space to bounce the wiggles out.
Sky Zone — Deer Park, Mount Sinai
If your toddler loves to run and jump, Sky Zone helps expel some of that extra energy. Trampolines cover the floors and walls, and there's a foam pit for brave leapers. For $14, kids younger than 5 can jump for up to 2 hours during scheduled toddler time. Toddlers can hop, jump, and leap, while parents can relax knowing little ones won't be run over by bigger kids or adults.

Xplore Family Fun Center has a dedicated toddler play area. Photo by Thien Nguyen August
With a designated toddler space, which includes a soft merry-go-round, as well as a large, multilevel climbing structure and arcade games, Xplore's Port Jefferson branch is a great spot for families of toddlers and elementary-age kids. Check out our full review of the Port Jefferson location. At the Commack location, find a toddler area limited to kids ages 3 and younger.and stocked with soft playthings. A jungle gym with twisty slide line one wall, too. While it is owned by the folks behind Riverhead's Safari Adventure, Xplore seems to offer more for younger kids.
Unless noted, photos courtesy of the facilities
A version of this article was originally posted in 2017. It was updated by writer Gina Massaro in February 2022.