Play Space Spotlight: Junior Jet Club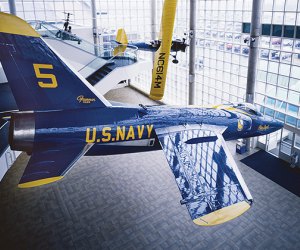 Nestled within the Cradle of Aviation is one of my favorite interactive open play areas: The Junior Jet Club.
At only $2.50 per child (free with museum admission), it is one of the most inexpensive (and fun!) ways to spend a few hours with children under 6 years old.
The Junior Jet Club is located within an expansive facility that also houses a planetarium and museum. Upon entrance, children will be in awe of the U.S. Navy Fighter Jet that hangs from the rafters. They will also want to run circles around the lobby exhibit.
The Junior Jet Club encourages children to be hands-on with its mini exhibits, stimulating imagination and curiosity. Among the offerings:

Kids will love playing pilot in the airplane. Photo by suzanne820 via Instagram.
Airplane Cockpit: Buttons, switches, and stimulation overload! Your kids will enjoy touching every nook and cranny of this flyer; be glad this flight is grounded. The experience makes for a great photo opp.
Reading Corner: This cozy nook features bean bag chairs, a great selection of books (not just space themed!), and a magnetic wall for letters and numbers.
Foam Rockets: Soft and safe blocks can be stacked high to replicate rocket ships. "Blast off" and watch your creation crumble to the floor.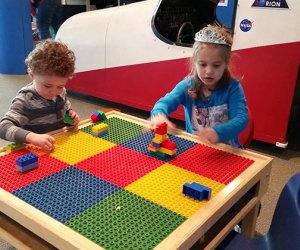 Several small play stations keep children occupied at the Junior Jet Club on a rainy or cold day.

LEGO Play Table: Children can build houses, cars, and more on this colorful upright tray.
Space Shuttle Tools: While there is no anti-gravity exhibit, your little ones can feel like an astronaut when they take a stab at using space-ready equipment such as forceps to pick up items.
Airplane seats: Tucked away in the back of the hands-on play area are several rows of commercial seats from an old airplane. If you haven't flown in awhile, consider yourself a bit anxious on a plane, or want to see how your child will react when placed in a narrow seat, this is a great little desensitization exercise. Simulate your own flight as your child plays passenger while you take on the role of First Captain.
Restrooms are plentiful and accessible. Also, be sure to experience the Red Planet Cafe, allowing kids to eat in a futuristic "Mars" setting. Wraps, fruits, hamburgers and hot dogs are available for purchase, but you can also brown bag it and bring in snacks/lunch.
The museum store is pretty cool too! From the requisite freeze-dried space ice cream to today's latest toys, the gift shop has something for everyone. If you're not looking to buy something, steer clear!
Open play is available 9:30am - 5pm every day, with no appointment necessary. Whether you are looking to get out of the rain or simply find yourself with time to fill, you simply can't go wrong at this venue. Combining education and fun in a safe setting—along with a reasonable price tag—makes the Junior Jet Club one of my favorite play spaces on Long Island.
The Cradle of Aviation is a great full-day destination in its own right. With a roster of changing exhibits, a planetarium, Nunley's carousel, and the Firefighter's Museum, it is truly an out-of-this-world destination. Don't miss other great indoor play spaces in Nassau and Suffolk.
Top image courtesy of The Cradle of Aviation museum.