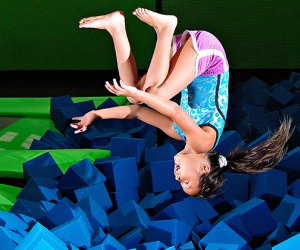 Bounce Houses and Trampoline Parks for Long Island Kids
If you find your high-energy kids are bouncing off the walls, it might be time to head to one of the many bounce houses and trampoline parks on Long Island.
From inflatable slides to obstacle courses and high-flying trampolines, these play spaces are great ways for kids to work off their energy and have some indoor fun when it's too hot, cold, or wet to play outdoors. Whether you're looking for an impromptu bouncing session or want to schedule a birthday party, most of these venues offer a variety of play options. Just be sure to check out their websites for all the specifics.
The sky might be the limit at these venues, but be advised that most of them require socks and some require completed parental waivers before participating.
Islandwide
Bounce U — Farmingdale, Nesconset, Oceanside
This chain offers opportunities to get the whole family in on the bouncing. Day and evening events such as Family Bounce Night, Preschool Playdate, Turbo Bounce, 6-and-Under open bounce, plus birthday party packages, camp programs, and even a Parents Night Out event are available at its locations in Nassau and Suffolk.
Wood Kingdom — Farmingdale, Coram
Birthday parties are the main attraction at these indoor playground showrooms. Both locations feature inflatable bounce houses and offer open-play sessions during the week and on some weekends, depending on party schedules.
Nassau
Active Kidz Long Island — Jericho
In addition to laser tag, rock climbing, and an arcade center, this venue has a separate room with three giant inflatables, including a maze, obstacle course, ball pool, and more. There's also Aeroball, a trampoline game that combines basketball and volleyball.
RELATED: 25 great rainy-day activities for kids on Long Island

Enjoy glow-in-the-dark bouncing at Bounce! Trampoline Sports.
Bounce! Trampoline Sports — Syosset
Inside this large trampoline park, you'll find Bounce! Jr., a separate space for kids 6 and younger that offers foam pits, inflatables, and a trampoline court. Open-bounce time for kids (and adults), toddler times, trampoline dodge ball, birthday parties, and more are available at this location.
LI Laser Bounce — Levittown
In addition to its laser tag parties, this spot also has a large bounce arena, complete with inflatable bounce houses, obstacle courses, and a soft play area that caters to kids ages 2-8. It is available for open-play sessions and birthday parties.
RELATED: Awesome amusement parks on Long Island

Explore with friends at Pump It Up's two Nassau locations.
Pump It Up — Great Neck, Plainview
There is plenty to do at both of these locations, including open jump, glow jump, camp programs, and birthday parties. The new Occupational Therapy Sensory Jump Program is suitable for children with special needs.
Suffolk
@Play Amusements — Farmingdale
Located on the border of Nassau and Suffolk, @Play Amusements took over the former Fun Zone location. The indoor play space features inflatable bouncers, bumper cars, and an indoor playground. There is even a toddler center where kids 4 and younger can play safely.
Air Trampoline Sports — Ronkonkoma
This large indoor park has more than 16,000 square feet of trampoline space divided into four sections. There is a foam pit, slam-dunk basketball court, freestyle, and dodge ball area. Activities include open jump, toddler time, birthday parties, and dedicated time for children with special needs.
Bouncers and Slydos — Farmingdale
With more than 11,000 square feet of indoor inflatable area, including a 90-foot inflatable zip line, there is plenty to keep your little ones happily bouncing. In addition to birthday party packages, Bouncers and Slydos offers open play during school breaks and most Fridays during the summer, and a toddler time program during the school year.
RELATED: 100 things to do with kids on Long Island before they grow up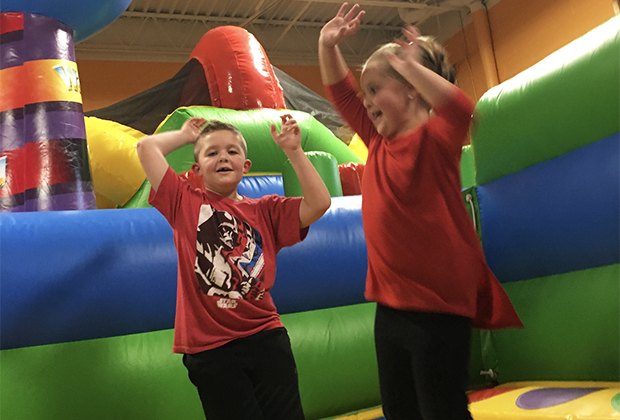 Channel your Outback spirit at Kangaroo Kids in Deer Park.

Kangaroo Kids — Deer Park
This venue caters mostly to the birthday party crowd, but it does offer two-hour open-play time for kids by appointment. Either way, kids enjoy a room filled with inflatables, including slides, tunnels, bounce houses, and more. There is a special section for smaller kids.
Safari Adventure — Riverhead
Kids ages 1-10 love to play on Kilimanjaro, the large, four-level playground at this fun, East End venue. There is plenty of space to bounce and slide, plus an arcade room, and toddler zone. Open-play sessions, camp programs, birthday parties, and a snack bar are all available.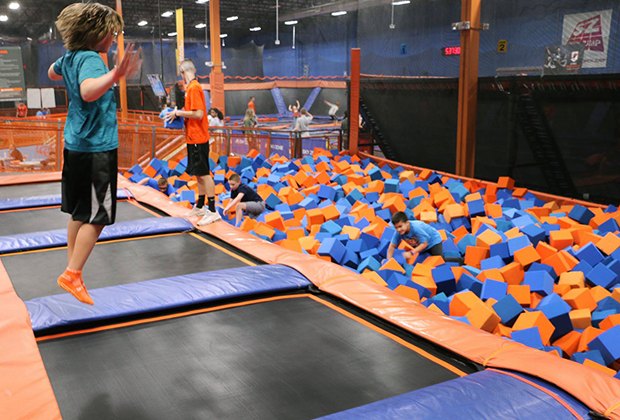 Reach for the stars at Sky Zone's two Suffolk locations.

Sky Zone Trampoline Park — Deer Park and Mount Sinai
These expansive indoor parks include sports courts with trampolines. For older kids, there's freestyle jump, Ultimate Dodgeball, and fitness classes. The younger set can enjoy toddler time, sky camp, and more. Sky Zone Cares is a monthly session for kids (and adults) with special needs.
White Post Farms — Melville
While you might think of White Post Farms as merely a petting zoo, in the summer it dedicates an entire section to inflatable bouncers. There are also water bouncers for kids to make a splash. The bouncers are open, weather permitting, Wednesdays through Sundays during the summer months and are included with admission.
Xplore Family Fun Center — Port Jefferson Station
In 2018 the folks behind Safari Adventure transformed the former Fun 4 All site into a go-to play destination on Suffolk's North Shore. Kids enjoy three inflatable slides, multiple obstacle courses, a soft-floor playground, laser maze, toddler area, and arcade.
A version of this post was published in 2017. It was updated August 2018 by writer Gina Massaro.
Photos courtesy of the venues