Climb, Jump and Soar at Urban Air Adventure Park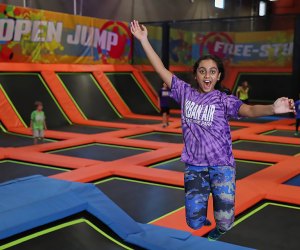 If you're looking for something to keep the kids entertained for hours, look no further than Urban Air Adventure Park in Lake Grove. This 48,000-square foot indoor adventure park has something for kids of all ages. While the littlest members of your brood enjoy the indoor playground and trampolines, big kids (and their parents) can channel their inner ninja warrior on the ropes course, climbing wall and Sky Rider Coaster.
Looking for more places to play? We've got you covered with guides to the best indoor play spaces in Nassau County and Suffolk County. There's fun to be had even when the weather is chilly, check out the Winter Fun Guide for the best in seasonal entertainment. And for more family fun all year long, be sure to check out events calendar.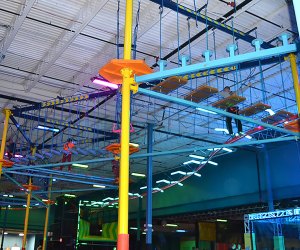 Climb to high heights on the ropes course.

What you'll notice when you first arrive at Urban Air Adventure Park are the climbing Walls – but make sure you look up – because above the park is Urban Air Sky Rider Indoor Coaster. And it's not a typical coaster, because YOU are the coaster. Kids and adults get strapped into a harness and are then catapulted along a track that runs throughout the ceiling of the massive indoor park – high above everyone else playing below. But that's not all that's above the park. There is also the High Ropes – an obstacle course in the sky, where you will again be strapped into a harness and then walk across different obstacles 30 feet in the air. According to Urban Air Lake Grove managing partner David Wolmetz, the landlord of the building allowed them to literally raise the roof to allow for all of the sky adventures.

Kids will appreciate the unlimited virtual reality time.

Behind the Climbing Walls, adventurers will find the Spin Zone bumper cars – which aren't typical bumper cars; when these get hit they propel into a literal spin. To the right of the Spin Zone is the virtual reality area, which can look funny to people on the outside, but to those wearing the goggles, it's a whole different world. To the left of the Spin Zone and Climbing Walls are the various trampolines. In addition to a big trampoline, there's the Drop Zone, where participants land on an inflatable landing pad, the Runaway Tumble Track – for those looking to perfect their cartwheels and aerials, and the Slam Dunk Zone – for the next Michael Jordan.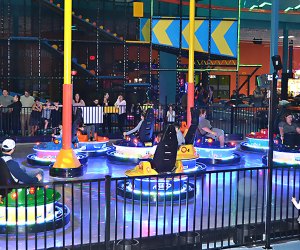 Be prepared to get dizzy at the Spin Zone.
Behind the trampolines, is so much more to explore. There is the Battle Beam, where kids can joust their friends or their parents; the Jump, Duck and Dodge – a very Wipe Out-esque game; an area for dodge ball games, and the Urban Warrior Course. In this area, there are different levels of skill from beginning to warrior – where you hang, climb ropes and jump your way through obstacles similar to American Ninja Warrior.
Toward the back of the park, there is a tube playground as well as the Climbing Hill. These are located near the entrance to the Sky Rider and High Ropes course. Warning to moms and dads: there is a weight limit to Sky Rider and the High Ropes, so you might be asked to step on a scale. Just know it's for your safety that they ask this.

Battle it out on the Battle Beam.
There is also the Urban Café for you and the kids to fuel up and recharge, offering snacks, pizza, pretzels, Dippin Dots and, Icees. To the right of the snack area are the restrooms, where they have several family restrooms available. And scattered throughout the park are lounge massage chairs for parents to rest while their little ones play.
And what adventure park would be complete without party rooms. Urban Air Lake Grove offers corporate retreats, team-building events, and private events. In chatting with the managing partners, in the future, they plan to offer special events, such as mommy and me classes, fitness classes and older kids' nights. This isn't a once and done family experience either, according to managing partner Keith Handler, Urban Air attractions are modularly built and will eventually be changed or swapped out for other attractions. But both Handler and Wolmetz say these are things that will come in the future.
Urban Air Adventure Park is really made for all ages, from toddlers to adults. Some of the attractions do have height and weight restrictions or requirements. Although some attractions require a certain amount of skill or physical ability, there is certainly something available for everyone.
Prices range from $6.99 for a parent pass to $37.99 for Platinum. Urban Air Socks, which are required, cost $3. Each pricing level (Basic, Deluxe, Ultimate and Platinum), allows access to different parts of the park. For example, the Basic pass means access to the jump zone or trampolines only, while the Platinum gives access to the entire park –including unlimited virtual reality and unlimited spin zone. The park also has membership options available for those who want to keep coming back for more adventure and fun.
Urban Air Adventure Park is located on Middle Country Road in Lake Grove, about a half-mile east of the Smith Haven Mall.
Unless noted, photos by the author