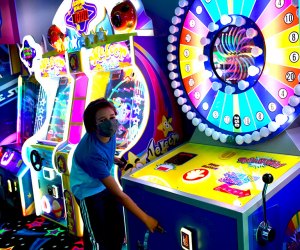 Planet Play Delivers Out-of-this-World Fun in Bellmore
Blast off into outer space at Bellmore's new indoor play place, Planet Play. An out-of-this-world experience, this interactive play space is punctuated by cosmic decor transporting guests to a celestial world, which caters to all ages.
It's home to a two-floor jungle gym, bouncy house, toddler-safe play area, a cafe, arcade, and more. The newly opened entertainment spot is currently booking 2-hour open play sessions, toddler classes, and birthday parties.
Read on for details on the play space, and find fun elsewhere on Long Island at these play gyms and sports centers, as well as our favorite arcades and amusement parks.
Editor's note: Please keep your family and others safe by always wearing a face mask and pack plenty of hand sanitizer.
Nestled in the heart of the quaint Bellmore village, Planet Play offers families a unique indoor entertainment space with fun, all-ages options. My crew was drawn to the arcade with its mesmerizing blinking lights.
OUR LATEST VIDEOS
Once we had a digital play card in hand, my 10-year-old was off to the Spin-N-Win, determined to hit the jackpot! Basketball, Skee-Ball, and air hockey awaited, alongside a space-themed Whac-a-Mole, spaceship flying games, and more. The Windspout drew my son's eyes—kids step inside an enclosed tube and grab as many tickets as they can from the swirling tornado-like winds. When you've collected enough tickets, plan to pay a visit to the fully-stocked prize counter.
RELATED: Milky Ways Ice Cream and Cereal Bar Serves Out of This World Treats at New LI Location

Planet Play's options include a baby section, a bounce house, a jungle gym, and an arcade.
We continued exploring with a bounce session in Planet Play's lone bouncy house, designed for ages 2-8. It was not enclosed, so it was easy to keep track of the active 5-year-old under my care. Vertical obstacles created a maze-like bounce experience.
Once they'd had their fill there, the kids were off to explore the 700-square-foot, two-tier climbing structure. Slide races, conquering the ninja warrior-esque course, and hanging in calm pods were each a hit. Then came the highlight: ballocity. The kids smuggled as many foam balls as possible to the second tier and began blasting them at each other and targets using air cannons. It wasn't long before I became the main target!
RELATED: Awesome Arcades for Long Island Kids

Kick back in the virtual reality pods.
On our way out, we tried two virtual reality pods, equipped with more than 200 choices for a multi-sensory experience. The boys opted for an around-the-world roller coaster ride, which had their pods dipping and swiveling at each track's turn. Because the VR goggles are re-used, Planet Play supplies disposable eye shields similar to a face mask to help curb germs.
RELATED: The Best Indoor Play Spaces for Long Island Toddlers

Get ready, Toddlernauts: Planet Play has an amazing space just for you.
Planet Play is not all action-packed excitement. A special, gated toddler section awaits crawlers and new walkers. Foam flooring, plastic toys, an art station, and a TV are sure to keep the littlest guests engaged and entertained.
Directly across from the toddler zone is the cafe, which serves custom lattes and espressos to help fuel mom and dad, as well as pre-packaged snacks and pastries. Take note: Planet Play is a nut-free facility, and outside food is not allowed.
Future plans include art and story time, parent-and-me classes, and increased access to open play. Follow its social media accounts for updates and special deals.
If you're planning a birthday party, Planet Play can send your soiree into deep space. Opt for add ons such as a glow party, character visits, unlimited virtual reality experiences, amped-up goody bags, and more. The party room boasts a far-out mural perfect for photo-ops!
Know Before You Go to Planet Play
Planet Play currently offers open play hours six days a week. Little ones are welcome during Mini Milky Way sessions, while families with mixed-age children should plan to visit during an All Age Astronauts session.
If you're worried about sensory overload, plan to visit during its dedicated Sensitive Space sessions. Noise-reduction headphones are supplied, music and lights are lowered, and the loud ball blaster is off-limits.
Planet Play is a stroller- and shoe-free facility. So, leave your ride in the car and be sure to pack socks, or you'll have to purchase them when you arrive.
Online booking is not yet available: Call 516-636-5622 to book your open play session. Walk-ins are allowed if space is available.
Photos by the author