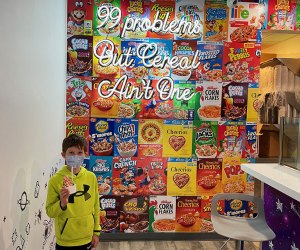 Milky Ways Ice Cream and Cereal Bar Serves Out of This World Treats at New LI Location
As the temperatures start to rise, our thoughts drift to long summer days, and nothing screams warm temps more than ice cream from a local scoop shop. Huntington Village has a unique new dessert spot to satisfy those cool cravings: Milky Ways. The Huntington outpost is the third Long Island location for the self-proclaimed cereal bar and ice cream shop, and it debuted in early March.
Read on for details on the sweet shop and find more local eats in our Kid-Friendly Restaurant Guide.
Taking over a small location on Clinton Avenue that once housed Nitro Space, Milky Ways has a happening, open storefront. The bright interior with pop-art decor begs you to enter. It's a fun scene and the type of place where you want to see what's going on.
Its website describes the theme as a "modern spin on a timeless favorite," and the interior vibe fits the bill. You can't help but notice the back wall covered with artwork from cereal boxes, both old and new. Kids and adults will immediately look for their favorite breakfast memories. Some brands you may never know existed, while others conjure recollections of lazy Saturday mornings munching on breakfast while watching cartoons.
The side walls have futuristic images of cereal mascots dressed as astronauts bouncing around outer space. The scene is lively, colorful, and the perfect backdrop for photos. There aren't too many places where you can take a picture with Tony The Tiger as he floats about the galaxy or in front of a giant neon sign that reads, "99 Problems But Cereal Ain't One." You will be posing for family selfies here.
RELATED: Candy Shops on Long Island Where You Can Satisfy Your Sweet Tooth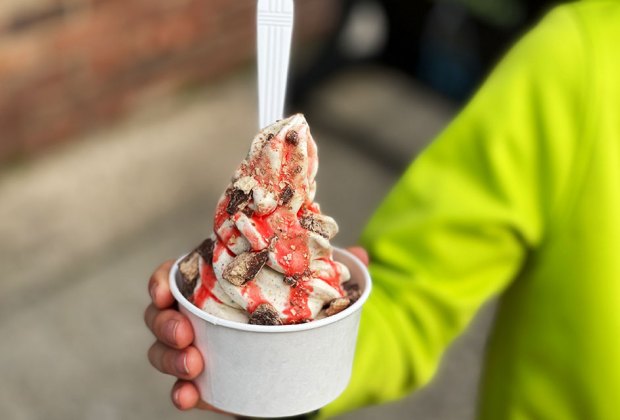 Enjoy your soft-serve creations just the way you want them at Milky Ways.
It isn't just the decor that's unique; the menu is also unlike any other dessert shop. Milky Ways takes soft-serve ice cream and mixes it up with your choice of cereal using special machines. That's not the only way to customize. Next, you add sweet toppings, fruit, and then drizzles; the combinations are endless. Milky Ways even offers dairy-free options.
Can't decide? Then pick one of its premade combinations like the "Silly Rabbit," which has vanilla ice cream blended with Trix and Fruity Pebbles, topped with rainbow sprinkles, plus raspberry and marshmallow drizzles. Or continue with the nostalgia theme and pick the "Camp Fire." Eating this combination of vanilla ice cream mixed with Cinnamon Toast Crunch and Oreos, topped with brownie bites, more Oreos, and a marshmallow drizzle transports you to the forest.
If you have a Cookie Monster in your life, there is a combination to suit their taste buds, too. This treat has vanilla and chocolate ice cream blended with Cookie Crisp, topped with Chips Ahoy, cookie crunchies, cookie dough, and a chocolate drizzle. You could just see the big blue muppet devouring it!
RELATED: The Most Irresistible Dessert Board Recipes for Kids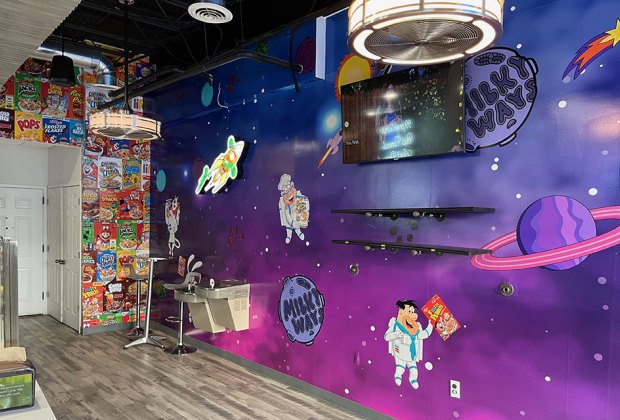 The out of this world wall at Milky Ways depicts cereal mascots.
Milky Ways is a small space with just two high-top tables inside. If seating is unavailable, you can always take your cone or cup and stroll through Huntington Village. Enjoy your creation as you check out the many retail outlets and sights the town offers.
All told, Milky Ways is certainly worth a visit any time of year. The shop is currently open Monday-Thursday from 2pm-10pm; Friday and Saturday, 1pm-11pm, and Sunday 12pm-9pm. If Huntington is too far, there are also locations in the Smith Haven Mall and Coram.
Photos by the author